So they used to sleep like this.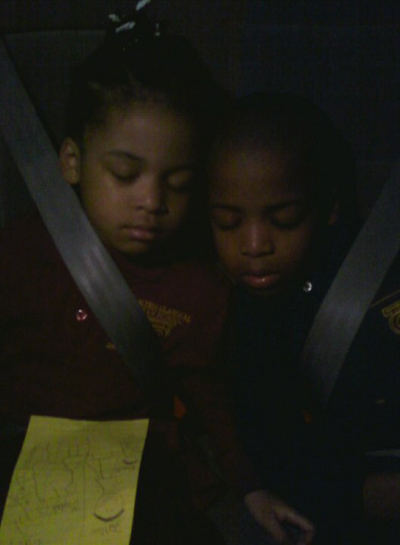 Now… more like this.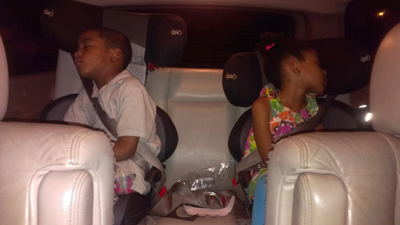 These two are at the age where they just don't like each other that much…
Mr. Social: Oops… Got grits on my shirt.
Me: Then lick it off.
Baby Girl: Is David going out in those pajamas? *on the edge of tears*
The Big One: Why? Are you about to cry?
Baby Girl: No, but… if he wears that shirt, he'll get spit all over everything!
Mr. Social: So.
Baby Girl: You better not touch me. Matter of fact, you better never touch me AGAIN!
Me: Stop yelling at the table.
Mr. Social: You don't want me to touch you? Not even to save your life?
Baby Girl: No.
Mr. Social: What if you fall in hot lava… what then? You just wanna burn all up? You'll be like 'ahhhhhh! save me!' Won't you.
Baby Girl: No. We don't even LIVE near volcanos.
Me: Please be quiet and eat.
Mr. Social: She's going to want me to save her. I know it.
So anyway, here are the 10 blogs I checked out today. Take a look, visit them, and let them know SocaMom sent you! (Baby girl is a little obsessed with the possibility of her brother getting spit on anything that she owns. I don't know what that's about.)
http://fiercedivaguidetolife.typepad.com/ – @fiercedivablog on Twitter – Like my baby girl (and a lot of the time, me) she puts on her man pants, and doesn't feel all that comfortable asking for help. In her post for her SITS day, she talks about her "man pants" – yeah, you wanna know what they are, don't you? Go on over and see what she's talking about.
http://www.learntoembracethestruggle.com/ – @embracestruggl1 on Twitter – You may see some blogs that I visit pretty often. This one lifts my spirit, and inspires me to just be better. The song she chose for this Monday's post is "Life is Hard, but God is Good" by Pam Thum. The line that struck me"Sometimes living takes the life out of you…" It sure does. I feel like that all the time – but then I look around me at what God has done, and I get another shot of life, energy to keep moving.
http://becauseimwrite.net/ – @muzeness on Twitter – She's up for a Black Weblog Award too! I got all drawn in by her post on interracial dating when the woman is black. I can't even give you a good recap. You have to go check it out for yourself. However, you want my take on it?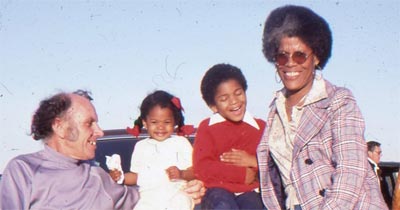 I would just LOVE for a bitter black man to approach my grandmother about grandpa Norman. The cut-tail they would have gotten from her would have been epic. Epic. Not even Mr. Social could save 'em – they'd wish for a fall into hot lava.
http://www.pinnertakesall.com – @pintasticmom on Twitter – Another super supportive SITS girl! I have been saving maple syrup bottles for some craft project (that I haven't come up with yet) and she posted about spraying bottles with glitter spray paint… I will sooooo be doing that. Watch for what I come up with – I'll be pinning it!
http://graceoverme.tumblr.com/ – @runningmama85 on Twitter – She runs, she moms, and she loves God… what else is there? Check out her blog for inspiration, and a glimpse of her beautiful family…
http://talkaholica.com – @talkaholica on Twitter – She's up for best original graphic design in a blog and best new blog, I wonder whose handiwork THAT could be? *looking away and whistling*. Two years of late nights, Socamom hunting (yea, I can get missing sometimes), Photoshop and a Photoshop upgrade, pics by Kristy Leibowitz (she's amazing) and voila… fabulousness. We worked together on the design and with her mind, and my mouse – it launched during BlogHer 2012. I commented on her lap desk purchase. Thank. Goodness. Seeing her hunched over her computer for hours on end typing away was painful… for me.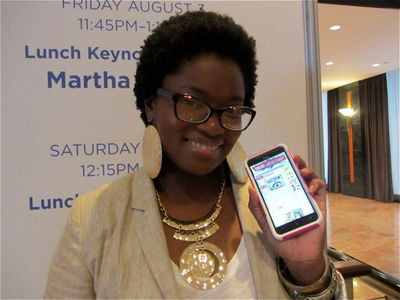 Photo by Toy Holmes for Talkaholica.com
http://www.letmommysleep.com/ – @letmommysleep on Twitter – Now THIS is genius… You can register for a good night's sleep after coming home with a newborn or multiple newborns. Why didn't I know about this?!? You have to go and check this out. Right now they serve DC, MD, and Northern Virginia. No grandma around to do the night shift, you have to check this out.
http://www.jayblessed.com/ – @jayblessed on Twitter – She is also up for a Black Weblog Award! The Caribbean is DEEP on the nomination list… She's been doing her thing in entertainment for a long time, but her blog is new and she's up for best new blog – the rise of her blog has been nothing short of meteoric! You want the latest and greatest in Caribbean gossip and entertainment news? Grab a cup of coffee and get all caught up. Oh, and don't worry it isn't all Rihanna all the time… and I appreciate that.
http://cleverlychanging.com – @cleverlychangin on Twitter – Another Blackweblog Nominee from the Caribbean! I was reading her post today about going from hardwood to carpet when she was growing up and how to choose flooring now. I grew up with hardwood floors, and LONGED for carpet. I thought carpet was so warm and luxurious… until I had kids. Now it is a germ catching stain magnet, and I want it gone. I'll be taking my new knowledge to Home Depot…
http://www.jamericanspice.com/ – @jamericanspice on Twitter – She reviewed a movie, "The Invisible" – Yep, I watched the whole trailer on her site. Looked it up, it is from 2007, and looks pretty interesting. Can't get it on Netflix cause I don't have the DVD service… but I am going to find it… Now I wanna see it!
So that's it! Now I am going to go put my "man pants" on and tackle the day. Have a great one!