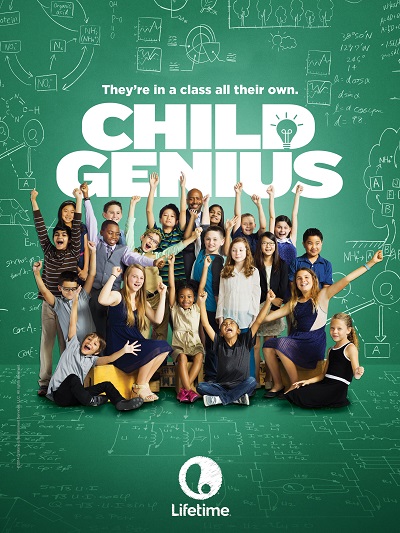 How weird is this to write?  If you thought that tiny brown girl with the afro puffs looked familiar, you were right.
Last year around this time, my little bit had just turned 8 and was one of 20 children chosen from across the country to compete on Lifetime's new reality quiz show/documentary "Child Genius". The camera crew spent a couple of days with us filming Eden for the documentary portion of the show as she did everything she usually does including playing her violin, riding her scooter, playing tennis, making sushi, crocheting, and studying.
After that we went out to LA to compete in the quiz show portion of the show. We were told that the show should air sometime in September, but when September, October, and then November passed, I figured the show had been shelved. I breathed a sigh of relief believing I had been spared the humiliation of the ill fitting sweats I wore to the park being immortalized on the show for all of television (and internet) history.
I got an email in December that said it still could happen… @#$%. Soon after the email, the website was up, Lifetime added Eden's bio to it, press releases went out, there was chatter on Twitter and Facebook, and I was in a minor panic. What. Had. We. Done.
Right before Christmas, Eden did her first television interview about the show with Fox 5 News here in DC, and she had a great time. The hosts were so energetic and interested in her. She ate it up.
We had told very few people that Eden had even done the show six months earlier, so we figured it was about time that we shared – it wasn't like we could hide from it. We didn't tell anyone about us going to Chicago to film Oprah's Live Class, and we got cussed out by family who just happened upon it on a Sunday night watching OWN.
Eden Wilson of Child Genius on FOX 5 DC WTTG
Everyone was supportive and excited. My husband sent out a mass text about the above interview, even though I thought we should just let it go on by and tell people after it went well. Proud dad was having no parts of it.
It did go well, so I tweeted photos of it after we left the studio. I didn't share the news of the interview until it was up on Fox 5's website, and I didn't share it on the blog at all – just on my personal Facebook page. I kept thinking and rethinking my outfits, were they awful? My counter tops, were they clean enough? Did the camera catch the carpet stains? Was my hair too… hairy? I knew Eden nailed all the things she had to do, but I don't exactly like the idea of my family being on display – something I realized way too late. I wouldn't change what Eden did, the people she met, or the friends she made, and the once in a lifetime experience was something she'll never forget, but I never thought… really thought… about the microscope that we could possibly be put under.
Almost daily, blog posts started popping up all over the internet talking about the show.  Then I saw a pic of my little bit and I on the New York Times website.  That made all of it real.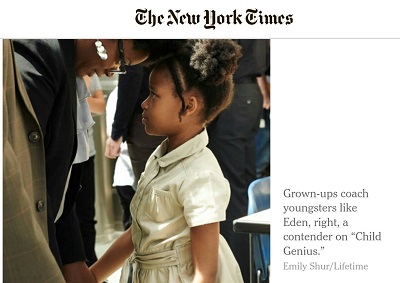 I finally shared Lifetime's pic of Eden on the Socamom facebook page on the day of the show. I almost didn't do it, but hey she's Trini-American, and us Caribbean folk love to have someone to cheer for, so I figured why not?  If it wasn't my kid, and another Caribbean kid was up there, I'd wanna know.
The night of the show came and we watched it for the first time just like the rest of America. Eden wanted to see herself – I wanted to see as little of us as possible. I didn't tell her that though. Like the rest of America we watched it as if we didn't know the outcome. It was extraordinary to watch hours of filming boiled down into around 45 minutes not including commercials. By the end of the show, we realized that the Wilsons would be spared. As we saw after watching later episodes, several of the wonderful families that we met would not have their documentary portion shown, including one kid who looked like he stepped straight out of a Gap commercial, is incredibly smart, and hearing impaired.
Twitter seemed to enjoy watching Eden and her afro puffs, but was bummed that they didn't really get to "meet" her."
@SocaMomDC @lifetimetv we are so proud of Eden! Such a smart cookie and gorgeous from inside, out! #Ebony4MBIB #BARETv

— Ebony Combs, MS (@imEbony) January 16, 2015
Are there any black children on the reality show #ChildGenius ??

— Carmen (@Carmen___Jones) January 7, 2015
@SocaMomDC Eden is so adorably cute and amazing! She is going to grow into a strong, intelligent woman! Congrats to Ms. Eden!

— Nunie (@arkandove) January 7, 2015
What in the world! #ChildGenius a reality competition with educational value?! Is this real life?

— Heartless (@KingArthur13th) January 7, 2015
Yay Eden! & yay @SocaMomDC n #SocaDadDC! You guys r amazing parents. Seriously you inspire me in my mom journey #ChildGenius

— Rewind N Come Again (@RACAblog) January 7, 2015
It's OK Eden! We still love you! #ChildGenius Always #TeamEden

— Shaileesi (@ShaiUnfiltered) January 7, 2015
Nooo don't send Eden home!! She's so cute #ChildGenius

— Catriona Lawson (@catriona_lawson) January 7, 2015
Pretty sure Eden on #ChildGenius is actually Rue from the Hunger Games.

— hannah maria jmj (@hanmariams) January 7, 2015
AWWWW Eden got sent home. She still cute though. #childgenius

— Smini X (@Supreme_MD) January 7, 2015
I like how Eden's dad is trying to comfort her and & Ryan is in first place & his mom is like "he didn't do good enough" #ChildGenius

— Jennifer (@burritosandguac) January 7, 2015
Look @SocaMomDC's husband being such a strong supportive daddy to Eden! #ChildGenius

— Shaileesi (@ShaiUnfiltered) January 7, 2015
Wait, they not gonna even show the young Black girl genius? #ChildGenius

— Karsh (@karsh) January 7, 2015
The little black girl Eden has my heart. She's like 8! #childgenius

— Smini X (@Supreme_MD) January 7, 2015
Eden is getting her crochet on while the other kids are studying! #classic @SocaMomDC #ChildGenius

— Shaileesi (@ShaiUnfiltered) January 7, 2015
Eden and her li'l afro puffs. We hardly knew ye. #ChildGenius

— Karsh (@karsh) January 7, 2015
#DC's Own Eden Wilson – Via #Lifetime's #ChildGenius – & Her Mom Eva – On #DCN's Washington Full Circle Today @ Noon. pic.twitter.com/sTHcK4e0Pp
— DC OCT (@OCTDC) May 6, 2015
The internet wanted to get to know little bit, and thanks to our local cable station, Eden got yet another opportunity to introduce herself.
What's next for Miss Eden? Well, as you can see, she has been modeling for me on Socamom for quite a while, and she likes getting paid for that, so there will probably be more videos for me like this one. She also has a couple of surprises that she's working on this summer for fans of her and her puffs.
In hindsight, knowing what we know now, would we still do it? Absolutely. She made great friends, flew to LA, had a blast, met an astronaut, and saw how a major television production operated. That is gold for a homeschooled kid! Would I make her study more? Probably not. She's very poised and articulate, but she is still a kid who has plenty of things on her plate to deal with. There's plenty of time for pressure and competition. The show was a happy bonus – a nice reward for all of her hard work.
Do you have a smart little one between 8 and 12 who you think would be perfect for the show? They are casting now. Click here.