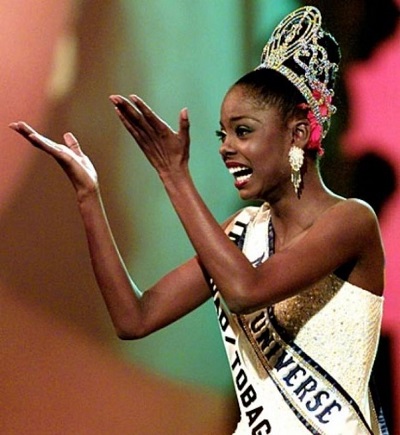 On May 12, 1998, everyone who had a drop of Trinidadian or Tobagonian blood, or knew someone from Trinidad and Tobago, was cheering as the American Miss Universe 1997 crowned Miss Universe 1998, Trinidadian beauty, Wendy Fitzwilliam.  If you were Trini and missed the broadcast, you got a call. To say that this was a big deal in the Caribbean community would be quite the understatement.
I had graduated a year earlier, and had participated in a couple of pageants while I was in college.Her win was one of those moments that makes a pageant girl take her best heels off of the top shelf of the closet and practice her most graceful pageant wave.
Even if being Miss Universe was just a passing thought, by the time next Miss Universe Pageant aired  in 1999, I was about six weeks away from becoming a single mother.  I wasn't about to be anyone's "Miss" anything – but becoming a queen was the last thing on my mind. I was going to be someone's mom.
A few years ago, I read Wendy Fitzwilliam's first book, Letters to Ailan.  By then, I had gone from being a single mother of one, to a married mother of three. I hadn't thought about my time as a single mom for a while, and her honesty, transparency and candor in her book inspired me to reflect on that period in my life.
I wasn't famous. People had certain expectations for me, I'm sure, but no one ever felt comfortable enough to tell me what those were, so I was free from that pressure.
As Miss Trinidad and Tobago Universe and Miss Universe, expectations of Ms. Fitzwilliam were high, and she met and exceeded those expectations. She was admitted to the bar, excelled in business, championed many charitable causes, and received honors for her work. All of her accomplishments paled in comparison to becoming a mother to the love of her life, Ailan.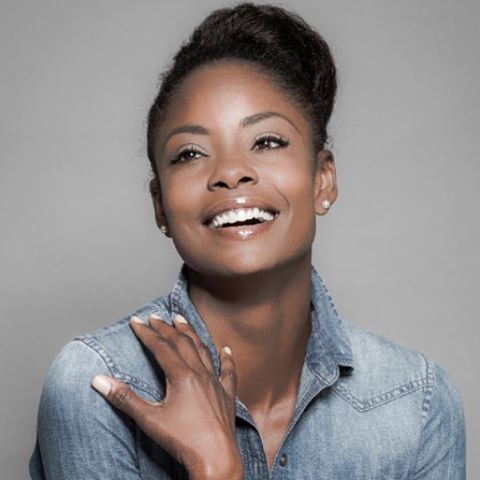 Wendy Fitzwilliam in b3 Caribbean Magazine – Photo Wendy Fitzwilliam Instagram
It is Caribbean American Heritage Month, and the former Miss Universe, business woman, and mother who inspired so many of us of Caribbean descent here in the United States is sharing some of her life lessons with me on SocaMom.com. Ailan recently celebrated his tenth birthday, and Letters to Ailan is back in print. In this insightful interview, Ms. Fitzwilliam, who is working on her next book, reflects on motherhood and shares some of what she has learned in the past ten years as mom to Ailan.
Eva: People often expect certain levels of discipline from a Caribbean mom. Being a high profile Caribbean mom, do you feel your parenting skills are scrutinized by the public? Does it seem like people are watching your interactions with Ailan to see if you are mothering the "Caribbean way?"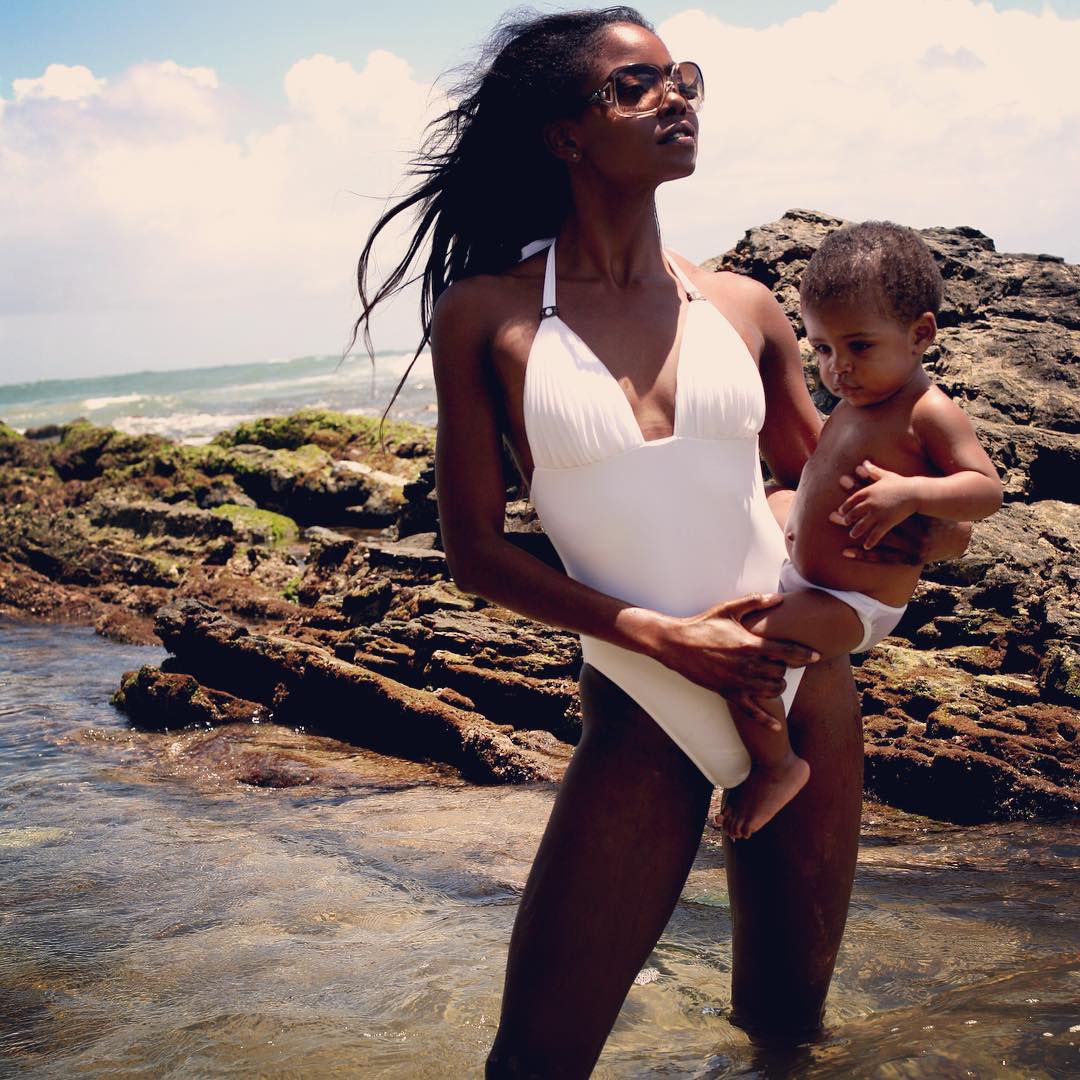 Photo by Calvin French – Photo Wendy Fitzwiliam Instagram
Wendy: I've honestly never noticed.  I discipline him when required, firmly and kindly, never to embarrass him.  I take the time to explain why a particular action or response is inappropriate, and he responds well to this level of conversation.  He is a 10 year old boy, so he does 10 year old boy things, but I never tolerate ugly.  I also celebrate him when he does well, is kind and makes me proud, mostly privately so we are not a spectacle to observing eyes.  In short, we are busy having fun and growing together, through the good, the bad and the ugly.  Hopefully, if anyone is observing us, they learn from our strengths and weaknesses and are also kind in their interpretation of who we are.
Eva: Now that you have been a mom for 10 years, would you change anything about your first book Letters to Ailan? How do you see motherhood differently?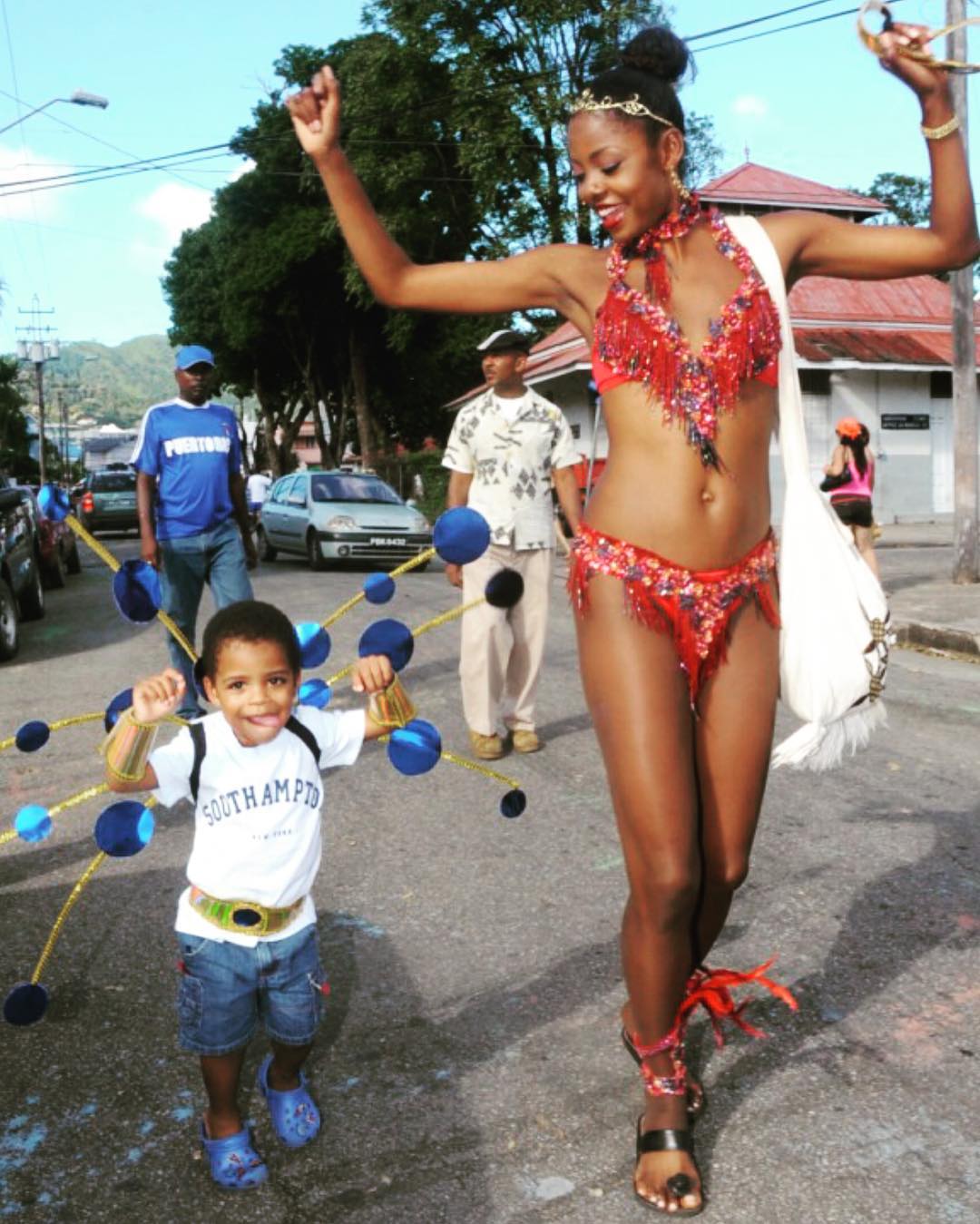 Photo Wendy Fitzwilliam Instagram
Wendy: No, I would not change anything about Letters to Ailan.  Now that Ailan is growing up and is quite a secure, confident and well-adjusted boy, I am confident he'll appreciate this part of his story that he was too young to recall when the time is right for him.  Additionally, Letters to Ailan started a dialogue on parenting, single motherhood, the romantic relationship between a man and a woman, and the introduction of pregnancy and a child into that relationship.  [M]any Caribbean couples face [these challenges] but never address [them] with each other, furthermore publicly.  Hopefully, that conversation facilitated our evolution a little in this regard.  From the interactions and responses I have received from people generally to the book, both complimentary and not, it is clear that we've at least started a discussion that we needed to have.  [T]his makes me feel good for having contributed to it.
Eva: What are the three best pieces of advice that your mother has given you about being a mother?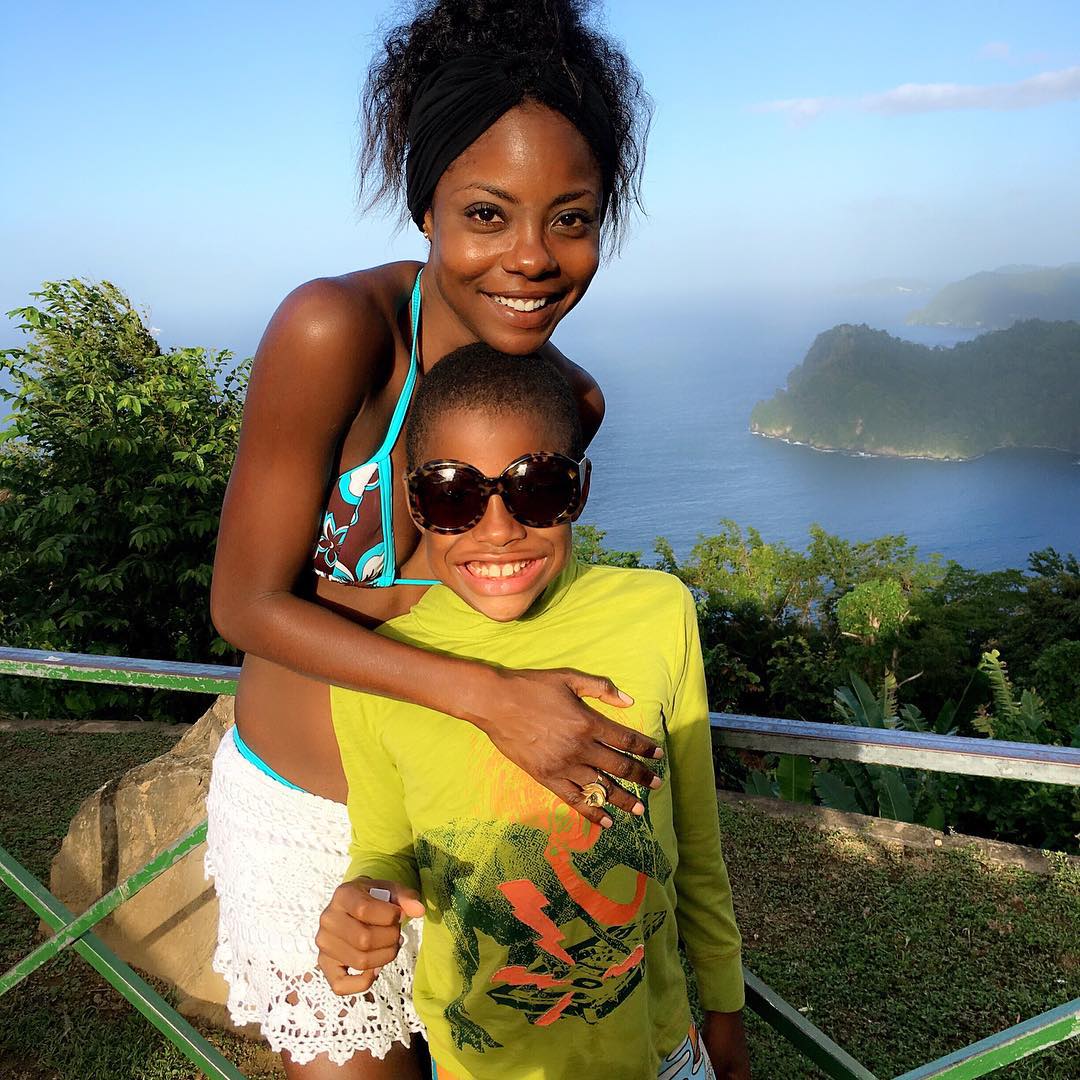 Wendy and Ailan at Maracas Beach in Trinidad – Photo Wendy Fitzwilliam Instagram
Wendy: When he sleeps, you sleep.  That way when he is awake and happy, you are awake and happy (Ailan as a baby – the value of rest). Don't ever be too proud to ask for advice or help, and, by her example, always be kind and generous with your child, share generously your love, praise, example, conversation, time, limitations, relationship with God.  Mom is right, Ailan is not great at doing as I say. He is good but not great.  He excels at doing what I do.
Eva: Looking back on the last 10 years of motherhood, what, if anything would you have done differently? Are there any choices you wish you had made, or things you plan to do differently going forward?
Wendy: I would not change any aspect of the last 10 years in terms of my relationship with Ailan.  Ours is a solid relationship of mutual respect.  He always asks for a little sister…still…and specifically a sister.  I'd like to give her to him, but I'm not prepared to do so outside of a traditional family structure in which my partner and I are on the same page, more or less the same level of emotional maturity, and want the same things in life.  So I leave that particular request of Ailan's in God's very capable hands.
Eva: I have a 10 year old, and she is very much her own person, so we have to think a little harder to come up with activities that we both enjoy. What activities do you and Ailan have fun doing together?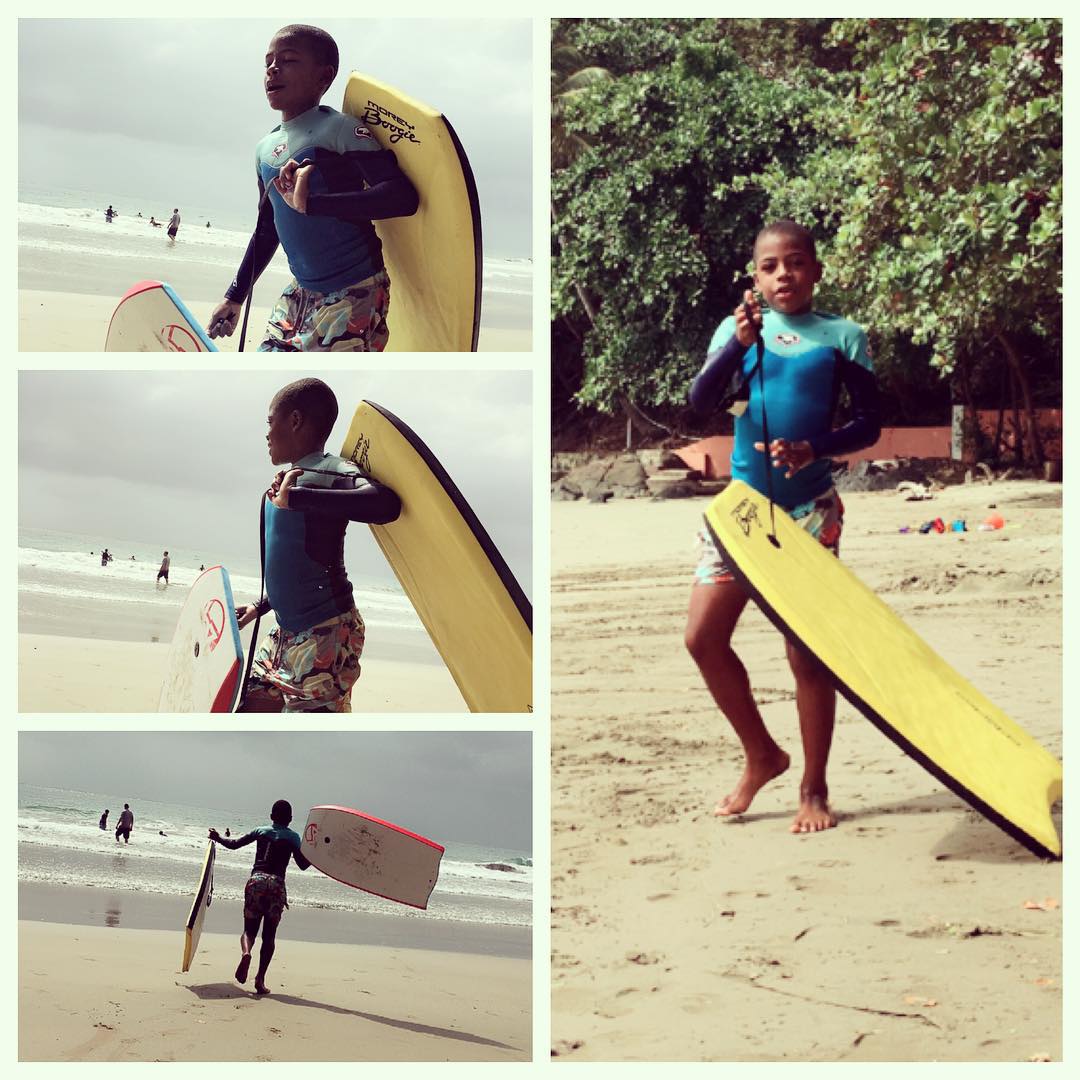 Photo Wendy Fitzwilliam Instagram
Wendy: Fortunately, he still thinks I'm the coolest Mom and his friends like liming with me also; so I do it all with him, play football, cook (most nights dinner together), boogie-boarding at the beach, skiing, reading, watching YouTube videos on cool inventions and airplanes etc., tennis.  And the things I do not or cannot do, or will not risk my life doing with him, that he enjoys, like skim-boarding or surfing, I am his biggest cheerleader – always there cheering him on.  I make sure he can see me too, because he always looks for me when he does something really awesome or has a major wipeout.
Eva: Your popularity hasn't seemed to fade in the slightest since the day you were crowned. You have stayed busy, and visible. What projects can we look forward to from you? Where will we see you next?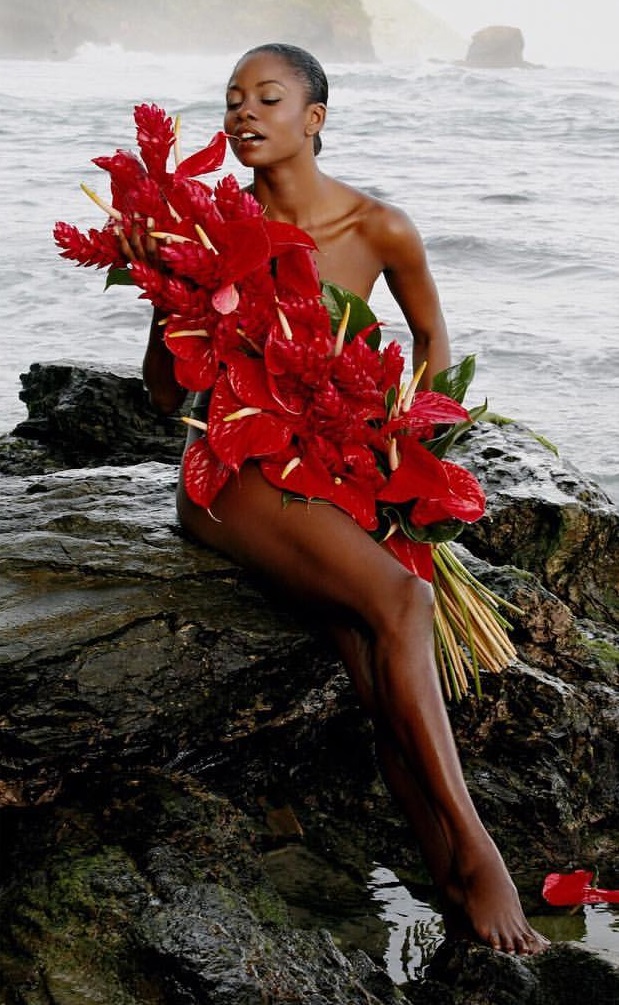 Photo by Calvin French – Photo Wendy Fitzwilliam Instagram
Wendy: I am writing again and hope to have my second book published by year end.  My publisher is VERY ready for the manuscript.  Letters to Ailan is back in print and available at Nigel R. Khan Booksellers across Trinidad and Tobago. My radio show, The Wendy Fitzwilliam Show enters its 8th Season in October and will air on Heartbeat Radio for Women, 103.5 FM in Trinidad and online at heartbeatradio.com at 10:00 AM on Sunday mornings. The Third Season of Caribbean's Next Top Model (#CaribeNTM) is in production now and will air on FLOW TV across the region from October.
You can keep up with Wendy Fitzwilliam's travels, and check out her photos and videos on social media and the web: