POWDER
One of my favorite memories of going to Trinidad as a teenager was seeing my little cousins come out to say good night like little "bakes ready to fry." So cute. Clean and powdered up to the neck with a little white spray that extended to their cheeks and chins.  Powder helped them to sleep comfortably and smell like sweetness. Many of us use it between, under, and around our breasts, in the genital area, as well as between our thighs to reduce friction and absorb sweat – we use it on our babies to keep them comfortable and to fight off diaper rash. Powder is even a big part of mas celebrations in Trinidad.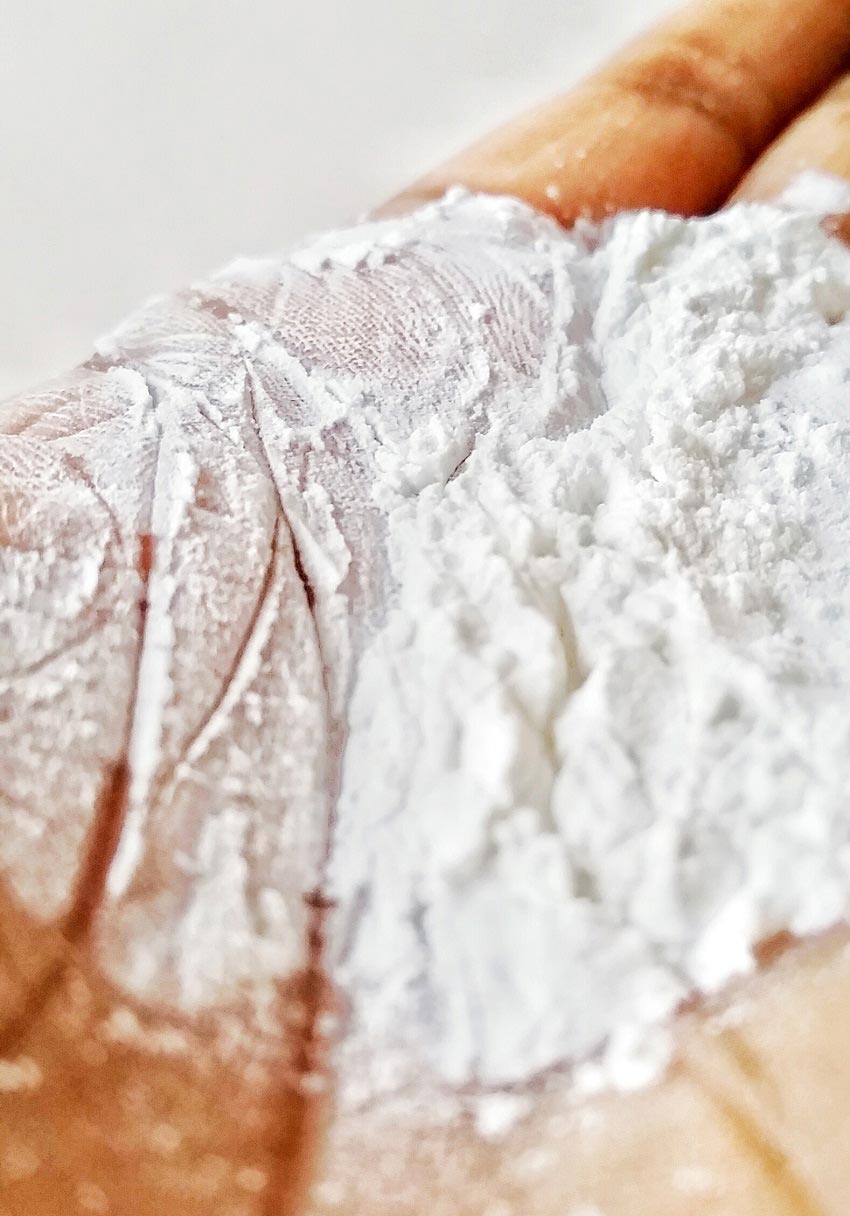 Photo of powder by Eva Wilson.
Studies of the effects inhaling talc based powders used at home have conflicting results. The concern with inhalation was that many years ago, powder could contain asbestos, and cause cancer if inhaled. Today, talc products used in the home do not contain asbestos, but have been recognized as a lung irritant when inhaled. The real problem is ovarian cancer and its link to talc use.
In a recent study of African American women, scientists concluded that "body powder use was significantly associated with" epithelial ovarian cancer risk.[i] The study also found that use of genital powder resulted in a 44% increase of that risk. Those of you who are regular readers have probably drawn many parallels between the Caribbean culture and African American culture. Use of plenty powder is one of them.
 "Forty-five years ago, British researchers analyzed 13 ovarian tumors and found talc particles "deeply embedded" in 10. The study, published in 1971, was the first to raise the possibility that talcum powder could pose a risk. In 1982 a study in the journal Cancer by Daniel Cramer, an epidemiologist at Brigham & Women's Hospital in Boston, showed the first statistical link between genital talc use and ovarian cancer."[ii]
This study>[iii] was the basis for many of the complaints against companies like Johnson & Johnson who were made aware of the risks and continued to market the product as safe and gentle for women, children, and infants.
"[I]n the 1990s, even as the company[iv] acknowledged concerns in the health community, it considered increasing its marketing efforts to black and Hispanic women, who were already buying the product in high numbers."[v]
In 2016, Johnson & Johnson was ordered to pay millions as the result of lawsuits[vi], and many are still pending. Those who have been injured may have the opportunity to obtain a lawyer and take part in a settlement with the company if they have developed cancer after using products like Johnson's Baby Powder and their product marketed to adults, Shower to Shower.[vii]
You can check into using a corn starch based powder since they haven't been linked to cancers, but be sure to also look into the other ingredients to be sure that they are safe.