This is probably my oldest's last time back to school shopping with mommy, and we are doing a trial run for his college shopping with these products from Procter & Gamble. In this sponsored post, you'll see how shopping in the Harmon section at Bed Bath & Beyond for his back to school essentials will be easier than he thinks, how YOU can get a $10 Bed Bath & Beyond gift card, how you can enter for the chance to win a $50 Bed Bath & Beyond gift card and P&G products like the ones in this post, and a new language… #CollegeSpeak!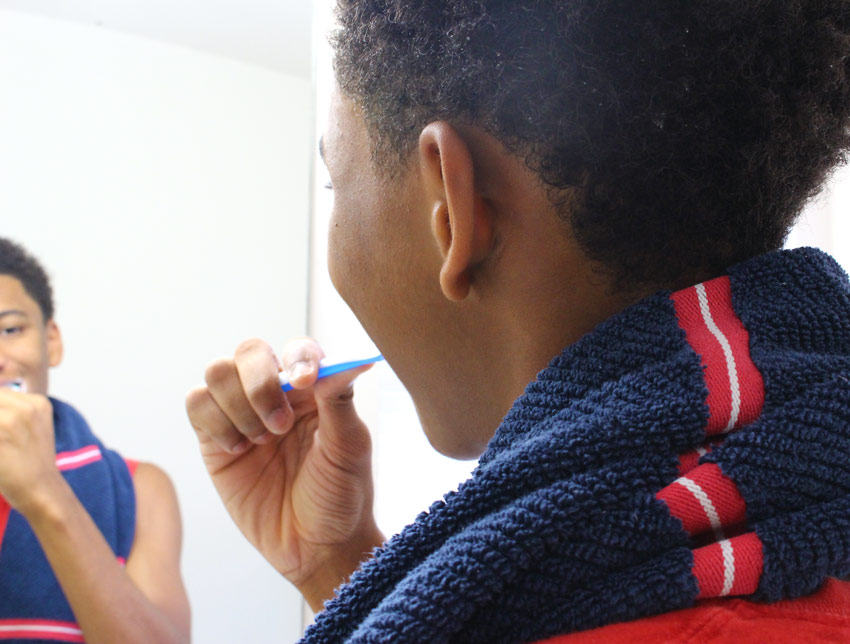 I told Evan to think about his morning routine when he made his back to school shopping list. His morning routine is pretty intense, and has been since he started high school, because everything (including himself) has to be "MOMCLEAN."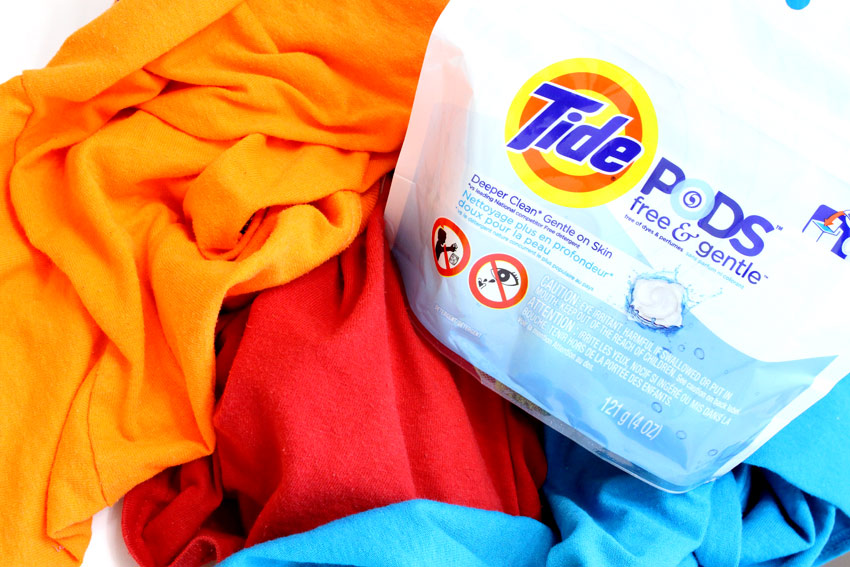 Even though I'm not washing his clothes anymore, he still has to get them "MOMCLEAN*…"  (MOMCLEAN (a): Clean like it came right from your mom's washer.)
Right now he does his cleaning, including washing at least one load of laundry, first thing in the morning. So at the top of his list are laundry supplies, including Tide Pods. After his cleaning is done, he moves on to his personal care.
*Share your own #CollegeSpeak term for the chance to win a $50 Bed Bath & Beyond gift card and the P&G products in this post. Keep reading for details!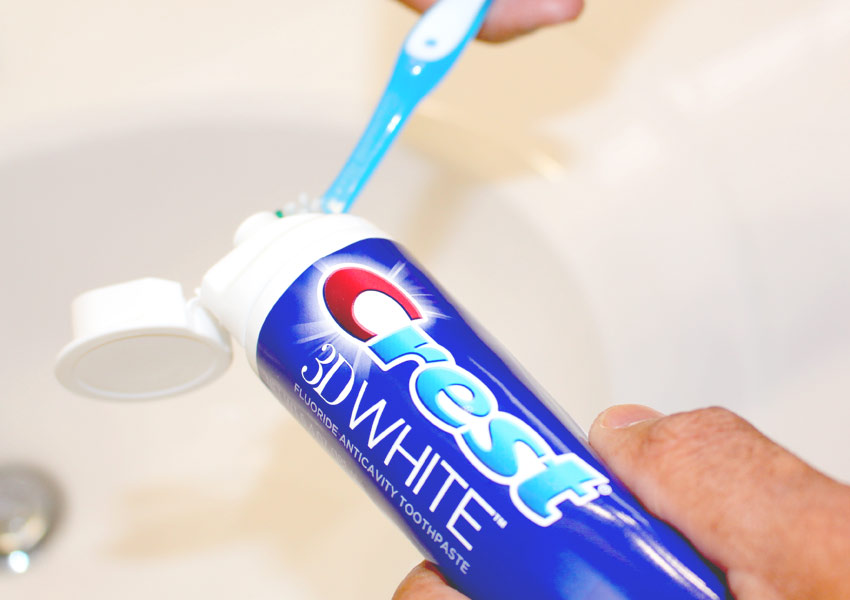 The goal is to get his teeth "SPEAKYCLEAN…"  (SPEAKYCLEAN (a): So shiny you have to say something about it.)
Right now, he shares a bathroom with his little brother and sister, so he already knows that a shower caddy is a must.  His little brother wants to be just like him – which includes smelling like him – so if he leaves his body wash in the bathroom, it's as good as used.  His toothbrush and loofah are pretty safe, but everything else is fair game including the shampoo and conditioner. If you go through personal care items (toothpaste, shampoo, conditioner, etc.) as fast as we do, you'll be glad to know that with the purchase $40 of participating P&G items at Bed Bath & Beyond, you'll receive a $10 Bed Bath & Beyond gift card!**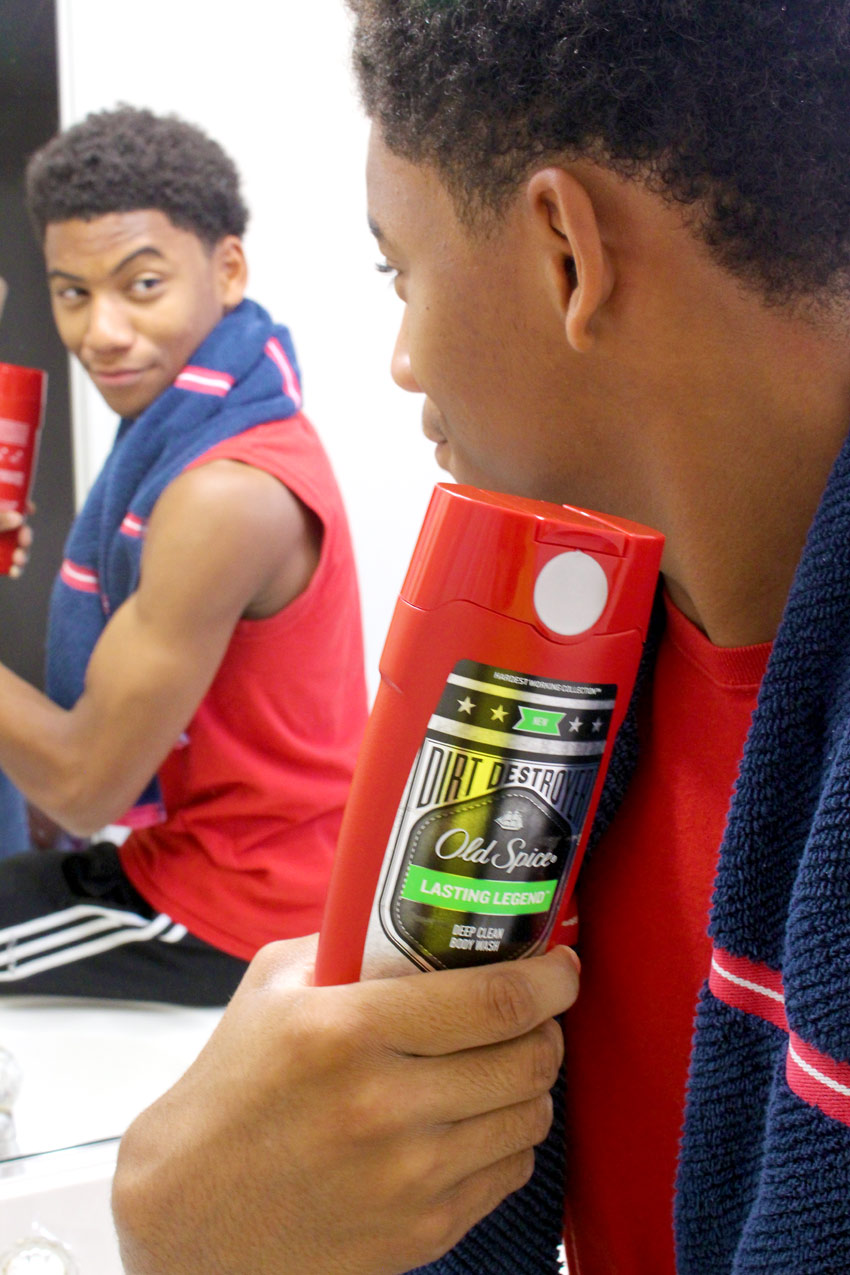 This part of his morning routine probably takes the longest… flexing.  (FRESHZEN (n): A student who is completely focused on fresh.)
The shower caddy lets him take his things in the bathroom, use them, and take them right back out – a habit that will serve him well in a college dorm bathroom. Having his supplies for his morning routine organized will also keep him from wasting time looking for things, which precious minutes away from his morning mirror-flexing – and we can't have that, now can we.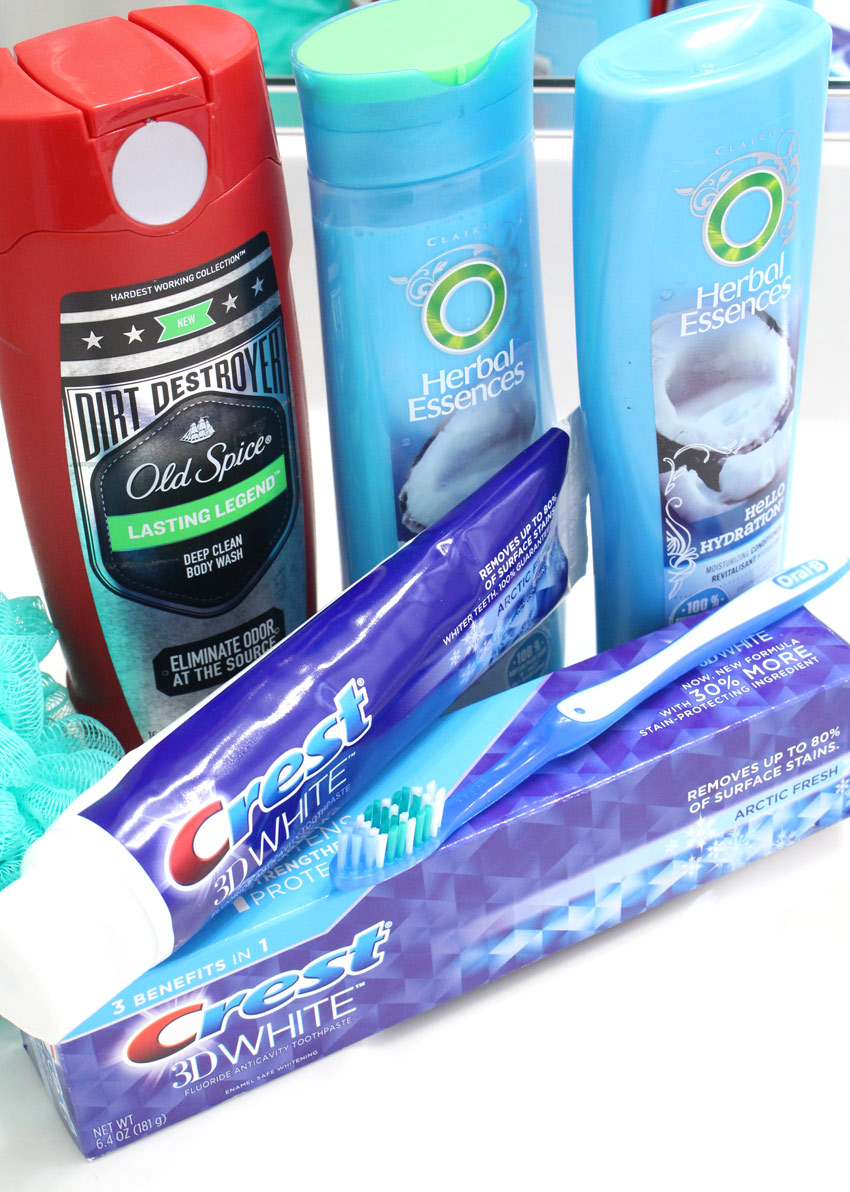 P&G Products for him…
Four out of five of us are doing our back to school thing this year. This is my last year of law school, so I'm doing a little shopping as well, right alongside the kids.  Even though I'm a "3L Free L," this is the last year for me, so there are some intense moments coming up with final exams, taking the MPRE, and studying for the bar. I'll be ready for some sleepless nights and some "ALLDAYERS" (ALLDAYER (n): When you responsibly get through the day without even a nap) with products like CoverGirl Intensify Me! Liquid Liner (gotta look awake, right?), CoverGirl Colorlicious Lipstick, and Secret Outlast Invisible Solid Deodorant from the Harmon section at Bed Bath & Beyond.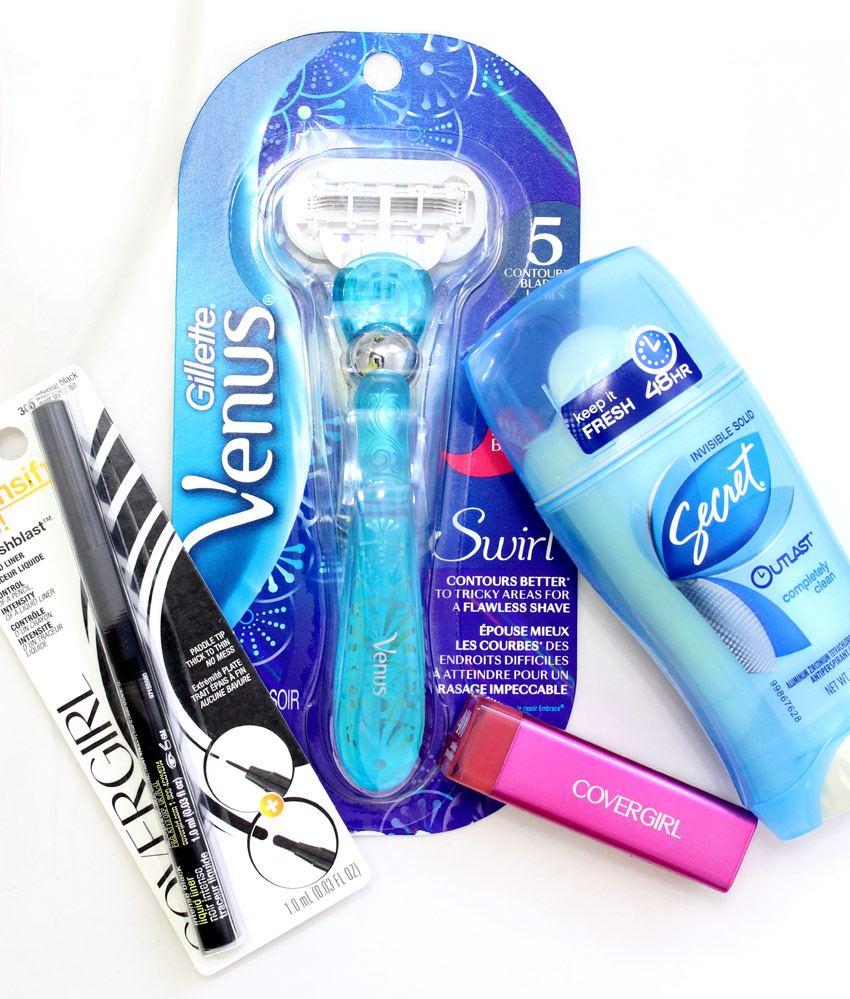 P&G products for me…
We shop the Harmon section of Bed Bath & Beyond because it has back to college essentials for both Evan and I from brands like Tide, Secret, Crest, Gillette, Olay, Old Spice, Herbal Essences, Secret, Tide, Always, Head & Shoulders and Tampax – all in one place. This is a hectic time of year for all of us, so the less hunting for products that we have to do, the better. We also need as much savings as we can get, and when we buy $40 of participating Procter and Gamble items at Bed Bath & Beyond, we receive a $10 Bed Bath & Beyond gift card. This deal works for you too! Offer is in-store only and runs from 8/1/16 to 8/31/16. Who couldn't use $10 for some "HAIRAPY?"  (HAIRAPY (v): The action of washing your hair and getting a fresh start.)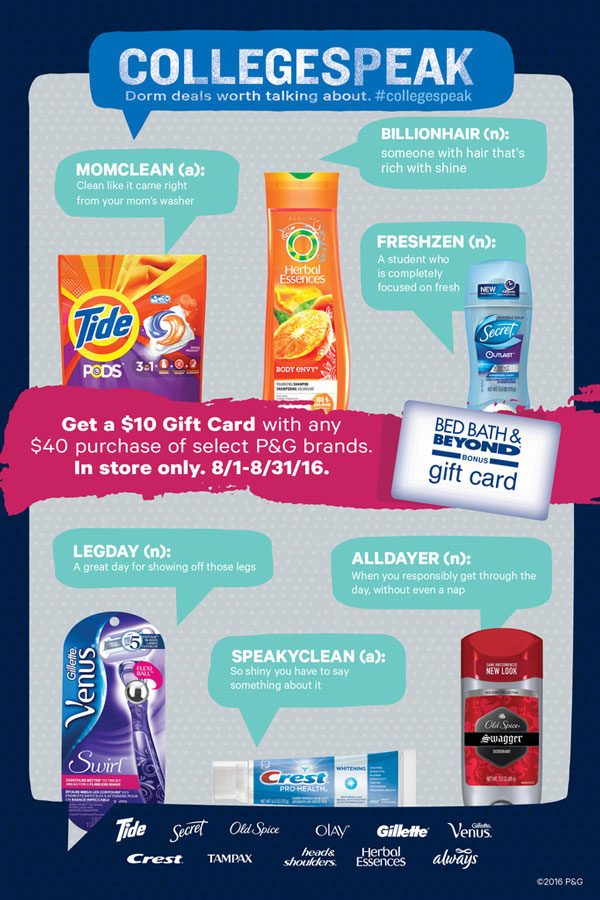 Have you gotten a kick out of my #CollegeSpeak? You can share your own #CollegeSpeak term for the chance to win a $50 Bed Bath & Beyond (@BedBathBeyond) gift card AND the following P&G (@ProcterandGamble) products:
CoverGirl Intensify Me! Liquid Liner
CoverGirl Colorlicious Lipstick
Gillette Venus Swirl Razor
Herbal Essences Hello Hydration Moisturizing Shampoo and Conditioner
Old Spice Lasting Legend Dirt Destroyer Body Wash
Secret Outlast Invisible Solid Deodorant
Tide Pods
Crest 3D White Arctic Fresh Toothpaste
Oral B Toothbrush
Are you ready to check these item off of your shopping list? Enter to win, and maybe you can!
1.  Leave a comment on this blog post. Not sure what to say? Come up with your own "#CollegeSpeak" term and share it in the comments. Get creative and have fun with it!
2.  CLICK HERE TO ENTER THE GIVEAWAY! 
Did you enter? Great! It gets even better… You're invited to a party too! Did you learn #CollegeSpeak? Join me for the P&G Bed Bath & Beyond #CollegeSpeak Twitter Party on Wednesday, August 17, 2016 at 9:00 A.M. to 9:45 A.M. PST (12:00 – 12:45 P.M. EST). Click here for details – http://bit.ly/2aL4acx.
I wrote this sponsored post on behalf of Procter & Gamble. As always, all opinions are my own.