Disclaimer: I was given two tickets to SCHOOL OF ROCK for the purpose of this giveaway.
I have three kids and it is rare that they each get time with me by themselves. Sure they are with me in the car on the way to activities, but they are usually reading a book or working on a project – or just asleep. They still fall asleep on car rides.
Every now and then they do stay awake in the car, and I get to jam with them to soca, old school rap, and R&B. Occasionally they let me throw in a little of my alternative 90's rock – especially the oldest. He seems to be really into it these days. The kids and I have watched School of Rock and I know that they can see a lot of me in the main character. I am the parent who shows them they can turn anything into a microphone, and enthusiastically encourages karaoke and full out stage performances in the living room.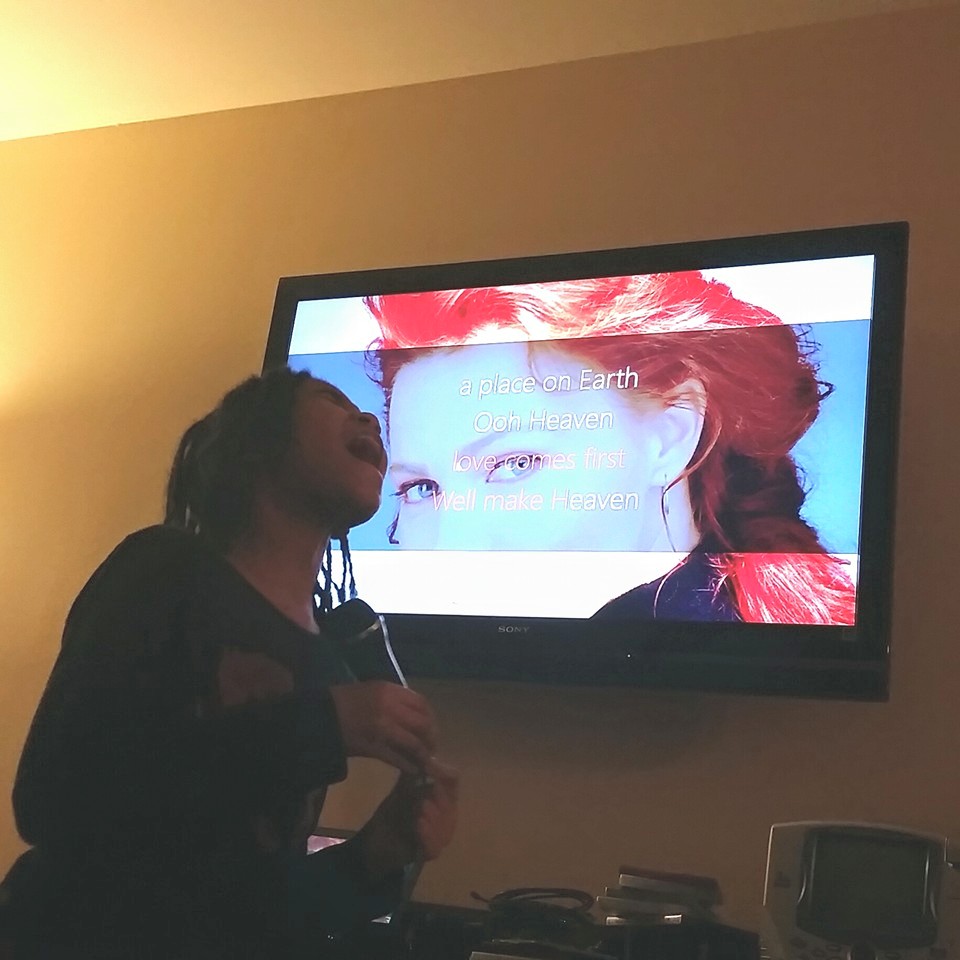 This was one of our karaoke nights at home. See the backup karaoke machine there in the corner? It gets real around here.
Are you the undercover (or not so undercover) rock star in your house? Are your kids? Rock stars or fanatical fans of music – you'll love this giveaway. No kids, but you love great music? Enter for a chance to win a super fun date night for two. Make it a mother-son hang out day, mother-daughter night out, father-son rock fest, or a father-daughter dance (in your seats of course, totally doable).
To enter, simply comment with your favorite song to rock out to – any genre – and you are entered for a chance to win TWO TICKETS TO SCHOOL OF ROCK.
Winners will be contacted by email at 3 pm EST on January 7, 2019. The tickets are for January 17th at 7:30 pm, and if you are a winner, you can pick them up at the National Theatre between 6:30 and 7:30.
https://www.youtube.com/watch?v=EwHpUS5Lu8s
SCHOOL OF ROCK
The show is running at the National Theatre from Wednesday, Jan. 16 – Sunday, Jan. 27. For more information or to purchase tickets visit http://thenationaldc.org/events/category/series/school-of-rock-19/
The National Theatre is located downtown on 1321 Pennsylvania Avenue, Washington, DC, 20004, facing Pennsylvania Avenue and Freedom Plaza. The closest Metro stop is Metro Center.
More about the show…
SCHOOL OF ROCK is a New York Times Critics' Pick and "An inspiring jolt of energy, joy and mad skillz!" (Entertainment Weekly). Based on the hit film, this hilarious new musical follows Dewey Finn, a wannabe rock star posing as a substitute teacher who turns a class of straight-A students into a guitar-shredding, bass-slapping, mind-blowing rock band. This high-octane smash features 14 new songs from Andrew Lloyd Webber, all the original songs from the movie and musical theater's first-ever kids rock band playing their instruments live on stage. Chicago Tribune raves, "SCHOOL OF ROCK offers us a chance to be kids again, only with more talent than we ever had."
Run time: Approximately 2 hours and 30 minutes, including one intermission. Recommended for age 8 and up.