The past several days have been rough on all of us. Not just people of color – all of us. First, video of the Alton Brown shooting started to circulate. I decided not to watch. But social media… Facebook and Twitter both autoplay videos, and soon enough, I saw a man pinned to the ground and shot in the back several times. My spirit still hadn't gotten over the Fruitvale movie that I saw at a screening at Blogging While Brown a few years ago in New York.
I wasn't ready.
 I had seen video of people running and getting shot, getting jumped, pepper sprayed, and tased, but when I see a person on the ground, pinned or cuffed, face down, and then shot in the back, all I see is an execution.
No one should have to watch an execution… or be executed.
I'm not talking about capital punishment. I'm talking about being executed after arrest, trial, conviction, and sentencing. The problem is, all of the steps I mentioned are taking place in the officer's head in a matter of seconds. There is no arrest, no rights are read, no ride to the station to think about their transgressions, no mug shot, no hearing, no trial, no jury, no conviction, no sentencing. Just an execution.
I shouldn't have to watch that. It shouldn't happen.
Then there was Philando Castile. Again… scrolling through Facebook, promising myself that I'd be more vigilant and avoid all videos. The autoplay wasn't going to get me. I saw all of the headlines saying that the aftermath of the shooting was streamed on Facebook live. I couldn't even imagine. I had to avoid it… for my own sake. I'm not sure if I tapped by accident or what, but there it was. A woman was calmly narrating the death of her partner. She gave a play by play as Mr. Castile's shirt turned from white to deep red as he struggled to breathe. She talked the world through the traffic stop and shooting in the front seat while a child cried in the back seat.
I have never watched a man die. I shouldn't have to.
I gave my son the phone so that he could take over my Snapchat for the day. It was my son's birthday, and I should be focusing on him anyway. He danced and sang… made faces and laughed. I laughed. The more I focused on my son, the more often I had to leave the room to cry. I cried in the bathroom. I cried in the kitchen. I cried in the car. I cried in the restaurant. I cried wherever they couldn't see me. The Snapchat takeover was brief because eventually he tells me that he feels bad enjoying himself when so many people are being killed.
That night I searched social media for hope.
Something. Anything that would tell me that the world was going to be okay, that we would be okay… that my sons and daughter would be okay. Twitter, Facebook, Instagram… all filled with images and videos that pushed me deeper into the miserable hole that the news of the week had shoved me into. A friend added me to a group on Facebook of women like me with sons, and we all posted photos of our beautiful boys and their fathers. It was so inspiring to see.
It wasn't all death and killing and hatred. There's love on social media… a lot of love.
Then it hit me – there's a movement that I have been a part of for the past 3 years that could help me. I held my breath and typed #InspiredMobility in the search box on Twitter…
If you haven't heard of Inspired Mobility, AT&T Inspired Mobility is a conversation about how people are using mobile technology to connect with their faith or inspiration. People are picking up their mobile devices to connect and be inspired throughout the day, and it has never been more popular.
This year, the dialogue moves forward to explore the many ways people are using their devices to enrich themselves and the lives of others no matter where they are… mentally or physically. Inspired Mobility counters the negative narrative of isolation. While people looking at mobile devices often are assumed to be detaching, in many cases, they're actually connecting with others in positive ways, accessing and sharing inspiration.
I am proud to be a part of the AT&T Inspired Mobility initiative because it is another way to see how people make mobile products and services a part of their lives to connect to each other and tap into inspirational messages. This year I am going back to Blogging While Brown for the 5th year as a blogger, and the third year as an AT&T Influencer.
Returning to the AT&T Inspired Mobility conversation is Jason Caston, author of The iChurch Method and Social Connections. He is a Digital Tech specialist in the Faith Based space and is also an avid blogger on digital ministry.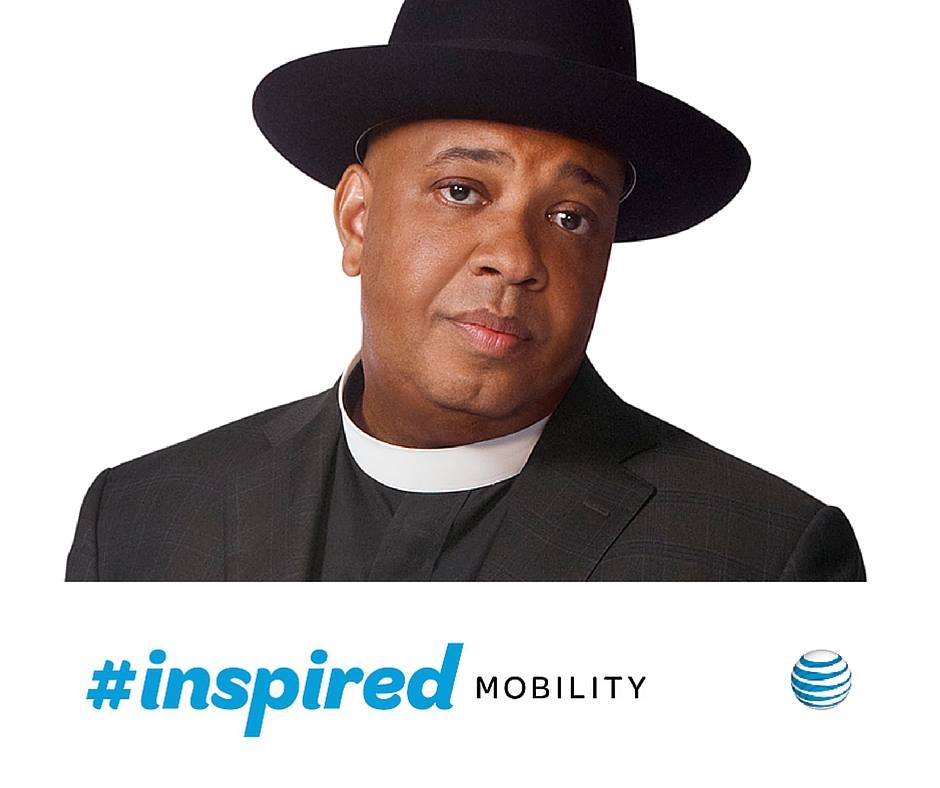 Rev Run, Hip Hop Icon, Social Media Inspiration Leader, joined the Inspired Mobility movement in the fall of 2015 to help spread the message of inspiration and faith in the digital and technology space. His online ministry through social media channels is unconventional and he believes people need inspiration wherever they are and for whatever they are facing. Rev Run has joined AT&T for the 2016 campaign to deliver a series of personal reflections via blog posts and appearances at upcoming events including the National Association of Black Journalists convention in Washington D.C. Read "Inspiration Can Happen Anywhere" by Rev Run
On Saturday, July 16, at Blogging While Brown, AT&T has teamed with faith and mobility expert Jason Caston to host a casual session to discuss how people are using mobility to inspire themselves, others and the masses. As an evolution of the #InspiredMobility conversation, we'll take a look at how mobile technology is enabling people to connect with positive content that can enrich lives. Ever been accused of "not being present," checking work e-mails or playing games on your device, when you were actually engaged in something more positive and enriching? AT&T invites conference attendees to join in this open discussion about how positive and inspirational interactions are happening more often than you think. Read "#InspiredMobility Puts 'Mobile Shaming' On Hold at Blogging While Brown in Washington D.C." by Jason Caston.
This conversation is for everyone, so follow along using the hashtag #InspiredMobility and follow me at @socamomdc – I'll be live tweeting the session at 3:30. You can also follow @ATT, @JasonCaston, and @RevRunWisdom for more #InspiredMobility messages, not only during the conference, but whenever you feel that the negative and disheartening messages are too much.
Right now, one of my greatest fears is that someone I know and love will be reduced to a hashtag. If the death of someone I have never met, in a city that I have never been to, reduces me to tears, I cannot imagine what could happen if it was someone that I know and love. While there is plenty of chaos, hate, and misery on your mobile device, there is also hope on that smartphone of yours, both are only a hashtag away.
Learn more about the program on AT&T's Inspired Mobility website: http://att.com/inspiredmobility
This post is part of a conversation sponsored by AT&T and I was compensated.  All opinions are my own.