Smooth. Sleek. Straight.  Edges must be controlled. Flyaways must be tamed. Seems like as a woman with curly hair only thing you have freedom to do when it comes to your hair is it choose what products you will buy to beat it into submission.  For most of my life, this is what hair care boiled down to – fixing what was wrong with my hair.
Related Post: A Long Lasting Twist Out Style for My Tween
Apparently, nothing about my hair in its natural state was good.  My edges definitely defied control, and my whole head was a fly away.  The thick curls didn't lend themselves to smoothness, were the antithesis of straight, and as far as anything being sleek – not happening.  I accepted that my hair NEEDED to be FIXED.  It had to lie down.  Problem is – my hair wasn't meant to lie down.
My mom's cabinet had all kinds of things to "fix" my hair. Hot afro pick, hot comb, hot oil (looks like "hot" was important in the fixing process) were all front and center.  Then there was the blow dryer, various brushes, combs, detanglers, sprays, lotions, creams, rubber bands, and clips, and I was convinced that my hair was something to be conquered on a bi weekly basis.  My hair was an ordeal.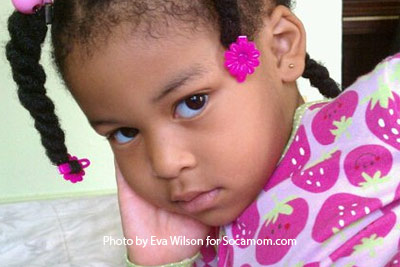 You'll be hard pressed to find a child of Caribbean heritage who has not had plaits so tight that they had difficulty sleeping or even blinking for at least a day after getting their hair "done." The control exercised in the house over a child's behavior certainly extended to each and every follicle on a girl's head as well.
When I had my daughter, I was so excited for her to have enough hair on her head for me to snatch it up in a rubber band, a clip, or a bow. It wasn't about control, but she was my little baby doll. She sat still for it too – win for both of us.
Eventually, when she started noticing ads that basically glorify (often in dramatic slow motion) the straightest, shiniest hair, that was about as far from her hair as possible, she would ask me – why is my hair like this? Why doesn't it look like so-and-so's hair? Why won't it lay down? Why isn't my hair straight like yours? So eventually, for that reason and others, I cut off all of the chemically relaxed hair and wore my natural hair.  It has been that way for 4 years now.  We have matching curls. She still has questions.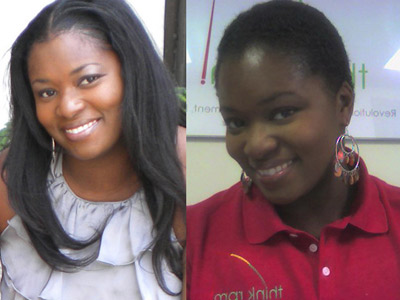 Why does my hair have to be braided? I really had to think about that.  Why does it have to be twisted up? Held down? In ponytails? In rubber bands?  Her friends who have hair that is less curly, can just… be.  No clips or rubber bands required. Bows are decorative, not required. Headbands are functional, not a necessity. So one day, I just let her be… I had blow dried it so that I could braid it, but she was over it, I was over it, and I just let her be.  I watched her whip her hair around, jump, prance, and just be free.  It was beautiful. I started thinking – why DOES her hair have to be DONE?  What does it mean for hair to be DONE anyway?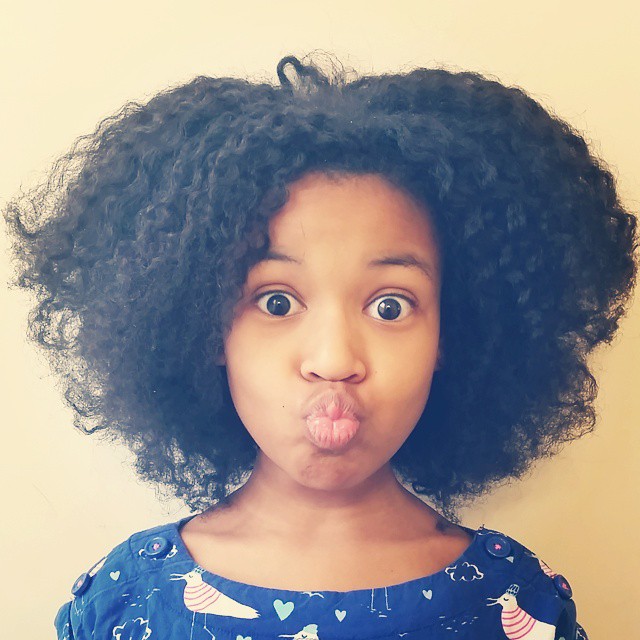 Of course, we went back to the usual braids, twists, and cornrows just for practical purposes. Whether it is out and free or not, hair, just for general scalp health, cleanliness, and circulation, has to be washed, brushed, combed, and/or manipulated in some way just like any other part of the body.  Her hair is not silky, sleek, or smooth, so it tangles when it blows in the wind or gets slept on several nights in a row. But again, why can't she feel the freedom of washing, combing, and just going?  I see the happiness she feels when it is out, and like all moms, seeing her happy brings me joy.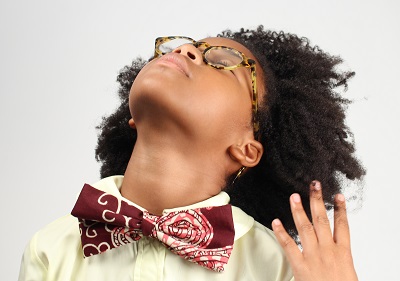 Sometimes we just let her hair be – not all the time – just sometimes. On those days spends a lot of time flipping her hair, fluffing her hair, stretching her hair, mushing it against her cheeks and making faces, twisting it around her finger when she's in deep thought – then at night, she just goes to sleep.  No head wraps, no bonnets, just sleep… hair everywhere… don't care.