You know how the song goes. "If you don't know me by now, you will never, never, never know me…."
After being together for 10 years, you would THINK that I know all there is to know about my husband, and that he knows everything about me.  Not so.  You really can be with a person for years and think that there'd be nothing new to discover.  Again I say – not so.
Each year, I tend to reveal something about myself to my husband, either in conversation on a long road trip after the kids fall asleep, or when something on TV or on the radio triggers a revelation.  Here are some of my favorites that have made him raise his eyebrows, chuckle, belly laugh, or just left him aghast over our past decade together.
1.  I am a big Dave Matthews Band fan.  The hubby surprised me with concert tickets for my birthday this year… and he not only researched the music, he found a couple that he liked and endured the whole concert which was several hours long, with a headache (no fault of Dave).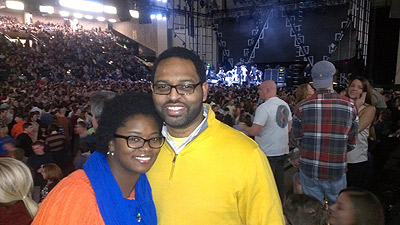 2.  I never played on a team in high school with another black person – and I was a cheerleader, ran track, played basketball, volleyball, tennis, and soccer.
3.  I had a jheri curl.
4.  I got my driver's license at 14, and was driving myself to and from school, 45 minutes each way, by 15.
5.  My knowledge of doo wop, 60's, 70's, and 80's music is near encyclopedic.
6.  I pretty much know the words to EVERY Cosby Show episode. Yup, darn near all of 'em.
7.  I got jokes. Lots of 'em.
8.  I am scared of slugs, frogs, worms, salamanders, and other wet yet hairless creatures… but not snakes.
9.  I have yet to see Roots.
10.  I spent time in Singapore and Hong Kong as a kid.
11.  Not only am I crafty, but I really like power tools.
12.  I went to a Milli Vanilli concert.
13.  Star Trek, not Star Wars – is my franchise of choice. The fact that I had a "franchise of choice" was also surprising.
14.  I can sleep through just about ANY movie, especially if it is on past 8 pm.  That's when my internal clock says its bedtime.
15.  I hate alarm clocks.
16.  I never really considered that I'd get married or have children. Ever.
17.  Even though I had my college boyfriend do all of my typing homework for me, I can type REALLY fast.
18.  As a kid, I would rather sit in front of the family Apple II plus and program quizzes and games in BASIC than go outside.  I'm still a big ol' nerd.
19.  I can cross one eye at a time.  He really hates that one.
20.  I was really good at clogging (yes, the dance) in the second grade. (Basically… River dancing to country music.)
In the last ten years I have learned so much about my husband, but the most important thing I've found out about him is that he accepts me as I am.  Who I was is a huge part of who I am today, and those quirky little things about me that he learns helps him to understand and appreciate the weirdly normal, exceptionally average, seriously funny, maniacally easy going, adventurous recluse and super shy people person that I am.
This post was inspired by mystery thriller novel The Expats: A Novel
. Kate Moore sheds happily sheds her old life become a stay at home mom when her husband takes a job in Europe. As she attempts to reinvent herself, she ends up chasing her evasive husband's secrets. Join From Left to Write as we discuss The Expats: A Novel
on January 22. As a member, I received a copy of the book for review purposes. Check out the discussion here: http://socamom.com/soca/en/component/content/article/113-featured-stories/794-10-by-10-blogs-i-checked-out-today-january-22-2013-book-club-day-edition
You learn something new about the people in your life that you care about every day.  How much do YOU know about your spouse?  Do you think there is anything that you could find out about them that would make you rethink your entire relationship?  What is the craziest thing that you have found out about a person AFTER you have already fallen for them?