My dad never wanted to just outright call me weird, but I feel like sometimes I gave him no choice. Fortunately, the hard American "r" in weird, where most of the punch of the word lies, was near impossible for my Tobagonian dad to say. "Weird" came out sounding sophisticated. "Weyahd" was special and interesting – like me. We didn't grow up on the magnolia lined streets of the southern American neighborhoods in the movies. Our house was situated about ten or so miles outside of town with Mr. Witter's farm across the street, a horse farm to our right, and… well… trees on the left. Put bored and "weyahd" together, and it makes for the best home movies. 
Related: Moments that Matter: My Dad's Journey to the United States
His favorite home video is from when I was around seven or eight. I had decided to set up a transportation system between the pine trees in our yard using a plastic naptime mat, and some ropes. That in itself, while weird, wasn't what made the scene worthy of lugging out that massive 1980's video camera. It was the outfit. I had pulled a purple and white skirt that I had sewn myself over my outfit. It had no function other than sending my dad into fits of laughter, his shoulders shaking and rendering the video more about him trying not to laugh in the background, than Eva the engineer.
The thing that I remember the most isn't his laughter. It is that even though I made no sense a lot of the time, he still was there supporting my next big idea. While I didn't grow up in Trinidad like the main character in I Am the Midnight Robber, having my parents support all my wild ideas and big plans made me instantly connect with the story.
In Carnival, the midnight robber character is traditionally a man with a braggadocious flair to his storytelling that makes him a favorite. But what if…
"Meet Lil' Miss Sugarcane, a little girl that wants nothing more than to be the best Midnight Robber around. With her robber's rhyme she will tell her origin story like only she can! Witness a determined little girl and her family encounter hurdles along the way and conquer them together!  As Lil' Miss Sugarcane works to carve out her individual identity, will she become the BIGGEST BADDEST Midnight Robber there ever was?" – I Am the Midnight Robber Synopsis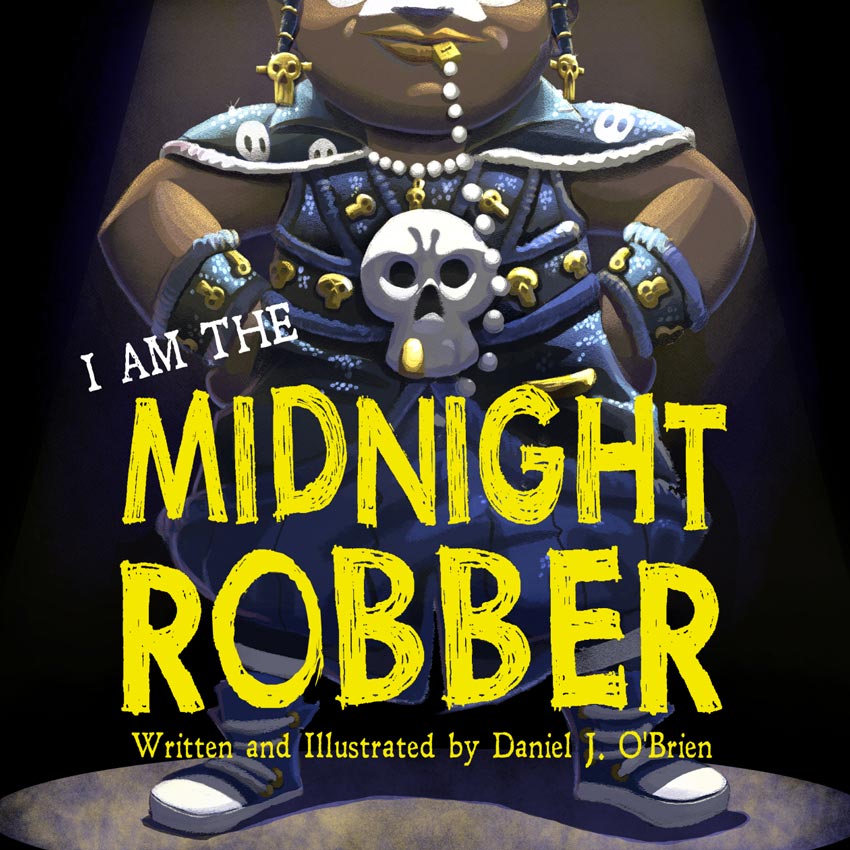 The first thing I noticed about the book was the illustrations. I have been a fan of the author and Illustrator of I Am the Midnight Robber, Daniel J. O'Brien, for some years now, following him on Instagram, and buying The Masquerade Dance, a lovely book that he illustrated, written by Carol Mitchell. The illustrations go beyond the colorful ones that you expect from a children's book. Don't get me wrong, it is about Carnival, so of course, the illustrations were vibrant and exciting. After each reading, I found new details in the illustrations that told the story outside of the words on the page – Dad working furiously on the sewing machine, the mix of pride and a bit of worry on mom's face. Reading the story, as a parent of kids who believe they can do anything – and have every intention of attempting the impossible, I could relate.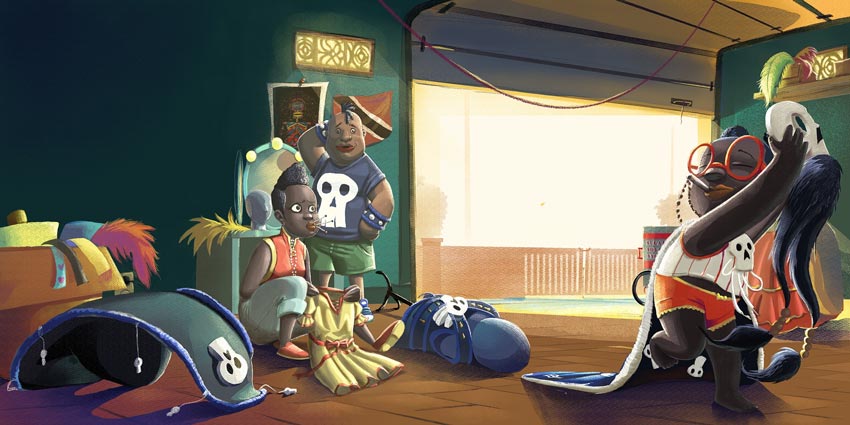 I love stories that allow me to read them with my whole body. When I read I Am the Midnight Robber aloud, the rhyme and movement of the words had me moving my shoulders and swaying as if the sounds of Carnival were playing behind them. Reading aloud is one of my favorite things, and I can just picture moms and dads reading this book out loud at bedtime, and getting to show off their acting skills with the kids.
Related: SocaMom Summit Highlight: Storytelling Session for Kids with Kafi Kareem
For non-Caribbean teachers, students, and parents, choosing a book set in the Caribbean can be intimidating. Will I understand the patois (or as my parents said it – patwah)? Should I even try? At the end of the book, there is a glossary of terms to help readers who may not be familiar with some of the words in the story, and that frees up the author to tell the story first and explain later. 
Of course, I don't want to spoil it for you, but I couldn't end this post without talking about the lessons to be learned fromI Am the Midnight Robber. If you have been reading SocaMom for a while or if you are a member of the SocaMom Community, we often talk about the expectations that Caribbean parents have of their children. Whether it be the adherence to traditional gender roles or the pressure to become one of the big three (doctor, lawyer, engineer), personal choice and happiness aren't top priorities for many Caribbean parents. They didn't work hard for you to become an artist, or a performer, or a writer. I Am the Midnight Robber tells a story of a determined little masquerader, yes, but it also highlights parents who embrace and wholeheartedly support her plans, her hopes, and her dreams.
Related: "Gym Boots" and Gender Equality: 19 Writing Prompts to Inspire and Enlighten Your Daughters and Sons
Now I am that parent who, sometimes through laughter, turns the camera on my kids while they do the strangest things and are thoroughly and completely themselves. Like mother, like son – my middle kid created a pulley system from yarn that let him open and close the bedroom door from his bed. He used a stick from a flag that he had dismantled to control it. He called it "The Lazy Stick." Imagine the mental hoops a Caribbean parent has to jump through to praise something called, "the lazy stick." But the way we cheered and carried on about this invention, you would think that we were about to march our little Thomas Edison down to the patent office. There have been countless inventions since then – especially with the ridiculous amounts of Amazon boxes in here (thanks to the pandemic).
Kids are told to follow their dreams all the time. I love that I Am the Midnight Robber encourages parents to let them.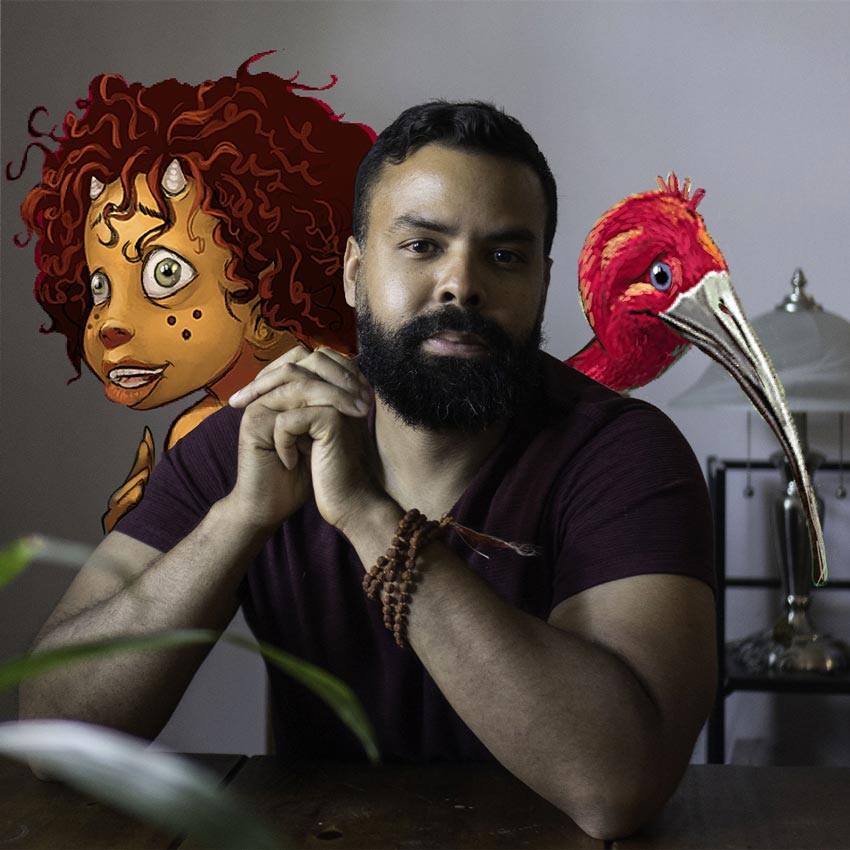 Daniel O'Brien is a Trinidadian born author and illustrator currently residing in New York with his amazing wife Ashleigh and his loyal dog, Obbie. Daniel holds a BFA in Illustration from The School of Visual Arts. His training coupled with his love of science, folklore, and nature inspires Daniel to create otherworldly illustrations.
You can follow Daniel J. O'Brien on Instagram @DanielOStudios and visit his website for more information on his books – DanielOStudios.com/books.
Disclaimer: I was given a copy of I Am the Midnight Robber to read and review. All opinions are my own.