I have been a blogger for four years as of this month and in the last several weeks I have had the pleasure of watching my son become a micro blogger in his own right on Instagram. I knew that my son was a wonderful artist with a big heart, but was unprepared for just how creative he could be.  He was chosen to represent a major resort brand as a teen advisor, and the whole family went to Turks and Caicos with him to enjoy the sun and sand, get a much needed vacation from a stressful homeschool/law school year, and of course, support him on his first major project.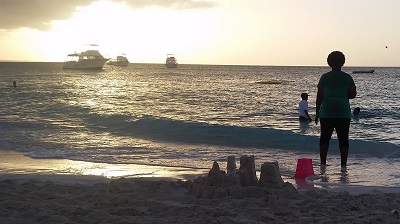 Making sandcastles at sunset with the kids. Photo credit: Don Wilson
Whenever I thought about how blessed we were, I quietly thanked God for everything that he had done for him and for us. It wasn't hard to stay inspired in the breathtakingly beautiful Turks and Caicos. You could look around you at the wonders of nature, the friendly resort guests and staff from all over the world, and the crystal clear turquoise ocean water and find plenty to reinforce your faith without even opening the Bible (we still brought one just in case). But when the trip drew to a close, and we headed to the airport, we found ourselves dragging ourselves through check in, eventually joining the slow line of forlorn travelers who were headed back to homelands not nearly as heavenly as Turks and Caicos. We were among those travelers no eager to leave paradise.
As soon as we boarded the plane, I heard it…. the screech that would cause a three hour flight to feel like an eternity. As much as I hoped that the scream's origin was further up in the aisle, and we only heard it so vividly because baby cries in an airplane tend to have a surround sound effect, alas… I was wrong… My seat 33A… his seat 33B… oh… the baby is across the aisle with her dad… still screaming, but not right here.  *Ding*… "Please fasten your seatbelt, put your tray tables and chairs in their upright positions, and prepare for departure." Overlay that announcement with continuous screams and screeches mixed in with a splash of wailing for variety, but still, at least across the aisle. Wait. Is he passing this baby to…. No. No! Nooooooooooooooo! 33C. @#$%.
Baby looked to be about 10 months old, so as I mom, I quickly calculated that this was going to last just up until nap time. No way this kid could stay awake through a three hour flight.  To stop the crying, the mom gave baby a pacifier… whew… wait. No. No! Nooooooooooooooo! It was a ring pop. Yes… you read it right. Ring. Pop. Aren't those basically like giant diamond cut rings made out of brightly colored candy? I thought so. So there will be no sleep for this kid… or for us for that matter. @#$%. This was going to be a longer flight than I thought.
There were breaks in the crying that we thoroughly enjoyed, however brief, but they were few and far between, and the peace was inevitably broken by a high pitched squeal, loud enough to make you feel like you were having several tiny heart attacks – especially if you drifted off to sleep, which we did a few times. It can only be described as jarring.  My earphones? Packed in a suitcase most likely. He had his earphones in his pocket. So we shared a pair of earphones and he created the "Crying Baby on a Plane" playlist on my husband's laptop.  He had already loaded several great albums, so we had all the music we needed.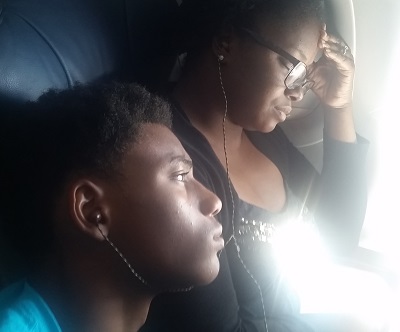 Sharing a pair of earphones. Photo Credit: Don Wilson
Once the playlist was created, and we tapped "play," we each had an equal dose of wailing in one ear and music in the other. We had a great mix of oldies like James Brown's "I Feel Good," upbeat party songs like Owl City's "Good Time," and favorites like One Republic's "Good Life." We also had inspirational selections from artists like Mary Mary and Lecrae.  Eventually smiles creeped across our faces, as our focus switched from the baby that we could hear going off in one ear, to music that ensured us that everything was going to be okay, in spite of our current situation.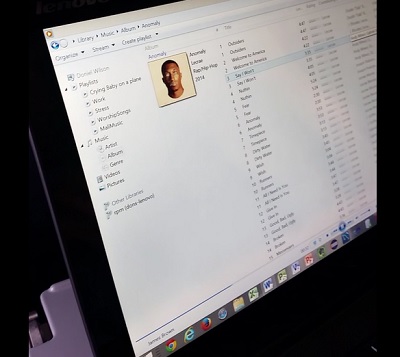 We were having such a great time with the playlist, swaying to familiar tunes, and mouthing the words to our faves, we didn't even notice that baby had passed out. Soundly sleeping… sugar crash.  Looks like the mom knew what she was doing after all.  Eventually we got to chatting with the mom, who was actually a very cool woman, about everything from fishing to watersports, and how she recognized Evan from Instagram.  I realized after I had listened to enough inspiring music that it wasn't the baby that was the issue – babies cry – that's like… their "thing."  My vacation was over, and I was annoyed.  I am usually a very optimistic person who can find beauty and promise in just about anything, but there are times that I need a little boost, so staying inspired on the go is a must.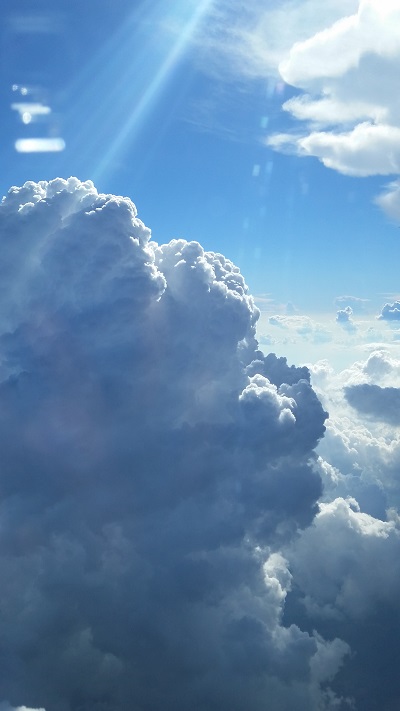 I almost missed THIS view while complaining about the crying kid. If this isn't inspiring, I don't know what is… Photo Credit: Eva Wilson
AT&T Inspired Mobility is a conversation about how people are using Internet and mobile technology to enhance their inspirational experience. If it weren't for my husband making sure that he stays inspired with great music, we would have been in for some serious mental turbulence on that flight.  I was really glad that he was willing to share.  We don't only look for inspiration from the pulpit and the pews, we use personal computers to smartphones and tablets. The way people are experiencing inspiration, in houses of worship, at home or on the go, is changing. We live tweet sermons, take notes on tablets, live stream services, access apps for studying, and pay tithes online.  People make AT&T products and services a part of their lives, and we share how those experiences impact users with AT&T Inspired Mobility.
This year, one of the events that AT&T will sponsor to continue the Inspired Mobility conversation, is Blogging While Brown in Austin, Texas June 19-20. We will hear from Lecrae, an extremely popular rap recording artist who inspired by his faith to share music that uplifts and inspires. We will also get insight from Valorie Burton, a bestselling author, speaker, and life coach dedicated to helping people get unstuck and be unstoppable in every area of life.  James Andrews will share how he connects to his faith and shares his experiences with mobility, a huge part of how he stays connected while on his global treks. Jason Caston, internet church strategist, digital platform strategist and developer for The Potter's House of Dallas (T.D. Jakes Ministries) and an avid blogger on digital ministry, and L. Michelle Smith will also return to the conference after a successful panel discussion last year, and also host a series of Google Hangouts around the Inspired Mobility discussion.
I will board a plane and head to Austin to join fellow bloggers of color at the conference, and I will definitely be prepared this time with my own "Crying Baby" – "Chatty Neighbor" – "Scary Turbulence" – "Snoring Passenger" playlist. Sometimes I need that reminder that despite what is going on around me, whether I am on the ground or thousands of feet in the air, everything is going to be okay.
Follow the #inspiredmobility hashtag to see how myself and others stay inspired on the go.  I will be live tweeting from the sessions, so be sure to follow me at @socamomdc to get all the latest information on AT&T's Inspired Mobility initiative.
Click here to check out some of the conversations that I had with bloggers last year at Blogging While Brown in New York about how they stay inspired on the go.
This is a sponsored post. I received a conference ticket, flight, accommodations, and other monetary compensation from AT&T. As always all opinions are my own and content is original.