The morning after the conference, I woke up at least fifteen times with a screaming headache.  I suffer from migraines, but this was different. The pain was familiar, but not like a migraine. I was snatched from a sweet sleep I haven't enjoyed for years because of law school and life, with head and neck pain that had the consistency of contractions – sudden pain that starts off gradual and reaches a peak – squeezing, confusing, then subsiding, over and over again. 
It has been sixteen years since I felt that kind of headache. Back then, it lasted for two weeks straight. I thought I was dying.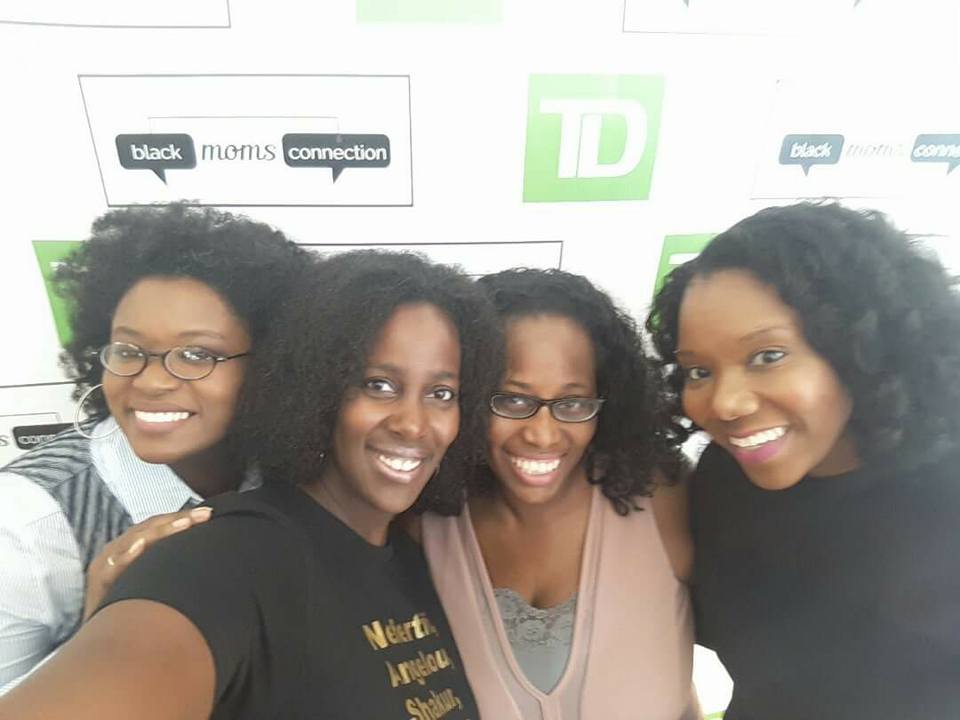 (Left to Right – me, Emily Watson, Tanya Hayles, Tiffany Ford)
When Tanya Hayles of Hayles Creative, creator of Black Moms Connection, asked me to speak on a panel at her first Black Moms Connection conference, I said yes within minutes.
Later I would find out that my son's move in day was the day before the conference.
The mom in me was worried that it would seem like I rushed out on moving day to be elsewhere when my son needed me for this major milestone, but the former college student in me knew that he would be so happy to be in school that he'd want us off campus and out of his hair as soon as the last box was unpacked. Still, part of me wanted to believe what he said when he told me he would want to have lunch with us, would want to ride with me to the airport, and would hang on to us every minute that he could.
We started packing the week prior to move in day, and with every shopping trip, sentimental song on the radio, and baby photo I came across, I got more and more in my feelings about my first born heading off to university. I kept thinking stuff like, "this is our last movie night before he is officially on his own," or "this is the last time we'll be riding in the car singing and dancing before he is a grown up for real." The only thing that kept me looking beyond the move in day on the 12th was the 13th, the day that I would be on the education panel at the Black Moms Connection Conference.
He packed for school, I packed for Toronto.
On the way down to drop him off we laughed, sang, danced, and played "remember when…" I dipped in and out of sadness and excitement for his next steps as a student, and mine as a mom of a college kid. Just before I would be overcome with thoughts of missing my oldest, I would think about how much I looked forward to hanging out with some of my favorite online mamas, but in real life this time.
We spent the night before move in day in the hotel room. My husband had picked up warm cookies from the desk when we checked in, and after they were all distributed, he started cutting my oldest's hair. He handed me the clippers and I was allowed to do him the honor of giving one last back to school edge up before he goes on campus and finds a barber of his own.  While the two little ones talked the friendly folks at the front desk into giving them a second round of those warm cookies, my husband and the oldest worked on setting up his laptop.  I just sat.
In the morning, we moved all his stuff into his dorm room, made a Wal-Mart run for a few items that we forgot, and by then, not even noon, my oldest did what I knew he would – showed signs that he was ready to get his adventure started – without us.  I told him he wouldn't want to be with us beyond lunch. He barely made it through that. We hit the drive through around the corner and took him back to campus. There was going to be no riding with us to the airport, no long tearful goodbye… or so I thought.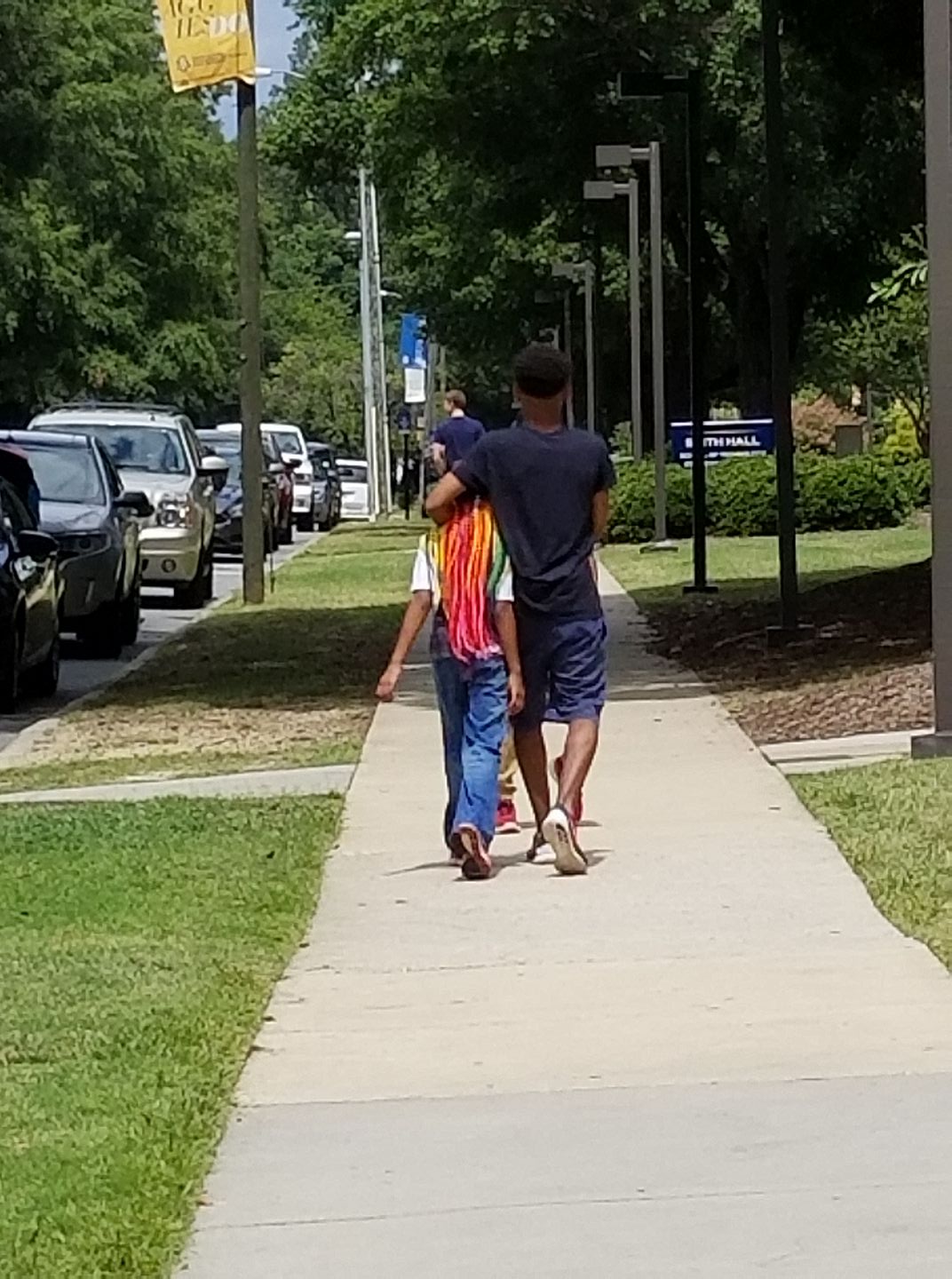 The littles saying goodbye to the big one.
My middle  child bet everyone two dollars that he wasn't going to cry when we left my oldest, and had already spent his winnings in his mind. He was the first one to break.  Then, in front of his roommate, God, and America, my oldest showed that he was still the kid I raised. He didn't care who saw him link arms with me in the store, who saw him hold my hand, who peeped him giving me an excited, over the top, super genuine high five – no matter how reluctant I was to participate, who saw him give me a hug, or who saw him bust into tears when he hugged us goodbye.
It started to get ugly, so we took it to the hallway. I should have taken my middle son up on that bet. I could have been eight dollars richer today.
There were no tears left for dropping me off at the airport. I took the little ones to the bathroom, kissed the hubby goodbye, and after going through security, found myself some pizza and a Corona while I waited for the flight.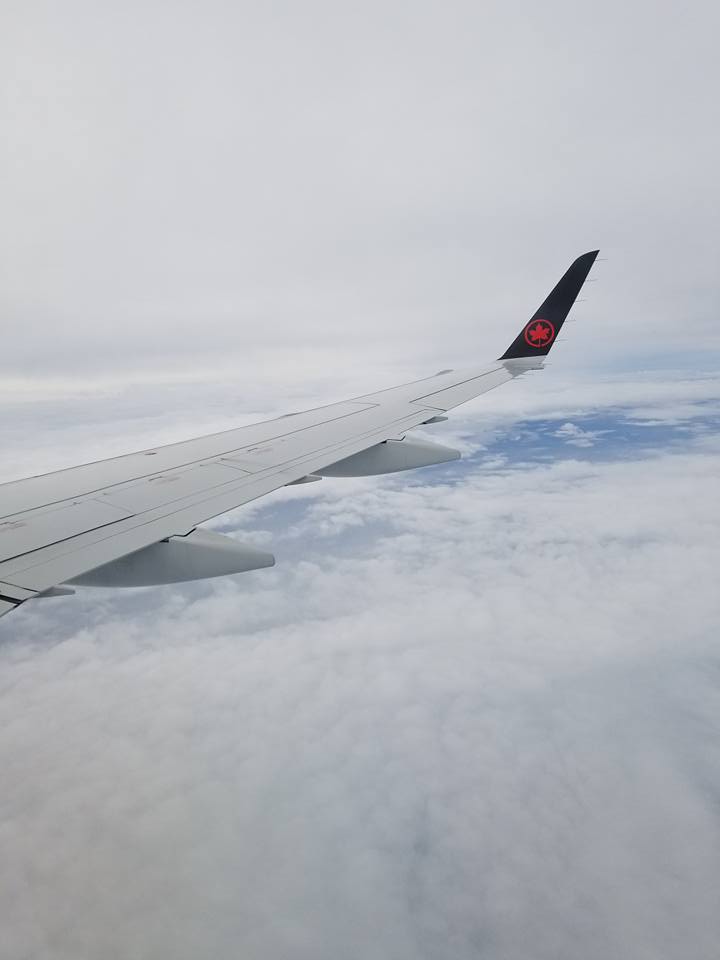 I was conference ready. 
When I arrived in Toronto, I was a little out of it. Tanya, even though she was extremely tired, took care of me and made sure that I linked up with Shelley, owner of the catering company providing food for the conference, who was out taking care of a few last minute things, so that I could get to the hotel. That hotel. That is another post entirely.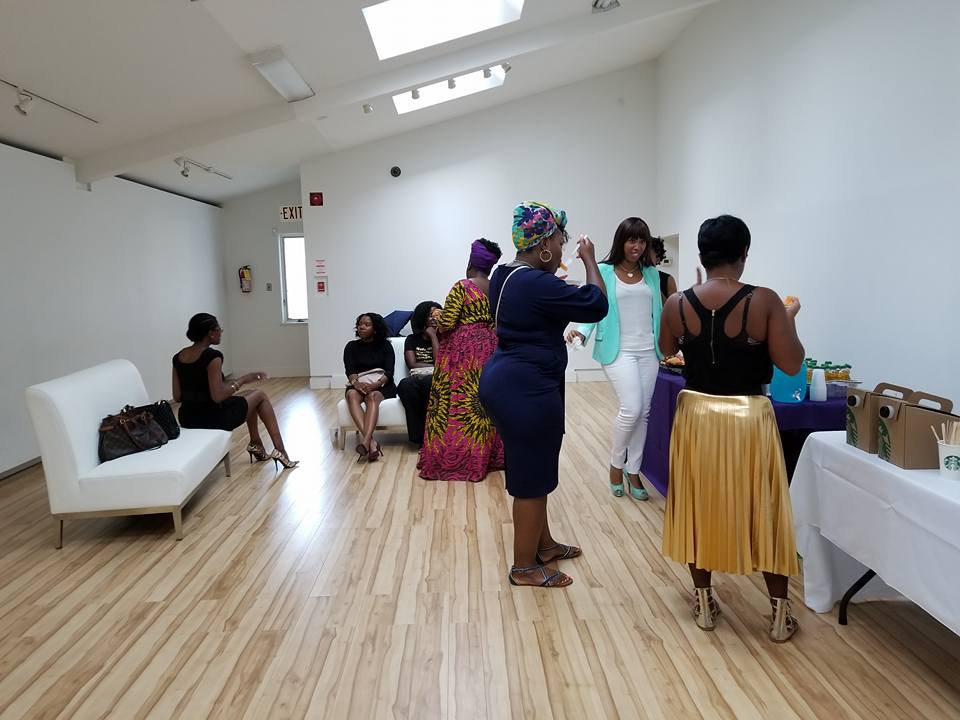 I hopped into a cab that morning and headed to the venue. Once in the green room, I met some of the most amazing women. I say women, not moms, because there were women there who were not moms, but who had tons of information to share to support moms. I was pleasantly surprised to see that the majority of the speakers were of Caribbean descent from St. Lucian to Grenadian, Jamaican to Trini, Guyanese to Vincy. Hearing them break into patois to make a point every now and then was just so beautiful.
Catering company? Also of Caribbean descent, so the smells coming from the kitchen? Heaven. Yes – she cooked fresh on site with the sound of Beenie man carrying the curry through the vents first thing in the morning. While I enjoyed the fresh fruit, bagels, and pastries she prepared for breakfast, my mind was already on lunch.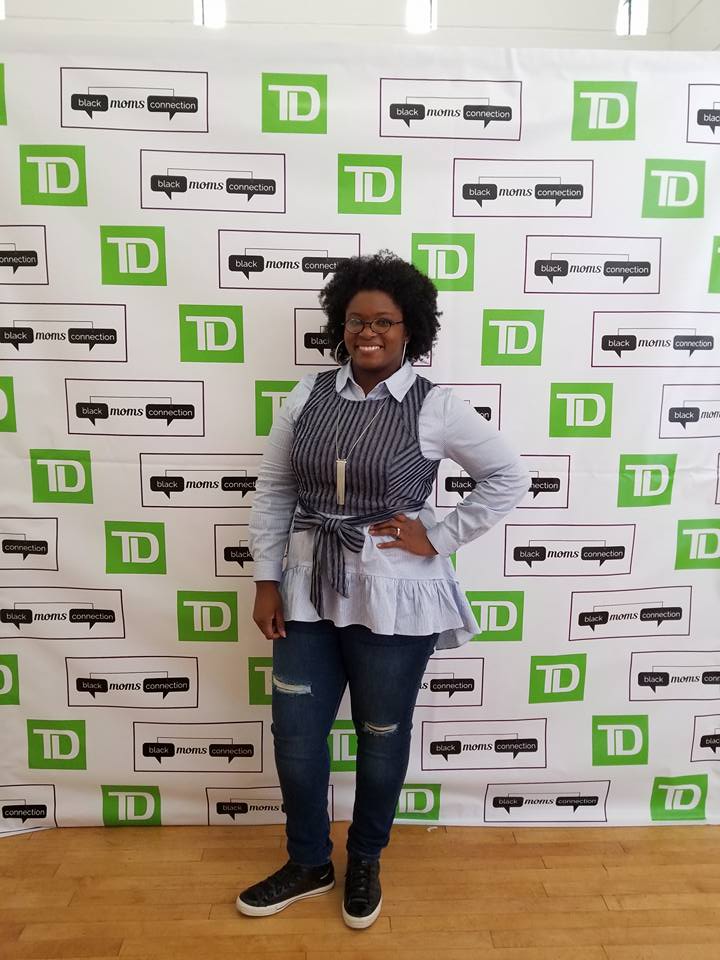 Jeans and top by NY & Company, patent leather All Stars by Converse. Tanya said to wear whatever made us comfortable. This is pretty much me…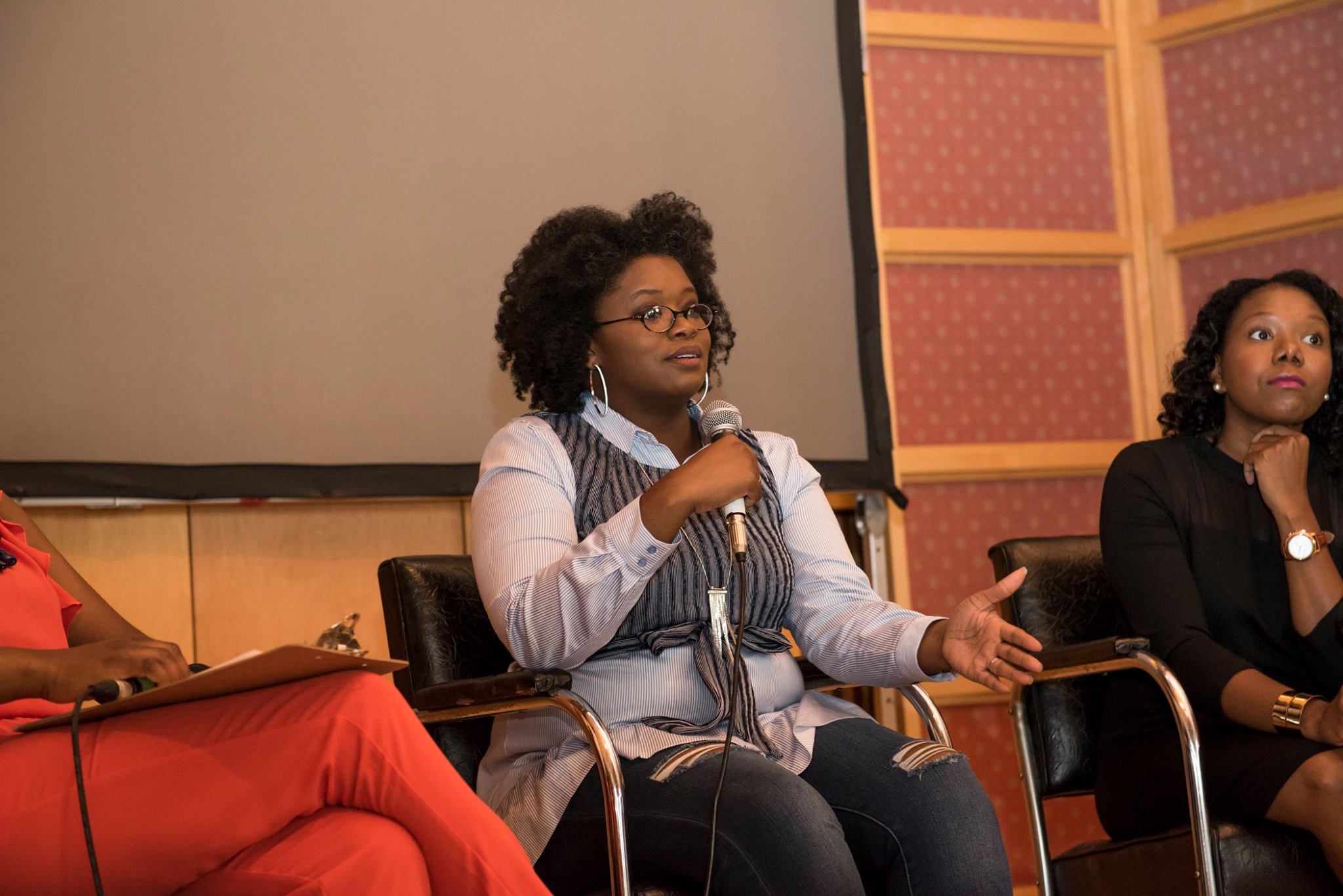 I shared my homeschooling experience on the first panel of the day. The education panel was moderated by Emily Mills of How She Hustles and founder of HerStory in Black, with Tiffany Ford, Toronto District School Board trustee and founder of founder of Beyond 'at-Risk', and Emily Watson, Toronto school board teacher and educational consultant.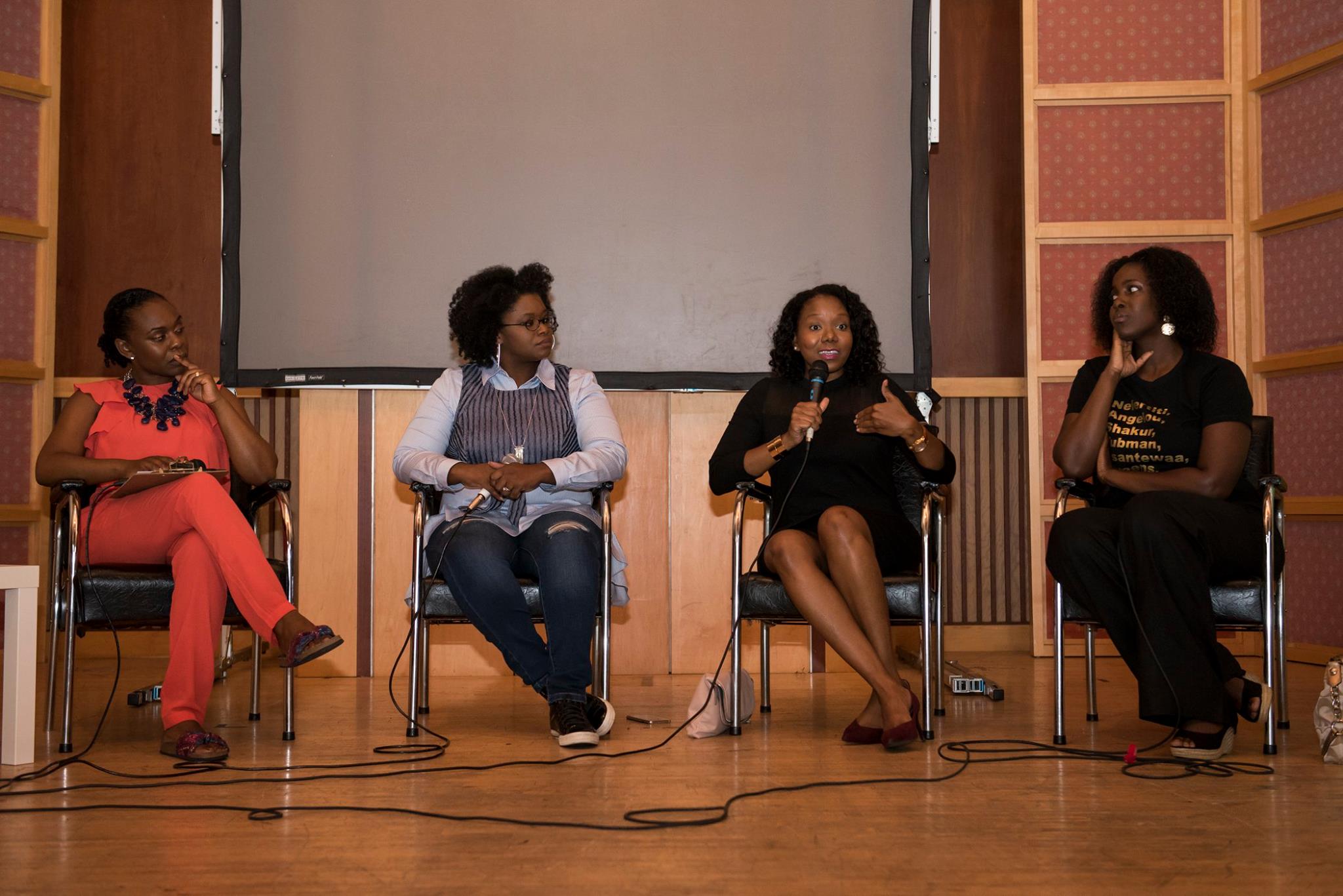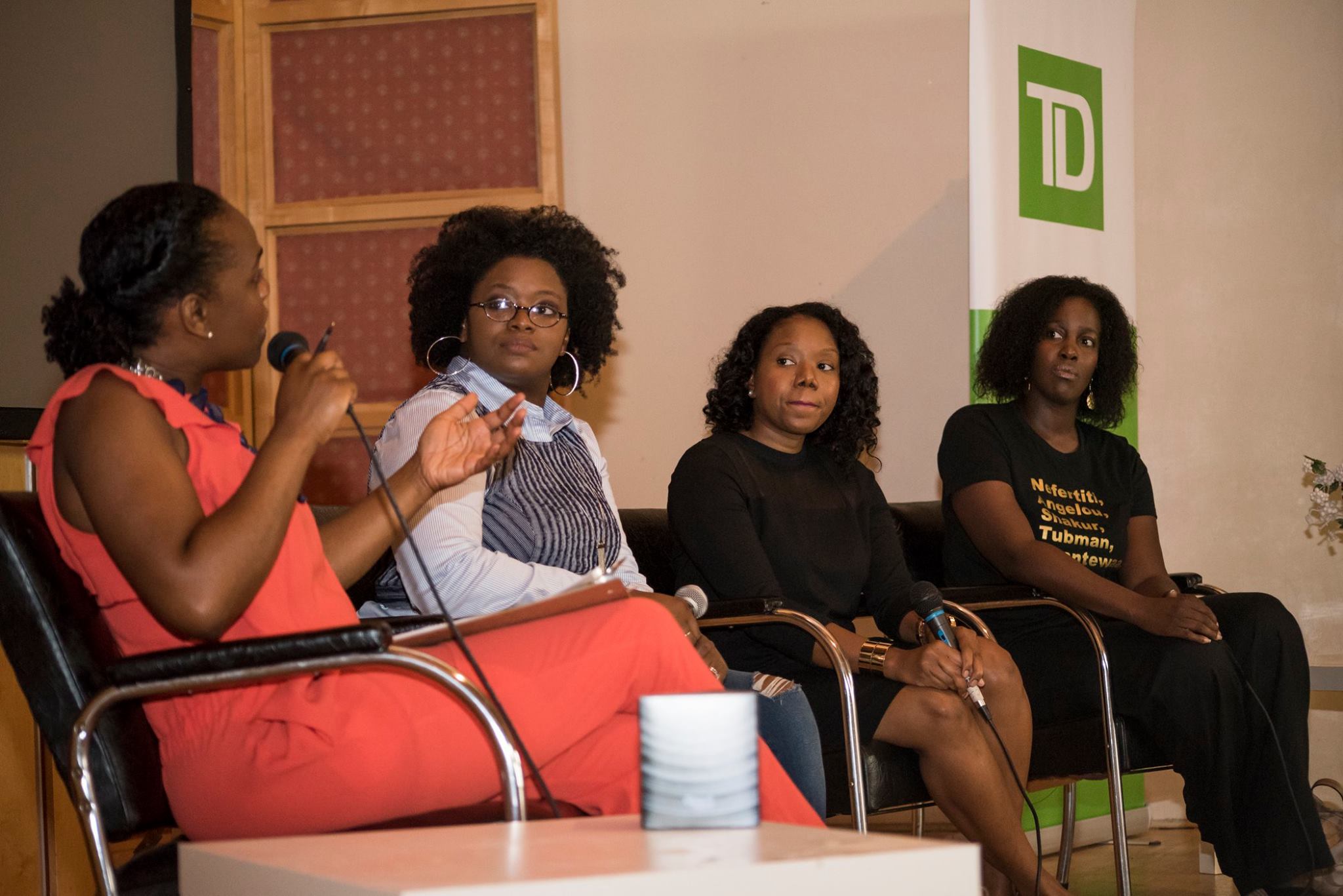 "What do you say to your child when he or she has been called the n-word?" We all had great answers, but our faces… Our faces let you know. Photo credit Leilah Dhore.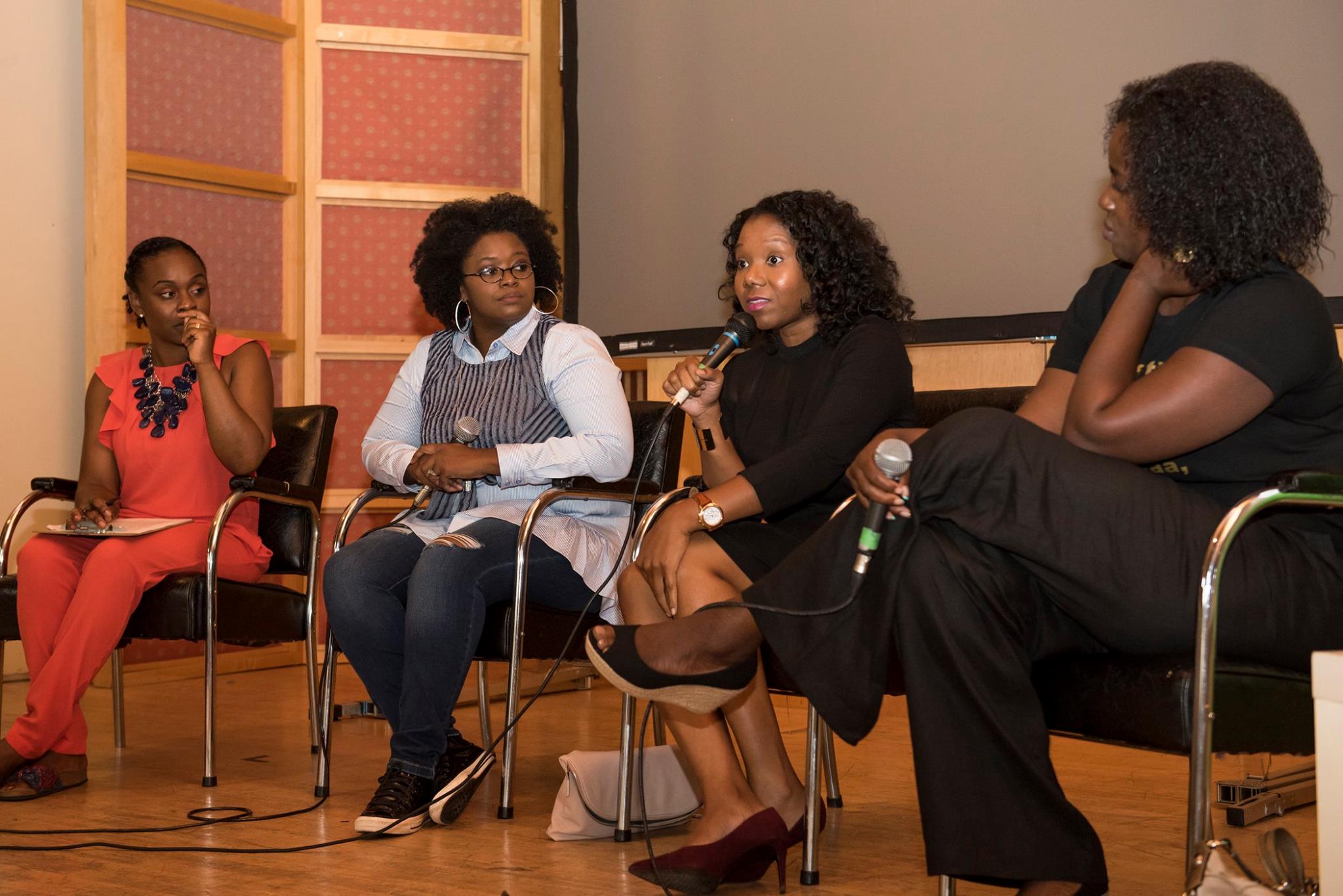 I talked about the stereotypes associated with homeschooling, why one would consider homeschooling, and the importance, whether you choose to homeschool or not, of creating an environment of lifelong learning for the whole family.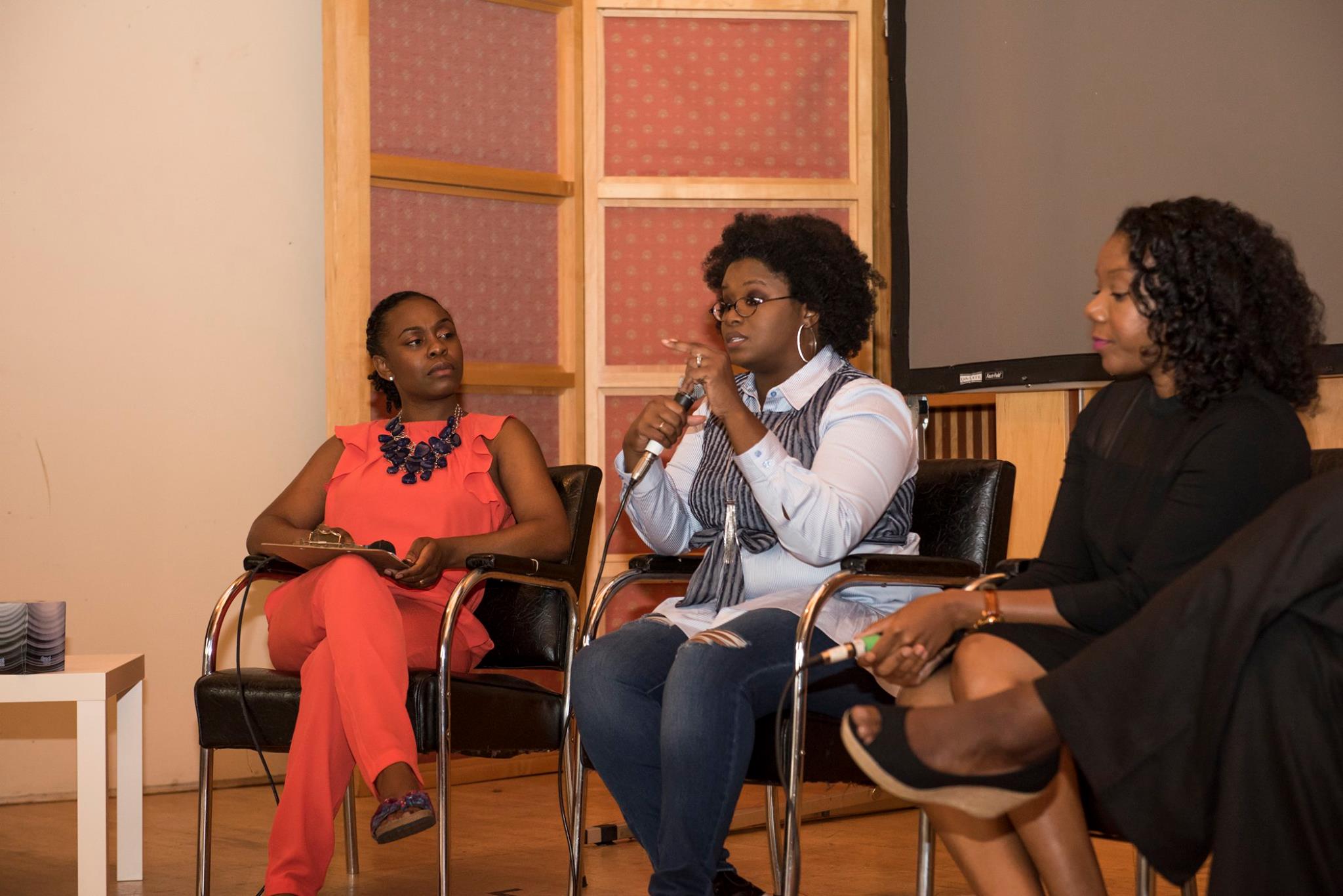 When I mentioned that I had dropped my son of at college less than 24 hours earlier, the audience cheered. That almost took me out. I choked back the tears and made a joke – they laughed – I laughed. I was with my tribe.
At the end of the day, that is all we want as moms. We want to feel supported, loved, and like what we did with our kids mattered.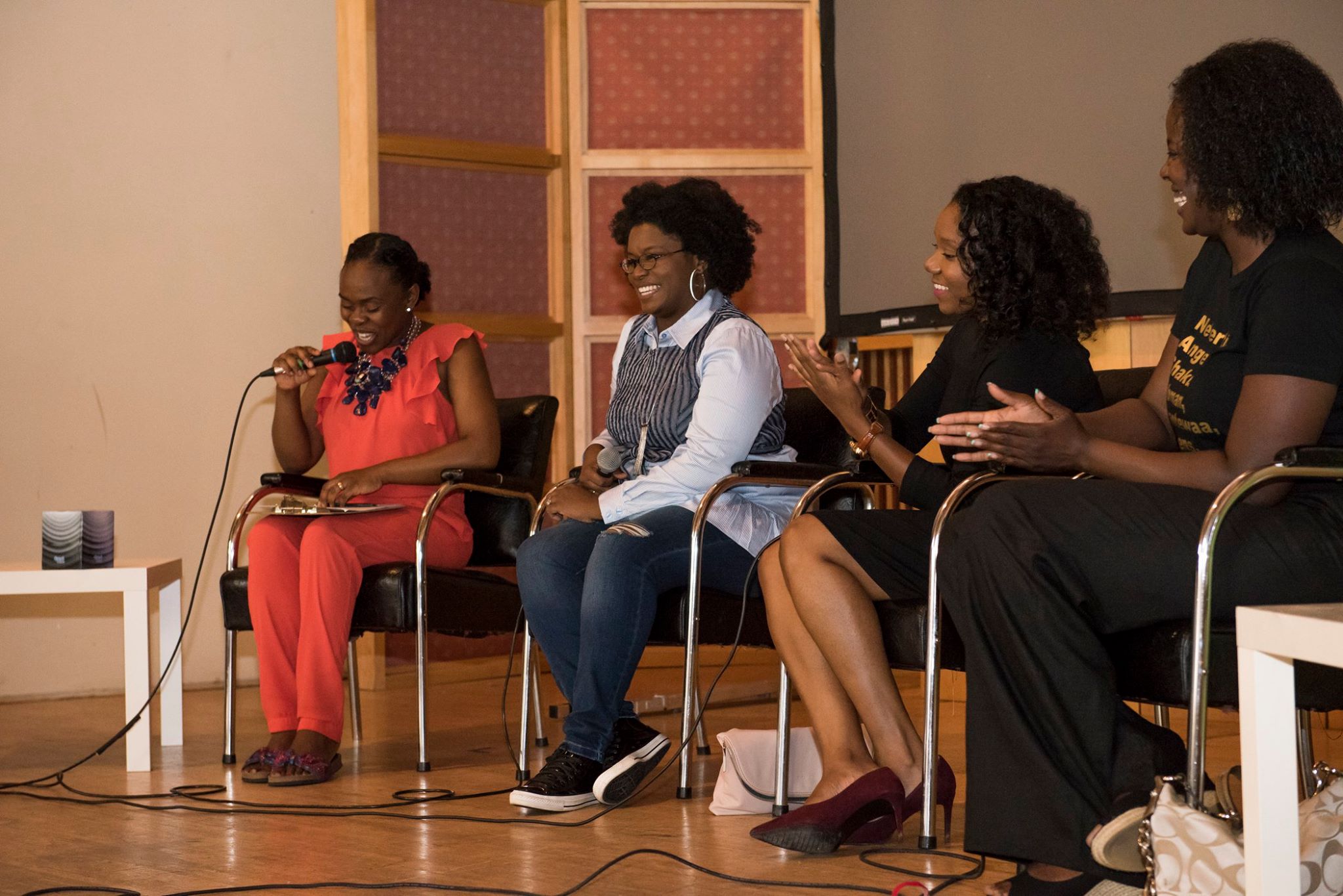 It feels strange giving a play by play of the event, so I won't. It is almost like publishing the minutes of a sorority meeting or a narrative of a Vegas girls' trip.  What happened there, stays there. There's nothing I can say to get you to feel what I felt or what attendees felt other than to tell you to check out the #BMCC17 hashtag on Twitter, Facebook, and Instagram. Here are some photos of the day…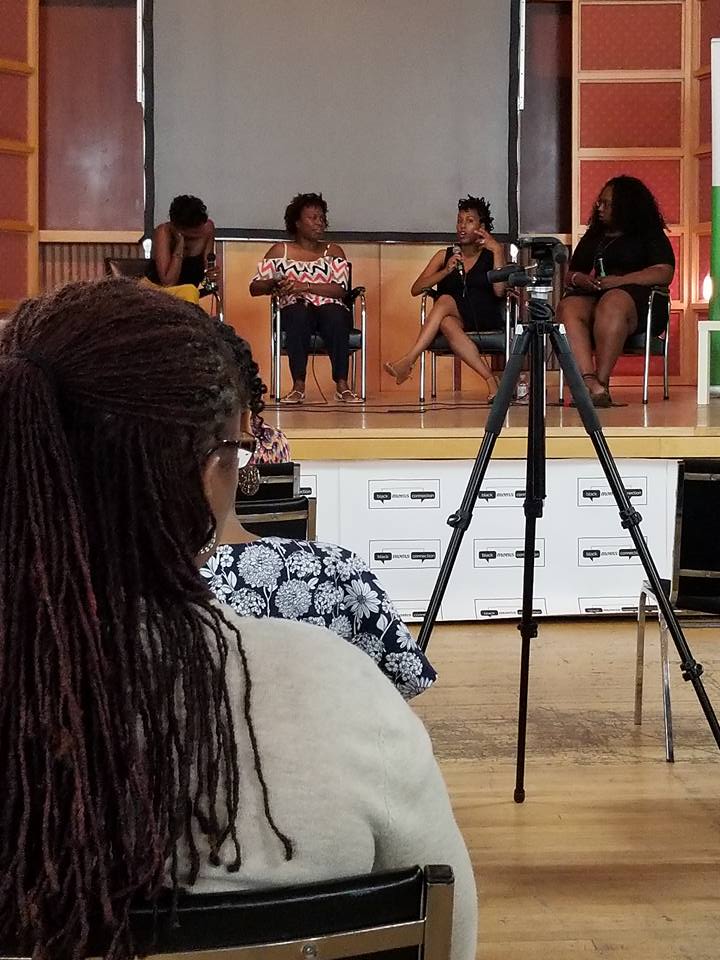 Special Needs Panel (Left to right – Jahmeela Gamble, Nicole Thompson, Althea Frank Esho, Jaeda Laurez)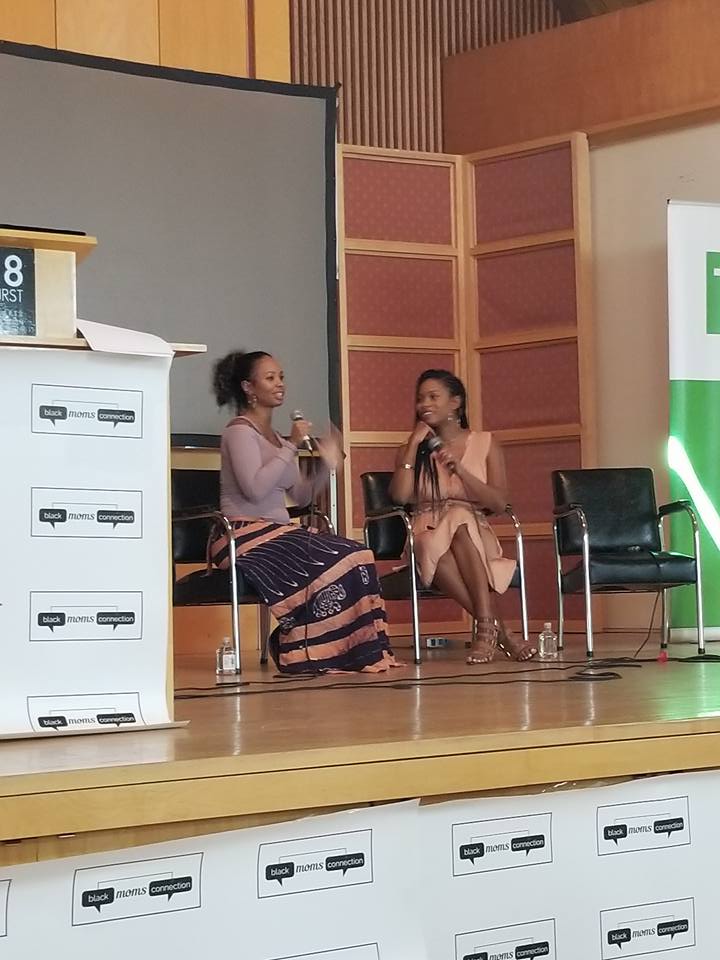 Fireside chat with Kim Katrin Milan and Bee Quammie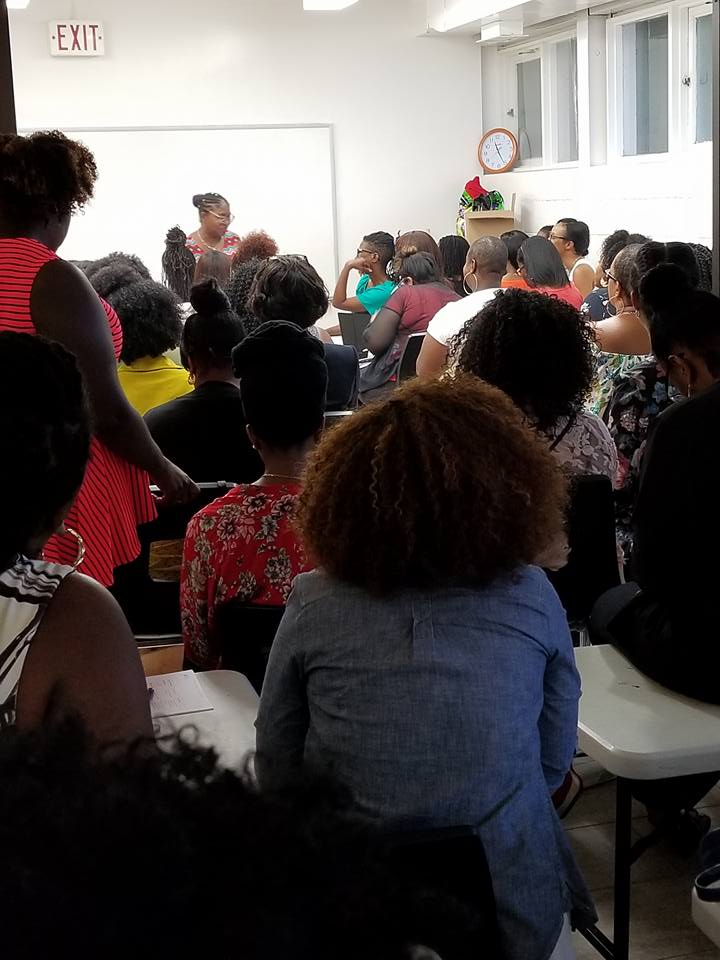 Packed Money Matters Workshop hosted by TD Bank.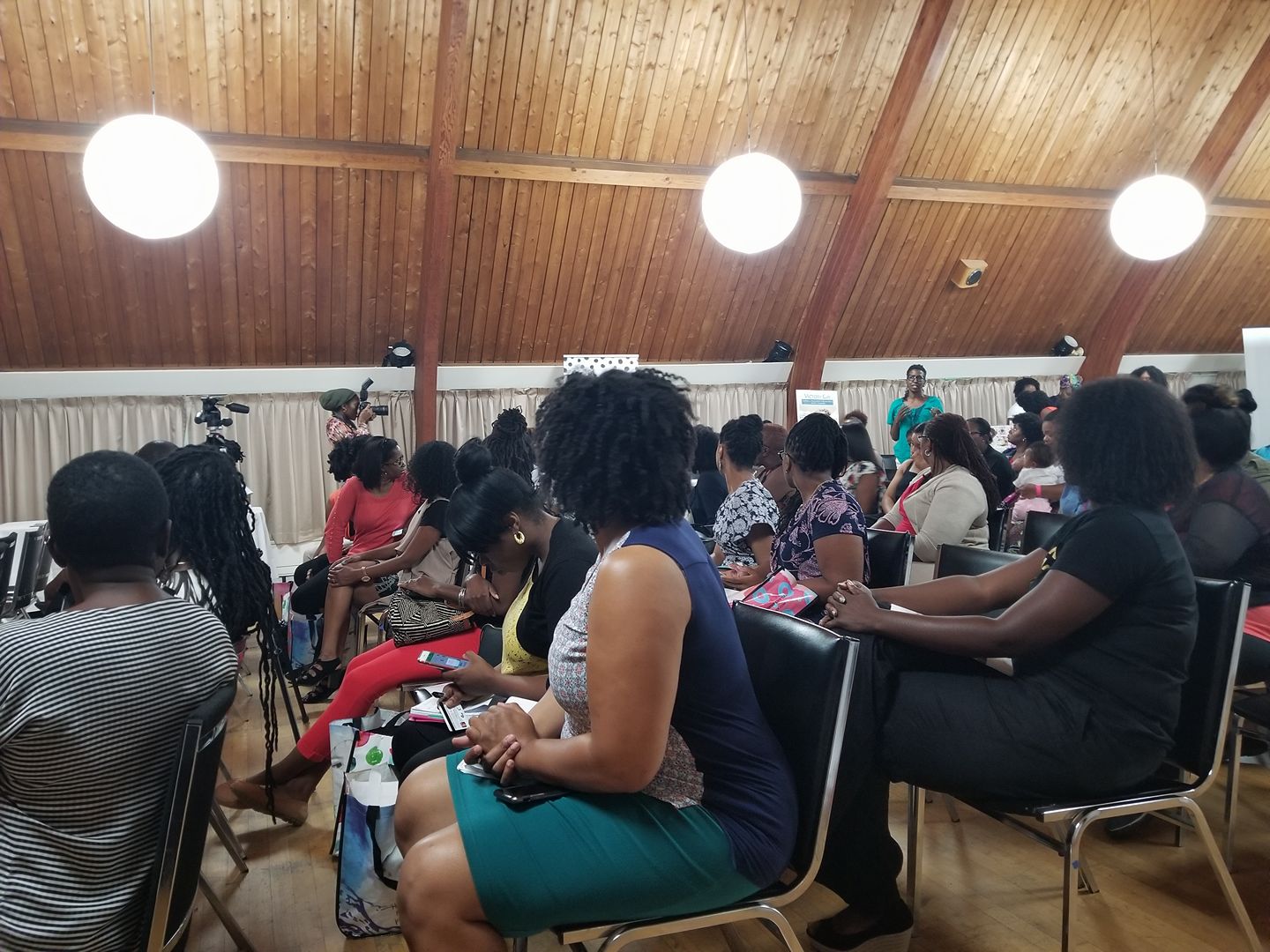 Audience sharing experiences with each other.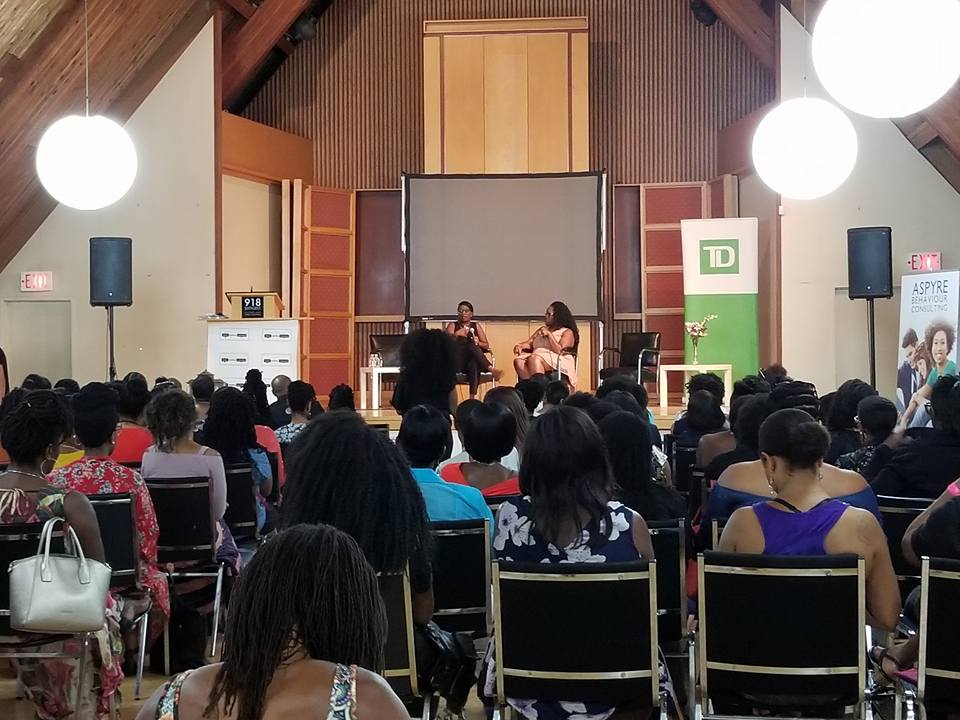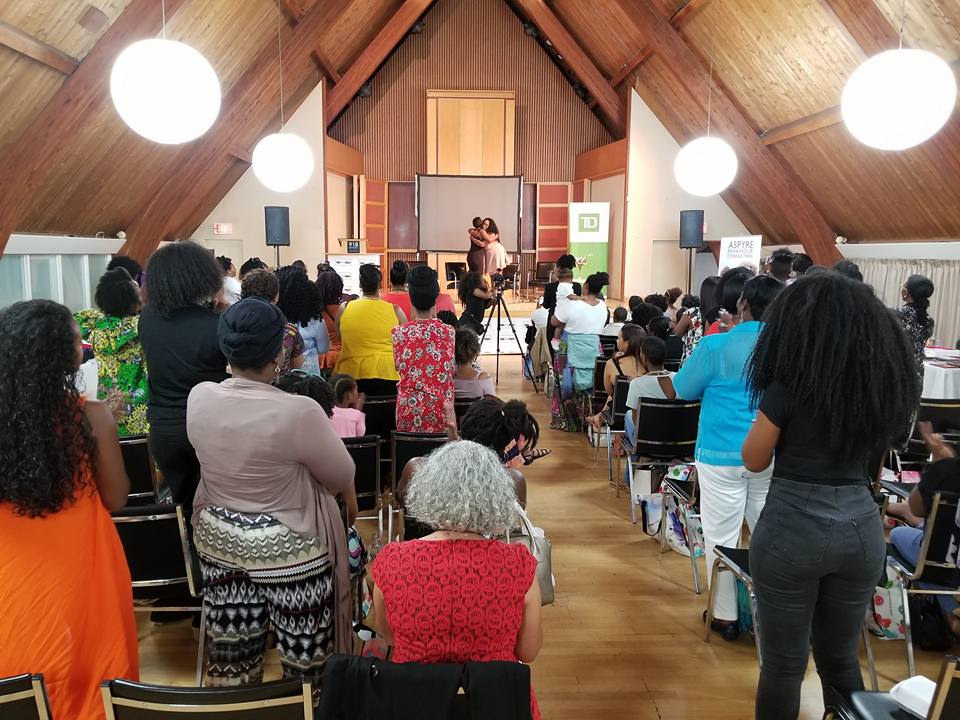 Conference organizer and BMC founder Tanya Hayles accepts certificate of appreciation and a hug from Celina Caesar-Chavannes, Member of Parliament for Whitby and the Parliamentary Secretary to the Minister of International Development and La Francophonie.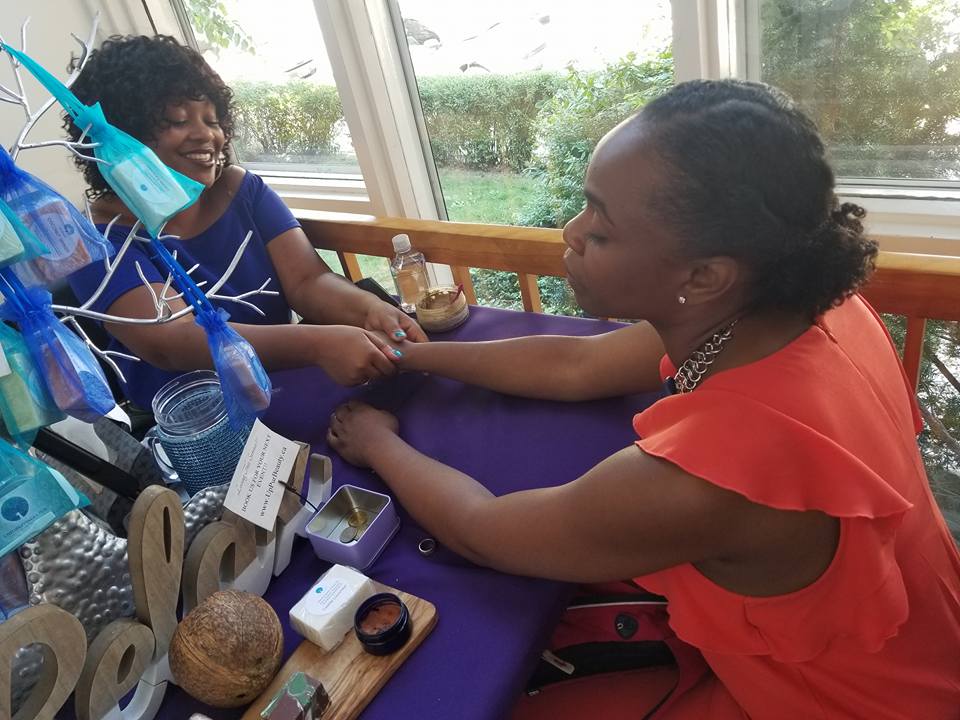 Emily Mills, MC for the event, takes a break with a hand scrub and massage from vendor Up Pur Beauty Handcrafted Natural Skincare.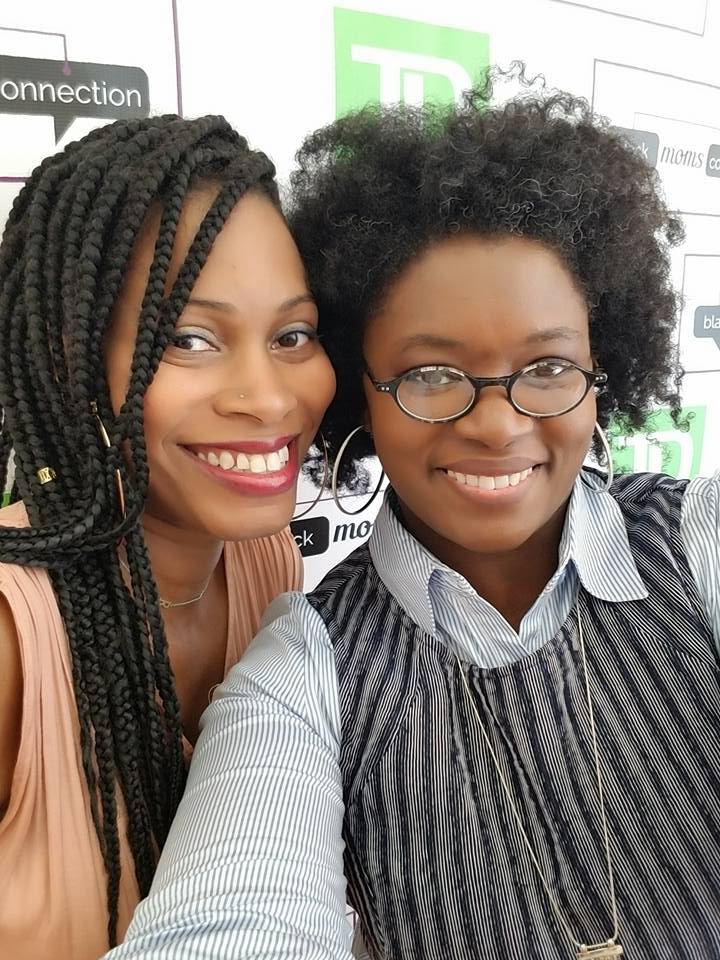 I was so excited to see the fabulous Bee Quammie again! I haven't seen this amazing momma in a while…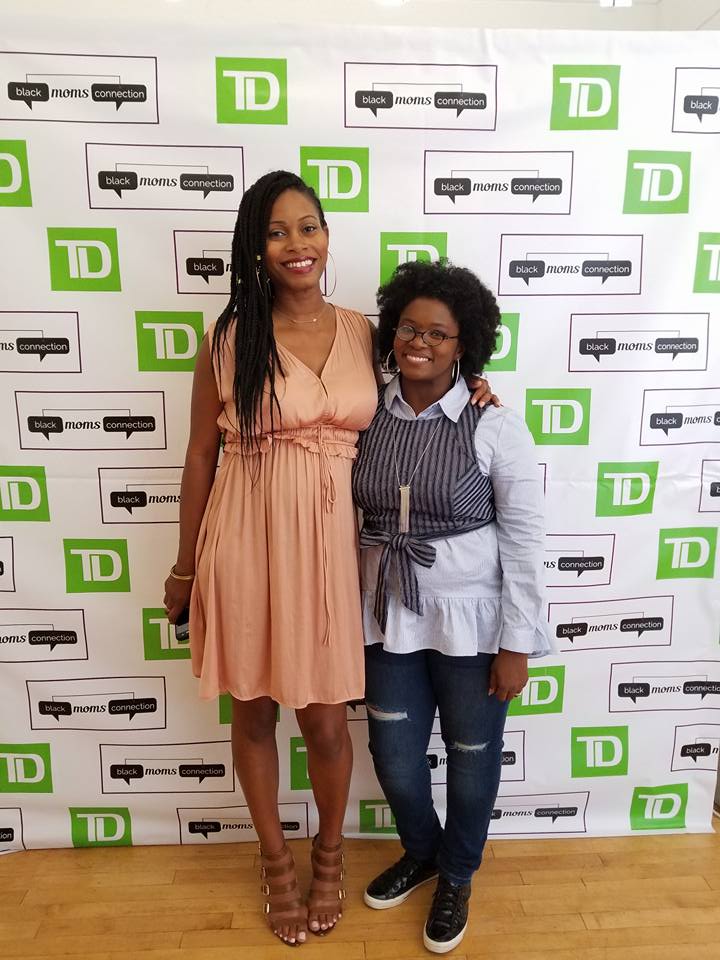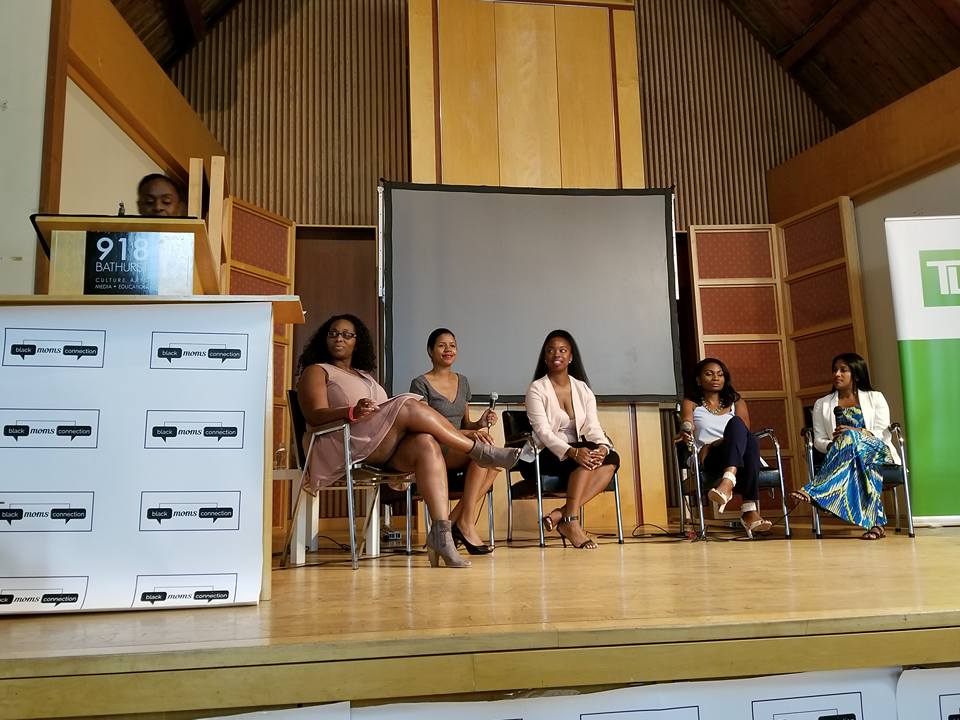 Financial Literacy Panel: Moderator – Tanya Hayles, Panelists – Mellissa Allen, Nicolle Williams, Nicole Simons, Shama Ahmed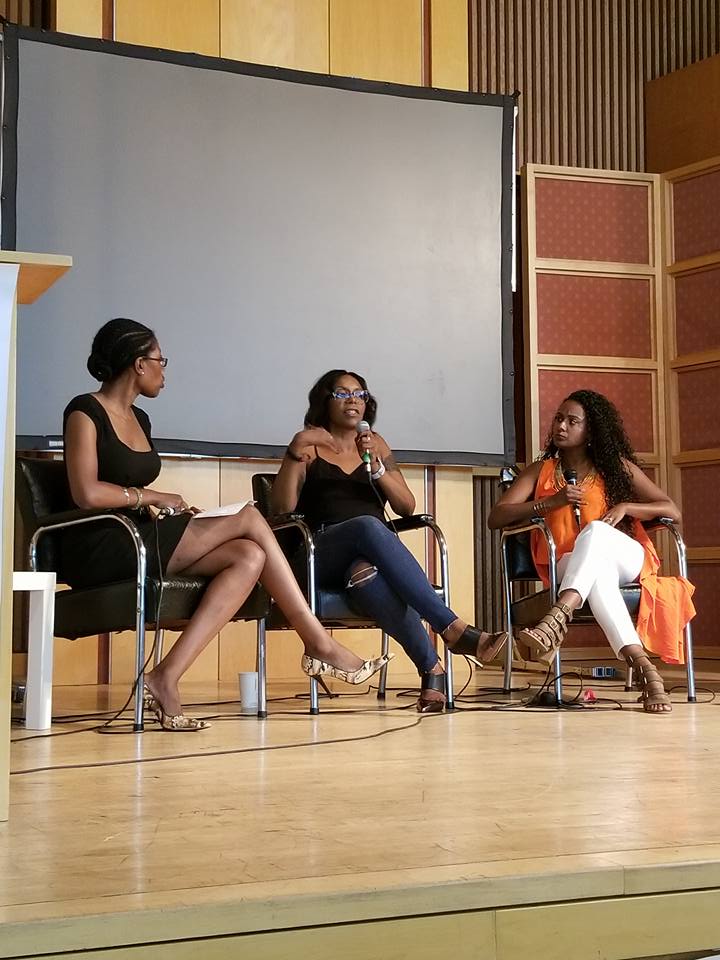 Love, Sex, and Relationships Panel: Marina Phillips, Max Greene, Chanté Salick
Law Panel: Mara Clarke, Natasha Lett, Stephanie Okola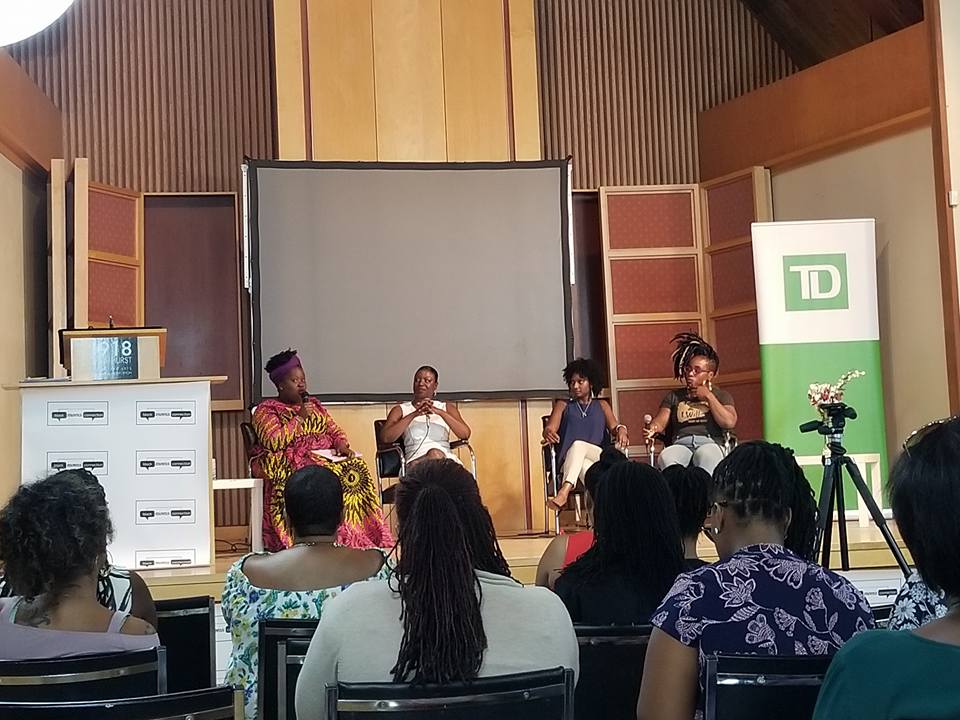 Wellness Panel: Monique London, Dr. Nadine Wong, Cian Knights, Kym Niles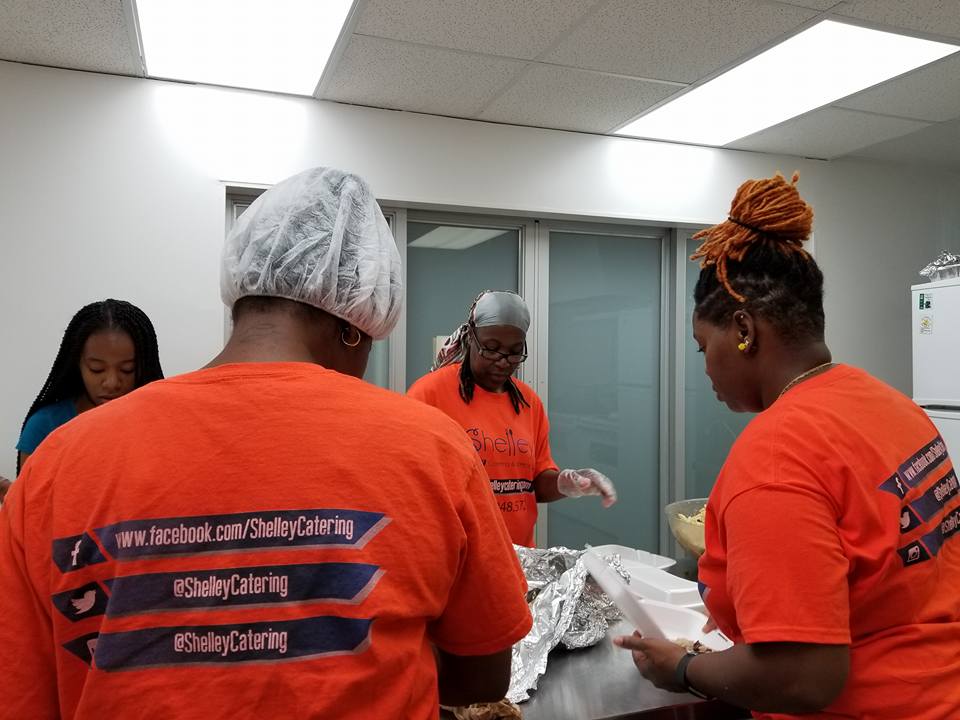 The Shelley's Catering Team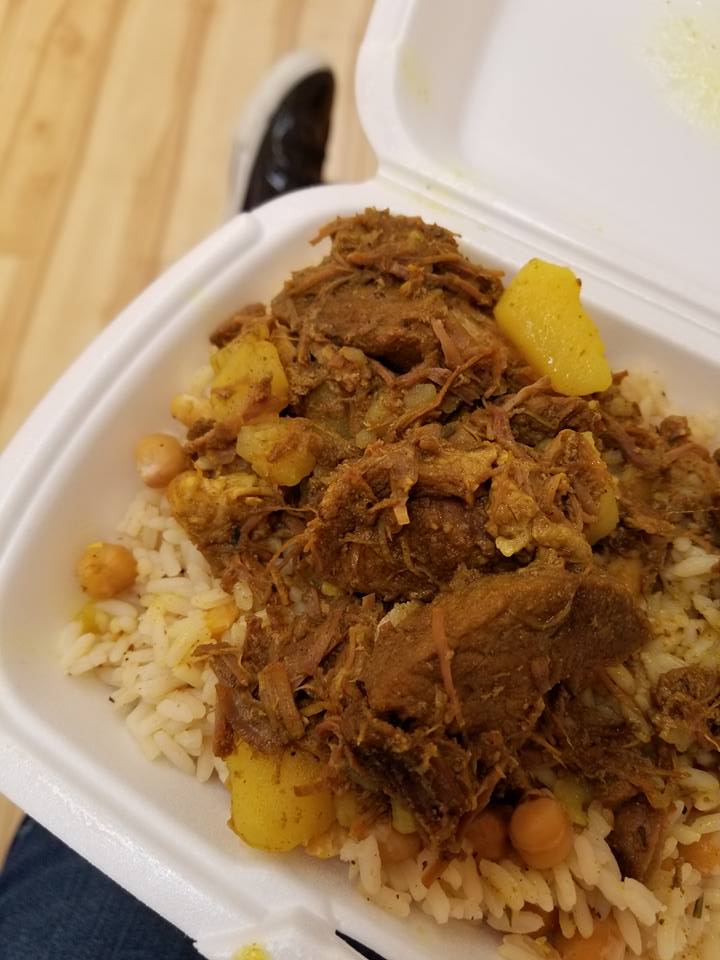 Curry goat, rice, channa by Shelley's Catering.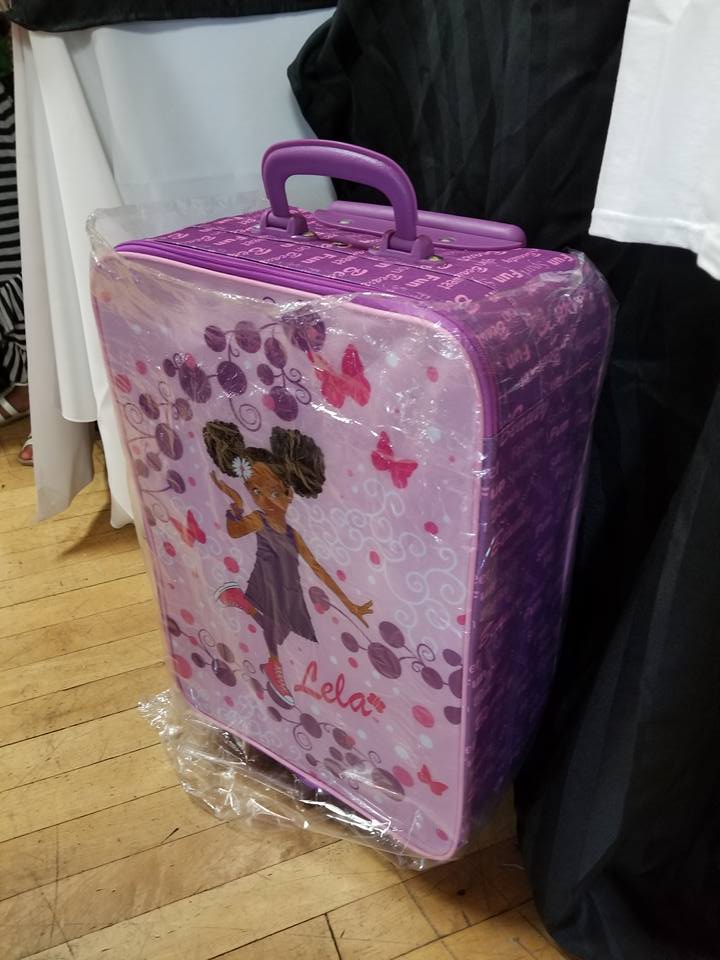 Adorable rolling suitcase from KidsSwag.ca.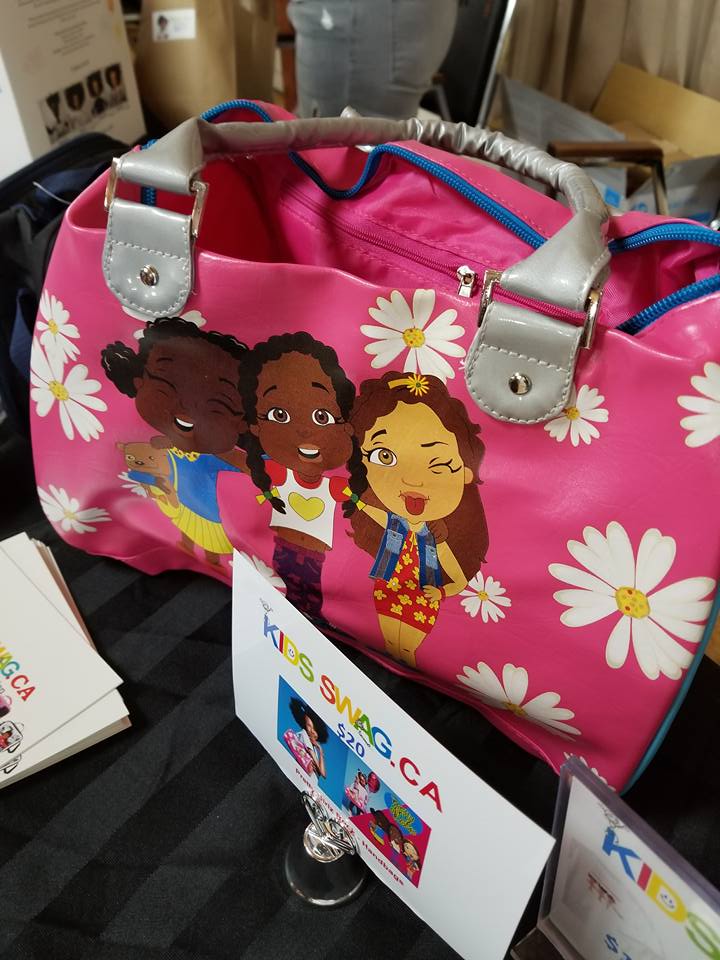 Sweet bag from KidsSwag.ca.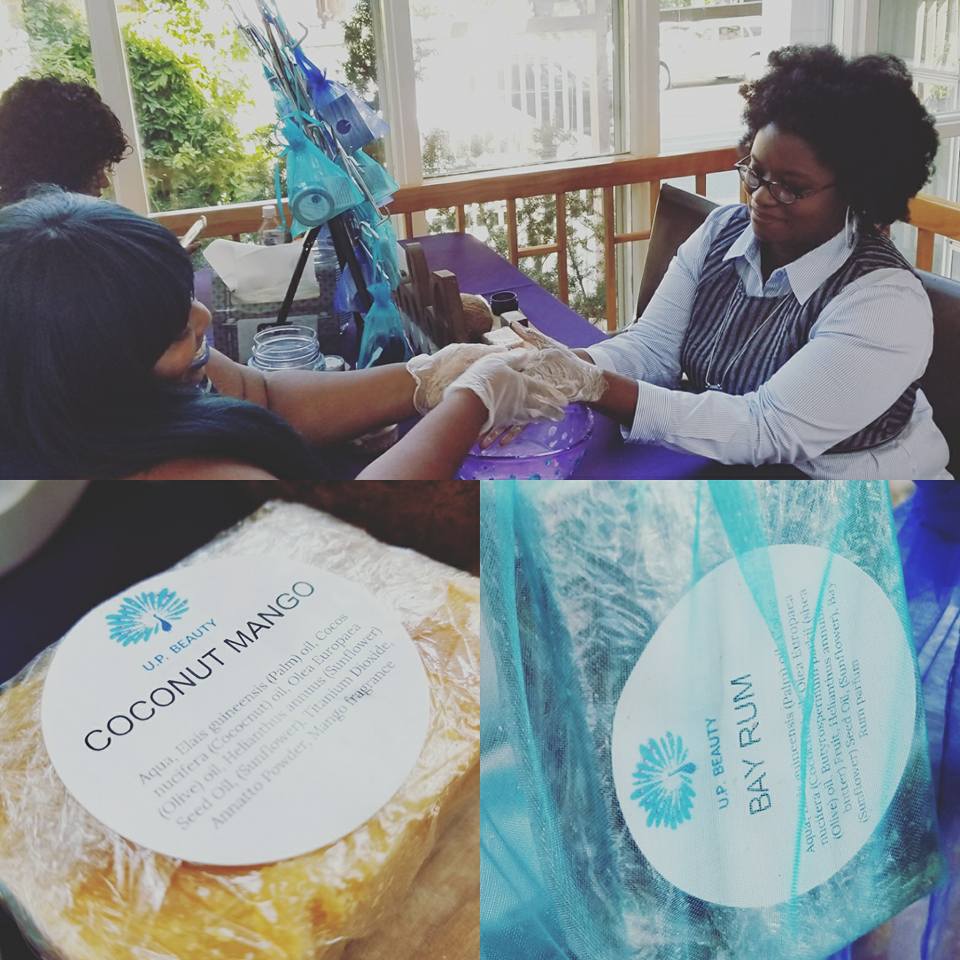 Fantastic hand scrub and massage from vendor Up Pur Beauty Handcrafted Natural Skincare.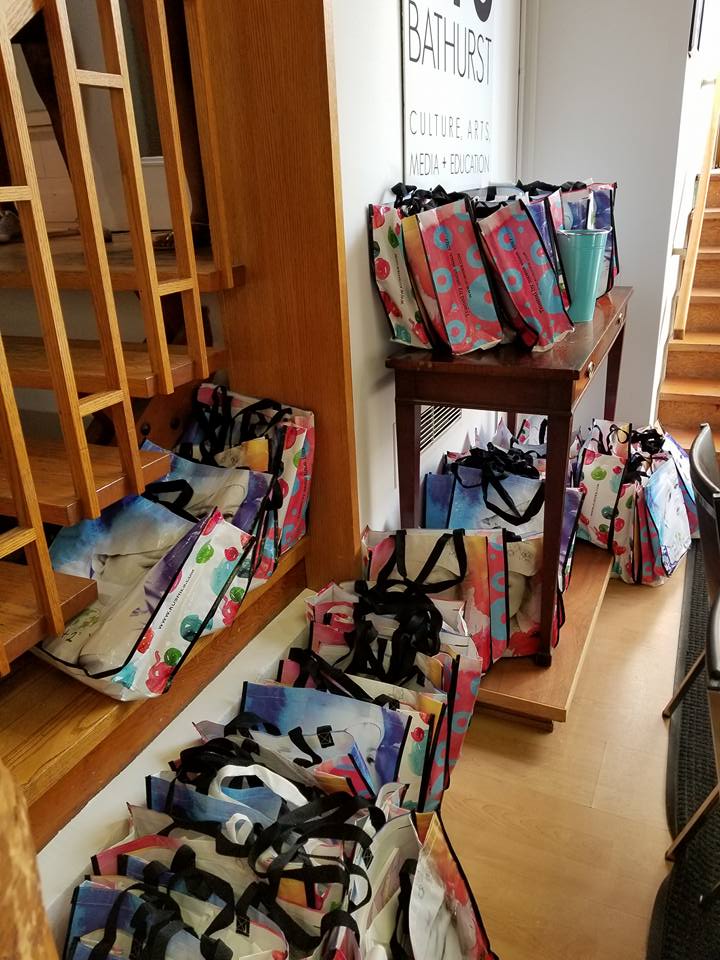 Swag bags!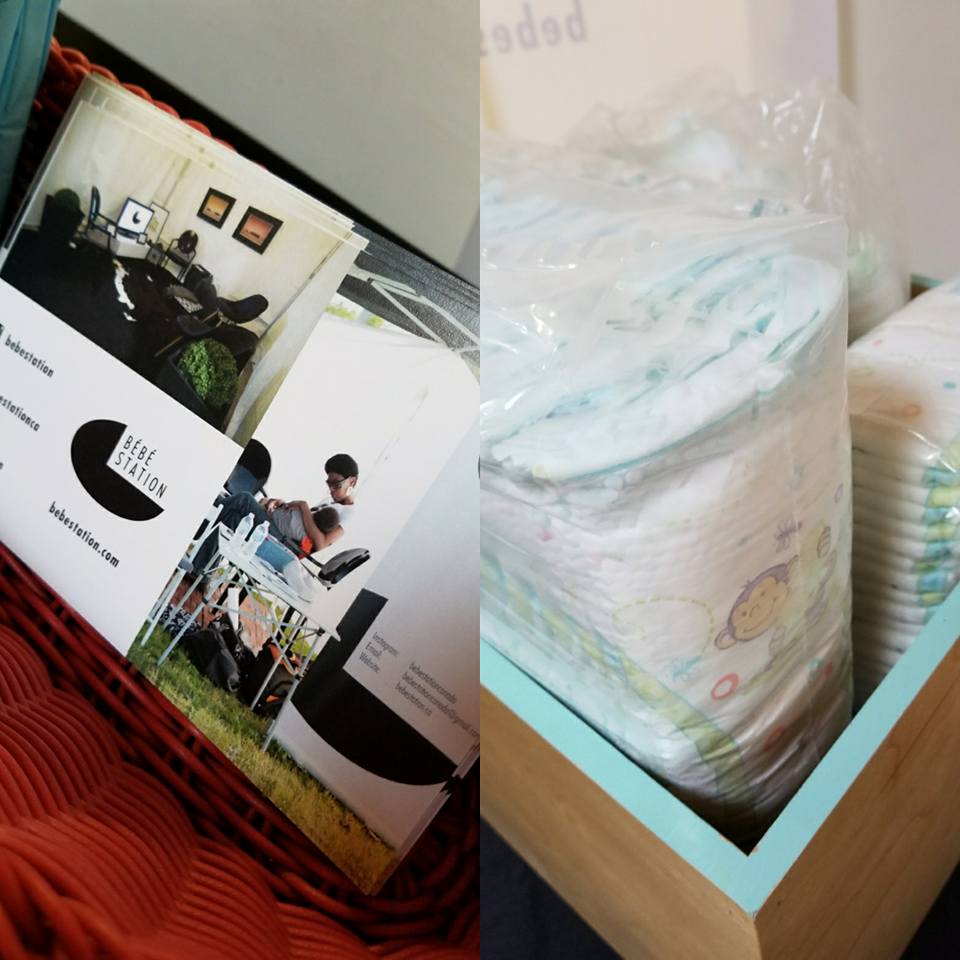 Changing and feeding room by bebestation.ca.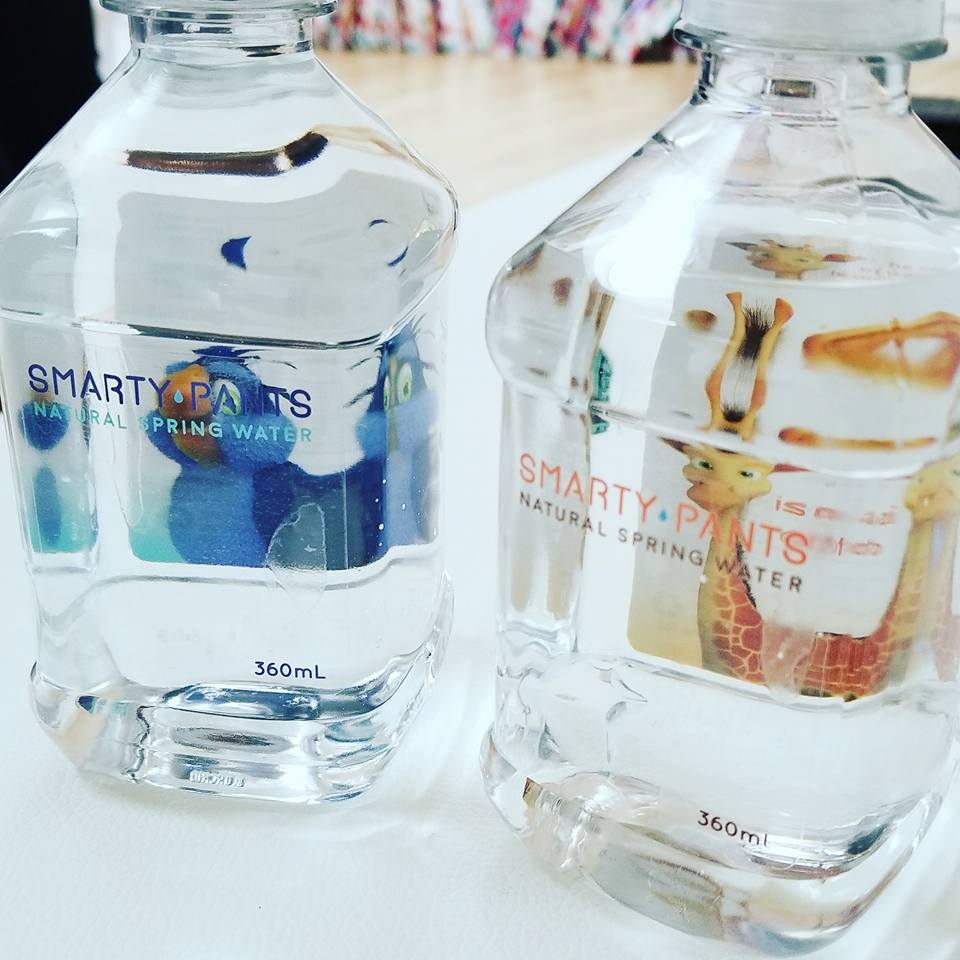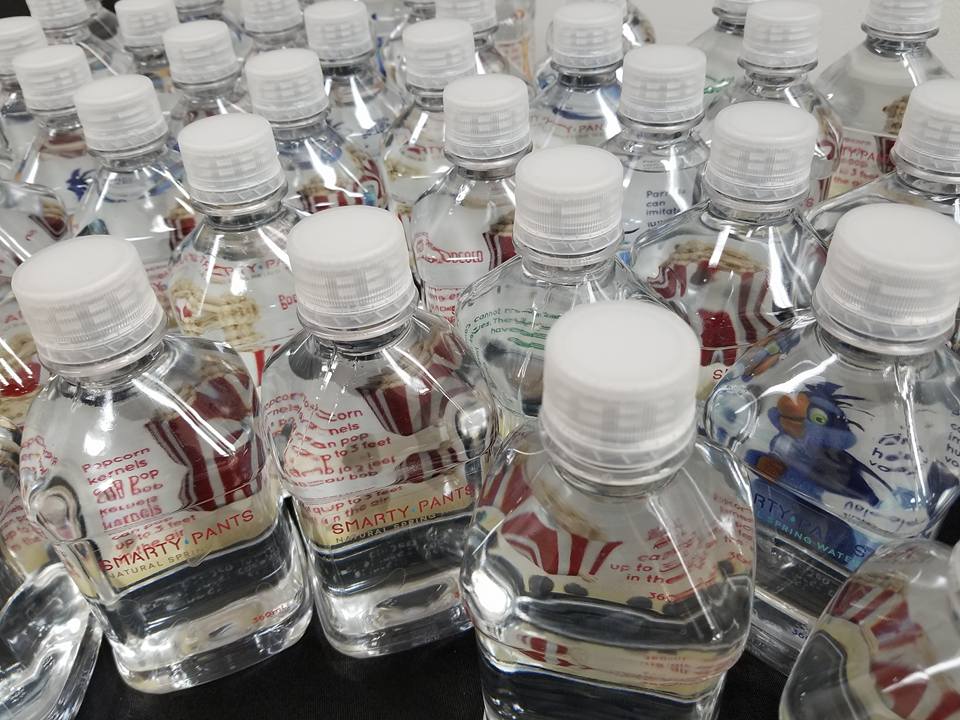 Water bottles from Smarty Pants Natural Spring Water. Each bottle has a fun fact for kids.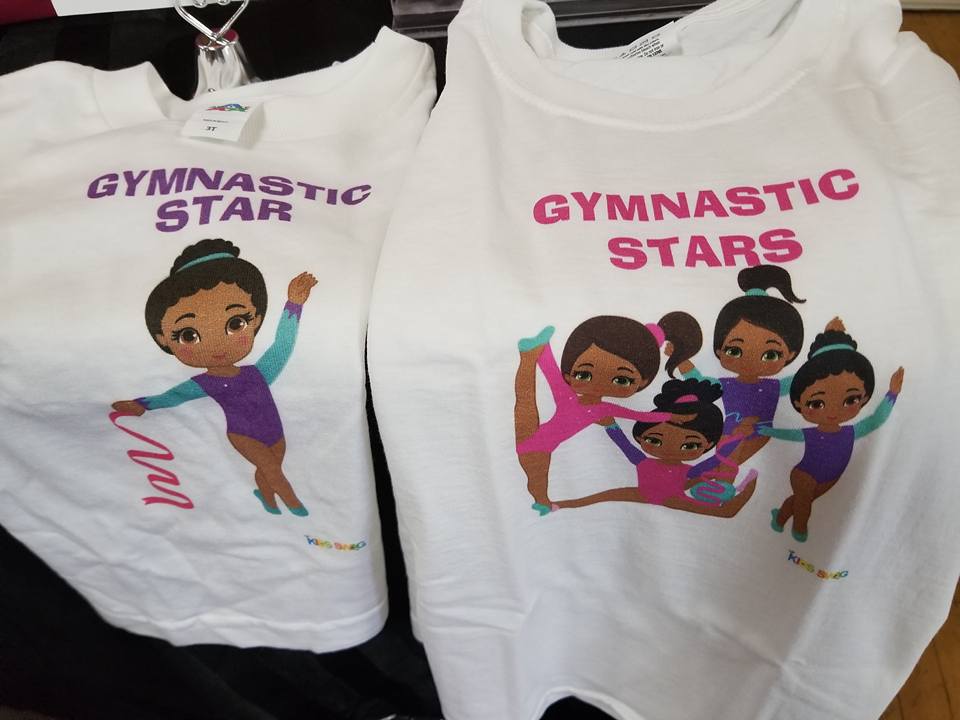 Cute tees from KidsSwag.ca.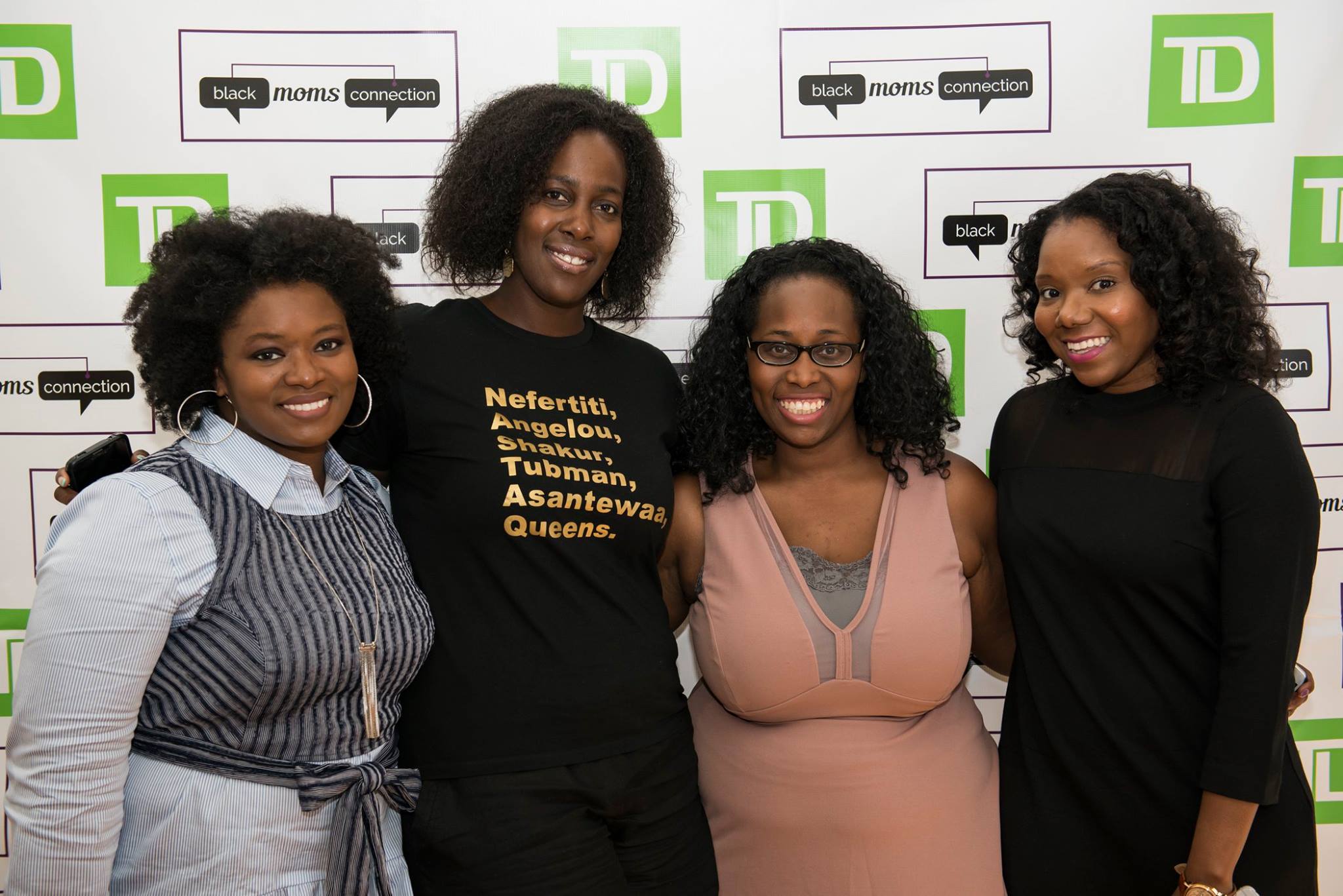 Left to right: Me, Emily Watson, Tanya Hayles, Tiffany Ford. Photo credit Leilah Dhore.
All I can tell you is that you need to be there next year. Whether it is in Canada or the States, you should be there. When early bird tickets are released, get yours. People were trying to get tickets at the door. It will sell out next time, so I urge you to follow @blkmomsconnect on Twitter so that you don't miss your chance for #BMCC18.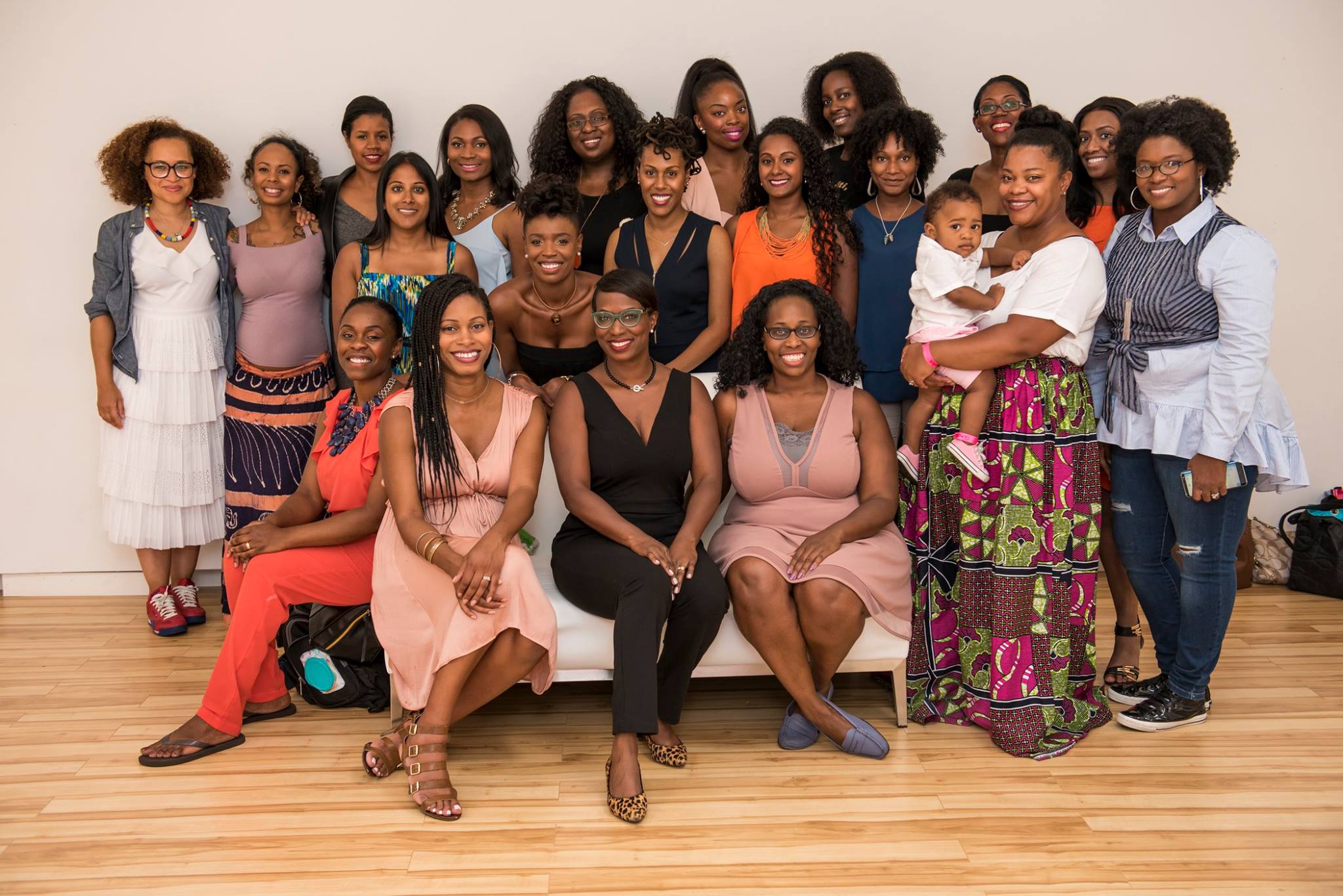 Black Moms Connection speakers, panelits, and moderators: Eva Wilson, Bee Quammie, Marina Phillips, Tiffany Ford, Jaeda Laurez, Mara Clarke, Stephanie Okola, Chanté Salick, Althea Frank Esho, Max Greene, Ellen Walton, Natasha Lett, Nicole Simons, Nicolle Williams, Nicole Thompson, Cian Knight, Dr. Nadine Wong, Mellissa Allen, Emily Mills, Kim Katrin Milan, Monique London, Jahmeelah Gamble, Kym Niles, Celina Caesar-Chavannes, Nam Kiwanuka. Photo credit Leilah Dhore.
The day was full of laughter, amazing advice, sharing, tears, great vendors, hugs, selfies, and all manner of "girl" and "yaaaaaas" with different inflections – and meanings – none of which were uncomfortable or stereotypical. Every "girl" and "yaaaaaas" was familiar and recognized as our language of black womanhood and cultural connection.
I woke up the next morning with the worst headache I'd had in a long time. I wasn't hungry, or dehydrated. In fact, when I woke up, I was still full – full of curry goat, peas and rice, and cupcakes, and full of hope for black motherhood and sisterhood. I finally remembered why the headache was so familiar.  I had the same headache for two weeks straight after I dropped my son off for his first day of daycare.  I was going to have to trust my baby boy with someone else, and it felt like it was killing me. I remember trying everything from buddhist chants to prayer to meditation to get it to subside when I had the headache 16 years ago, and nothing worked.
I sat up, rubbed my forehead, and thought about the amazing day I had at the Black Moms Connection Conference.  I sent the kid a text. He was fine.  
You see, back when I had that headache the first time, I was a single, first time mom to a toddler, who had just moved over five hundred miles away with no job, no big support system, nowhere and no one to call my own except that baby boy.  Leaving him with strangers while I looked for work and eventually for a home for us was the most stressful thing I had ever done. I had left him with strangers again on Saturday, but this time was different.
This time, I have amazing friends and family who know what I'm going through who call and check on me, send me texts to make sure I'm okay, and who, most importantly, check in on the boy to make sure that he is alright.  I also know that I can jump online and share how I'm feeling with other moms, and encourage them that everything does get better.
I believe that I needed to be surrounded by that kind of love and support you can only get from other moms after reaching such a huge milestone as a homeschooling mom. I believe in God, and that God knew what I needed that weekend to get through letting my baby boy go.  The headache waned, and after breakfast at the hotel, I settled in to Netflix and intermittent napping, before heading out for Thai.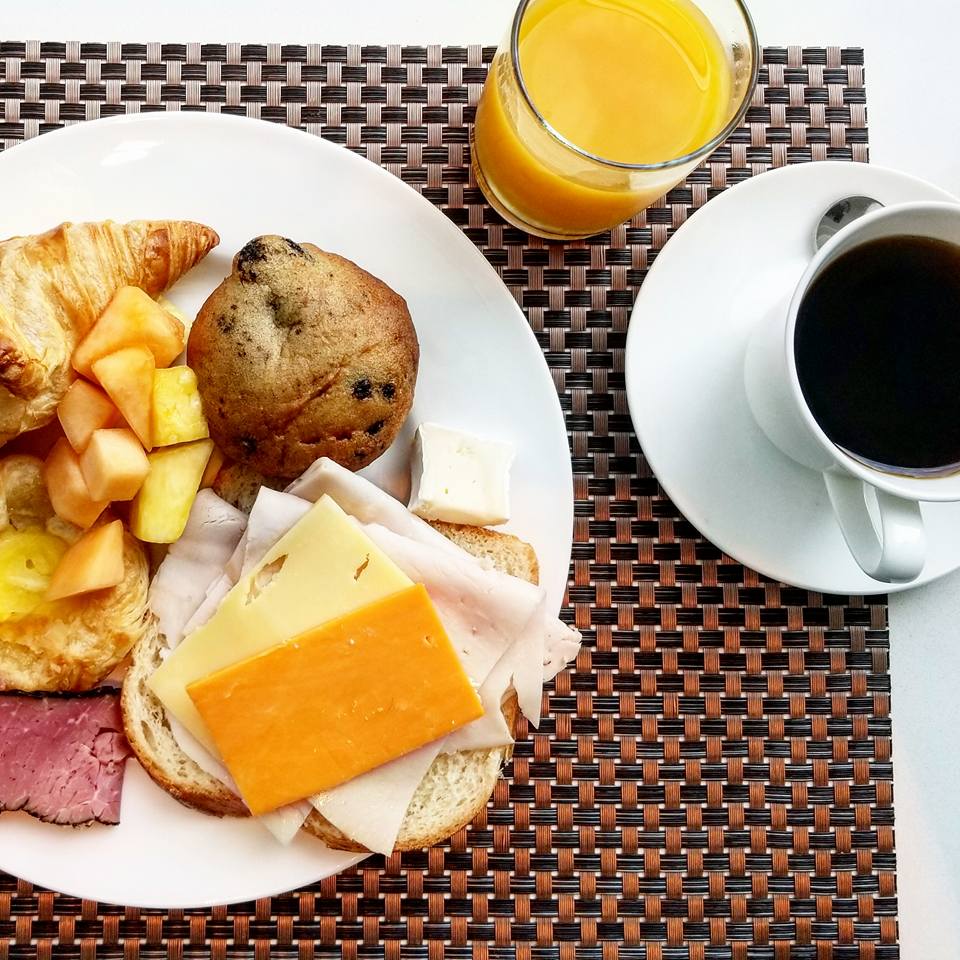 Deluxe continental breakfast at Hotel Le Germain at Maple Leaf Square.
I am grateful for Black Moms Connection, the Black Moms Connection Conference, the attendees, Tanya, and her amazing team. I couldn't have made it through the weekend without you guys. Well done.
Left to Right: Bee Quammie, Kim Katrin Milan, Monique London, Me, Marina Phillips.
See you next year!
Coverage:
(CBC News) Black Moms Connection turning online safe space into real-world force – The first annual conference in Toronto aims to address issues specific to mothers of colour
(CBC News) Black mom creates group to talk about parenting in Toronto's Black community
(Radio Canada) Un village virtuel sur le web : Des mamans noires échangent pour élever leurs enfants
(Metro News Canada) Raising a Black child: How a Toronto woman's quest turned into a worldwide movement Black moms descend on Toronto for first global gathering
For more information visit BlackMomsConnection.com.