I enjoy hearing what my kids want to do and be when they grow up.  It changes almost daily, so much of that enjoyment comes from the entertaining changes to their life plans. I decided that today's activity was going to be a vision board party.  They would create their own vision boards that reflected their goals for the year.  
I can't say that all three of them were excited at the vision board party idea right off the bat, but Li'l Bit was all in. I put a pot of tea on, and she helped me gather all of our supplies. I have included affiliate links in this post so that you can click to get more information about and buy what we used.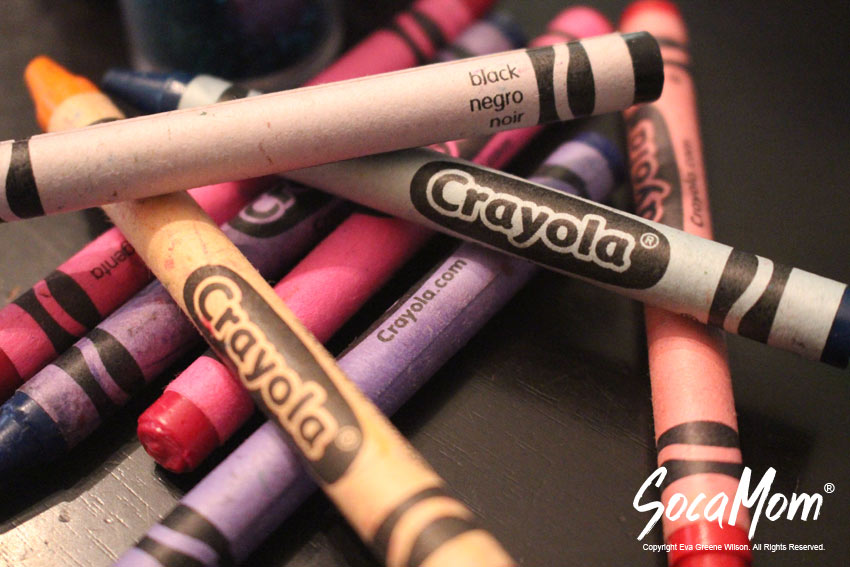 I wasn't sure that they would use all of this stuff, but I wanted to make sure that once they got started, they wouldn't have to stop to look for supplies.
I had been collecting interesting duct tape for a while, so I took it out for them to use.  Usually, it is hands off my craft supplies for them, so they felt very special.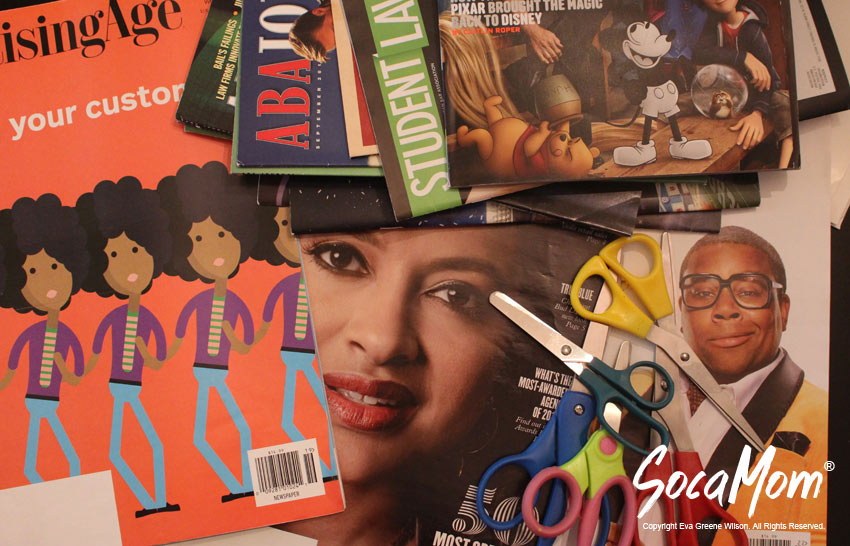 I'm not a magazine person, but I realized that I had more interesting stuff than I thought.  Li'l Bit even found a picture of Misty Copeland.  I thought she'd stick that in the middle of the poster board and call it a day, but she continued working.  I was kinda surprised… that's pretty much her whole plan… to be like Misty Copeland.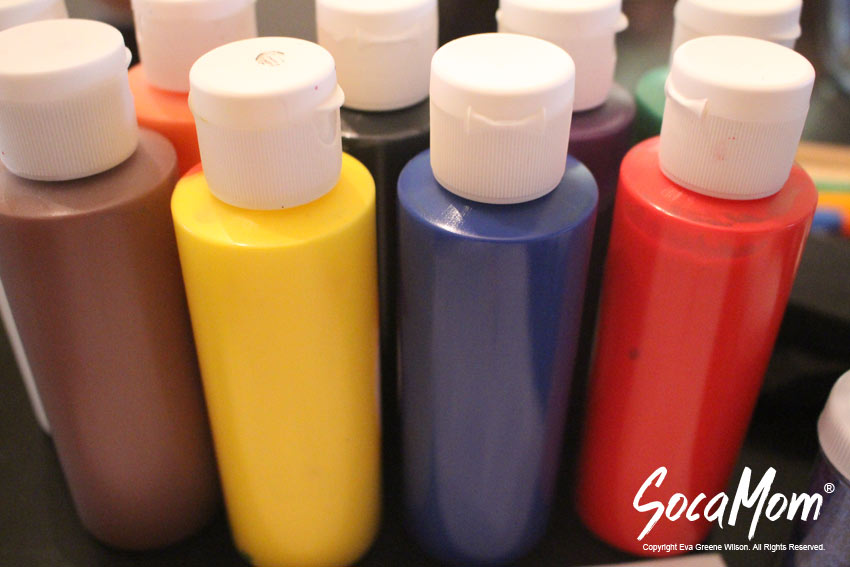 We used tempera paint because it dries very quickly… and because we have a LOT of it around.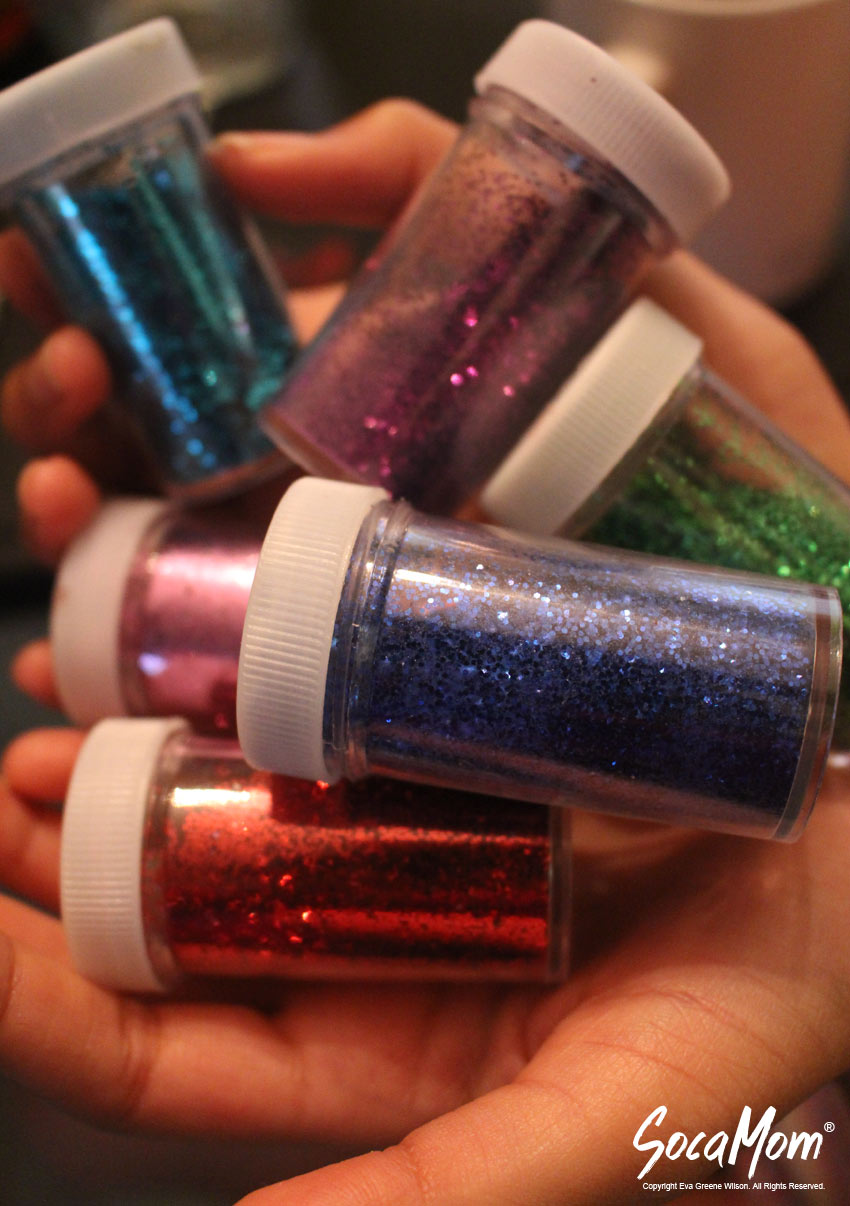 Glitter. We couldn't do this without glitter.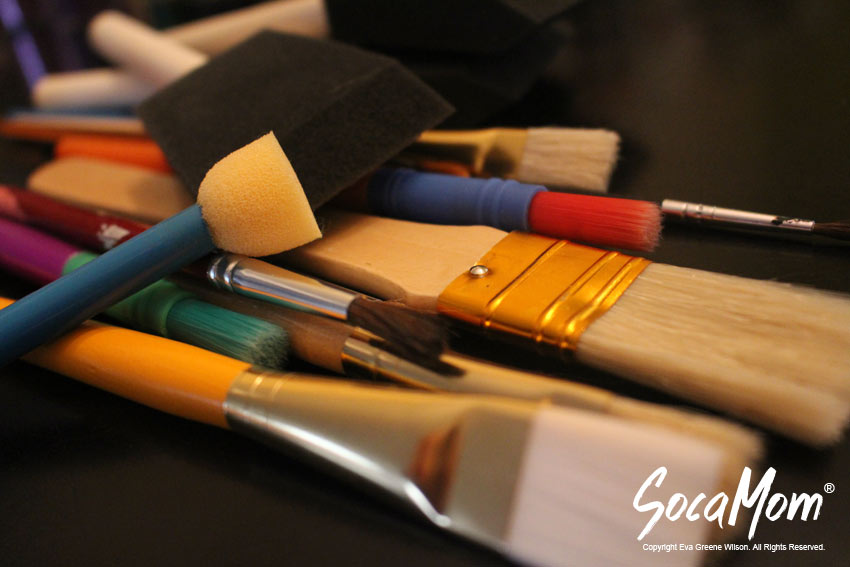 They couldn't find all one million of their paint brushes, so I told them that they could use mine.  They really caught me in a great mood.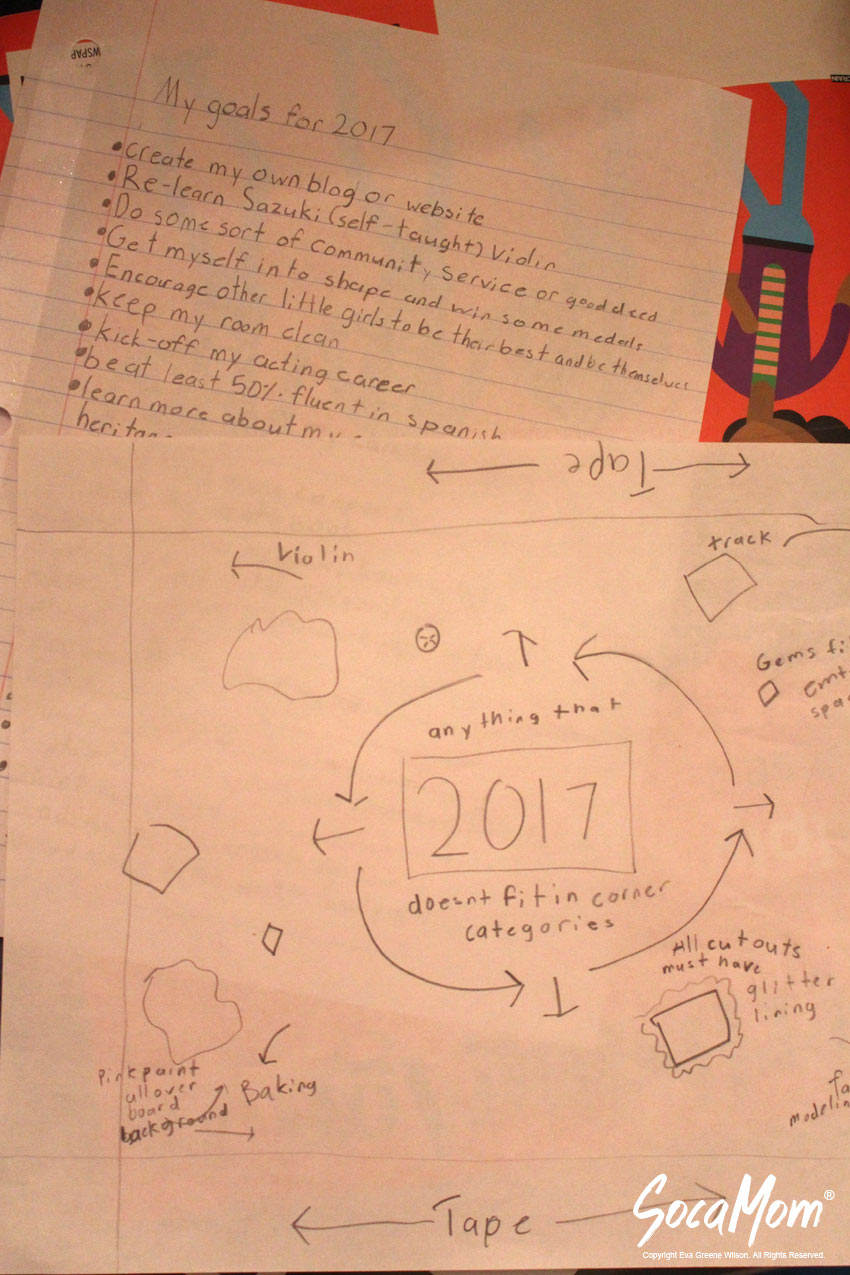 One of my Li'l Bit's goals was to "learn more about my Caribbean American heritage." I got the eye sweats when I read that. I can't even lie.
They wrote down their goals for the year and mapped out their boards over tea.  They read their goals out loud to each other, so that they would be able to help each other when it was time to cut out pictures, words, and phrases from the magazines.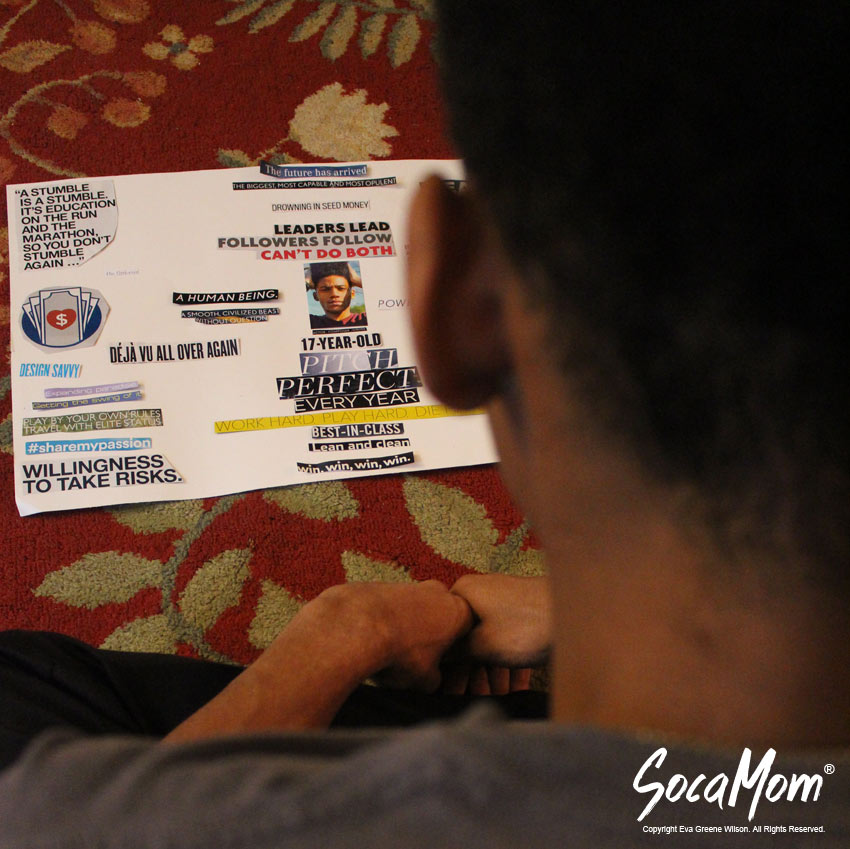 It was very interesting to see how the kids envisioned themselves in the near future.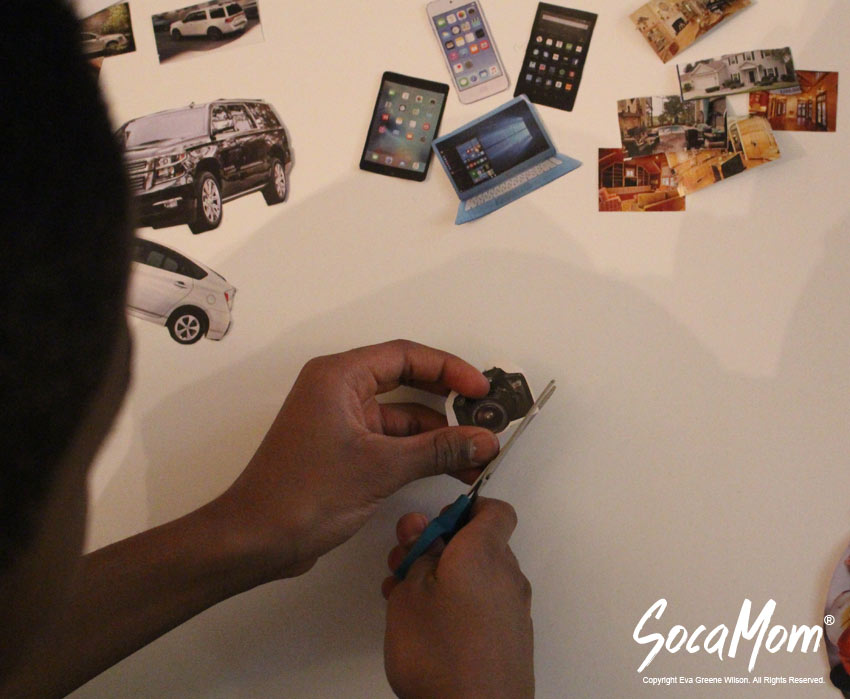 My middle kid has such an attention to detail.  He wanted each piece cut perfectly along the edges of the image.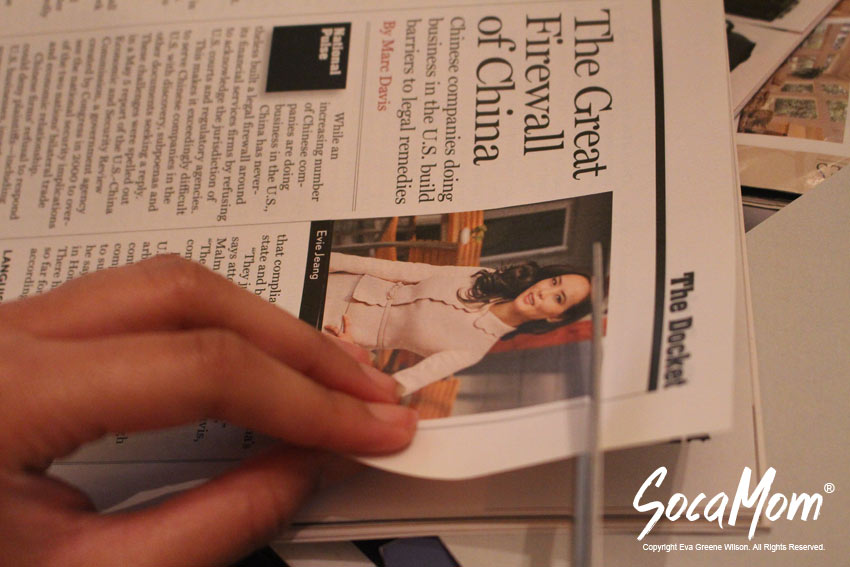 "I only want her outfit, so take the picture of me cutting it here. Something about cutting her head off seems creepy." Good call Li'l Bit.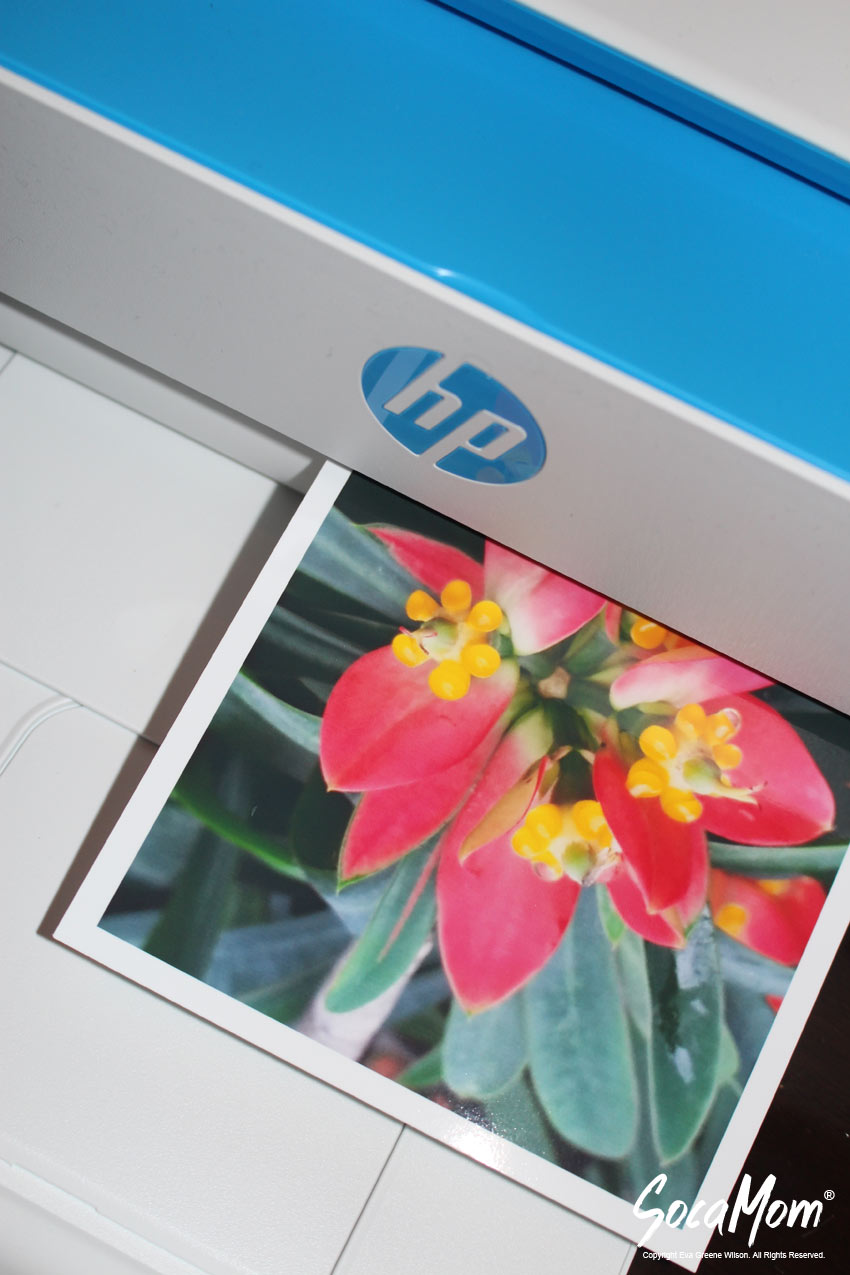 The kids claimed they didn't have all the pictures that they needed, despite having quite a pile of magazines, so we used the printer to print out photos from my cell phone.  This was one I took at the Botanical Gardens that Li'l Bit really liked.
The oldest asked, "do guys even do vision boards?" I answered, "do guys plan for their future?" He shrugged and returned to flipping through the magazines.  I'll take that as a yes.  Mr. Social just wanted to find one of his car brochures that he didn't mind cutting up. That was the hardest part for him.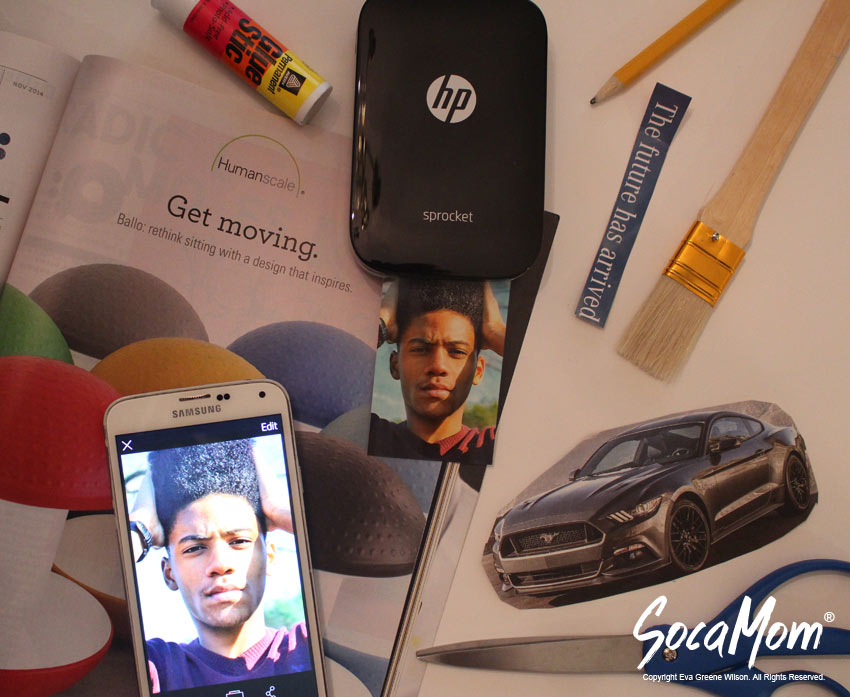 They were most excited about going on Facebook, Instagram, and on my phone, to look for photos to print out on the HP Sprocket Portable photo printer.  It has sticky backed photo sheets to make adding them to the vision board easy.
Once it was time to start attaching everything to the poster board, we started the party and broke out the sparkling cider. The kids cranked up the streaming music app, and it was on.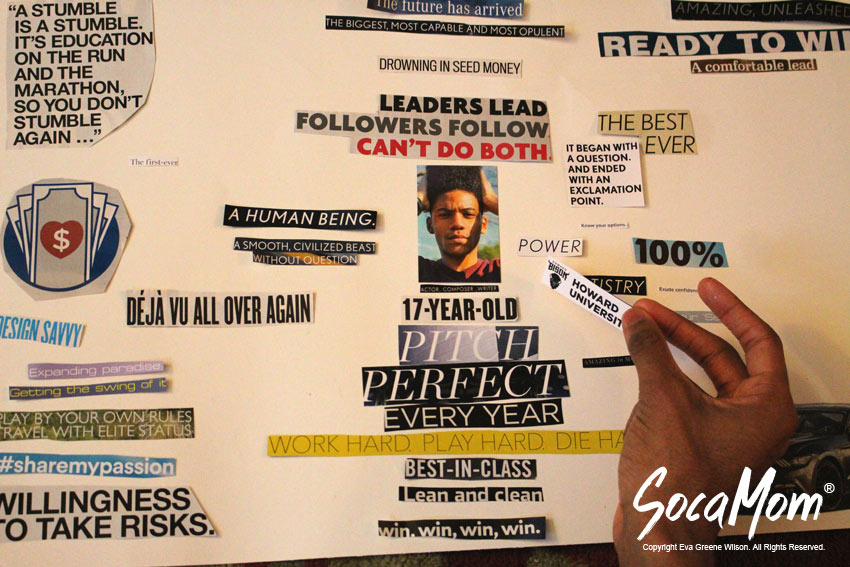 The oldest focused on words.  Not too many photos.  The centerpiece was his favorite recent photo of himself.  I am guessing he wants to do more of his signature "smolder" in 2017.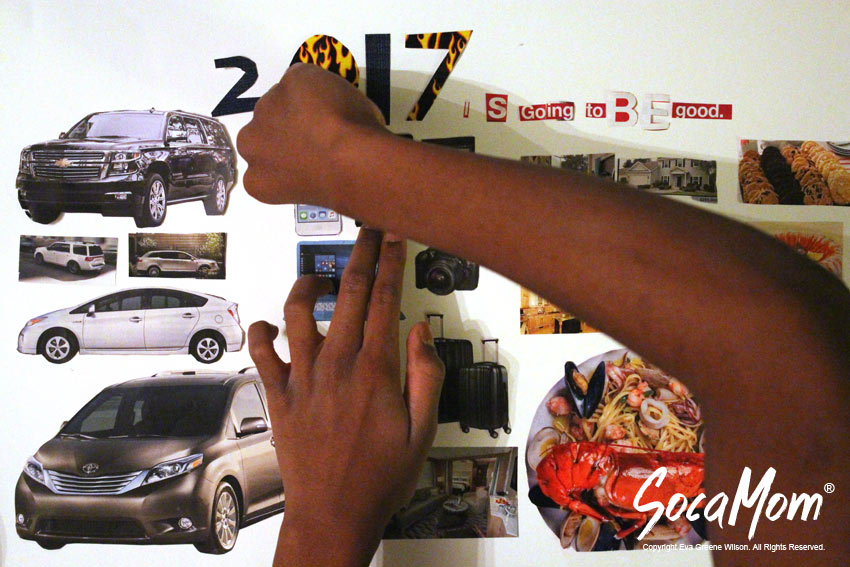 Mr. Social was focused on cars and food as usual. He added tech because he has discovered that he can be much more social through text messaging, instant messaging, and email.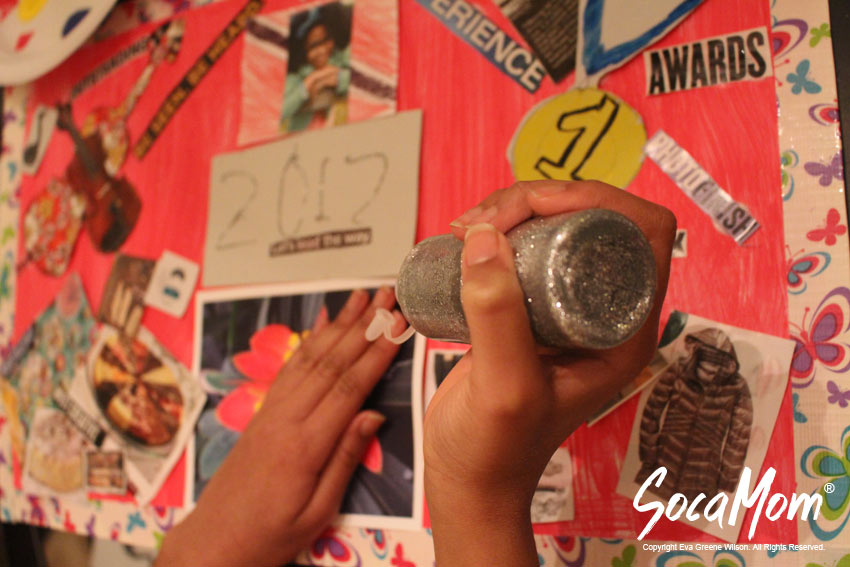 Li'l Bit didn't want anything to be in straight lines if she could help it. The more glitter and colors… the better.
Do you want to host your own vision board party for your family? Check out these ten steps to get your own party started. I have included affiliate links so that you can click to get more information about and buy what we used.
Gather materials.

Printer, portable photo printer, and paper
Crayons, markers, pencils, color pencils, pens, permanent markers (like Sharpies – we love the gold and silver ones)
Glue sticks, glue, brads, tape, colorful duct tape, hot glue gun
Paint, paint brushes, paper plates, cup of water
Note paper, construction paper, poster board
Glitter, stickers, gems
Magazines, newspapers, scissors
Camera, music, laptop, cell phone, trash can

Discuss the purpose of the exercise, and what you hope everyone will learn from it
Have each family member write down a list of goals for the year
Each family member reads their goals out loud
On an 8 x 10 piece of paper, each person sketches what they want their vision board to look like
Family members go through magazines and cut out images and words for themselves and the others.
Distribute glue, scissors, paint palettes, paint brushes, and an allotment of glitter, fasteners, tape, stickers, crayons, markers, and construction paper to each person, to reduce reaching across the table. Leave magazines, cut outs, and other lesser used items to encourage cooperation and sharing.
Begin adding items to boards. This can be timed or not.
When everyone is finished, require clean up before the boards are presented.
Have each family member present their boards and explain their choices and how their board represents their goals for the upcoming year.
This was an all day project for my kids, but you can set a time limit if you'd like.  I'd suggest setting a limit if you have older children and family members.  For those under 15, give them all the time they need.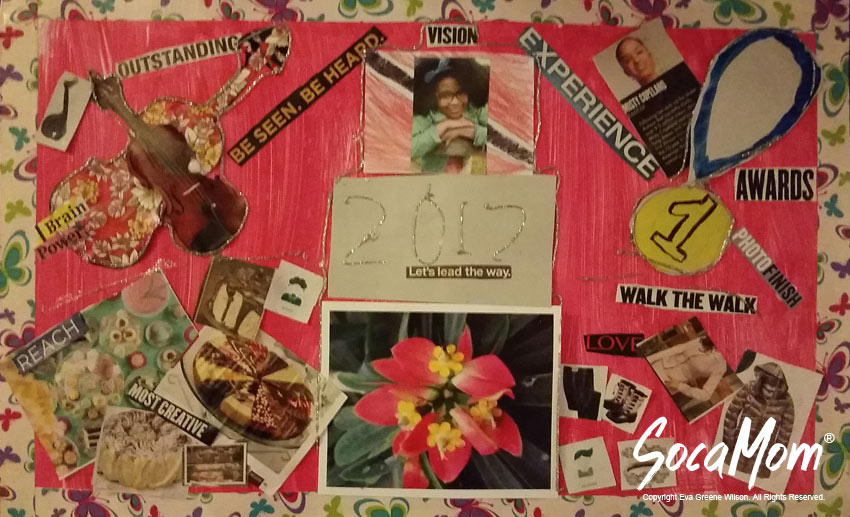 Li'l Bit's board was definitely a reflection of her… lots of glitter… lots of pink… organized exactly how she wanted it.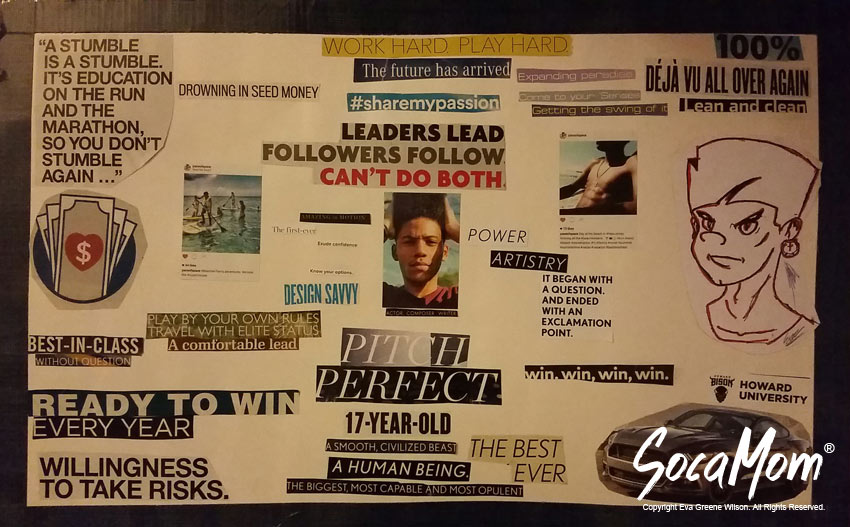 My oldest's board was very linear and forward thinking.  He loves to draw, so I was surprised that his had so many words.  He ended up enjoying creating his board much more than I expected.  He was so proud of it.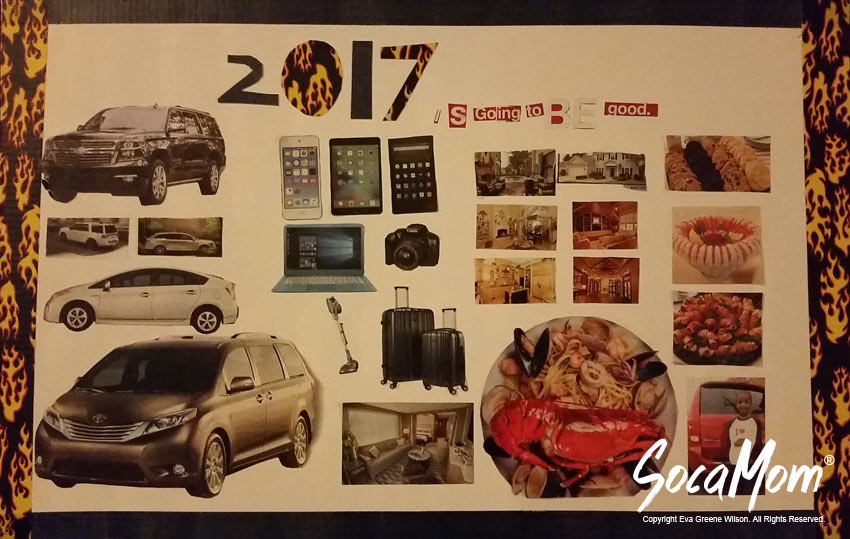 Mr. Social spent a lot of time making sure that everything was lined up perfectly.  I didn't expect that. 
The kids were very pleased with their work, and had fun presenting their goals and "visions" for the year.  They are looking forward to doing another one for the summer.  I didn't get to make my board, but my husband and I will probably do ours together.
MORE VISION BOARD PARTY TIPS
Having trouble finding images of people of color?
Grab a few magazines like Ebony, Essence, and Black Enterprise at the grocery store.  Local businesses may also have magazines that they are getting rid of at the end of the month.
Download and print stock images.
Go through photos of you and the kids doing your activities that you would like to continue in the new year and print them out.
Draw your own! Check out these multicultural markers.
Dare to be different
Use fun duct tape to make frames for the boards and photos.
Cut large poster boards in half.  They are easier to store, and less overwhelming for kids and teens.
Use brads and card stock paper to make interactive boards with moving parts.
Download fun fonts and keep your laptop open to a word processing program like Microsoft Word. If your family cannot find the perfect words for their boards, let them type them and print them.
Spend time on preparation
Explain the goal of the exercise fully.
Don't skip having everyone write down their goals and map out their boards before they start.
Pick up a few aspirational and specialized magazines like Car and Driver or Better Homes and Gardens.
Tell kids that they need to tell a story with their board and aim to fill up all of the space.
Ask everyone what vacations or activities they liked the most that they would like to continue in the new year. Find those photos and put them in a folder on your laptop. You can print them out before you start the party.
Set up a camera on a tripod and have family members record their goals on camera, including their hopes and dreams for other family members. Combine the videos and show the video before and during the party.
Make sure you have enough of everything for everyone, and explain that sharing and cooperating is an important part of the exercise.  We won't achieve our goals without giving help to and receiving help from each other. 
Download mobile printing apps on cell phones and connect printers to laptops.
Tech, tools, and apps that I used for our vision board party
DON'T…
Turn on the TV. Television is distracting, especially for young kids who are tempted to stop working on their vision boards and watch whatever is on the screen.
Criticize anyone's vision board.  Even if they didn't fully understand the exercise, and it looks more like a wish list than a vision board, praise the effort, and try to explain it more clearly the NEXT time.
Put off finishing the board for another time.  They never get done. If you have a cut off time, stick to it.  Explain that goals change, and that they can add to the board later if they are so inspired – but for now, it is finished.
DO… Make it a real party
Have Handi-wipes (good for removing glue, paint, and glitter), hand sanitizer and healthy snacks and drinks nearby so that everyone can take a break and enjoy some good food.
Put on some music once everything has been explained and the party has started. 
Take pictures and video so that you can look back on the occasion.
Decorate the area with last year's vision boards, streamers, and motivational posters.
Disclosure: I am an #HPSmartMom, and from time to time I get products including printers, paper, and accessories in order to test and provide feedback, and share my experiences with you – some of which I used in this post. However, they did not sponsor this vision board party or this post.
Do you do an annual, semi-annual, or quarterly vision board?  What do you do to make your vision board party special – even if it is a party of one?  Share in the comments. Happy New Year!