Each year that I attend the Social Media on the Sand Conference, I pack an extra backpack of school supplies for Pack for a Purpose, an initiative of the Sandals Foundation. This year, after donating our backpacks of school supplies, the conference attendees boarded mini buses and vans and spread out across several schools in Negril for a Reading Road Trip.  We were able to spend time reading, chatting, and playing with some of the kids at the schools that get the school supplies.
(I received other free and discounted items and accommodations as a Social Media on the Sand attendee. This post contains links to Pack for a Purpose, The Sandals Foundation website, and affiliate links for the HP Sprocket that the kids used during our visit. As always all opinions are my own.)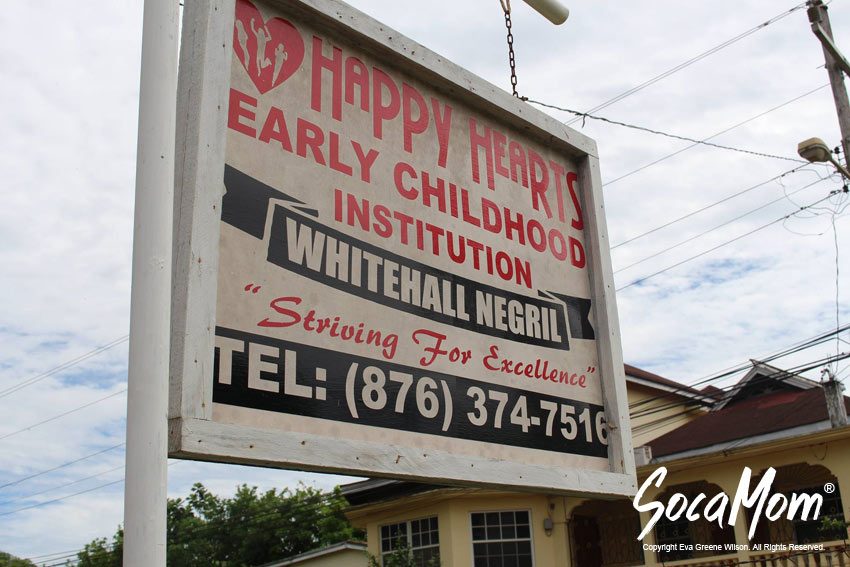 When we arrived at the Happy Hearts Early Childhood Institution, moms found chairs and sat next to kids, and I just stood there, looking for the kid who wouldn't mind hanging out with me for a little while. Eventually all of the seats in the front were taken, and moms were busy reading and taking photos with their new buddies. Some brought the HP sprocket with them and printed out the kids' photos on the spot.
The principal called over Michael who was still sitting and working on his handwriting assignment amid the kids intently listening to (and contributing to) stories and taking (and printing) selfies.  I had seen him already. He was diligently working on his penmanship, so who was I to interrupt? His handwriting was beautiful, and he obviously took a lot of pride in it.
She ushered us over to a table in the corner. After I read the Little Red Hen, the Tortoise and the Hare, The Nightingale, and a story about a lady cockroach looking for a husband who wasn't too loud (spoiler, she married a mouse), we moved on to coloring.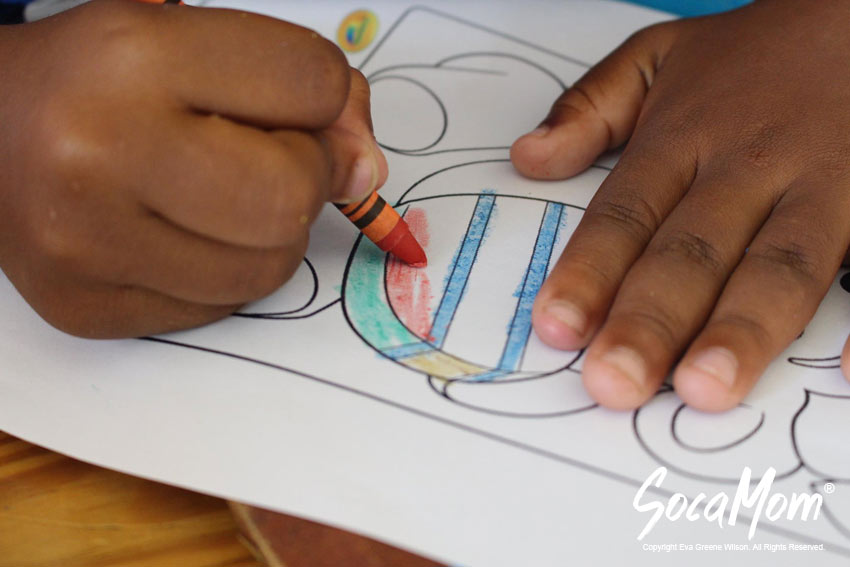 The kids were coloring pictures to send to Haitian children.  The kids can show that they are thinking about kids who have seen so much devastation. If they can't send money, they can send love. I thought this was a wonderful gesture.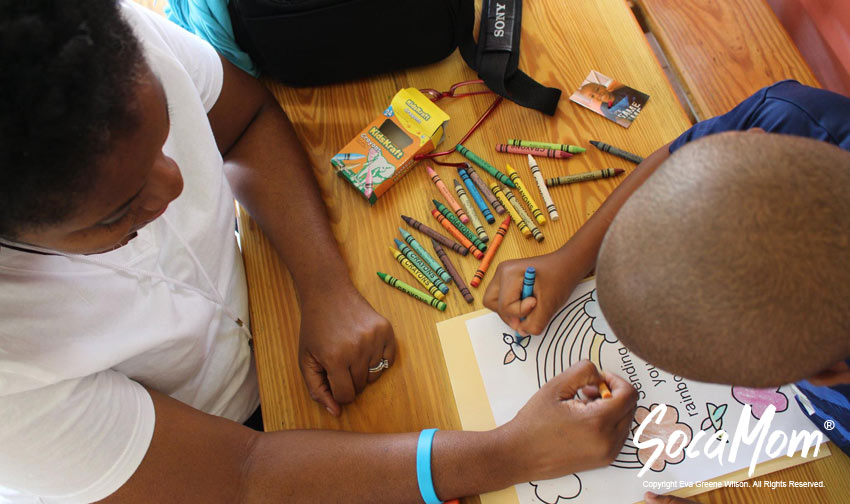 He carefully picked out the colors that he was going to use.  He colored inside the lines with as much care and attention as he used on his handwriting class work.  Although he was staying fully inside the lines, his color selections were outside of the box.  His rainbow had two shades of brown in it, and had no red.  Each wing on the birds was a different color, and no two birds were the same.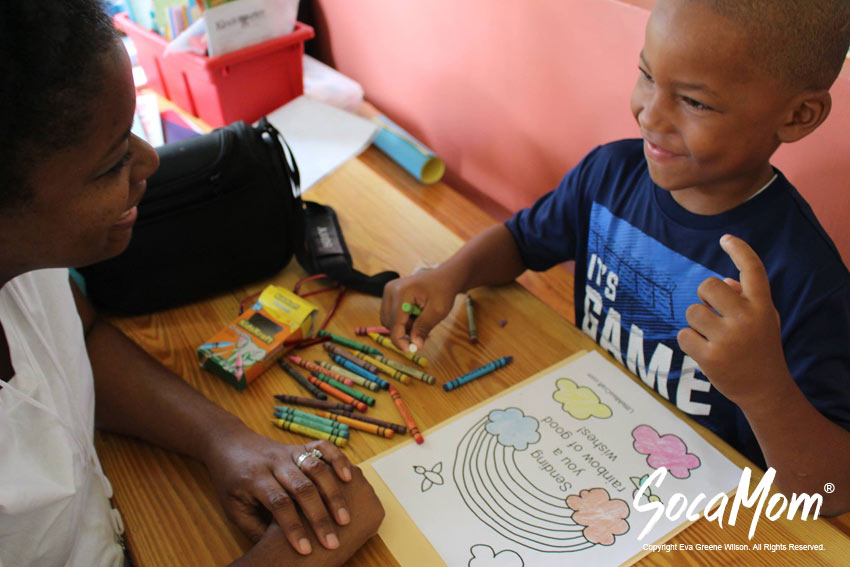 He said I could help, made selections for me, and showed me where to color. At least 20 minutes had gone by, and he hadn't spoken 10 words… not until he made a joke.  He gave me a white crayon, and could barely contain his laughter as he pointed to where he wanted me to color. I said, "Hey! Wait a minute! No one will see my work, only yours!" He thought that was hilarious.
We were the last ones to finish our projects, and then I went on a quick tour of the school which was a phenomenal home away from home for the kids to learn in.
Sometime during the tour, the kids headed outside with the Social Media on the Sand moms to play a game that seemed like a mash up of duck duck goose, tag, and the farmer in the dell. Then there was another game that was a combination of red light green light and red rover.  I enjoyed watching everyone have fun, and laughed to myself at how kids everywhere are basically the same.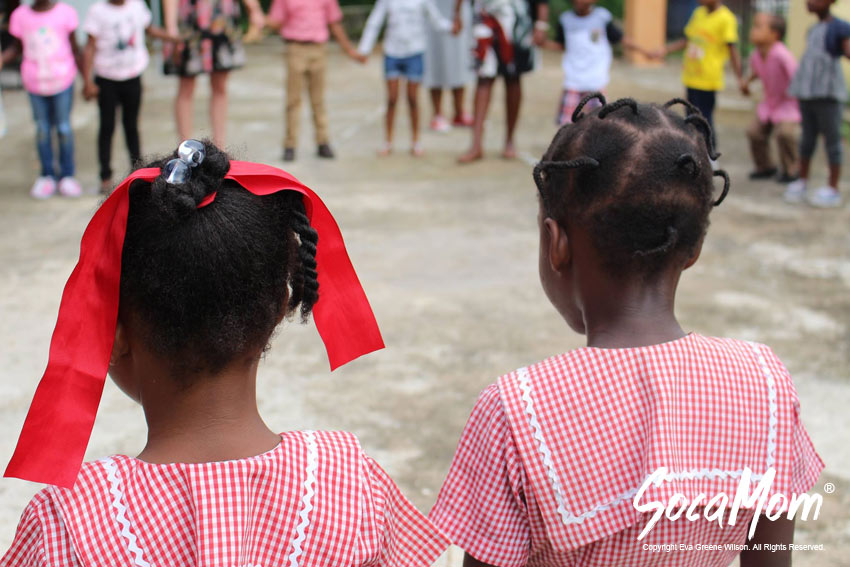 It was casual day, but some kids came to school in uniform anyway.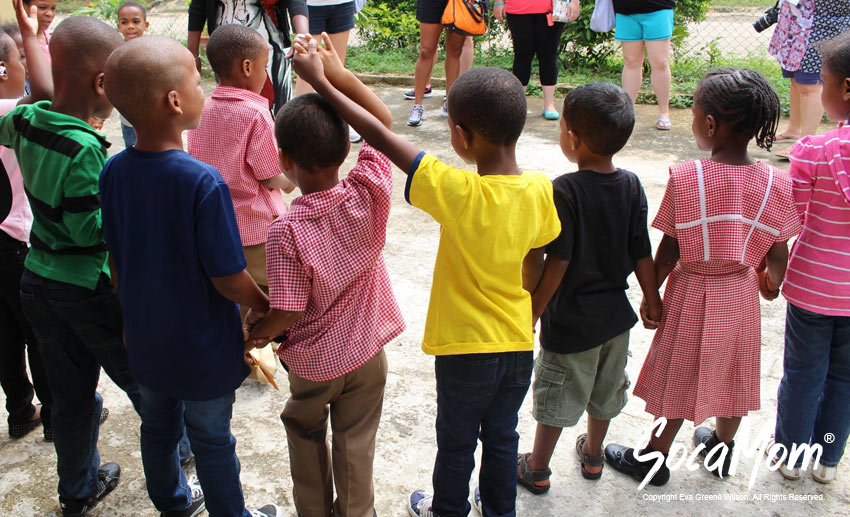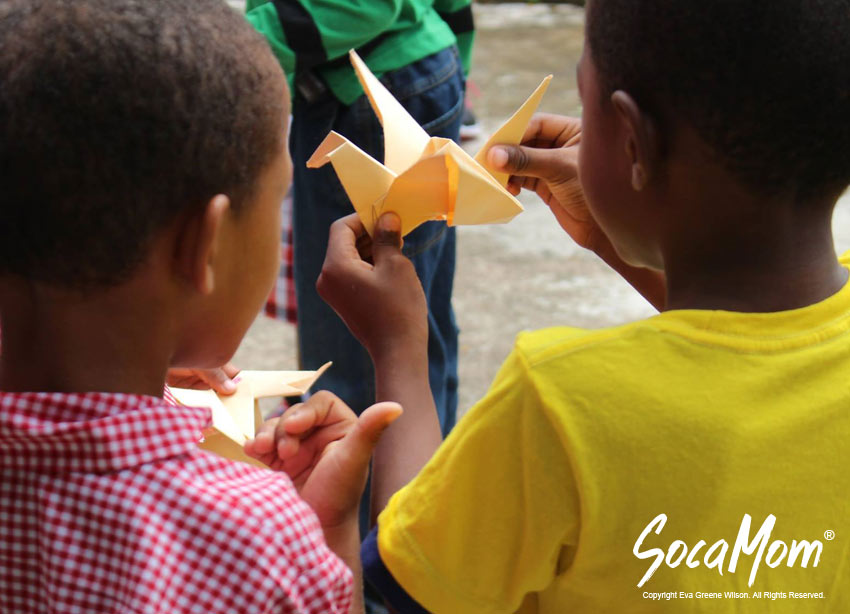 The kids had a blast and the moms really didn't want to leave, so there was an extended photo shoot before we boarded the mini bus to head back to the resort.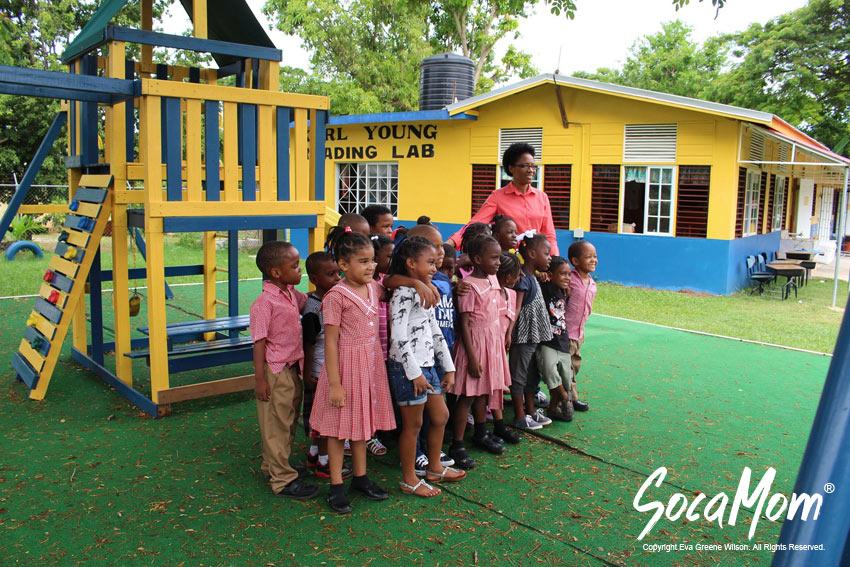 I know the kids won't forget the photo printers and the moms who brought them, and we won't forget kids' perfect selfies.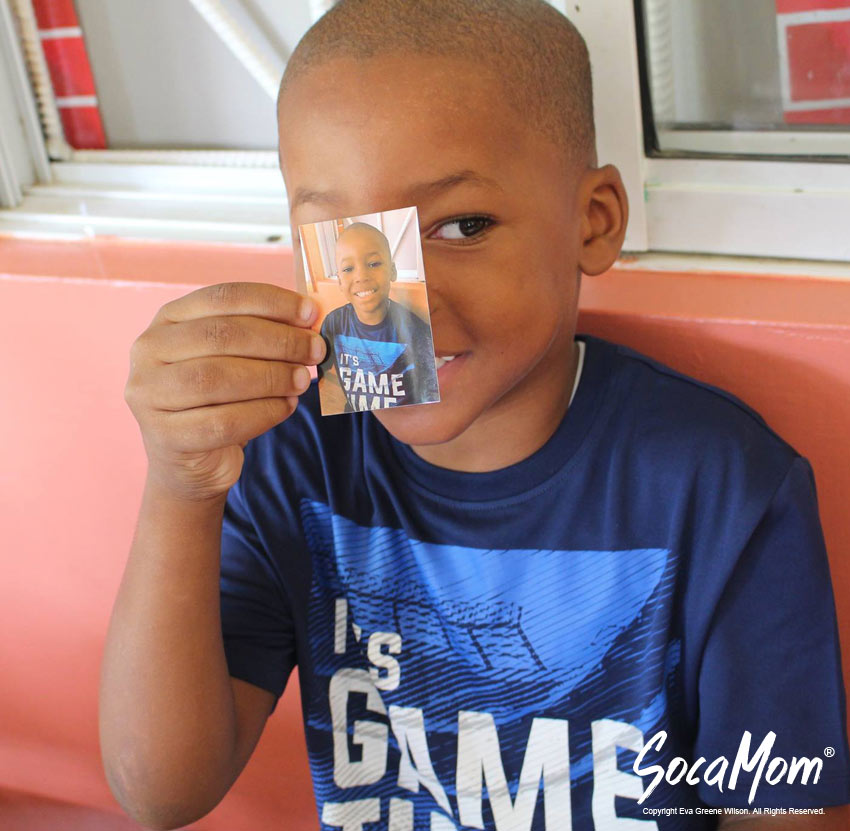 (HP provided each of us with a brand new portable Sprocket printer to try out, and we shared them with the kids!)
I doubt that my reading buddy will remember my coloring skills and storytelling talents, but I hope that he'll remember that our little bus full of moms came out one afternoon on a mission to put a smile on his face.

The kids at Happy Hearts are sending love to their fellow students and their families in Haiti and the Bahamas, and you can lend your support too by donating to the Beaches Moms campaign in support of the Sandals Foundation's Hurricane Matthew fundraising efforts. To donate, click here and put "Eva Wilson or Socamom" in the comments when you donate. 
If you are interested in volunteering for a Reading Road Trip, you may sign up with Island Routes Tours via the tour company's website, www.islandroutes.com, its call center at 1-888-429-5478 (toll free from Jamaica), or Island Routes Tours desk at any Sandals, Beaches and Grand Pineapple resort where you are a guest.
The cost is $20 per person 13 and over, which covers reading material, transportation and a donation to the Sandals Foundation education fund. There is no cost for children 8 – 12, but minors must be accompanied by an adult.
What do you think of giving back to the countries that you visit on vacation? Share your experience in the comments.