Within moments of Goya's CEO Robert Unanue praising Donald Trump's leadership, the boycott was in full swing and the internet was flooded with recipes and alternatives to one of the company's top-selling products – Adobo.
I didn't use Adobo until recently – I would say, within the last three years. My husband, who is American, really likes it, and when he bought it for the first time, I didn't complain. I posted about it on Facebook, and my health coach at the time, SocaMom Summit Speaker Alison Hector, told me not to get too attached to it because of the MSG. I didn't.
Related: 5 Ways That Your Caribbean Culture Could Kill You
I am so used to using my own seasonings that I come up with on the fly, I won't miss Adobo at all. I remember trying to put it on popcorn, and the results were less than favorable. It took forever for my lungs to release the fine particles, and I'm still a little shaken by the coughing fit I had. But I digress.
I am the person who pulls out all my favorite spices and begins sprinkling with reckless abandon over whatever I'm cooking. Whenever my spirit tells me to stop, I do.
Writer, podcaster, and mother of five Holly Figueroa O'Reilly offered up her Puerto Rican mother's Adobo recipe in the wake of the comments by Goya's CEO, Robert "Bob" Unanue praising Trump as a "leader" and a "builder."
3 T granulated garlic
3 T salt
1 T pepper
2 T oregano
1 T onion powder
1 teaspoon turmeric
Mix it all up, use it just like Goya Adobo, only it's better because it doesn't have any TCP.
Every now and then, certain dishes call for pre-mixed spices, but I never really saw the magical quality that others saw in Adobo. I understand Old Bay… I understand Creole Seasonings… I understand Jerk Seasoning. Those I will buy.
Related: [WATCH] CEO of Goya Says We Are "Blessed to Have a Leader" Like Trump
After reading the back of the Goya Adobo in my cabinet, I can't fully understand why people are addicted. But after looking at the replacement recipes online – I see that all Adobo isn't created equal… the homemade stuff looks a lot like what I use to season food – just put together so you don't have to pull out as many bottles.
Puerto Rican-American Alexandria Ocasio-Cortez, AKA "AOC," is the U.S. Representative for New York's 14th congressional district. Before she could finish googling "how to make your own Adobo," her friend text her this…
4 Salt
1 paprika
1 cumin
1 celery powder
2 garlic powder
.5 ginger
1 chili powder
I assume these are tablespoons, but I really don't know.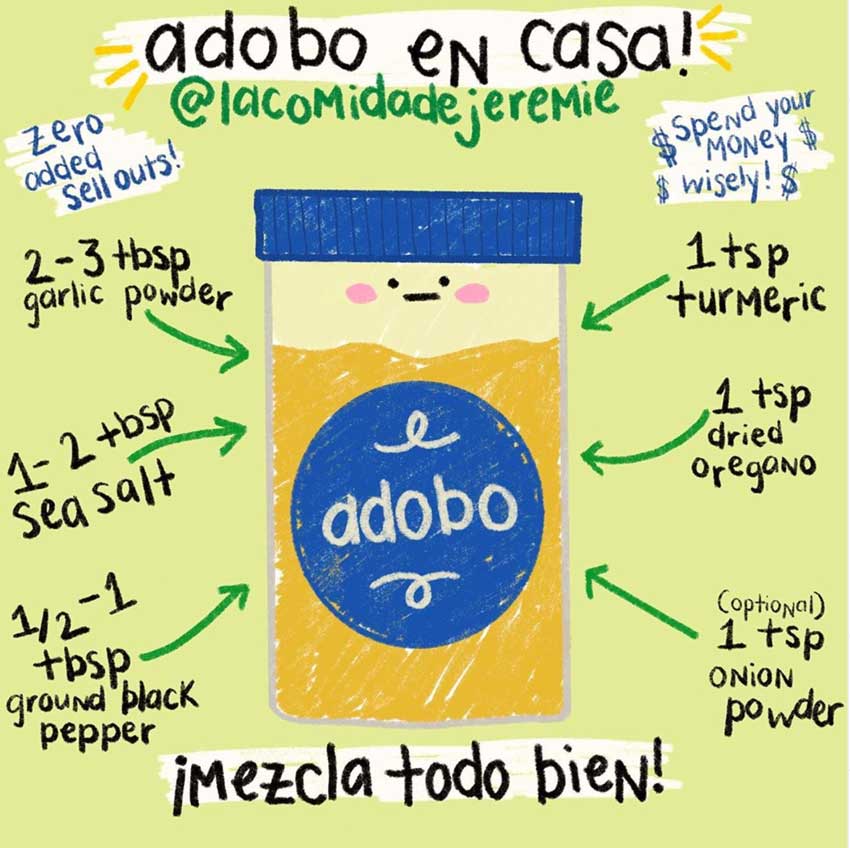 Illustrator and plant based cook @lacomidadejeremie provided this recipe.
2-3 tbsp garlic powder
1tsp turmeric
1-2 tbsp sea salt
2 tsp dried oregano
1/2-1 tbsp ground black pepper
1 tsp onion powder (optional)
He adds, "AND for those of you who say these don't taste like that bigoted company's products… of course not boo boo! because it doesn't have any racism, bigotry, or f*** boy supporters added to the mix." Understood.
I don't know about your house, but at mine – I have more spices than food a lot of the time. I don't have a spice rack; I have a spice cabinet, and even that spills over into my food cabinet from time to time. The whole fridge door… condiments and spices.
Related: How to Clean a Chicken (The Proper Way) with Lime and Salt
So, for me, putting together my own spice mix isn't that hard. I already have an old corn starch container that I filled with the mix I use to batter my famous fried fish, so I feel I am ready to make my own all-purpose spice mix. I may try out one of these recipes, and I may just wing it and see what I like.
I've never used or purchased Sazón, but apparently that's another Goya product that people need to replace, so here ya go…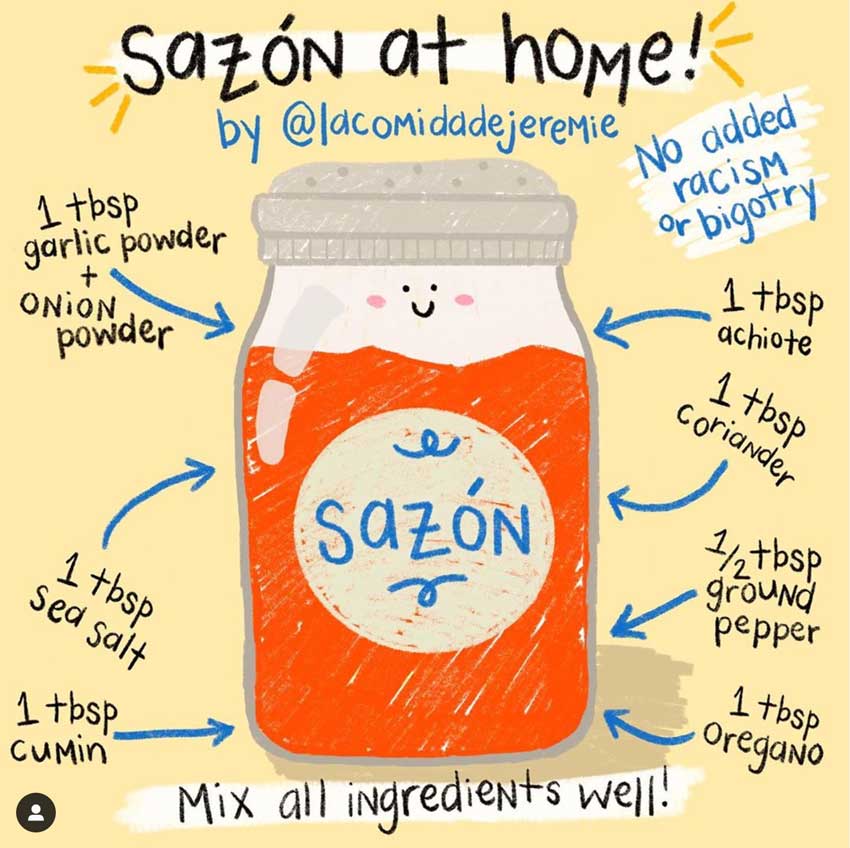 1 tbsp garlic powder + onion powder
1 tbsp sea salt
1 tbsp cumin
1 tbsp oregano
1 tbsp achiote
1 tbsp coriander
1.2 tbsp ground pepper
Do you create your own spice mixes at home? What are your go to ingredients? Are there some spice mixes that you ONLY purchase like Old Bay or Tony Chachere's? Let's chat on Facebook.