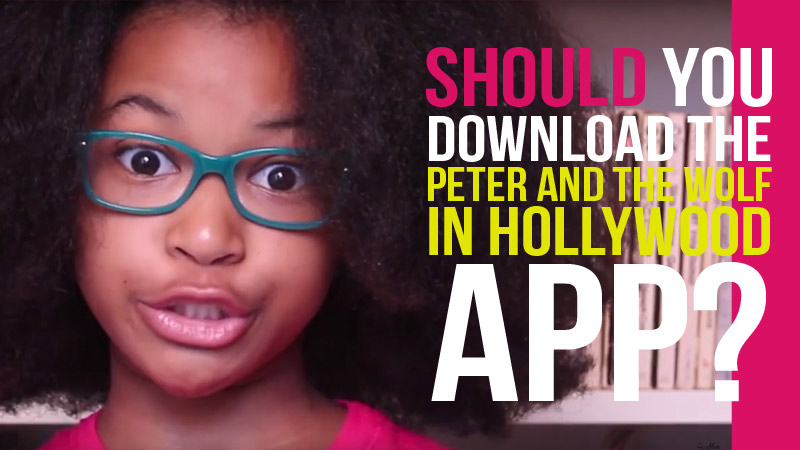 My little lady loves classical music, and all things that go with it. When it comes to Peter and the Wolf, she is kind of a superfan.  She has read the story, seen it at the ballet, and seen the symphony orchestra perform it locally. When it was time to review the app, she was all in – of course.  She happens to love classical music, but my sons aren't really into it.  They are more like most kids that way.
Check out her video review:
Even though listening to classical music not only has wonderful calming effects, but also is a huge part of history and culture, many kids just aren't into it. They are, however, really into movies, games, and apps.
I have no games on my phones or my iPad. My husband is the keeper of the games. I don't particularly want them touching my tech. So when I got this app to review, the kids were pretty happy to get their hands on mommy's untouchable devices.
Peter and the Wolf in Hollywood is a revival of the classic Peter and the Wolf tale brought to you by Giants Are Small, an acclaimed production company. In the app, Peter's grandfather is a hippie, and Peter heads to Hollywood to meet him.  The classical music is perfectly placed in the story to punctuate the drama and excitement, while all the handmade sets and wonderful drawings hold the attention of the viewer… or player.
There are games inside of the story to keep kids with the shortest attention spans glued to the iPad or iPhone. While the app is geared to kids 6 to 8, all three of my kids were crowded around the deluxe version of the app, enjoying the music and the fresh, updated story.
Giants are Small is a world-famous theatre company who is known to put on over-the-top performances – no wonder this genre bending company would decide to create this adaptation of Peter and the Wolf… set it in Hollywood… and make it an app. This is the first kids app for this particular team which includes visual artist Doug Fitch, producer Edouard Getaz, and multimedia entrepreneur Frederic Gumy. Giants are Small is a fusion of theatre, live filmmaking, puppetry, music, and visual art.
The story is narrated by rock legend Alice Cooper. The first thing my daughter commented on was how much she liked his voice.
With over 50 minutes of music from The National Youth Orchestra of Germany, the app can keep your kids entertained on a reasonably long car ride, and the special features and Youtube videos will keep them occupied even longer.
You can gift the app to friends and family, and I am buying this one for my niece and nephews. They love music, and they love a great story. This Peter and the Wolf in Hollywood app is all of that and more.
Have you seen the trailer for the app? Have you ever considered letting Alice Cooper babysit your kids? If you answer is no to one or both of these questions, watch the video below…
Check them out on Twitter and Facebook, follow the hashtag #PeterandtheWolfApp, and visit their website for more information and videos – PeterandtheWolfinHollywood.com.
This post is part of a sponsored campaign with Giants Are Small and MomSelect. All thoughts and opinions are my own.