On September 23rd, I posted this on the SocaMom facebook page:
I haven't written much about the hurricanes. I have always been that person who watches and listens before saying anything… especially on the Internet. I have shared news and updates from friends, but as far as my opinion, I have stayed pretty quiet.
Right now, I can share that I feel sadness. I am sad about two things. The devastation across the region of course, but the reactions to it within the region and outside is just… mystifying. While some people are sharing info and insight on how to help, others (the same people who prayed for Paris) are only worried about what will happen to the deposit they paid for their Caribbean vacation.
The same folks who will post on Instagram how they are enjoying the sand, sun, and hospitality of the islands are holding tight to their purse strings. When it is time to take people into their countries who have lost it all in their own countries because of the hurricanes, they pull a Mariah Carey and are like, "I don't know her."
So I'm not sure what to say. Not yet. I'm just watching, praying for friends, researching charities, and grieving for the state of humanity. If you are on the sidelines talking trash and throwing shade, please reevaluate. It could be you with just a turn of the winds. If you are sharing great info, supporting charities, and helping the best way you can, God bless you. I appreciate you.
Eva
---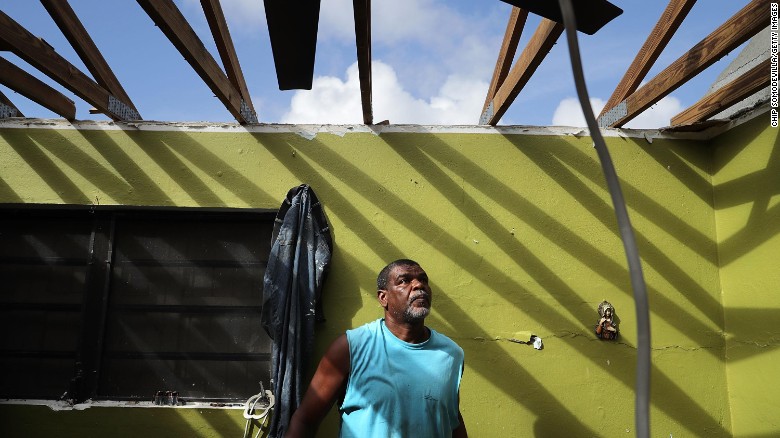 Recently, I have been so happy to see people from all over the world working to help the hurricane victims in the Caribbean. I have been particularly disappointed in the U.S. government's response to the plight of its own citizens in the Caribbean, but have been in awe of the support that Puerto Rico and the U.S. Virgin Islands have received from the Caribbean community in America and from other Caribbean nations who are in a position to help.
Island nations like Barbuda, Dominica, and Saint Martin had some of the most devastating losses, and Puerto Rico is not only without power but without the hope of reliable power in the near future. Many of those who have families affected by the hurricanes have gathered vetted resources and written articles about how to help, as well as shared their personal stories.  I am sharing them with you here.  Please be safe and help where you can – my prayers are with you and your families.
Understanding the Crisis in Puerto Rico after Hurricane Maria by Melanie Edwards of Modern Mami  
"Many of us cannot fathom the current situation in Puerto Rico, though we're seeing horrific images from the island of American citizens who have lost everything." – http://www.modernmami.com/latino-latina-culture/puerto-rico/understanding-the-crisis-in-puerto-rico-hurricane-maria/
Reflections on Hurricanes Irma & Maria And What Caribbean Governments Need To Do To Bounce Back Stronger by Ursula Petula Barzey of Caribbean & Co.
"Caribbean people, in general, are incredibly resilient so the majority will survive and thrive after these hurricanes pass through. It won't be easy, but as we've seen from previous natural disasters, it will get done." – http://www.caribbeanandco.com/reflections-hurricane-irma-maria-caribbean-governments-need-bounce-back-stronger/
Anguilla and Barbuda Receive $1 Million Grant by Nerissa Golden of Discover Montserrat
"The Bank has disbursed a grant of EC$1 million each to the Governments of Anguilla and Antigua and Barbuda to support relief and early recovery." – https://discovermni.com/2017/09/27/anguilla-and-barbuda-receive-1-million-hurricane-grant-from-eccb/
Surviving Hurricane Irma in Anguilla by Vidya Birkhoff for Caribbean & Co.
"I had no idea what to expect from Hurricane Irma who was scheduled to make landfall over Anguilla where I've lived for the past two years, but I thought I would document how my husband Ralph, our dog Victory and I weathered the storm." – http://www.caribbeanandco.com/surviving-hurricane-irma-in-anguilla/
Irma Destroyed Our Home But Not Our Spirit by Lisa Leslie-Williams of The Domestic Life Stylist 
"…this time I was bracing the storm from afar. Now a resident of the Washington DC area, although my physical body is no longer drinking in the year-long island sun, my heart continues to beat to the songs of well-tuned steel drums." – https://thedomesticlifestylist.com/irma-destroyed-our-home-but-not-our-spirit/
Don't Forget the Islands! How to Help Hurricane Victims in the Caribbean by Joanna of JoannaE .com
"Through my travels, I've always shared the Caribbean as more than a beach destination or cruise stop. The Caribbean needs out help! If you're looking to assist hurricane victims in the Caribbean, [here] are some organizations to donate to." – https://www.joannae.com/help-hurricane-victims-caribbean/
Prepping for a Hurricane with Aging Parents by Melanie Edwards of Modern Mami
"There are many things to think about when preparing for a major tropical storm or hurricane, especially if you have aging parents or are the caregiver to an elderly person. While it might seem logical to evacuate the elderly to a shelter due to their special needs, it may not always be the best option." – http://www.modernmami.com/life/prepping-for-a-hurricane-with-aging-parents/
Many of the islands rely on your tourism dollars. This website was recommended by Ursula Petula Barzey of Caribbean & Co as a resource for those who are looking for tourism information – http://caribbeantravelupdate.com/
This website collects funds for hurricane relief in Dominica and was shared by multicultural food blogger Chef Mireille. – http://www.darda.org/hurricane-maria-relief.html
This website has information on how to help the Virgin Islands recover from the devastation of the 2017 hurricane season. It was shared with me by blogger Jennae Peterson. – https://www.virginislandsunited.org/
This website was suggested by one of our friends on Facebook. This page has links to organizations by island. – https://womenwholiveonrocks.com/how-you-can-help-the-islands-you-love/ 
My cousin who opened her home to us in Vieques provided a link to ViequesLove's goFundMe. The cover photo is of the El Yate restaurant where we ate and made new friends on our visit last year. Vieques is an island off of Puerto Rico that is part of the country, but has been cut off from Puerto Rico (and for some, the world). See this article, "Residents of Vieques, Cut Off From the Rest of Puerto Rico, Plead for Help" and donate and get recovery efforts updates here – https://www.gofundme.com/viequeslove
Caribbean born writer and comedian Onicia Muller shared a link to her friend D. A. Robin's photojournalism website where he shared photos of the aftermath of Irma, as well as a personal account of what was happening on the ground. If these photos do not encourage you to donate to and get involved in relief efforts, I'm not sure what will. Please note that the PayPal buttons on the page are for donations to support his photography. He is a freelance photographer and writer.
---
I will be updating this post as more information becomes available. Please visit these websites and blogs and share their stories and resources on social media. If you have information that you would like to add, please send a message on our Facebook page, here – https://www.facebook.com/socamomdotcom