Viral video stars come and go, but Crispin Michael Booker of the now famous "Subway Brag" isn't going anywhere.  Since he "bragged" about his accomplishments and his plans to give back have been featured on Buzzfeed, .Mic, and HelloBeautiful, millions have been introduced to Mr. Booker, a Grenadian American who is always giving back to his home city of Brooklyn, NY, and Grenada, the land he loves, through his affiliations with local schools, non-profits, and nationally recognized organizations as well as his own charitable organization.
A stroll through his Facebook timeline reveals a man who is every bit as generous with his time as he was with his heart on the subway. It is clear why the video went viral, Mr. Booker's spirit and charisma is infectious.  Get to know Crispin Michael Booker.
Eva: Tell us a bit about yourself.
Crispin: My entire family tree is from the island of Grenada, mother, grandmother… I am born, raised, and currently reside in Brooklyn, New York. I went to Adelphi University for my Bachelors, and I finished my Masters in 2013 for Networking and Telecommunication. I currently work for Hedgeserv as a Supervisor on their Global End User Support team. My late grandmother Veronica Paul used to feed the hungry in Grenada. In addition, she was a teacher for a number of years before she migrated to the United States, so all the community outreach in the Caribbean is based upon keeping her memory alive.
Eva: How did your Caribbean Heritage impact the person you are today personally and professionally?
Crispin: My grandmother instilled pride for my country, and she taught me the importance of giving back. Those two principles shaped my life. I got into IT support because I loved being [of] service by fixing computer related issues. Personally, I have been in service to my community for the last decade.
Eva: How often do you visit the Caribbean, and what is your favorite place to visit? Why?
Crispin: I have only visited Grenada. I started travelling to Grenada more frequently as I am setting up a computer program for three schools.
Eva: What made you do the video, and did you have any expectation that it would go viral? How did you find out that people were responding to your video?
Crispin: I belong to an organization [called] Momentum Education. Momentum is a transformational workshop geared to towards empowering people to live the life they envision. I completed all the workshops this past June. Since it was such a powerful experience, I decided to volunteer my time as staffer. Currently, I am staffing the third workshop in Momentum Hierarchy of workshops called Leadership. Leadership Team 141 was given an assignment to go into the subway and brag about something positive in their life. The key is to share in such a way that others on the train get to share their positive news. I was able to share my news in such a way where a man name James shared his story. After that, I uploaded it to Facebook and people just started liking and sharing the post.  I did not know it would go viral since other momentum graduates [have] posted similar videos.
Eva: You have a heart for service. Tell us about the service projects and organizations in which you are involved.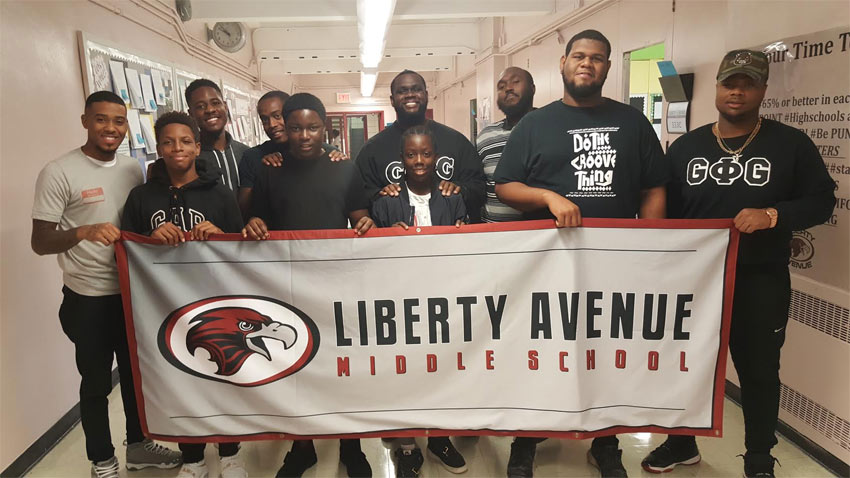 Crispin: I started Veronica's Way on behalf of my late grandmother. We focus on feeding the homeless [in Brooklyn] every month. The  main project is starting a computer program in every Caribbean island, starting with Grenada. I lead a mentoring program called Groove Leadership Academy with my fraternity Groove Phi Groove Social Fellowship Incorporated. We mentor young men at the Liberty Avenue  Middle School in Brooklyn. Lastly, I work with AbunDANCE with Keo. which is a dance company who I am helping organize an Art day for young kids interested in the performing arts.
Eva: You are giving computers to schools in Grenada, how did you go about recognizing the need? Do you have any plans to give to the school system in other ways through your non-profit?
Crispin: My Grandmother was an educator and I am information technology professional, so giving computers was my way to include my two passions. If children in the Caribbean are able to use computers earlier in their childhood, I believe it will set them up to succeed in life. The plan is to expand the program to the rest of the Caribbean. I plan on starting a Christmas book bag drive in Grenada next year.
Eva: What are some of the goals of your non-profit, and what kind of support you need to reach them?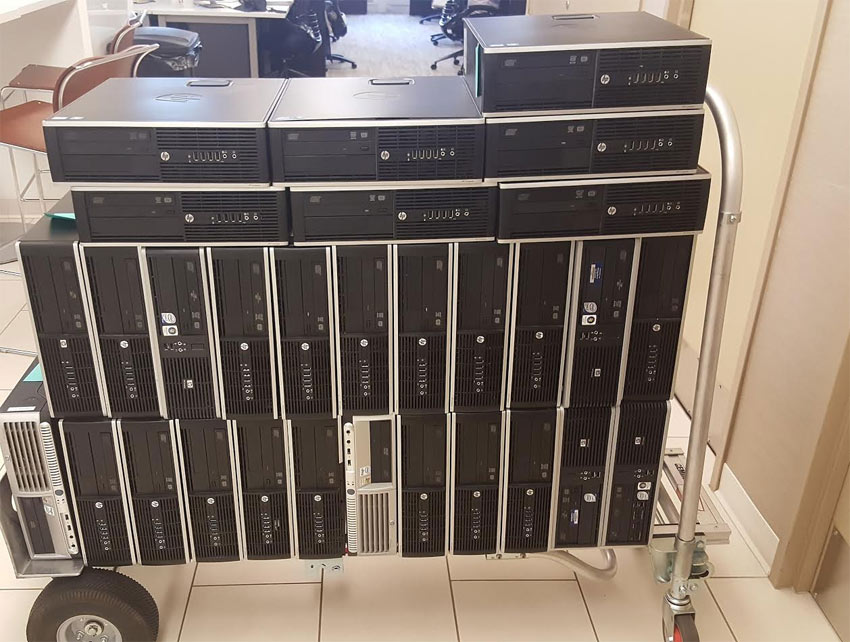 Crispin: I want to establish the computer program in the rest of the Caribbean. In order to do so I would need support in gaining contracts with [computer manufacturers and distributors] and other companies willing to donate computers. In addition, I would need to set up a contract to ship the computers to these countries. I am looking for financial support to pay for taxes on the computers and travel cost to these countries.
Eva: How can my readers follow you on social media to keep up with you, your service projects, and your accomplishments?  
Crispin: They can follow my Facebook page and my community service page Veronica's Way. I am updating and posting events on my page all the time.
Eva: Do you have any advice for a young Caribbean American looking to give back to the Caribbean community in the United States and abroad?
Crispin: My advice to young Caribbean Americans is to take pride and ownership in your respective island. It is very important to give back no matter how small. The entire Caribbean is in need of support, so whatever way you decide to give back it is more than needed. The key to giving back is not doing it alone. If you share what you are planning, and how you intend to give back, the world is waiting to assist you.
Thank you so much to Crispin Michael Booker for taking time out to share his passion for giving back with us. This summer, Veronica's Way raised funds to feed 56,000 people.  You can be a part of his vision for his community and the Caribbean liking the Veronica's Way Facebook page and doing what you can to give back.
Links:
Crispin Michael Booker on Facebook