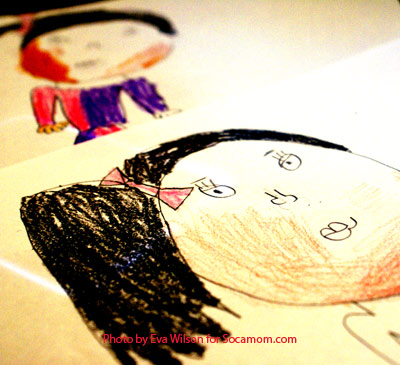 Baby Girl's attempts at her self portrait.
Today Baby Girl's art class assignment was to complete a self portrait. She was so excited – she grabbed all sorts of crayons, markers, pens, color pencils, and got started.  Eventually she realized that there were no browns that reflected her skin color exactly… not even close really.
"This one is too red!" she complained, "I have to start all OVER!" She tossed the her half done drawing to the side, and pulled a new sheet of paper from the package.
I went over to her desk and looked to see if maybe she overlooked some other colors that may have been closer to her exact hue.
"That one looks orange…" she whispered as she looked over my selections for her.  Eventually I agreed.  There was nothing that would match her unique shade of brown.  I found one that if she colored with a light enough hand, could come pretty close.
"That's not it either," she protested, now on the edge of tears.
We went into the bathroom and compared her drawing to her own face in the mirror.
"See… with your new tan, you are kinda red, right?" I said – hopeful.
"No mommy.  Not THAT red! And that is going away anyway," she explained.
I could see that she was on the edge of a meltdown (she takes her schoolwork very seriously), so I colored in some for her to show her how close we could get.  She managed a little smile and went off to her desk to try her best to complete her assignment.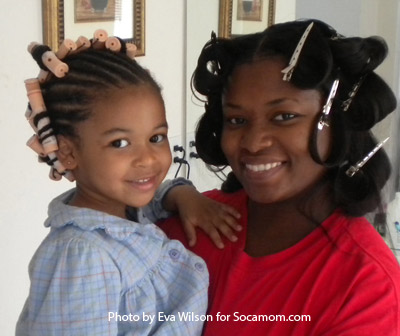 (that's us year before last – I cut all that hair off.)
People of color know, having a little "mini-me" is difficult to impossible when it comes to having kids.  Truth is, when it comes to skin color, you never know what you are going to get – especially when you are from the islands.  The history of people of color in the islands is complicated, and that is shown in the variations of brown seen in the people of the Caribbean – as well as eye shape and color, and hair texture.
A Caucasian mom or dad may have a child with brown hair, while theirs is blonde, or curly hair, while theirs is straight, but not the wide variation in skin color that people of African, East Indian, and Asian descent can have – and when you have parents of different races, the color variations are endless.
My mom, dark brown. My dad, a reddish brown – but still dark (I guess).  My brother – born very light brown with dusty hair. Me – dark brown, with reddish and yellow undertones. My husband, yellowish medium brown. My daughter…. um… well – the guy taking her first picture in the hospital said she looked like she was Asian baby. I think he was a little confused since NONE of her brown had come in, she had "hooded" eyelids, and straight dark hair, but yet, here she was in my chocolate brown arms in the hospital.
My mom warned me when I was pregnant with my first son – she said, "You won't know what you're gonna get with all we have going on on our family tree."
All that being said, does it really matter?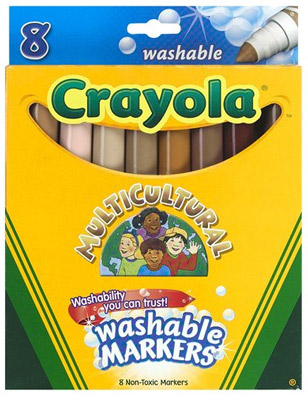 I promised Baby Girl I'd get her these Crayola 8 Count Washable Multicultural Markers
.
It seems that for thousands of years – it didn't.  In recent history, scientists and historians have argued about race in ancient Greece, Rome, and Egypt.  Funny thing is, according to the tomb paintings, carvings, and sculptures, they weren't arguing about race at all.  Race and color have been at the forefront of battles, wars, and conflict for centuries.  Then and now, people have tried to link it to sexuality, disease, intelligence, freedom, religion, class, ability, and even whether or not a particular race was even fit to be classified as human.
As long as people are different races, colors, and hues – there will be something for society to talk about. It is in our nature to try to find differences in people and things, to make things fit, and to try to decide what's better than what.
Today, for Baby Girl's self portrait – color matters. She wants to have an accurate picture of herself for this assignment… even if it is two dimensional and done in crayon.  She wants to have the tools to be able to show me how she sees herself.  It is hard to explain to a 6 year old, that nothing in that box of crayons will be able to even come close. No matter how hard the manufacturers try.
As she grows up, I will share with her that color can't define her, what people say about her color won't define her, and what people of similar color have done in the past didn't define her.  She's unique – special – and even if that box had thousands of colors in it, none of them would be exactly hers.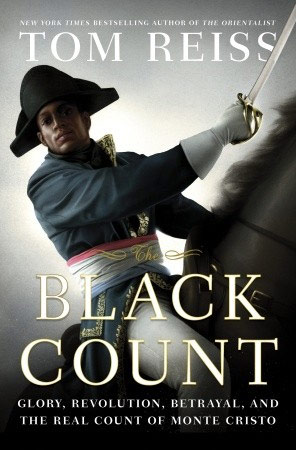 My daughter is going to grow up to be a woman of color in a world where for some, that is the worst thing you can be. She doesn't have a choice. What she does have a choice in is what kind of a woman she grows up to be.  Reading The Black Count, I thought about my kids, and how they can will have their achievements overshadow their appearance.  Although this man was born in Haiti, of a slave mother, and a French father who basically pawned him for a ticket home to France, he was able to come to France where freedom for people of color was confusing at best and hypocritical at worst, become a skilled, respected, military figure – possibly holding the highest rank of any person of African descent in a European army since those in the ancient Roman armies.
Thien Kim Lam who runs the From Left to Write Book Club asked about the cover image of The Black Count, and the publisher told her:
"We looked at every illustration of him from the time and just couldn't find anything that captured his heroic spirit and the adventure of the book quite enough."
Love it!  I'll encourage Baby Girl to capture her kind spirit, inquisitive mind, and inner beauty in her self portraits – that way, she can color herself any color she wants.  Baby Girl may have to overcome a lot of things in her life. Hopefully finding the right color to represent her skin tone will be more of an issue for the artists and historians artists who will have to try to recreate her likeness when they share the story of her great accomplishments.
Alexandre Dumas' works were heavily influenced by his father, also named Alexandre Dumas. In the biography The Black Count, author Tom Reiss tells how Dumas went from slavery to become the equivalent of a five star general in the French military. Join From Left to Write on October 11 as we discuss the The Black Count. As a member, I received a copy of the book for review purposes.
Synopsis of The Black Count by Tom Reiss (via Random House):
Here is the remarkable true story of the real Count of Monte Cristo – a stunning feat of historical sleuthing that brings to life the forgotten hero who inspired such classics as The Count of Monte Cristo and The Three Musketeers. The real-life protagonist of The Black Count, General Alex Dumas, is a man almost unknown today yet with a story that is strikingly familiar, because his son, the novelist Alexandre Dumas, used it to create some of the best loved heroes of literature. Yet, hidden behind these swashbuckling adventures was an even more incredible secret: the real hero was the son of a black slave — who rose higher in the white world than any man of his race would before our own time. Born in Saint-Domingue (now Haiti), Alex Dumas was briefly sold into bondage but made his way to Paris where he was schooled as a sword-fighting member of the French aristocracy. Enlisting as a private, he rose to command armies at the height of the Revolution, in an audacious campaign across Europe and the Middle East – until he met an implacable enemy he could not defeat. The Black Count is simultaneously a riveting adventure story, a lushly textured evocation of 18th-century France, and a window into the modern world's first multi-racial society. But it is also a heartbreaking story of the enduring bonds of love between a father and son.