Homeschooling through high school is a major accomplishment for the whole family, and it should be celebrated. You don't have to order a cap and gown, or even a diploma, but a party of some sort is a must. You and your graduate deserve it. May is not only graduation month for most, but a less expensive time to travel to many destinations, so you could take advantage of good airfare and hotel rates, and take the show on the road. 
Since graduation is a family affair, homeschooling or not, it is important that you consider the needs of the whole family, and that everyone has a good time, not just the graduate. Here are five of our favorite family friendly places to go, and one that we actually went to for our son's graduation celebration. This post is not sponsored, but may contain affiliate links.
Beaches Resort and Spa in Turks and Caicos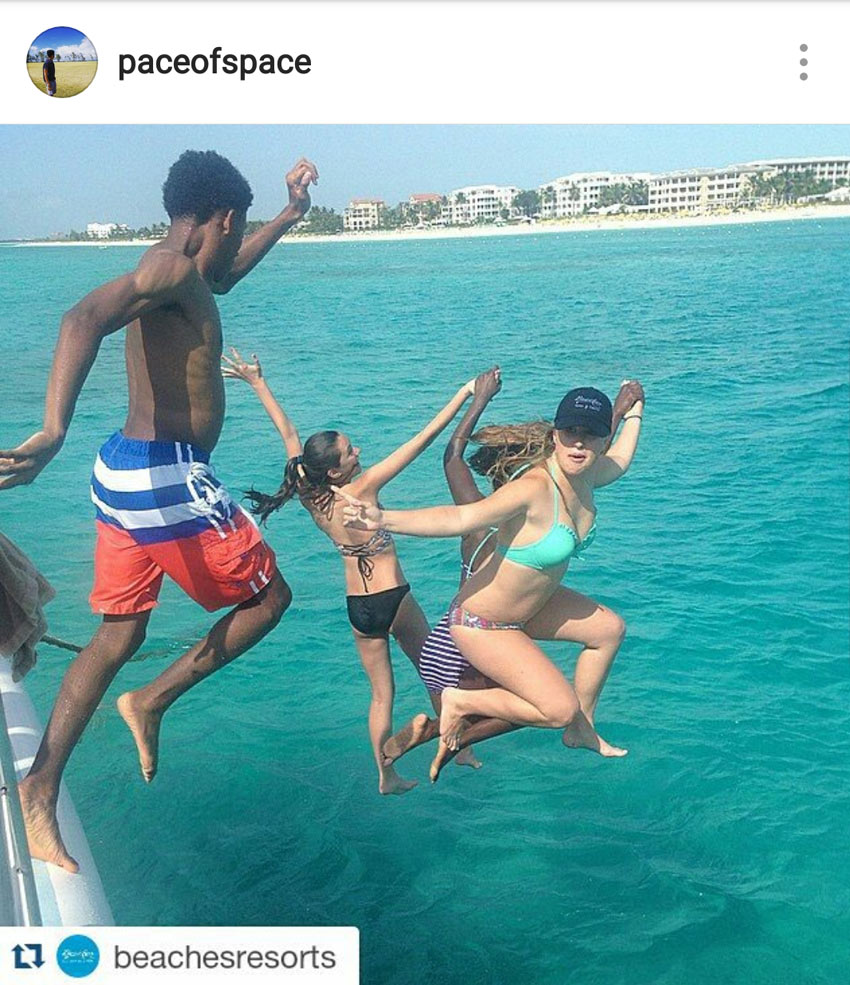 Beaches Resort and Spa in Turks and Caicos is one of our family's favorite places to vacation. My son has been on the Beaches Teen Advisory Panel (TAP) since 2015, and has been able to learn a lot about the resort, work with the Sandals Foundation, and enjoy many of the activities that the resort has to offer for teens.  The Reading Road Trip and Pack for a Purpose give the teens a chance to give back while they enjoy a fabulous all inclusive vacation with amazing food, a water park, water sports, a teen night club, pool parties, bonfires, party boats, and more.  You will appreciate not having to keep giving your teen money, and they will appreciate the freedom to hang out with friends. Keep in mind that at 18, they can order alcohol from the bar – and it is all inclusive – so you won't know because there is no bill.
Related: Turks and Caicos: Researching the Rock Iguana!
Beaches Resort and Spa in Negril, Jamaica
Beaches Resort and Spa in Negril, Jamaica is a little more laid back and smaller than the resort in Turks and Caicos.  There weren't as many teens at this resort, so you may want to budget bringing a friend or two for your child to hang out with.  The water sports are really great and include water skiing, sailing, paddleboards, and more.  If you choose Beaches in Ocho Rios, you can get some fabulous graduation photos at the famous Dunn's River Falls. If you are in Negril, it is about a two and a half hour trip to the falls. The reading road trip is available at Beaches in Negril as well. On Evan's TAP trip to Jamaica, he was able to hang out with kids his age at a summer camp and play some soccer. Both resorts are experts at hosting weddings and family reunions. I suggest talking with a representative to see if they can accommodate a beach graduation ceremony!
Related: I DID That! Paddle Boarding and Sailing in Negril, Jamaica
Disney's Aulani Resort and Spa in Ko Olina, Hawaii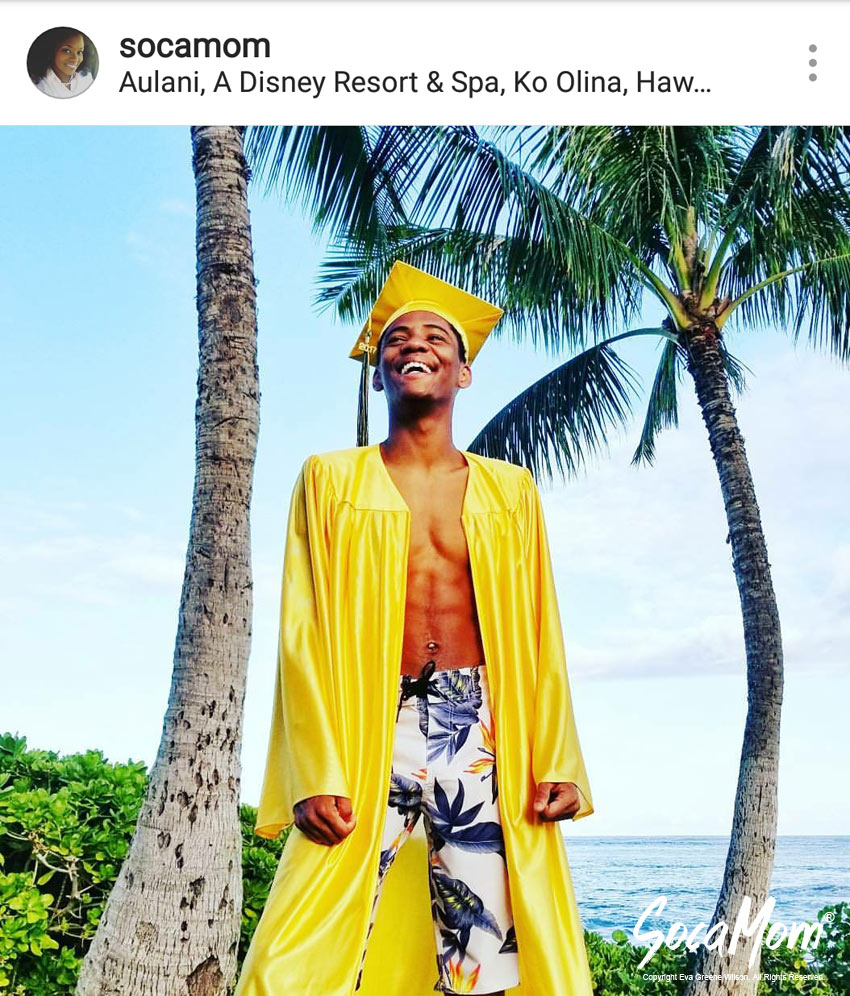 This is the resort we chose for our son's graduation trip.  He didn't want to participate in the group graduation ceremony that one of the homeschooling groups in our area provides, so we decided to celebrate my husband's birthday, my graduation from Howard University School of Law, and our son's graduation from high school with a trip to Oahu. We hung out in Waikiki and North Shore, but spent the majority of the trip at Disney's Aulani Resort and Spa in Ko Olina. We are Disney Vacation Club members so we were able to use points for the room, but you can also book as a hotel guest. There are a lot of activities for adults and smaller kids, but not necessarily for teens – at least not as many as at Beaches. There are some that are designated for teens, but when your teen is 17 or 18, they likely do not want to hang out with 13 and 14 year olds. There was a church that met on the beach that my son checked out, and enjoyed hanging out with their youth group. If your child isn't the most outgoing, I suggest you budget for a friend and get a two or three bedroom villa.  We had family come to hang out with us, and the villa has plenty of room. Between the lazy river, water slides, early morning workouts, the beach, free movie rentals, and activities, our teen was occupied.
This is in the US, of course, so the legal drinking age is 21 and no passport is required, so nothing to worry about there! It is not all inclusive, so if you are bringing teens, check out my Ultimate Family Guide to Disney's Aulani Resort and Spa in Ko Olina, Hawaii (with packing list!) for tips and tricks to feed and transport everybody.
Universal Studios in Orlando, Florida
We took a family trip with cousins down to Orlando to experience Universal Studios in Orlando Florida a couple of years ago, and I would definitely consider it a graduation worthy trip – especially if you have a Harry Potter fan in the house.  Many of the hotels have shuttles to and from the park, so you don't HAVE to rent a car. We did because we did a road trip from DC to Florida. I would still suggest renting a car because Orlando is full of things to do.  You can even do a day at Disney World if you get a good deal on passes. For us, Universal Studios was enough. The place is HUGE and you could easily use four days riding all the rides.  We went in March so the lines weren't too long, but the place wasn't empty either.  There are plenty of restaurants on the property, but you don't have to eat there.  Unlike the resort hotels, there are few opportunities to make new friends in line waiting for rides, so bringing the party with you is a must. Accommodations are cheaper, so you may be able to get quite a few family and friends to join you.
Caribana in Toronto, Ontario
Oh Bacchanal! First and foremost, there will be a lot of drinking, and the legal drinking age in Toronto since 1979 has been 19. Your graduate may have a late birthday and be 19 by the time Caribana rolls around in July/August, so keep that in mind. There are tons of parties and events including boat rides, cultural events, and kiddies carnival, check the age requirements before purchasing tickets. Here are the family friendly events for 2017. We took the kids to Caribana a few years ago, and while the parade was fun, we spent most of the time at other attractions like the aquarium, and just touring the city.  We have family living there, so we had them to show us around, but there is a lot of information online to help you plan a family trip to Toronto. Don't forget to work in a trip to Niagara Falls as well. That might be a great spot for some epic graduation photos.
What have you done to make graduation special for your child? Share your experience in the comments.