A friend of mine asked me once why I never talk about religion specifically on my blog. I have a whole host of reasons, but the main one is that people seem to lose their minds when you mention God. This blog is my happy place, the place I go when I have good news to share or something funny to chat about. I have talked about everything from major life events to major soca fetes, but never my love for Christ. Why? Here's what I told my friend when she asked me if I ever talk about religion on my blog…
"I don't write about religion. Folk are crazy as hell and get right nutsy about the God they serve, or don't serve. The main people spouting scripture are just shy of the devil's kin. I steer clear and hopefully let my every day interactions be my testimony."
[TRIGGER WARNING: I MENTION GOD MORE THAN 12 TIMES IN THIS POST]
Right now, somebody is either on Facebook, Twitter, or Instagram responding to a post about what Ciara said about marriage and singleness – through a text post on her Instagram, and a video of a preacher who seems to mock women who are in the church and still single. The headline on the video she posted says, Too many women want to be married, but you are walking in the spirit of 'girlfriend.'"
The preacher is the star of the reality show, "Book of John Gray".
Watch the full video below. Men got 24 seconds of instruction just in case the "snuck in to the women's conference." Okay, so he wasn't talking to them – I'll let him have that. Ciara posted the next minute or so of the sermon on Instagram with the hashtag #LevelUp
While the audience clapped and laughed, the preacher says things like…
"You're not a wife when I marry you, you are a wife when I find you."
"A wife is not the presence of a ring but the presence of your character."
"Too many women want to be married, but you are walking in the spirit of girlfriend. Ask the Lord to deliver you from that spirit and carry yourself like you're already taken."
"I promise you… when you carry yourself like a wife, a husband will find you."
If you listen to it enough times to transcribe it like I did, it almost makes sense. Almost. When you READ it in print, and you are married, it is pure foolishness.
Later, she posts this…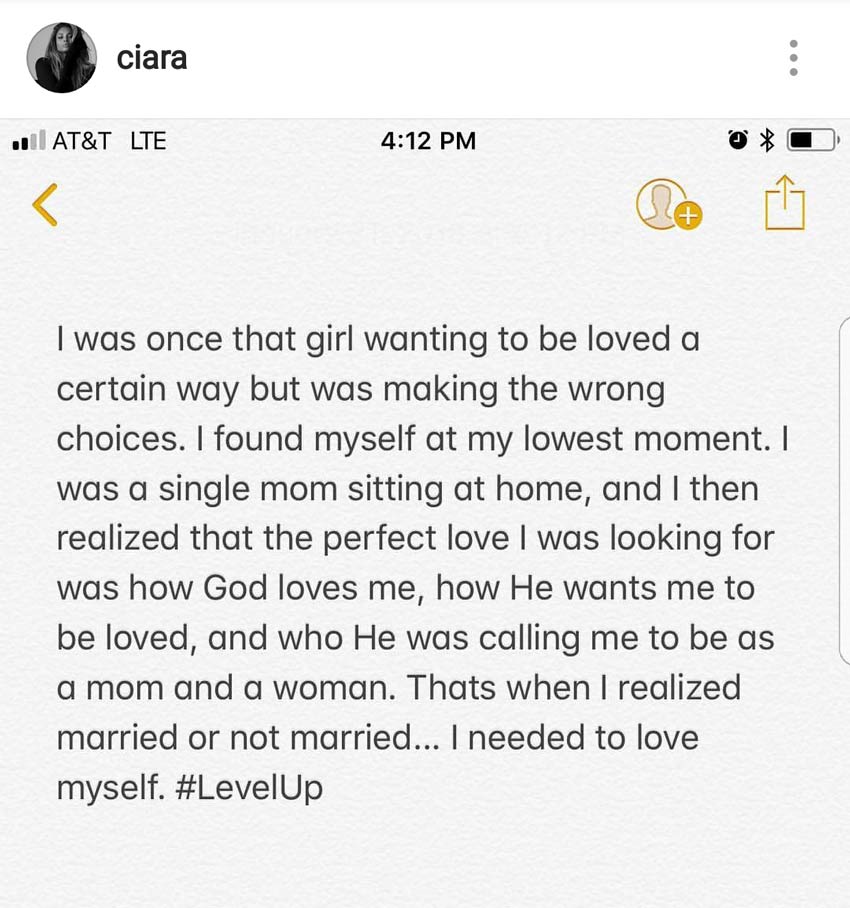 Maybe this was to clarify things after that video, but it only cleared it up for a few people, everybody else is still pissed. I can't say that I agree with her, but I understand… a lot of single moms have THAT moment.
Lemme tell you my story right quick…
I never wanted to be married or have kids. Despite all precautions taken, I was a single mom to a 2 year old, and loved him with every thing inside of me. Everything. I had just bought a two bedroom condo with a little yard for him.
He got the room with the view of the backyard, and the big closet, and I had the other one. I worked all week to pay our mortgage and daycare and car note, and spent the weekends taking short trips with him or going to different parks to play. I liked our little life. I was pretty well versed in the Bible, but didn't go to church and hadn't really talked about God to the boy other than reading the Bible to him in utero and saying our prayers at night.
One evening I was in my room feeling pretty awful. I wasn't sure what I needed. Then the boy, who had been bathed up, greased up, and put to bed knocks on my door. He peeped his head in and said, "Mommy, I love you… and God loves you too." That 'bout took me out. I just sat there. Stunned that God insisted on talking to me whether I wanted to hear Him or not.
I had been chatting with a guy online and on the phone, and he was trying to get me to go to church. That night, I decided to take him up on his offer to visit his church. Not with him, but to the early service. I was officially the head of my household, and I needed to find a way to teach my son about God. Until I was ready to do it, I was willing to trust Sunday School to give him the basics. You can't really mess that up. Myself, I haven't had great church experiences, so I went with my mind closed, heart locked. These charlatans weren't bout to get me.
Before a single message was preached, a dance group came on stage. Not your typical praise dancers, but young people who clearly were trained dancers (no shade to those who dance for the Lord and whatnot). I was bawling, ya'll. Done. Overcome. Dance is my love language and God was talking to me. Me!
After that, I was there every Sunday, not with the fella who invited me, and argued me down about everything I believed to be true about God, but just me and the boy. I would drop him off at Children's Church, and then go listen to the pastor preach.
Sometimes the fella and I would meet at the Wendy's up the street if I went to the later service. He suggested I join the small group Bible Study to get to know people. I met some of the most amazing women I'd ever met, and got a chance to really listen to others talk about their relationships with God, I took my quiet little boy with me, no judgement.
When I got baptized, the fella gave me a Bible with my name on it. I should ask him for a new one since that one has my maiden name on it, but I haven't. It reminds me that whatever I was looking for wasn't found in a husband or marriage. I was gonna be okay. I was exactly who God made me to be, and I was enough. It was okay to love me, and HIS love was always mine.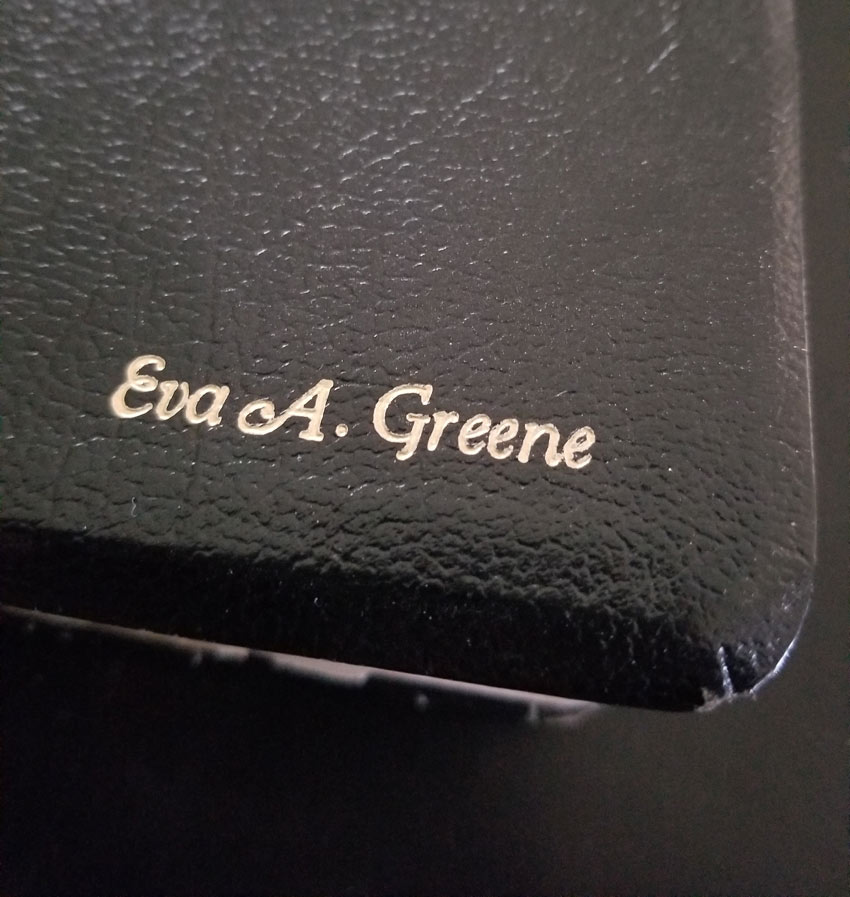 Folks are mad at Ciara's post, but everybody has a story. A lot of people know the very moment, the second, they knew they were loved unconditionally… loved by God, by their first child, by themselves. When you know that it changes how you walk, how you talk, how you live, and how you love. It may lead to a promotion, a book, a move, a life changing trip, or in some cases, marriage.
"I promise you… when you carry yourself like a wife, a husband will find you." Ya'll. This is a lie. This is not a time to fake it til you make it. Carry yourself like a wife, and no self respecting man, let alone husband material, will approach you looking for marriage. I am a wife and I am not as open as I was when I was single. I am different. If I carried myself they way I do now, when I was single, please believe, I'd still be single. When I rekindled my relationship with God, and felt truly loved, it opened me up to a lot of opportunities, not just marriage.
Listen to this sermon. Between all the whoops and hollers and "Amens," listen to the man. He downplays the process involved in finding your life partner, your husband, your wife, and acts like the steps (attraction, dating, etc.) don't matter. They do matter. Listen to it before you comment. Yes, the Bible says, "he who finds a wife, finds a good thing," but the search matters. That word "finds" matters. The brevity of the sentence is misleading. The search is not necessarily short. It is less of a revelation and more of a scavenger hunt. You turn over rocks, you look in holes, you peek behind trees, you think you found it and you are mistaken. Then maybe, after some searching, you find what you THINK you are looking for.
I asked my husband (A.K.A. the fella that invited me to church) to listen to it.
First time, he nods his head in agreement.
I tell him, "listen to it three times, then comment."
Second time, he frowns.
Third time… he says, "wait a minute."He said, "You know Prince Harry may never be king, but he knows all the rules to being royalty. He is ready. He is prepared. He may never be called to be king. He may be called to lead in some other way… but he is ready and knows who he is. His status as royalty, his training, makes him prepared for anything he may be called to do."
So ladies… prepare yourself for EVERYTHING. It might be marriage, a new business, an educational opportunity, a philanthropic calling, foster parenting, writing books, a new career… love yourself, love others, and let God love you.
How are you preparing yourself to become who you are destined to be? Let me know in the comments.
Related Post: Once Upon a Time, There Were Four.