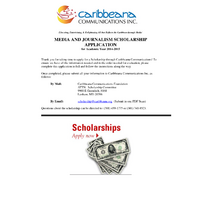 The application deadline has been extended to April 1, 2014 for the Media and Communications Scholarship offered by CCI for Maryland, DC, and Virginia students of Caribbean descent.
Click here to download the application:
Media And Journalism Scholarship Application
Scholarship Criteria:
1. College students in Maryland, District of Columbia, or Virginia. If going to attend college in 2014-2015, must be enrolled no later than May 2014 for the fall semester.
2. May be attending a university, college, or community college.
3. Must be studying Journalism, Media (i.e. Radio or TV), Communications, Media Technology or International Media.
4. Students can be either Caribbean nationals studying in the United States on a current student visa, Caribbean American students, or Americans with Caribbean parentage.
5. Application packages are due no later than April 1, 2014.
For more information, download the Media And Journalism Scholarship Application. It contains all of the submission guidelines and contact information.
Please note that SocaMom.com is not affiliated with the sponsors of this scholarship, and this post was not solicited by CCI. Just an 'FYI' for you! Please share this information with others who may be interested in money for college.