Both of my parents were entrepreneurs. My husband's dad owned his own plumbing business.  We have an IT consulting company together. It stands to reason that the two of us would produce Mr. Social.
I don't think I have ever seen a kid more driven, and I was pretty intense as a kid. He has that Caribbean American work ethic – and he got it honest.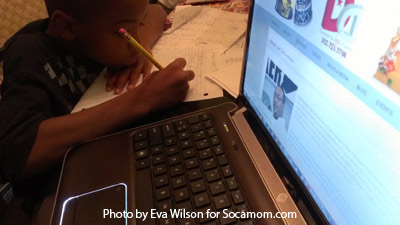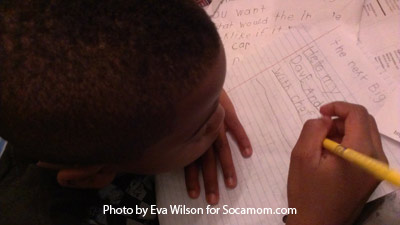 Mr. Social working at 2:30 am  on his questions and doing research before his interview with Chef Dana.
When I was a kid, I remember my mom taking me to Wal-Mart and various craft and fabric stores to get my "supplies" for all of the things I would make and sell. She never thought my ideas were silly, and she never wrote them off as just a kid coming up with crazy ideas.  Her support of my projects made me who I am today.
Mr. Social loves cars. I mean he LOVES them.  I don't think I have seen a kid so passionate about anything before.  For the past year, he was always making signs for his "work" in his spare time, and calling all of us to the table for his business meetings.  He would set the table with cereal bowls and place cards with each of our names on them.  Not sure what we were meeting about, but he had an agenda, and when his older brother was goofing off – he was thrown out of the meeting immediately.
He watches me work on my blog all the time, and eventually he decided that he was going to start his own blog. He started by asking me a lot of questions about mine… how do I get the pictures up there, would he need a computer, would he need a camera, do kids have blogs, stuff like that.  Then one day he asked the question.  "Mommy, can you make me a blog?"
Like I don't have enough to do. Then I thought about it.  My mom ran her own business, fed us, clothed us, and still managed to find time to get out to the store on a regular basis to help me do my own thing.  She bought me a drafting table so that I could spread out all my plans, she let me use her old pots to boil dye for my tie die shirt business, and took my Easter baskets to work with her to sell.  My dad has one of my paintings that I sold to him hanging up in his home right now.  I had no excuse not to help him.
I said, "sure," but I really meant, "we'll see." We've been taking Mr. Social to car shows since he could stand up, the most recent was in NYC this year.
Well after that, he was on a mission. He was making business cards, shopping lists, and big plans… I hadn't made any.  Then I decided that I had enough on my plate and handed that to the Hubby.  He took it on, and next thing I knew, Mr. Social had an interview scheduled with Chef Dana, celebrity chef and author, who was making a life sized Fiat at the Delaware Auto Show.
Just like when I was growing up, this was going to be a family affair. My itty bitty fashionista jumped into action, and took him to H&M to get the right outfit to be on camera.  My oldest began to practice his camera work.  The whole family was going to have to work together to get this done.

Once we got there, he was really excited, and REALLY ready to work. His "crew" was ready too…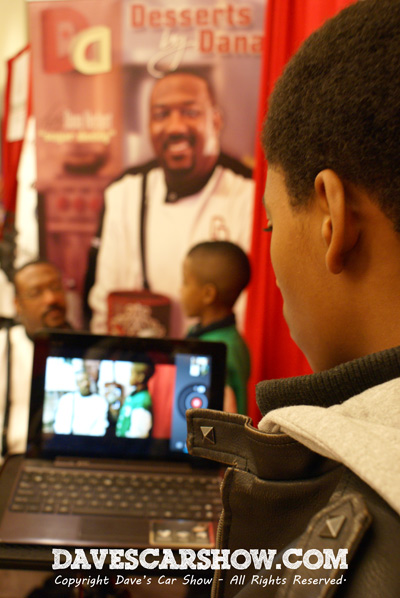 "The Boy" filming Mr. Social. He did an amazing job.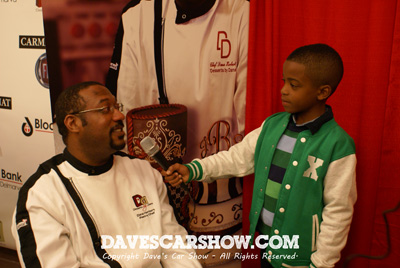 He wasn't even that nervous! Check out Chef Dana at DessertsbyDana.com…
He did it! Watch this second grader ask the tough questions…
Once he finished filming, he KEPT asking about his website, and his facebook page, and how people would be able to follow him on Twitter, so figuring that he was serious – and he had put in the work – we went ahead and created his site. Will he be able to log in and upload stuff? No.  Does he manage his own Twitter and Facebook accounts? Absolutely not.  Everybody has their job when it comes to his blog.  He creates the content – he writes his own questions, and comes up with people he wants to talk to and places he wants to go so that he can share it on his blog.  The hubby manages his schedule,  Baby Girl picks out his clothes, and The Boy does the photography and videography.
I'll give it to him.  He is working very hard on this project. He has proven to me that he is serious, so I support him fully.  I told my mom about his show, and how hard he was working, and how everybody was working on it with him.  She didn't seem surprised at all.  She was happy – but not at all surprised.  I wasn't taught to do things any other way.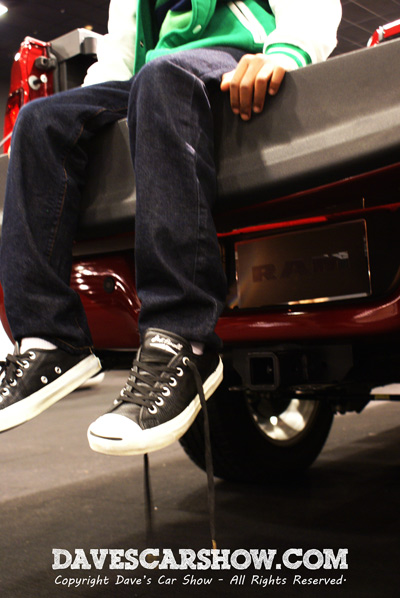 End of a long day – taking a break in the bed of a Dodge Ram at the Delaware Auto Show.
Follow on Twitter @davescarshow | "Like" on Facebook to see more photos from the event| Subscribe on YouTube | Website launches on October 22 – find a full recap of the Delaware Auto Show on the 22nd