June isn't just Caribbean American Heritage Month – it is also Internet Safety Month!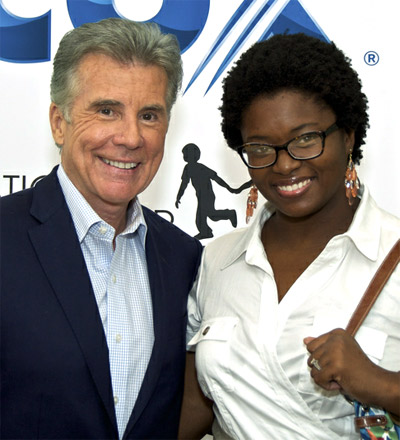 On June 28th, I was invited by Everywhere to join DC area bloggers for a discussion with John Walsh of America's Most Wanted, and parenting/technology blogger Leticia Barr of TechSavvyMama.com.
Watch the broadcast HERE.
Afterwards, at the reception hosted by Everywhere and Cox, I was able to talk with several of my favorite bloggers about her views on tween, teen, and young adult internet safety.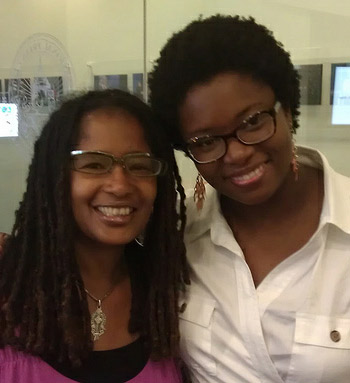 Photo courtesy of Ananda Leeke – read her blog post from this event here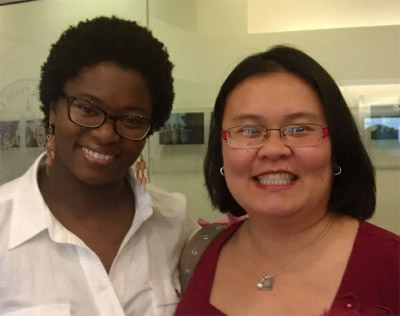 Photo courtesy of Ananda Leeke
Me with another one of my favorite bloggers – Thien-Kim of ImNotTheNanny.com
Sooooooo…. as a Caribbean parent, I am fully aware of the effectiveness (and often ineffectiveness) of threats.  My whole childhood was sprinkled with threats of "boxed" ears, a "cuff" or the "one lash" across my backside.  I didn't get into too much trouble, but I got into enough to make me so glad that I didn't have Internet access at all.  Needless to say, times have changed.  As a MODERN (LOL!) Caribbean Mom, I have to be more savvy about how I deal with the new challenges facing parents like me – whose main priority when it comes to the kids is keeping them safe on and offline.  Threats won't do it.  We need REAL strategies right now.
Your kids need to know the familial and legal ramifications of sexting and bullying. #coxtakecharge

— SocaMom (@SocaMomDC) June 28, 2012
I am the parent of a brand new teenager, and man am I nervous.  Right now, he doesn't have his own laptop or cell phone, but times are changing, and so much research, entertainment, and more is online for kids today.  When I was thirteen, we had to worry about the creepy guy at the recreation center who stayed in the gym and just "watched", or the mysterious white van with no windows.  The days of "latch key kids" being the targets are long gone since most kids have a cell phone (um, has anyone even seen a payphone in the last 5 years?) – so now the kids with the cell phones are the targets.
So you were thinking that since you have the family computer out in the open, and you can look over your kids' shoulders at any time that you are the parent who is on top of things? Sorry to break it to you, but the family computer isn't where your kids spend the most time online.
Have the kids teach the grandparents about Internet safety. Kids love knowing more than a grownup. – @techsavvymama #coxtakecharge

— SocaMom (@SocaMomDC) June 28, 2012
95% of tweens access the Internet using a mobile device
92% use a mobile device to access the Internet at home
It's their cell phones, and their friends cell phones. Anytime that websites like Facebook, Twitter, Instagram, and Youtube make it easier for us to communicate over mobile devices, they are making it easier for your kids to become targets for pornography, identity theft, and sexual predators.
What are the kids thinking? Kids ages 10-13 were asked about their thoughts on internet safety in a recent survey by Cox Communications and the National Center for Missing and Exploited Children: Read the full survey
98% say their parents have talked to them about Internet safety
78% say their parents have talked to them a lot about internet safety
83% trust what their parents say about being safe on the Internet
81% say having online rules is important for people their age
80% agree there are things they are too young to see or watch online
So, like most "tweens", they know what is wrong, but does that stop them? Think about the 12 and 13 year olds that YOU know…
70% of tweens admit they have spent more time than allowed online.  Only 55% of parents are aware of this
55% of tweens admit to using the Internet later than allowed.  Only 37% of parents are aware of this
47% of tweens admit to using the Internet when parents aren't home.  Only 36% of parents are aware of this
29% of tweens admit to visiting a website that is off limits
18% of tweens admit to using the Internet in rooms that are off-limits
16% of tweens admit they've figured out the passwords set to control their online usage (my own got me with this one…)
14% of tweens admit they've posted something they're not allowed to post
8% of tweens admit to changing their passwords to avoid parental monitoring. Only 6% of tweens have figured out how to disable the software, though, 16% of parents say their tween has disabled the software
Scared, yet? Read the full survey
42% of tweens have received a personal message from someone they didn't know. Only 22% of parents are aware of this
17% have received an email or online message with pictures or words that made them feel uncomfortable. Only 7% of parents are aware of this. Only 11% replied or chatted with them
For me that is 11% too many.
There is nothing scarier to a predator than an informed parent, so here are some tips from the Center for Missing and Exploited Children, John Walsh from America's Most Wanted, and Cox communications to help you keep your children safe. You can find these tips and more at cox.com/takecharge.
1. Talk with your kids about Internet Safety.
Talk to your kids regularly about what they do online and what they shouldn't do. Research shows that kids whose parents talk to them about Internet safety are less likely to engage in risky behavior while online.
2. Know which devices in your home have Internet access.
The typical family uses five internet-enabled devices in the home. Most Internet Service Providers offer free software to protect the home computer. Cox customers can download free security suite software by visiting cox.com.
3. Use parental controls on all mobile devices.
Remind your kids that the same rules that apply to the home PC also apply to their mobile devices – wherever they use them. Basic parental control features can be found in the settings section of most devices.  Click here to learn how to enable parental controls on some common mobile devices. You can download browser apps that provide website blocking and filtering by searching for kid friendly web browsers in online application stores.
4. Tell your kids not to respond to online messages from people they've never met.
According to a survey from Cox and the National Center for Missing & Exploited Children, 42 percent of tweens (10- to 13-year olds) have received messages from people they've never met.
5. Make sure your kids visit age-appropriate sites.
When you hear your kids talk about a new website, check it out. If you approve the site, then sit with them as they visit the site to see what they do or learn. Find sites that promote learning, creativity, and that deepen your kids' interests.
6. Don't pass up password protection.
Enable passwords on all mobile devices. That way your child will have to come to you enter the password so you'll always be aware of when they are using the device.
7. Have some rules about time and place for using mobile devices.
Set limits on the amount of time your kids spend online using mobile devices and where they can use them. Don't let them 'instant message' if you don't have monitoring software on the mobile device. Restrict time and sites for online gaming.
8. Agree on downloads.
What music is okay? Which video sites are okay? Don't share your passwords with your kids that will allow them to download music, games, videos, etc. to mobile devices. If they need to download something, you should always be involved.
9. Make sure kids feel safe to talk with you about their online activity.
Your kids need to know they won't get in trouble if they tell you or another trusted adult if anything suspicious, mean, or scary happens.
10. Be involved online.
Parents are the role models for safe and smart use. Enjoy the good stuff together by joining social networks that your kids are involved in and by sharing favorite apps and helpful web sites.
Oh, and don't forget about the Wii, the Xbox, and the Playstation, and the handheld PSP and Nintendo DS – all of which have internet access.  Controls can be set up to help you monitor kids' activities there as well. Find more tips on how to keep kids safe here: cox.com/takecharge
This post is the result of my attendance at an event sponsored by Everywhere, Cox Communications, and the National Center for Missing and Exploited Children.  I was invited to a reception that included a meal.  As always, all opinions are my own.  For more information on sponsored posts, click here – http://www.socamom.com/soca/en/about-socamomcom