Homeschooling didn't come naturally to me. I wasn't raised as a homeschooler, and I didn't even know it was a "thing" until I was an adult. It was only when I was faced with the decision to either push my child further ahead in school than she could handle emotionally, or keep her at home and let her mature while she learned at her own pace, that I tried my version of homeschooling.
Related: COVID 19: The Emergency Guide to Homeschooling/
During the SocaMom Summit in June, Dr. Randi Nelson, fresh off of her viral feature on Humans of New York, shared some things to consider when deciding whether or not to send your children to camp this summer or to school in the fall. It was first believed that COVID-19 did not have the same deadly effects on children, and the most vulnerable were people with underlying conditions, like asthma, and older people. While they are still the most vulnerable groups, children also began to show troubling symptoms that mirrored Kawasaki's disease.
After we found out about the devastating effects on children, and how the disease can be transmitted easily without basic hygiene (something children – and some adults – are still learning to practice regularly, the idea of sending the children to summer camps, and even back to school in the fall became less and less appealing to some parents.
Related: The WHO's Top Five Priorities in the Fight Against COVID-19/
Still not sure whether you should send your child back to school in the fall or to summer camp? Here are three things that you should consider before making the decision.
Are your children old enough to stay home alone while you go to work? Check the laws in your city, county, and state to see how old your child needs to be to lawfully stay home alone – and for how long. Laws aside, is your child mature enough to stay home without supervision for an extended period of time? Is it more of a risk for them to stay home alone, or possibly contract coronavirus at a camp or at school.
Does the camp or school have sanitation guidelines that you are comfortable with, and will the children be able to practice handwashing, wear masks, and socially distance themselves from their fellow campers or students? The CDC and WHO have recommended all three of these activities to help stop the spread of coronavirus, which has infected nearly three million people in the United States in just 4 months.
Are you comfortable with the idea of sending your child out in groups for long periods of time yet? Make sure you are staying up to date with outbreak hotspots near you. Stress contributes to so many illnesses, and it might not be worth it to you to worry about your family's health for eight hours a day, while you try to work. Check with your employer to see what your options may be for working from home, or think about finding a family member who is able to help, and agrees to abide by your rules as far as preventing the spread of the virus.
Luckily, my daughter's gym is still allowing the kids to have classes via Zoom, even though the gym is open, so that parents and children can be comfortable and still participate. They are requiring that children who go on vacation with their families to coronavirus hot spots like New York, Florida, or Texas self-isolate for 2 weeks before returning to the gym.
Whatever you choose to do, make sure that you are comfortable that you are doing the right thing for your yourself, your child, and your family.
Here are the links to watch the full medical update session:
COVID-19 Update: Where Are We Now?
Watch on Youtube – https://www.youtube.com/watch?v=s7fbb2s0nwo
Watch on Facebook – https://www.facebook.com/socamomdotcom/videos/1217731101917096/
Watch on Instagram – https://www.instagram.com/p/CBgBT5BFwk0/
Watch on SocaMomSummit.com – https://socamomsummit.com/s/sessions/covid-19-update-where-are-we-now/
Dr. Randi Nelson is featured on all of our social media channels today including LinkedIn, Twitter, Facebook, Instagram, and Pinterest. Here is a quote from her session during the SocaMom Summit, about choosing between protesting the murders of Black people in America and the staying safe during the pandemic.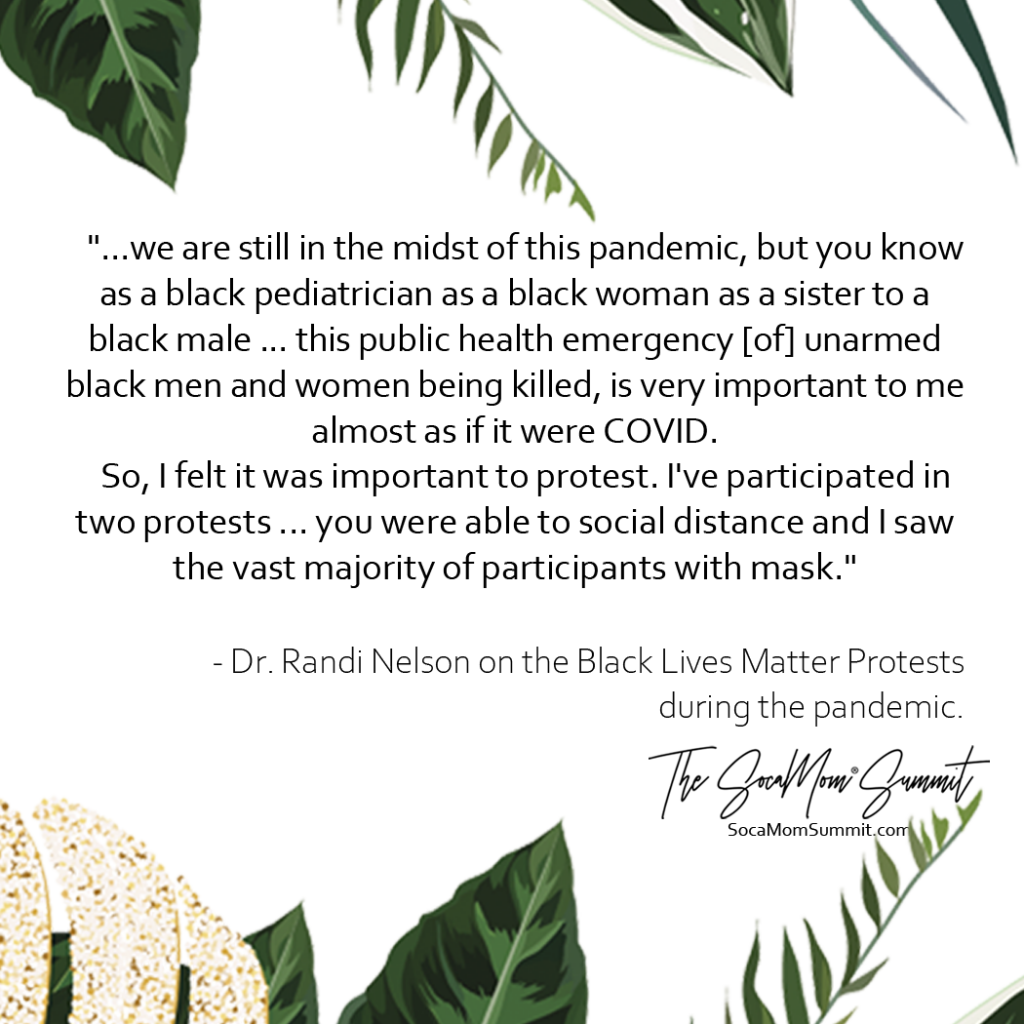 Please share.