I thought I didn't know much about sound clash culture, but after the session with Mikelah Rose from Style and Vibes, Ann Marie Collymore of Soulafrodisiac, and Ronnie Tomlinson from Destine Media, I realize that I know a lot more than I thought.
Today, Ronnie Tomlinson of Destine Media was featured on all of the SocaMom social media channels including Twitter, Facebook, Instagram, Pinterest, and LinkedIn. She has worked with numerous artists including Buju Banton.
Related: New Video for Bob Marley's "No Woman, No Cry" Released on International Reggae Day
In her SocaMom Summit session, "Gyals Guide to a Sound Clash: Foundation from a Woman's Perspective," Ronnie talked about some of the history of soundclash culture.
She also discussed how dancehall music was able to get out of the studio and out to the masses.
If your first introduction to sound clash culture and dancehall was the Beenie Man x Bounty Killer Verzuz event on Instagram Live, watch the full video to get some context as to why everyone was so excited for the event. Watch the full video on Youtube, Instagram, Facebook, or SocaMomSummit.com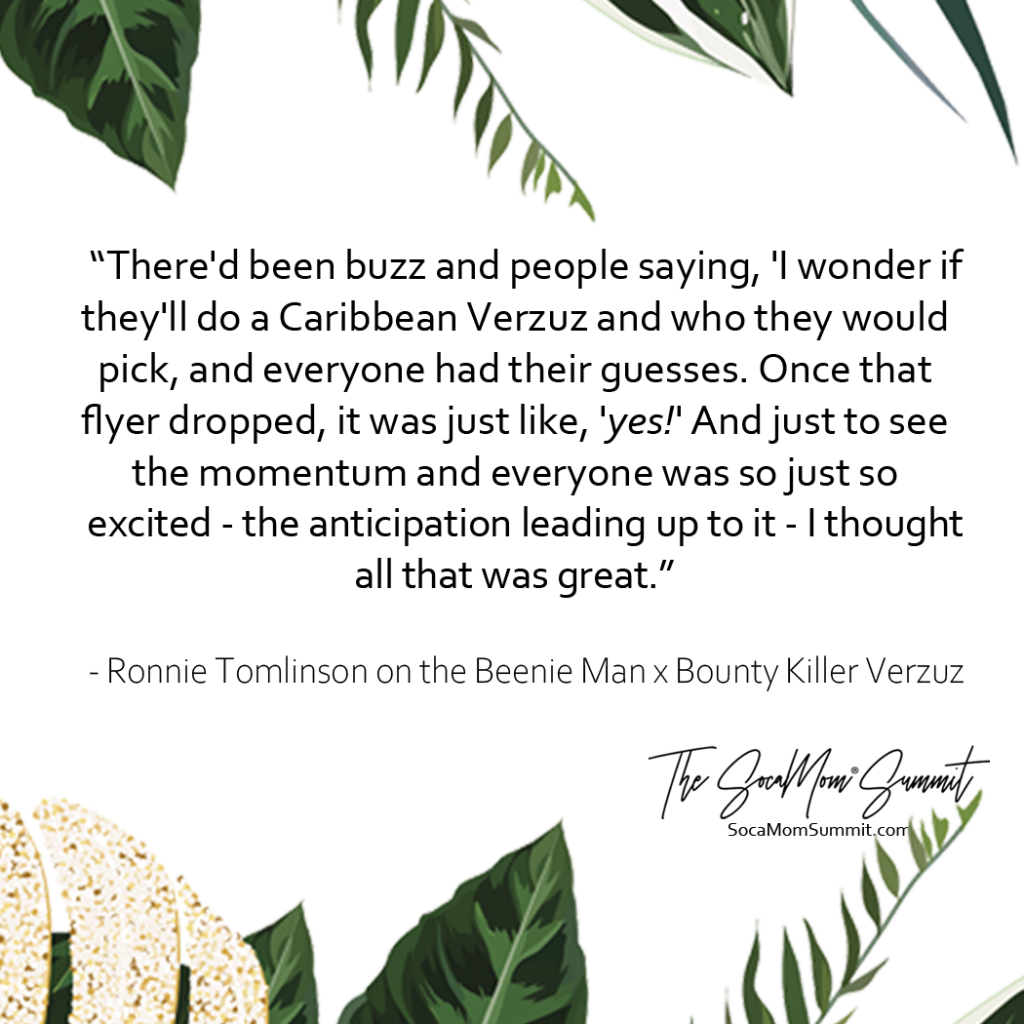 There's been buzz and people saying, 'I wonder if they'll do a Caribbean Verzuz and who they would pick, and everyone had their guesses. Once that flyer dropped, it was just like, 'yes.' And just to see the momentum and everyone was so just so excited… the anticipation leading up to it – I thought all that was great.

Ronnie Tomlinson on the Beenie Man x Bounty Killer Verzuz event
FULL SESSION REPLAY
Watch on Youtube – https://www.youtube.com/watch?v=nB2D1ZLABFw
Watch on Facebook – https://www.facebook.com/socamomdotcom/videos/1133258597072468/
Watch on Instagram – https://www.instagram.com/p/CBhWqEGgA0z/
Watch on SocaMomSummit.com – https://socamomsummit.com/s/sessions/gyals-guide-to-a-sound-clash-foundation-from-a-womans-perspective/