We flew into Orlando's International Airport (MCO), on a Sunday.  This time of year, the flight was STILL full, but there weren't very many kids.  The airports (Reagan National and Orlando International) were both pretty quiet, and traveling was easy.  There's no major airport near Vero Beach, so we rented a car and drove for about an hour and forty-five minutes.  The resort isn't really IN Vero Beach, but it's close.  We missed our flight, but there was one right after that one, and although the counter agents at US Airways weren't super cheerful, they rescheduled our flight with no additional charge – but, none of our seats were together.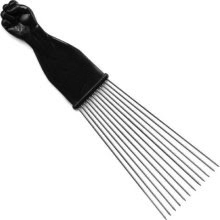 In the security line the sneezing and chunky coughs from random people who refused to cover their mouths started.  Luckily, I still had some Halo Germ Defense (children's and adult) from BlogHer, and proceeded to spray us all.  Sickness on vacation is never fun.
Getting through security was fine, but I still have no idea how my oldest got through with his afro pick… scary.  Baby girl's suitcase had her textbooks in it, and got a manual search. The boys had their books too – but they didn't get searched.  We had about an hour and a half until our flight, so the kids had, "daddy breakfast." Dunkin' Donuts and juice.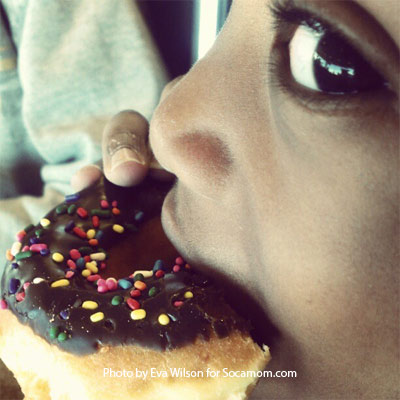 Photo: Socamom on Instagram… Follow me!
We were blessed to have a great lady at the gate who got us two seats together in one row, and three seats in another. The flight was about an hour and a half, and getting the rental car was easy.  For about the first hour of the ride to Vero Beach, there was no where to stop for food, so make sure you bring snacks or get lunch (or dinner) before you leave if you have kids who eat on a schedule like I do.  The car ride from the airport to the resort was about an hour and forty five minutes.  You can fly into Ft. Lauderdale, but the ride is about two and a half hours.
My recommendation – if you are coming from anywhere less than 10 hours away, and staying for at least 5 days, drive.  To fill up an SUV three times will be around $350 – not bad.  For us, yes, it would have been cheaper to drive, but driving 15 hours up and back… not a vacation.  If we had 3 more days and a couple of interesting places to stop and break it up, driving would have been ideal.
Coming back, they had already fixed our tickets so that all 5 of us were in the same row.  Thank you US Airways!
I was not compensated in any way for writing this post by any of the companies mentioned. My family traveled and ate on our own dime.  For more information about sponsored posts, click on "about".