There have been requests for more nail art tutorials, and so while I was doing my daughter's Saturday manicure, I turned on the camera and made this quick tutorial. Check it out, share, and if you do it – post pics on our facebook page!
For the flag of Jamaica, you'll need base coat, green polish, yellow acrylic paint, black acrylic paint, and top coat. Acrylic paint comes in those little paint pots that you can get at any discount or craft store. You'll need three paint brushes, one small, one flat, and one striping brush.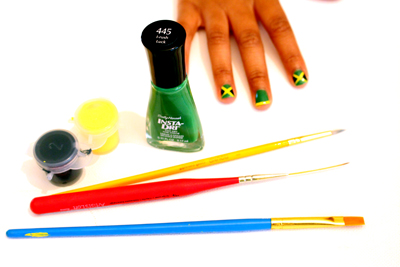 A Striping Brush (click to buy)
Small brush
Wide flat brush
Sally Hansen Insta-Dri in I-rush Luck 445
(click to buy)
Yellow acrylic paint
Black acrylic paint
Check out the video to see how I did it! https://www.youtube.com/watch?v=yp1ebZIM10g
What other Caribbean flag manicure tutorials would you like to see? Let us know in the comments.