Out of the nine Blogging While Brown Conferences, I have been to five. I went to one in Philadelphia, two in New York, one in Austin, and this year in Washington, DC. Blogging While Brown has become a staple on my conference schedule, and I had no intention of missing this year's event.
Blogging While Brown has never conflicted with any of my other events, but it has come very close. For one of the conferences in New York, I turned right around and went to Los Angeles so that Li'l bit could be on a TV show. For the one in Austin, I had just come back from Turks and Caicos where the whole family joined my oldest on his first sponsored trip.  
Read also: Faith in Flight: Staying Grounded while in the Air
I didn't even have time to wash clothes before I was back on a plane. This year, the conflict happened.  My husband's family reunion was happening in Delaware on the same weekend.
I wasn't too sure about missing either one, but my husband said that knowing his family, they'd totally understand that I missed the reunion for a business trip.  They are very business minded people, and I'd likely get more side eyes for going to the reunion than going to the conference. In a family full of entrepreneurs, they would definitely get it. Also, it was in my hometown – so I stayed and my crew went.
Read also: Lecrae Talks Mobile Inspiration and Technology at Blogging While Brown
My husband and the kids left on Thursday evening, and the conference started on Friday.  The greatest thing about today's technology is that I didn't miss a single thing – thanks to cell phone cameras and texting.
This is the third year that I have attended on behalf of AT&T's Inspired Mobility program.  Those of you who followed me or the #InspiredMobility hashtag on Twitter were able to take advantage of the highly tweetable advice, tips, and tricks from the nation's top bloggers, corporate representatives, tech gurus, and journalism professionals. If you haven't heard of Inspired Mobility, AT&T Inspired Mobility is a conversation about how people are using mobile technology to connect with their faith or inspiration. People are picking up their mobile devices to connect and be inspired throughout the day, and it has never been more popular.
Read Also: Using Mobile Technology to Stay Inspired
Selfie with Jason Caston at National Museum of African American History and Culture
The first day we went on a preview of the National Museum of African American History and Culture. The tour was extraordinary, and I can't wait until it opens in September.  I caught up with faith and mobility expert Jason Caston on the tour too! He was in town with AT&T to lead a discussion at the conference about how people are using mobility to inspire themselves, friends, family, and the masses. After the tour, I went to the opening meet and greet at the hotel, then went out with my friend and fellow blogger Rae to chat over Mexican food.
The photos started coming in at the main event, the Saturday cookout. My husband sent me tons of selfies of him with different family members, and pics of the kids having fun with cousins.
Seeing my family having a good time made me feel good about staying in DC for the conference.  Those smiles… the poses… the happiness. I want my family to experience all of that as often as possible. Blogging has helped me do that over the last five years, and I know that I need to be in a place where I can learn and grow so that my family can continue to have wonderful experiences. This year's Blogging While Brown didn't disappoint.
Just a few of the Caribbean bloggers at Blogging While Brown in DC (L to R: Me, Renee Matthews, Vashti Patrick Joseph – wearing her Ven & Rose t-shirt line, and Entrepreneur Kalilah Wright)! Photo by Renee Matthews of Ask Dr. Renee.
(L to R: Keisha Reed of City Girl goes Digital, Jonnita Condra of JonnitaCondra.com, and I) Photo by L. Michelle Smith
I attended the morning sessions about podcasting and UX, and then changed into my Inspired Mobility t-shirt just in time for the 3:30 session – AT&T Inspired Mobility: Enabling good. Activating Everywhere.  L. Michelle Smith, Director, Public Relations, AT&T Global Marketing Organization introduced Jason Caston, founder of Caston Digital, author of The iChurch Method series, and a digital platform specialist for churches. Click here to read the #InspiredMobility tweets from the sessions.
L. Michelle Smith introducing Jason Caston.
During the intimate discussion, bloggers introduced themselves and were able to share what inspired them on the go, how they used technology to inspire others, and where they found inspiration online. In an unconventional move, during the session, bloggers applied to attend the NABJ conference in Washington, DC in August as #InspiredMobility bloggers, joining Rev Run, Hip Hop Icon and Social Media Inspiration Leader. Rev Run joined the Inspired Mobility movement in the fall of 2015 to help spread the message of inspiration and faith in the digital and technology space. His online ministry through social media channels is unconventional and he believes people need inspiration wherever they are and for whatever they are facing. Rev Run has joined AT&T for the 2016 campaign to deliver a series of personal reflections via blog posts and appearances at upcoming events including the National Association of Black Journalists convention in Washington D.C.
Read Also: Inspired Mobility: Finding Inspiration Amid the Chaos
Jason Caston
Keisha Reed
Jonnita Condra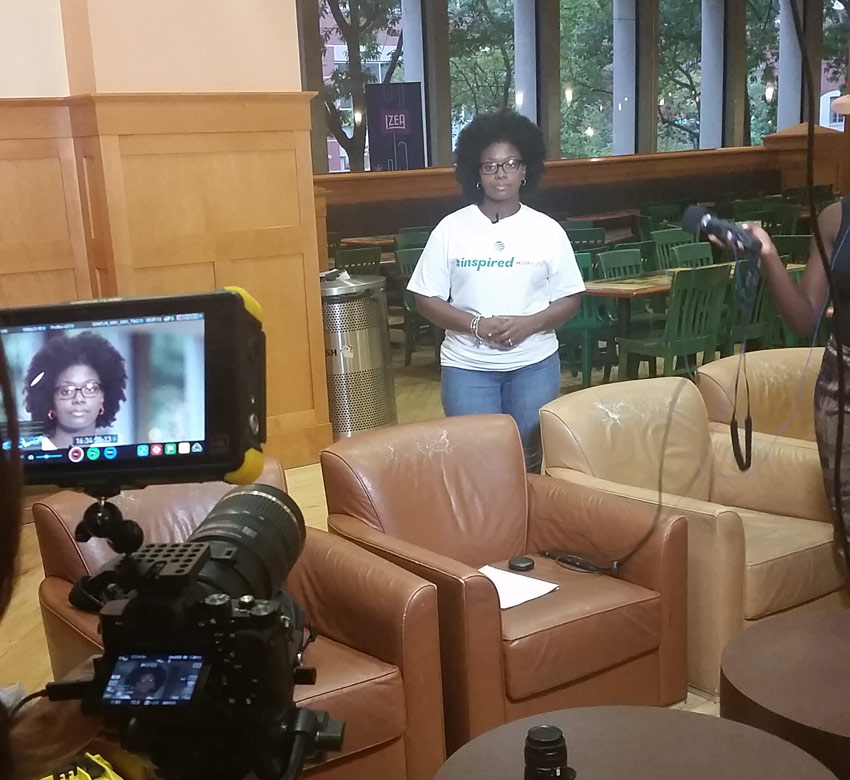 Me… trying to remember my name…
After the session, Jason Caston, Keisha Reed, Jonnita Condra, and I shared some of our inspiration on camera. Check out the video here.
Later in the evening, we went on a tour of the monuments in the city.  If that wasn't inspiring, I don't know what was.  Every time I visit the Martin Luther King Jr. Memorial, I come away with something new. 
The quotes from his speeches, given what is going on right now with race relations in America, were timely and hopeful.  It was just as relevant as it would have been if he'd said it just a few weeks ago, when in reality, it has been at least fifty years since some of those words were spoken.
Sunday, the last day of the conference, L. Michelle Smith said something during the closing keynote that hit all of the bloggers in attendance like a ton of bricks – "we are in the digital 60's."
The closing keynote, The State of the Digital Space, was moderated by Sirita Wright, Social Media Manager for Black Enterprise.  The conversation was led by panelists L Michelle Smith, Director, Public Relations, AT&T Global Marketing Organization, Sarah J. Glover, Social Media Editor at NBC Owned Television Stations and President of the National Association of Black Journalists, and Gina McCauley, founder of the Blogging While Brown Conference.
(L to R: Sirita Wright, L. Michelle Smith, Sarah J. Glover, Gina McCauley)
The panel covered so much in the time they were given to share their knowledge with us. They talked about everything from digital activism to entrepreneurship, and everyone was live tweeting the whole thing. Check out the Storify to see selected tweets from the AT&T Influencers and members of the audience.
Elle of CleverlyChanging.com and I on Sunday after the Moms Meetup 🙂
Renee of Ask Renee and I before lunch 🙂
By Sunday, I was really missing my family, and spent much of the evening scrolling through the photos that my husband had sent to me via text. As much as I had been inspired on Instagram, Facebook, and Twitter throughout the weekend, I was most inspired to learn, take the messages that I received at the conference to heart, implement the strategies that the speakers and my fellow bloggers shared, and by the photos of my smiling family.  That's all we really want at the end of the day – to be happy, and to help those around us realize that there's a lot of goodness – greatness – out there in the world.
To learn more about AT&T's Inspired Mobility program, visit the website: http://about.att.com/sites/inspired_mobility
Follow @att, @jasoncaston, and @revrunwisdom as well as the hashtag #inspiredmobility for more inspiration on the go. When you need a "good word," thanks to social media, it is no more than a swipe or a scroll away.
This post is part of a conversation sponsored by AT&T and I was compensated.  All opinions are my own.