Every time one of my friends comes back from a trip, I ask, "how was it?" Half of me wants to hear how their trip went, but the other half – yes a full half – wants to know how many people have abandoned masks in the airport.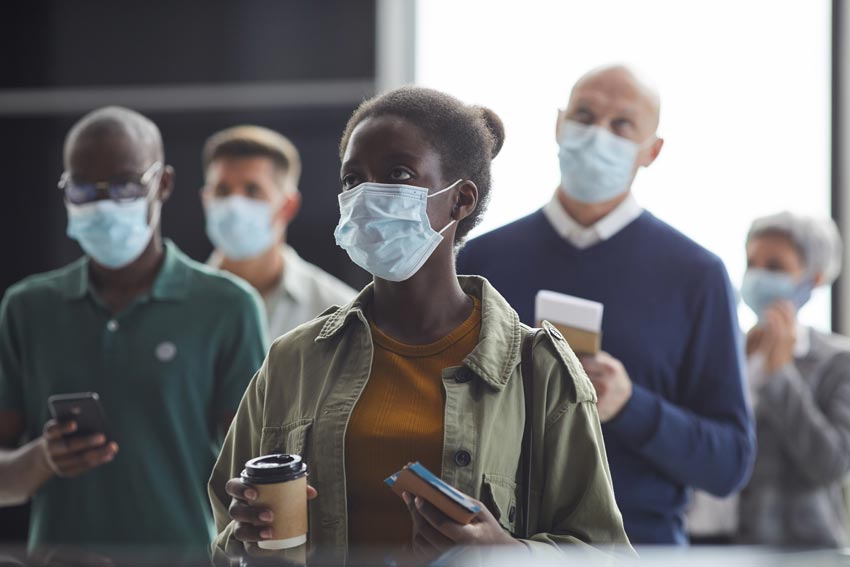 Living in fear is exhausting. I have been exhausted for over two years now. I don't know how everyone is doing this without coming apart at the seams. When the pandemic started, I just knew that we would be home for a few weeks, and that would be that. Two years later, the world is open, but I'm not.
I would love to be "in the streets," but the truth is, I'm not ready. Only one-third of my face can be seen unless I am smiling for a photo. Just when I thought I could consider taking the mask off, I found out that I have an auto-immune disorder that not only affects my lungs but also requires me to take a medication that suppresses my immune system. And to be honest, I don't want COVID. I don't care that 90% of the US has already had it. I don't want to be any sicker than I already have been. But what is it that the Bible says? Those who love life will lose it? Well, compared to all of you guys – I'm not LIVING.
Not that I would have been on the road at Carnival, but scrolling through social media, I was still envious of folk fearlessly flaunting their freedom and their feathers. The only things on their faces were jewels that caught the sunlight. I couldn't help but think, even if I were there, would I just pack up my fear and take it with me? Probably.
A friend came into town, and I went walking in my neighborhood. There were so many places that I hadn't seen after "living" here for three years. Living.
I vowed that I would take more walks. I haven't.
When I do go out, all I see when I am peering from behind my mask are fearless faces. Fully exposed faces. I am too tired to even be terrified.
I know that I have to be cautious now given my health, but if I could feel a little free – a little less like some masked freak – that sure would be nice.
Keeping a gratitude journal has helped me to keep this in perspective. I am still here. Over one million people in the United States alone didn't make it out of the pandemic. Somebody woke up this morning without the love of their lives next to them. Kids headed off to college without their parents there to help them unpack, make last-minute trips to the store, and hug them just a little too long. Life is a gift. Living is a privilege, so it makes total sense to live in some fear of losing it. That's why I take the medication. That's why my mask is still on my face. I do want a little more life. Now to go start living it…
This is what I was listening to as I typed this blog post. It is a perfect playlist for driving and is pretty family-friendly. The next time you see me, maybe it will be at the *in-person* SocaMom Summit!
Here's to going back into the streets (which have been calling my name) safely. Cheers.
More from SocaMom.com
Book Review: What Start Bad A Mornin'

This is a review of What Start Bad A Morning'. Using three interwoven narratives spanning the United States, Trinidad, and Jamaica, Carol Mitchell's debut gives voice to an immigrant woman forced to confront her repressed memories of violent trauma.

Caribbean Book Club: What Start Bad A Mornin' Book Chat + LIVE Discussion

Join us tonight, August 29th at 7 pm to discuss Carol Mitchell's new novel, What Start Bad a Mornin'! This is your chance to ask questions LIVE and get to know more about Carol and the novel in advance of its release on September 19.

Happy New Year!

I am grateful to be entering 2023 with more life, strength, and health than I did in 2022. I am thankful for friends and family who listened, encouraged me, and showed me that it was okay to take a break, rest, and heal.