It started with a swollen ankle that lasted the entire summer. And then his knee. During every ER visit I told them about my dad, and every time they told me that it was just growing pains.
During his annual checkup, the pediatrician said she wanted to test him, just to see. I wasn't worried. The call came after 5, and I was driving, so I let it ring. Whatever it was, they'd leave a message. The ringing stopped, and then it started again. I pulled over. It better not be a robocall to remind me about an appointment. I picked up. I didn't expect to hear my pediatrician's voice. The nurse usually made all the calls. Our usually pleasant pediatrician sounded… sad.
HLA-B27 – It's the reason I've never known my dad to walk without a cane or crutches. I called my dad. He had been 17 when the swelling started too. And then the pain came shortly after. He was so sure this thing would stop with him. It had skipped his kids altogether, only to land on his first grandson. Out of all of us, I think he was the most devastated by the news.
The association between HLA-B27 and ankylosing spondylitis wasn't even made until 1972, fourteen years after my father's first flare-up landed him in a hospital in Trinidad.
The first thing my dad told him to do was learn all he could about the disease from The Spondylitis Association. They share a lot of information about managing the symptoms, maintaining mobility, and new research.
After his diagnosis, on his good days, Evan would go to the gym, stretch, and try to maintain his flexibility. Meanwhile, David was taking a photography class with me, and dreading doing figure photography. Evan was more than happy to help. Baby oil and grossing out his brother? He was all for it.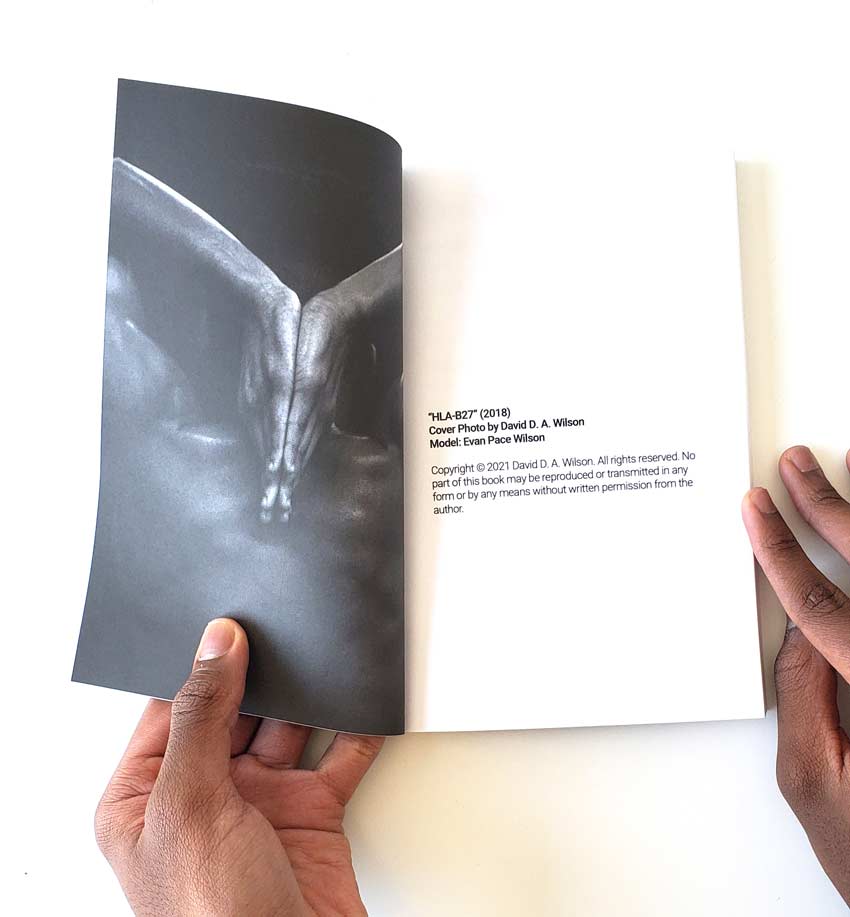 The results were phenomenal, and one of the photos became the cover of one of Dave's journals. He created a pain journal that helps those experiencing chronic conditions to track triggers, symptoms, food, medications, and other metrics that they can share with their care team. He sells the journals on his website, and a portion of the proceeds goes to The Spondylitis Association of America.
On National Sons Day, I celebrate my boys and their work. Seeing the work the two of them have done together makes me one proud mom.You can buy the journal from David's etsy shop or on his website.
Save 20% on The Pain Journal from now until 9/30/21 when you use the code SEPTEMBER. Website orders only. Excludes Etsy.