For the past 10 years, I have been advocating for children's content (books, movies, music) that highlights Caribbean culture. So you can see why I am so excited about The Caddy Club – a feature-length animated film out of Trinidad and Tobago.
You might have met Kafi Kareem during the SocaMom Summit in 2020, and have seen her work on my daughter's channel and blog. In early November, she unveiled her theatrical poster for her upcoming animated film, The Caddy Club. Eden helped with the poster reveal which was streamed live on her YouTube channel.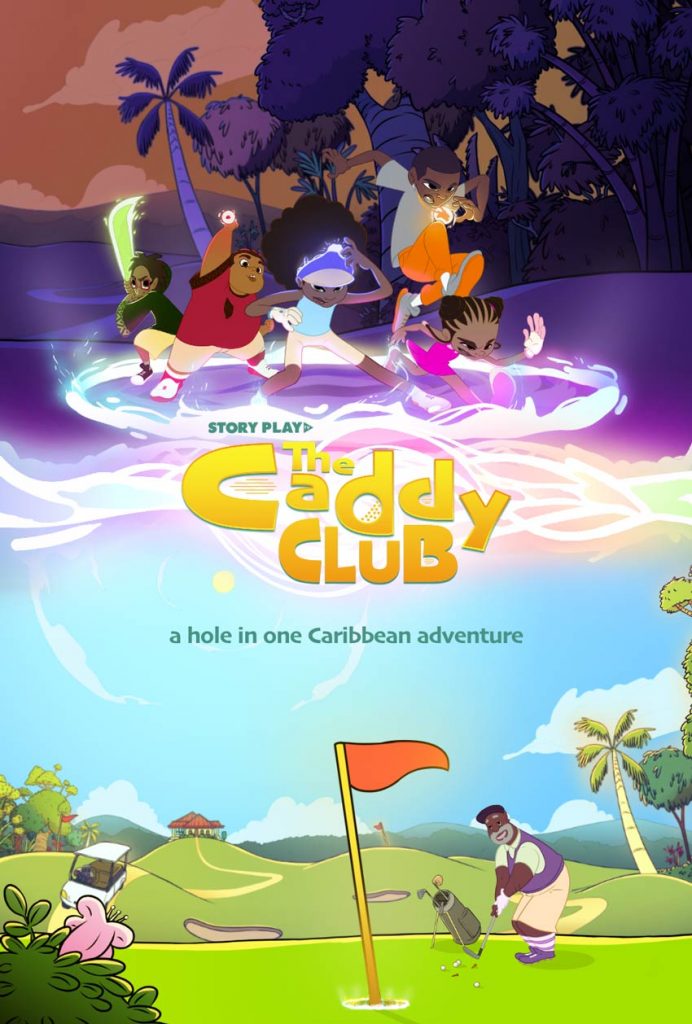 Apparently, Eden and I aren't the only Caddy Club fans! The hosts of The Now Morning Show on TTT in Trinidad and Tobago enjoyed meeting Kafi and The Caddy Club voice actors Leisha Imani and Osei Blake.
Representation is so very important for Caribbean children throughout the diaspora.
After the segment, Now Morning Show host Ainka Williams said, "Even if you had no intentions of being a filmmaker or an actress, when you see yourself on screen… You hear your dialect. You see something you can attach yourself to and you say 'You know what? That cooking show I wanted to do – I'm going to do it.'"
Related: SocaMom Summit Highlight: Storytelling Session for Kids with Kafi Kareem
Growing up, outside of my mother and father, and the relatives that we saw and talked to on the phone, I didn't hear the Trinidadian accent. Aside from hearing Geoffrey Holder on the 7UP commercials, the dialect lived within my family – and that was it. Right now, it is the same for my kids, for the most part.
We went to a birthday party for the daughter of a family friend a few weeks ago, and when the kids heard soca playing, and heard the voices of their family members, you could see the comfort on their faces. They miss hearing voices that sound like their cousins, and grandma, and grandpa. I think that may be why my daughter is so excited for this movie. She truly enjoyed interviewing the cast and talking to Kafi about the film. She has such a passion for the project and that passion has turned my kid into a superfan. I'm not mad at it – I get it. I'm a superfan too.
About The Caddy Club:
The Caddy Club is a musical animated feature about kids in a vacation golf camp who unexpectedly become secret crime-fighting heroes when they discover a magical portal on the golf course. To keep them out of trouble over the school holidays, gang-affiliated preteens Ryan (12), Akil (12), and Jamal (9) are sent to a youth golf camp where they meet their new golf coach's granddaughters, Tameka (6) and Keisha (12). While chasing a ball that lands in the roughs, Keisha discovers a secret hole with an invisible portal to an ancestral realm. All five kids cross over to the magical realm where they meet with ancestors who gift them mystical tokens containing the powers of love, courage, cunning, wisdom, and motion to fight crime lords recruiting young children to join their street gangs. But their new crime-fighting power comes with one important condition — they must keep it a secret. Determined to save their friends from a life of crime, the five kids take up the challenge to covertly defeat the neighbourhood gang, and the Caddy Club is born.
The poster reveal was amazing, and included an interview with the lead character designer, Patrick Meikle. You can watch the poster reveal and interview here.
For more information about The Caddy Club…
Pre-order The Caddy Club (no purchase necessary to register) – https://mailchi.mp/7a71eb59b951/o2g7jlhi5y
Caddy Club Website – http://storyplaymedia.com/caddyclub/
Storyplay Website – https://storyplay.tv/
Full Interview with the cast of The Caddy Club – https://www.youtube.com/watch?v=xvzKIWxiF2E
Follow storyplay on Instagram – http://instagram.com/storyplaytv
Like storyplay on Facebook – http://facebook.com/storyplaytv
Follow storyplay on Twitter – http://twitter.com/storyplaytv
SocaMom Summit discussion with Kafi Kareem – https://www.youtube.com/watch?v=CKlCCby_wNw