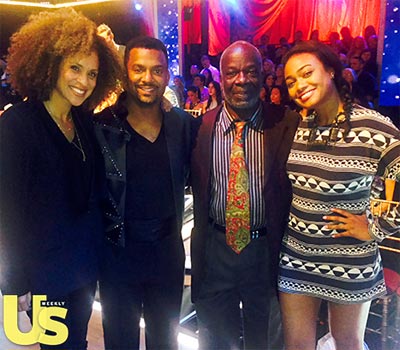 (Photo credit: US Weekly)
Congratulations are in order! Alfonso Ribeiro and his partner are the Season 19 champions of ABC's Dancing with the Stars. Former co-stars on the long running sitcom Fresh Prince of Bel Air "honorary Trini" Karyn Parsons (she let us know a few years ago that while she was not, but her siblings are), St. Lucian Born British Actor Joseph Marcell (Death in Paradise), and Trinidadian American actress Tatyana Ali (Home Again) came out to support Ribeiro on the Dancing with the Stars set a couple of weeks before his win.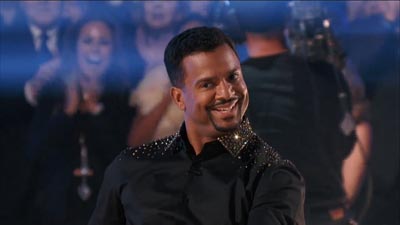 Some say that entertainment is in Alfonso Ribeiro's blood. The grandson of Trinidadian Calypsonian Roaring Lion, Ribeiro was on television by age 9, and was dancing on Broadway by 12.  He is probably best known for his iconic 80's commercial with Michael Jackson, and as cousin Carlton on the Fresh Prince of Bel Air – two roles that he is very much remembered for his dancing. His talent is hard to deny after watching this season of Dancing with the Stars.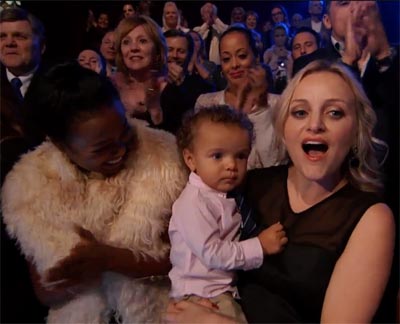 His wife Angela Unkrich, young son, and Fresh Prince co-star, friend and fellow Trini Tatyana Ali cheered on his winning performance, along with a host of other celebrities and fans.
What's next for the winner? Probably more daddy duties than dancing. He announced that his wife is expecting during the show, but from the looks of this video on his Facebook page, maybe the whole family will be dancing no matter what!