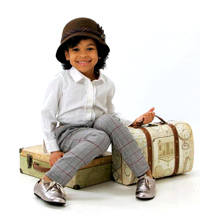 For me, the excitement of taking a trip can be easily dampened by the dread of packing… and unpacking. With three kids, and as much traveling as we do, you would think I had it down to a science! Not always. In the past year, here are the five things that I have done to ease the pains of being out and about and away from home with the "short people".
1.  Keep a fully packed zip lock bag of toiletries for each adventurer.
It seems small, but for me, packing toiletries is more annoying than packing clothes. The wet toothbrush that has to get packed (I always picture it all wet and gross in the zip lock bag in the dark suitcase growing unspeakable germ colonies… Germ colonies that will cause us to either have a trip to urgent care while on our trip, or right after we return), the full size hair products, shampoos, conditioners, sunscreens, and lotions, that I have to make into travel sizes using left over travel size containers with unreasonably small openings if we are flying, or even worse when we are driving, the full size products that get left behind that I have to run out and buy again as soon as I get home.
Seems easy enough to just go to your bathroom, gather up everything that you use for your daily routine, put it in a bag, and go, right? Well, have you ever gotten back from a trip on a Sunday night, and been too tired to unpack so you just skip the night's shower and even brushing your teeth? You'll do it in the morning. Morning comes, you go to your still packed toiletry bag, and to your horror, you seem to have left your toothbrush on the hotel bathroom counter, your body wash is still in the hotel shower, and your deodorant… well who knows where that is.  If you leave your toothbrush at home, you can call down to the front desk and have one brought to your room.  Once you are home… oh well.
I avoid all that commess by getting the airplane approved clear plastic zip lock bags and filling them a miniature version of my daily routine. I can't seem to get going without my Bath and Body Works Stress line of Aromatherapy products, so I stock up on that when it is on sale.  It really hurts to leave a barely used $15 bottle of lotion at a hotel with no hope of retrieving it. For my face, I like Body Shop products, and they have trial sizes that I can put in my bag. A stop at the drug store and we have disposable everything – toothpaste, soap, body wash, shampoo, and conditioner.  I keep extra toothbrushes around so I add that to the bag, and done!  The boys and hubby only need lip balm, toothbrush, toothpaste, brush, and comb.  Baby girl has that and them some lotion, hair gel, rubber bands, and barrettes.
Once we return home, the I just replenish the toiletry baggies and put them away for the next time we need to grab them and go.
2.  Make photocopies of your driver's license and credit cards that you are taking with you.
I've got mommy brain (which I hear is really a real thing). I am not forgetful most of the time, I just refuse to even make an attempt to remember certain things. I don't know my driver's license number, credit card number, or any other numbers really.  I save brain space for ballet recital dates and times, and things like that.  If I lose my wallet, and I need to cancel cards, need ID or my driver's license number to get back on the plane (or in case I get pulled over driving home), those copies will be great to have – just make sure they are in a safe place… not in your wallet or purse.
3.  Mp3 players, headphones, and classical music – oh my!
Traveling is a great time for kids and parents to do things they wouldn't ordinarily do. This one definitely depends on your children.  If peaceful travel for you and your kids means giving them whatever they want, do your thing.  My kids have opinions and desires, but mine override theirs, and they know it.  My kids don't have ipods, cell phones, and tablets when we travel.  They do have small DVD players and headphones to share so that they can watch movies on particularly long trips.  We also have small, inexpensive Mp3 players that we can load up with different music for them. We choose the music, they either sit in silence or listen to it.  For kids who are used to having some sort of stimulation, nothing is worse than just quiet – so it works.
On each trip, try loading music from different countries and genres for them to try out. Like vegetables, they won't know if they like it until they try it. I love loading up music that I grew up on and seeing the kids bob their heads or make faces.  Eventually they enjoy the surprise of finding out what they'll be listening to on each trip.  It is much less painful if they lose a $15 Mp3 player than if they lose an iPod. It is also a great way to spark discussions of music, musicians, and artists on your trip. Just a side note, classical music makes them fall asleep…
4.  A little crap never hurt anyone.
I consider my husband and I benevolent dictators. We allow a little bit of democracy thrown into our authoritarian rule, and well… some treats.  Since the cereal of choice (our choice) for the kids is Cheerios, we let the kids choose a "crap cereal"… you know the ones I'm talking about – colorful, often candy coated, with little nutritional value. You may be better off eating the box.  We figure that if we are going to make them listen to something from our musical grab bag, we'd better give them a little something to keep the talk of revolt among the children down to a low murmur. On vacation or other type of road trip, we try to give more "yes" replies than usual. That makes for a more peaceful trip for all of us.
5.  Wash, dry, and fold all of the clothes before you leave for home.
Packing up dirty clothes in the suitcase next to clean ones is such an issue for me.  I end up washing EVERYTHING in the suitcase because it has been touched by the dirty clothes.  Also, I don't want to come home from vacation and have to go straight back into the laundry routine. I try to find places to stay with a washer and dryer in the room or at least have a laundromat nearby so that I can wash and dry everything before I pack it up to leave. That way, when I get home, I can just put everything back in the drawers and unpacking isn't the nightmare that it usually is.
What do YOU do to make your family travel peaceful?