I love holidays with my Caribbean family in America. We take just about any get together and make it so special. There are a lot of celebrations that we don't have in the Caribbean that are a big deal here, so you know… when in Rome. We like to take any event and put a little Caribbean flavor in it and make it our own. Thanksgiving is one such holiday. Some took to Twitter to share how it feels to celebrate Thanksgiving in America… Caribbean style.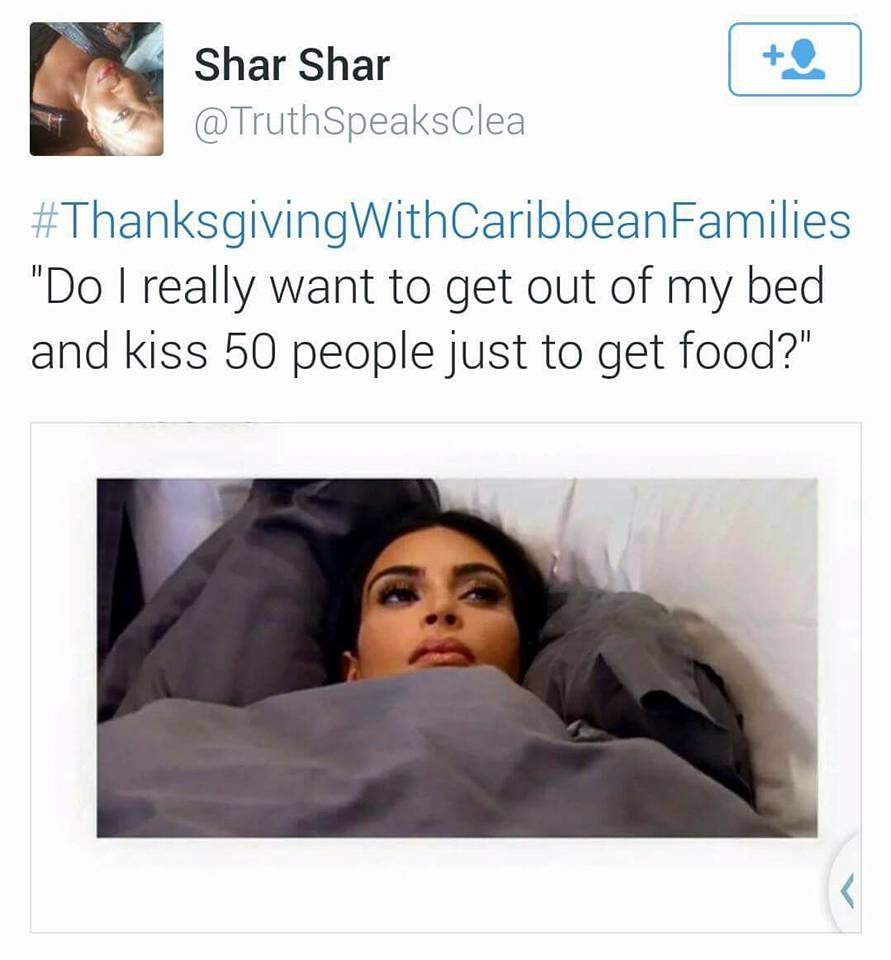 The teenagers and young adults feel this one the most. No one wants to walk the "how's school" or "where yuh workin" gauntlet on Thanksgiving just to get to the pilau before it is all gone. But they bite the bullet and make it happen. I don't blame 'em. Fix yuh face, then fix yuh plate.
Related: Is There Too Much Pressure on Caribbean People to Be Happy?
They either say that, or "well, looks like yuh tun out jus fine." That is the time to change the subject. You've been warned.
Related: Caribbean American Heritage Month: Being a Caribbean Mom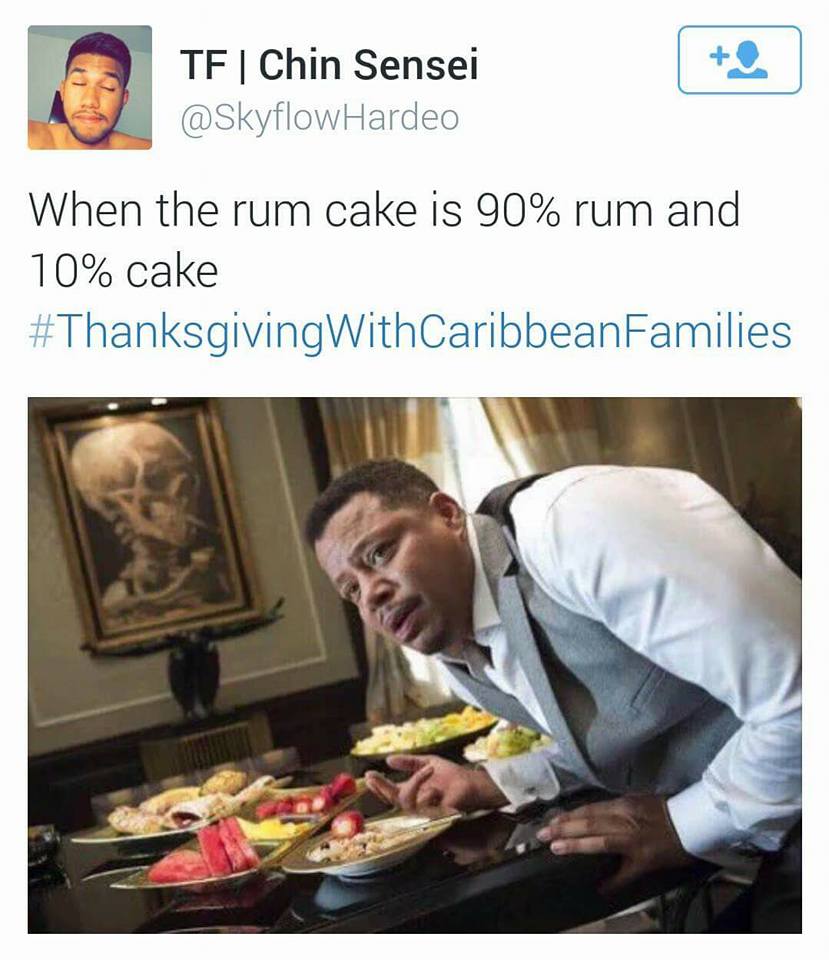 Should the black cake be different? I don't see how this could be any other way…
Related: Is Your Caribbean Culture Killing You?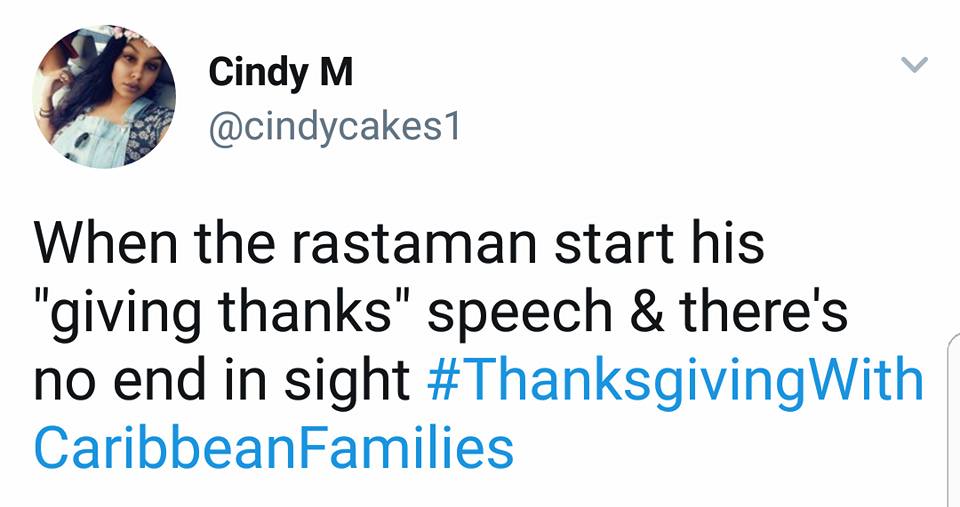 But he's right… we have so much to be thankful for this year. Health, safety, and answered prayers… can't stop him.
Related: How Can You Help Those in the Caribbean Devastated by Hurricanes Harvey, Irma, and Maria?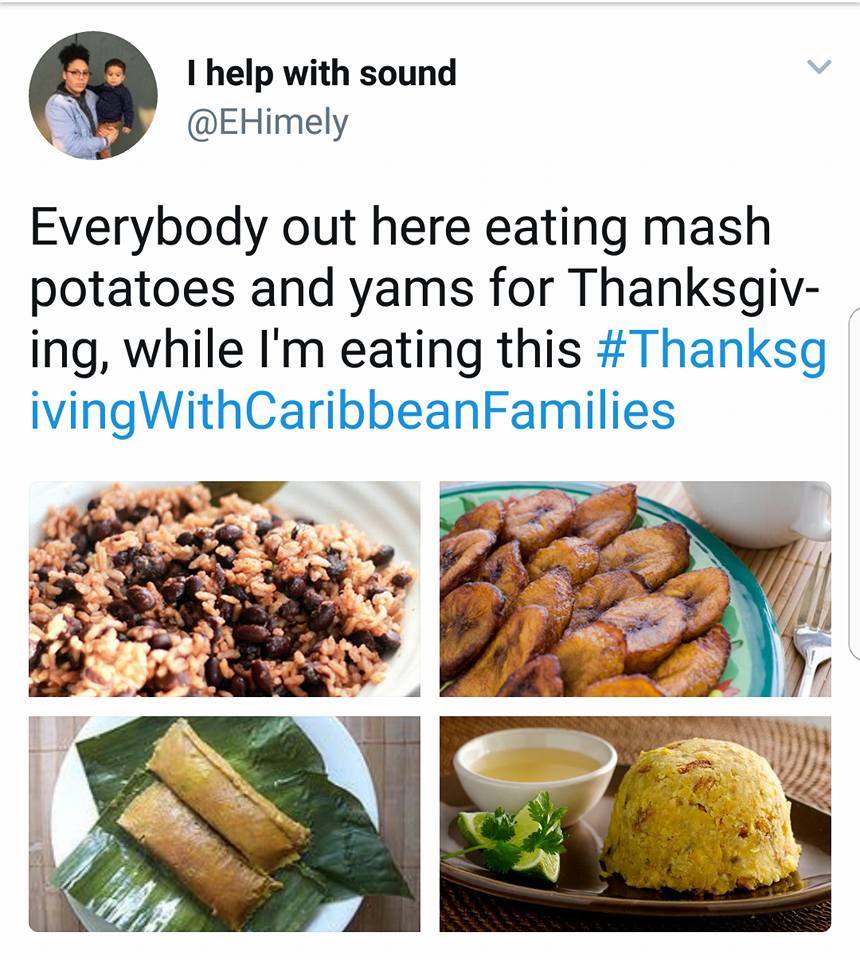 Add buss up, roti, jerk turkey, callaloo, pumpkin, curry spinach, curry mango, sorrel… It is basically a Christmas dinner pre-game or rehearsal.
Related: Make Trinidadian Callaloo Fast without Dasheen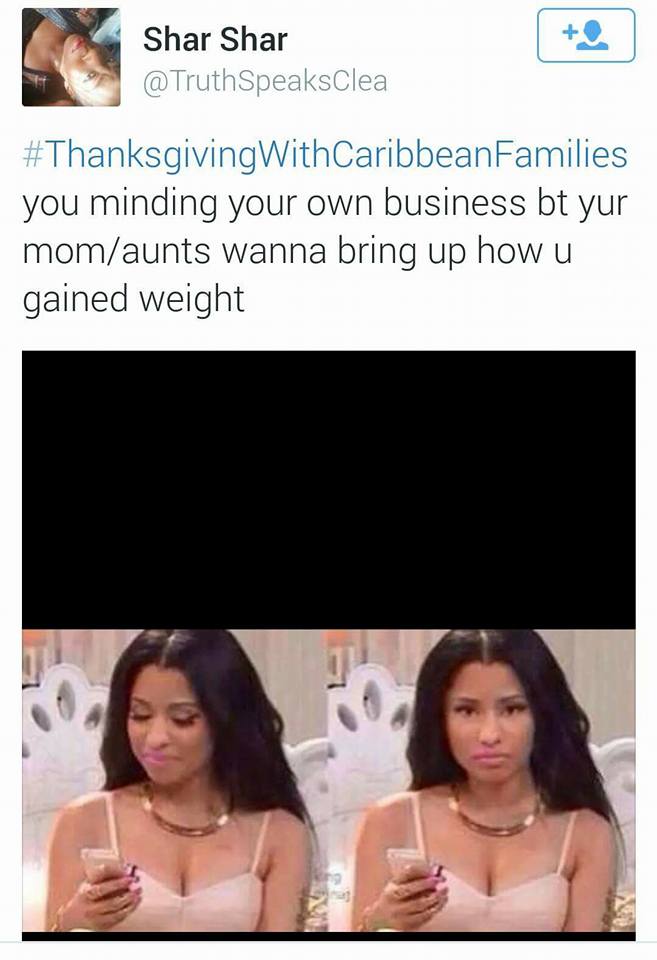 "You look… well."
Related: Caribbean Moms Talk Parenting Styles at Beaches Negril Resort and Spa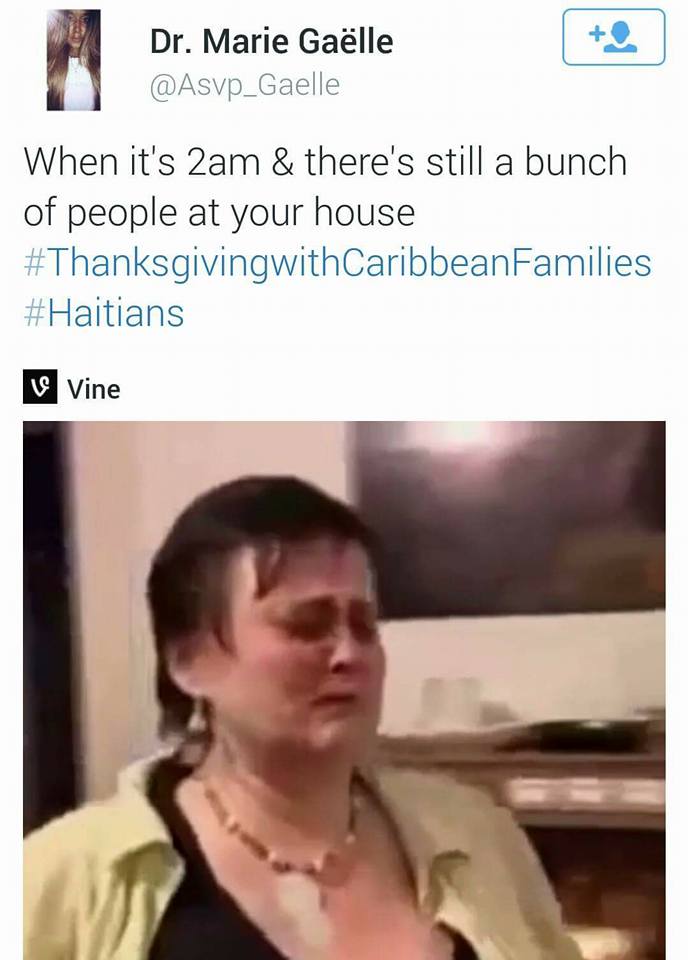 I have been known to wash dishes, pack to go plates, put the food away, and go right to sleep on the couch. The party will have to go on without me… and it does.
Related: How Caribbean Moms "Road Trip"
Jerk the turkey… problem solved.
Lime and Salt: Cleaning Chicken Caribbean Style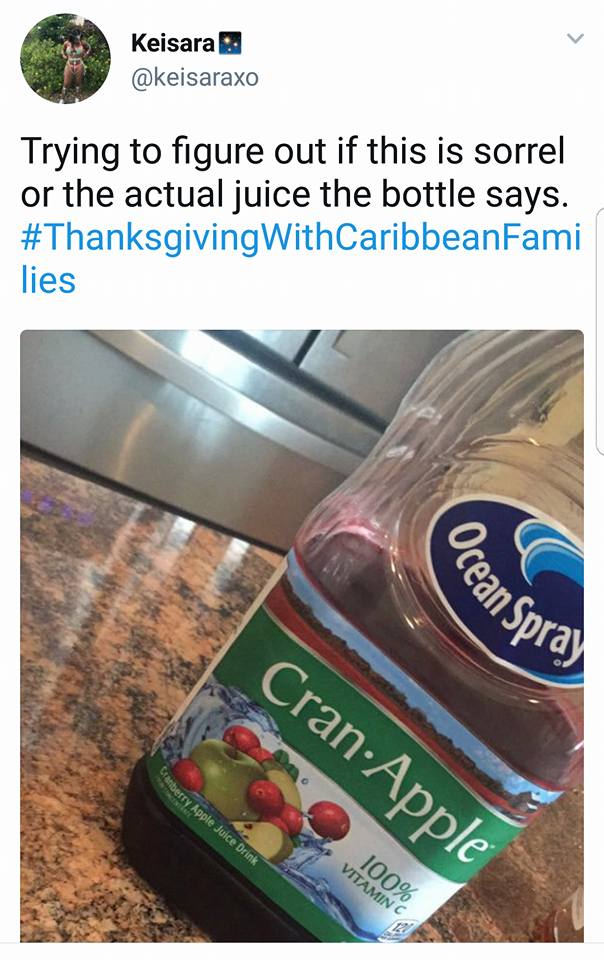 Depends on the time of year… at Christmas, it could go either way…
[VIDEO] Caribbean Christmas: Sorrel Glazed Ham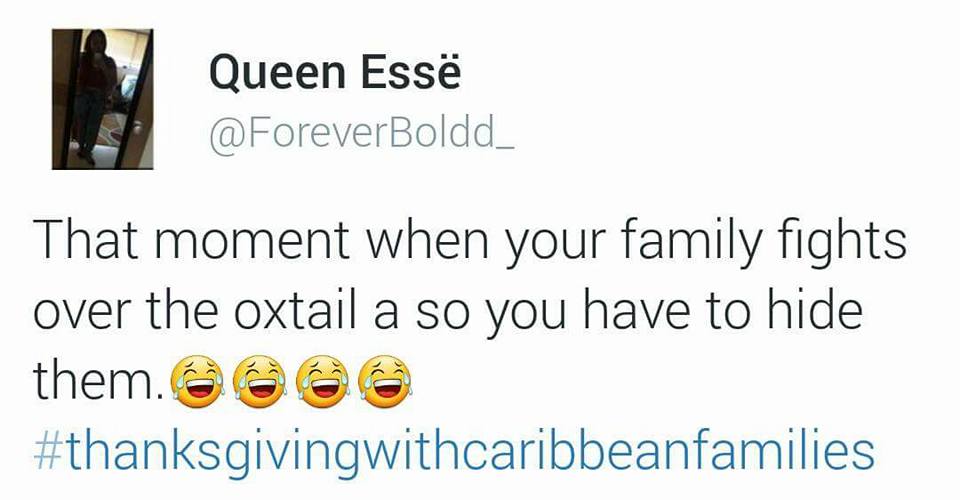 …or take it out when the greedy people leave. We love 'em, but we all know who they are.
Related: Caribbean Christmas Traditions: Pastelles in Pictures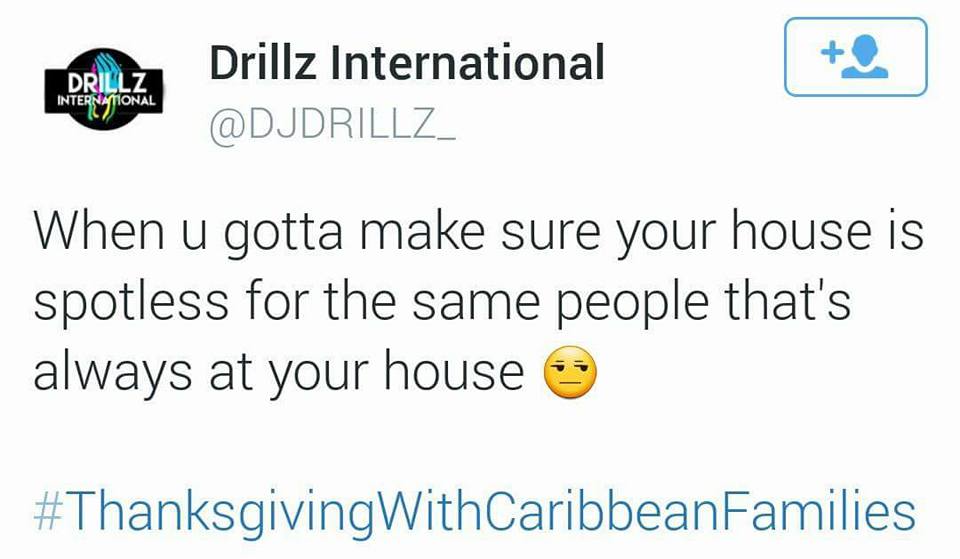 This ain't nothin but the truth…
Related: 10 Must Haves Your Trinidadian American Kitchen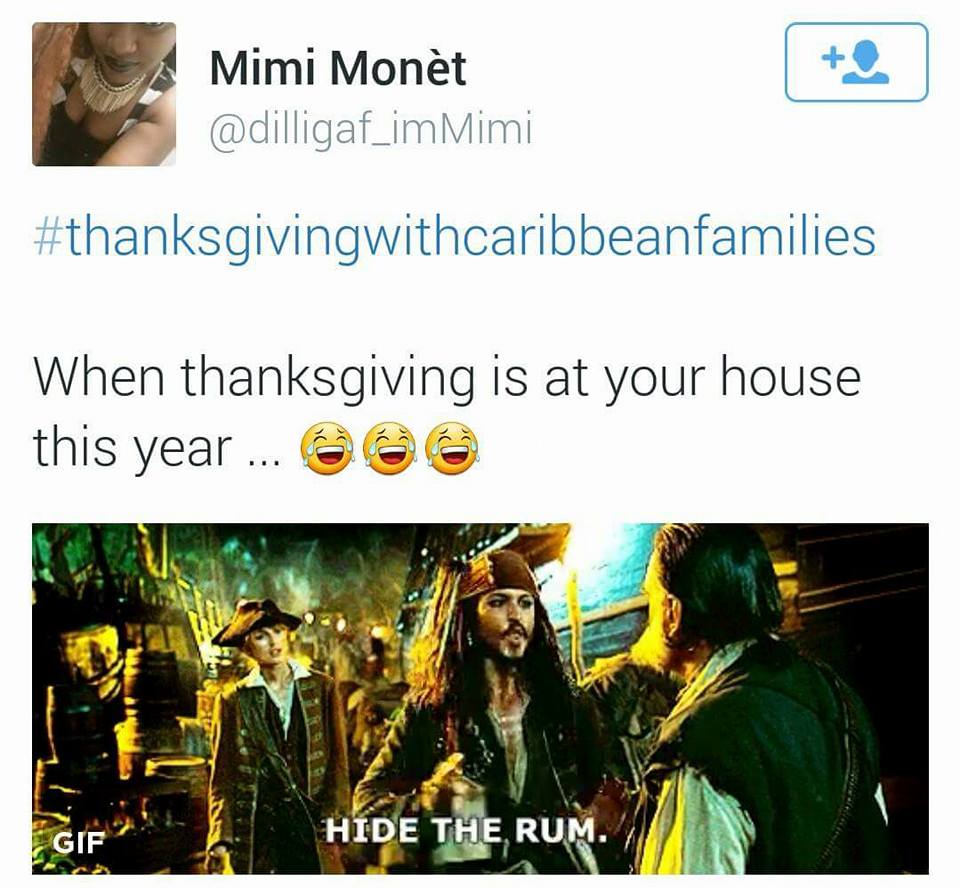 Take it out one bottle at a time… this is not the time to show off your collection.
Related: 25 Things to Remember When You Marry (or Date) a Caribbean Woman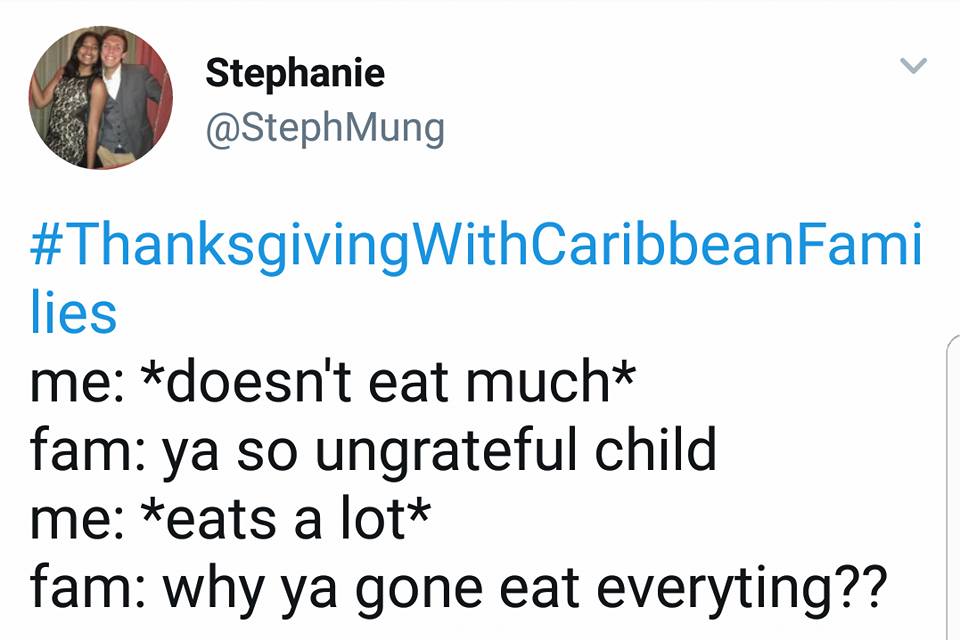 You won't win this. Just enjoy yourself and pack a plate for later…
Related: Seven Ways to Build Confidence in Your Kids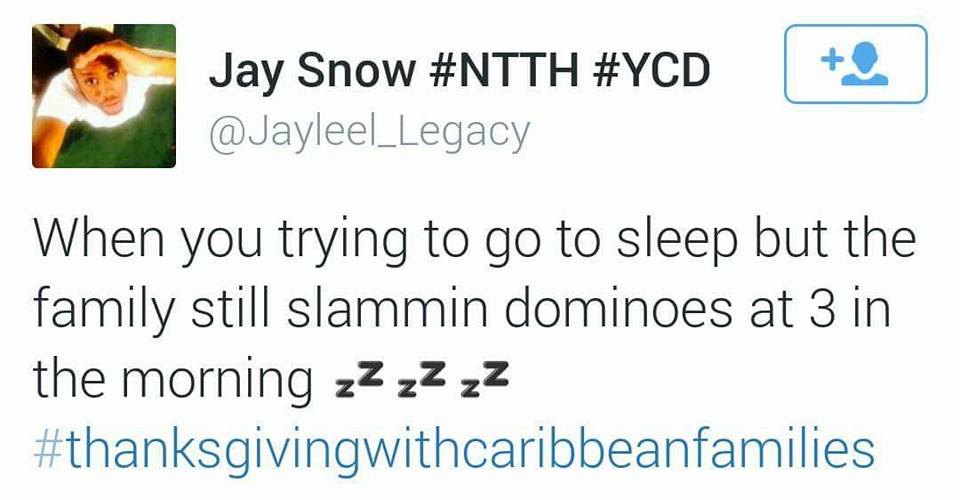 Oh… I can sleep through that. I've been trained.
Related: 10 Ways to Tell if Your Non-Caribbean Man is Actually Caribbean on the Inside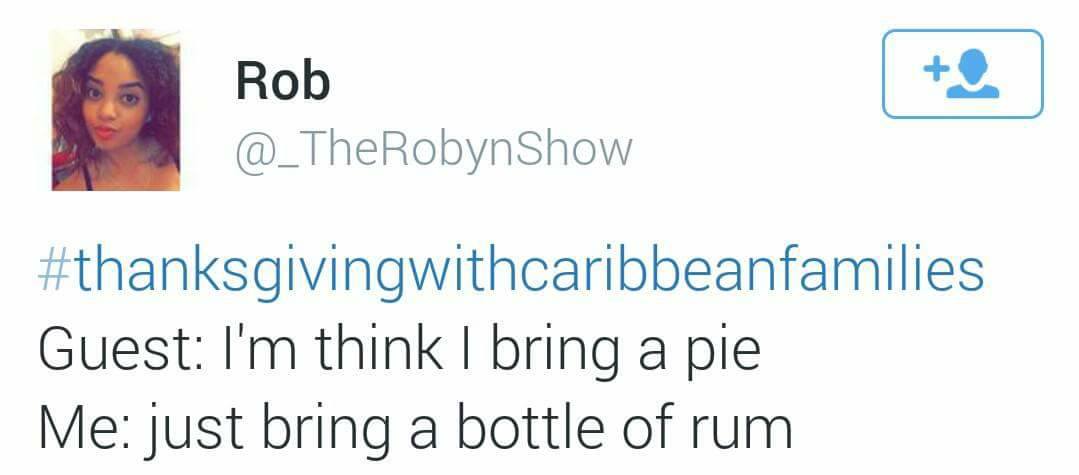 Yeah… don't cook if the people don't know you and know your hand. Just bring rum – we will love you for doing your research.
Related: Interview about Caribbean Culture in America
You can share all these on Facebook by clicking on this post and tapping the share button! Happy Thanksgiving!
Do you love PINTEREST? Save these tweets and more from our Caribbean Thanksgiving Pinterest Board.
What do you and your family do on Thanksgiving? Share in the comments!