Far be it from me, a regular old American, to tell the first African American President of the United States what he "must" do, but we are a nation in crisis here. With all of the firsts that came with having Obama in the White House for eight years, there are so many lasts that are scaring the living daylights out of us regular old Americans.  There is panic everywhere that the White House has no chance of ever being this cool again, and some things just didn't get checked off of the list in the last near decade. Even with days left in his presidency, I am hopeful that we still have time.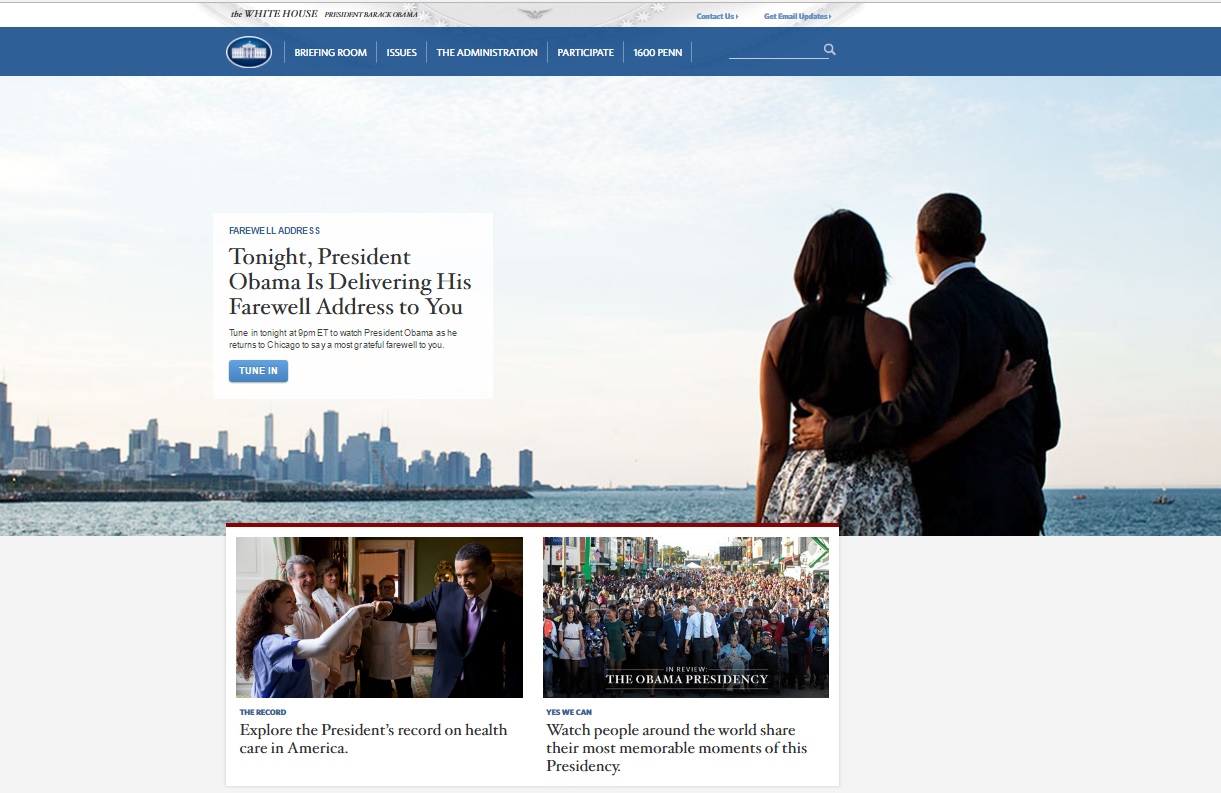 President George Bush issued the first proclamation of June as Caribbean American Heritage Month in 2006, and in the ten years following that first proclamation, President Obama's White House has issued eight of them.  Eight.  He can't leave D.C. without experiencing Caribbean D.C., right? I mean, he can, because he is Barack Obama and can do whatever he pleases, but still… I have suggestions… and here they are.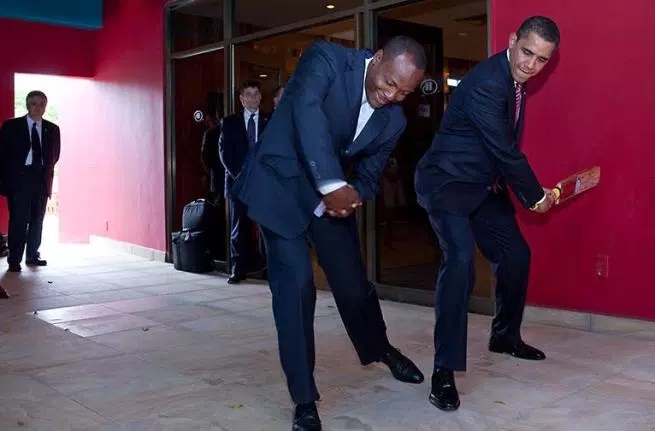 The legendary Brian Lara shows Obama how to swing the cricket bat. Photo by Pete Souza/The White House
Dear President Obama,
I know you can't wait to get back to Chicago, because let's face it, nobody is exactly clamoring to be a resident of Trump's D.C. after the coolest president since Clinton drops the mic and leaves the building. But since you're waiting for your youngest to finish high school, you have a little time to chill and soak up some Caribbean vibes in (what's left of) Chocolate City.
1. Eat the best roti on the planet. Lawd knows I wish I was the one who knew how to make roti worthy of the presidential palette, but I'm not. That person is my cousin. She is, hands down, the best creator of dhal pourie and buss up shut that you will ever taste. Hands. Down. So call me, Mr. President, send an email.  I'll make sure she hooks you up.  No need for that poorly photoshopped pic of you eating doubles to be circulating on the internet – let her make you ah doubles and have Pete Souza get an iconic photo of that…
2. Eat the best jerk chicken in the city. You may have had someone order it for you before and sneak it in the White House, or maybe not, but in any event, the best jerk chicken used to come from Sweet Mango's.  We have been on the hunt for that chicken ever since they closed, but I am sure if you ask nicely, they will come out of hiding for you.  Make one last use of the nation's intelligence agencies available to you. Trust me, it will be worth it.
3. Get one of everything from Crown Bakery on Georgia Avenue. ONE. OF. EVERYTHING. They may just give it to you… I'm pretty sure that the last time I was there I saw your picture on the wall – so there's that. They're probably expecting you at some point.
4. Play Mas on Georgia Avenue. Ever since you got out of the car during your first parade (and all of America screamed at the television for you to GET BACK IN THE CAR), I knew that you could appreciate a good road march.  We haven't had REAL DC Carnival on Georgia Avenue in going on six years because of some money issues with the city or something like that (so I've heard). Maybe if you could work out something amidst all these last minute pardons and such, we'd still have time to get both you and Michelle into a band, and get you on the road chipping to soca by mid June.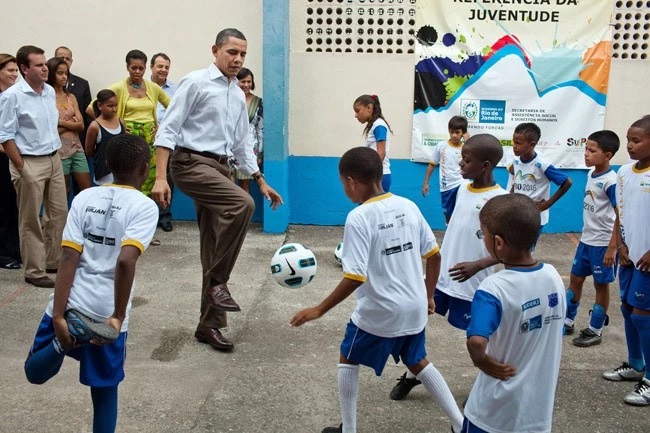 Obama playing soccer with local kids in Brazil. Photo by Pete Souza/The White House.
5. Jump in on a pick up football (soccer) game. I know basketball is more your thing, but hear what.  You'll enjoy this. I have seen your skills.  Michelle's got game too, so maybe they'll let her be on your team. The trash talk? Hilarious. You like trash talk. I've seen you trash talk.  You're pretty good at it.  This will require you to make Caribbean friends, understand patois, some French, and maybe speak a little Spanish.  You are a friend to all, I've seen you speak patois in Jamaica, and that went well, so this won't be hard.  Locations, times, players, who brings the ball – none of this is set, so you'll have to be a real macco and listen closely to get the details. Also, bring Stag, Carib, Red Stripe… at least malta… something to get them to invite you back – just in case being YOU just isn't enough.
6. Take a Caribbean exercise class. I know people who teach Socacize, KaribFit, and a host of other dance fitness classes.  Bring a flag… but if you need to be diplomatic and not choose a country, that's fine too, you can bring a rag.  People are also getting into cycling to soca and dancehall, so that might be more your speed.  Michelle may have already been to one (with her fit and fabulous self), so she can tell you what's up.  You should have the secret service confiscate all cell phones and recording devices.  Don't try to come up in there with a dignified wine.  If you are going to do it… make the wine scandalous. I mean, you can, you haven't had any scandals in 8 years, so here's your chance.
7. Go on a scavenger hunt for all things Caribbean in the NMAAHC. You probably know all of the history of Caribbean people in America, because… well… you have to know a lot of stuff as a President who travels to a lot of foreign countries (or so we thought). But wouldn't it be cool if you challenged  Kamala Harris, Yvette Clarke, and Wayne A.I. Frederick to a scavenger hunt to see who can find the most Caribbean exhibits in the museum? It is pretty crowded in there, so you definitely want to see if you can make it happen after hours.  My money is on Yvette. She looks like she plays no games.
Here's a cheat sheet: The Caribbean Family Guide to the National Museum of African American History and Culture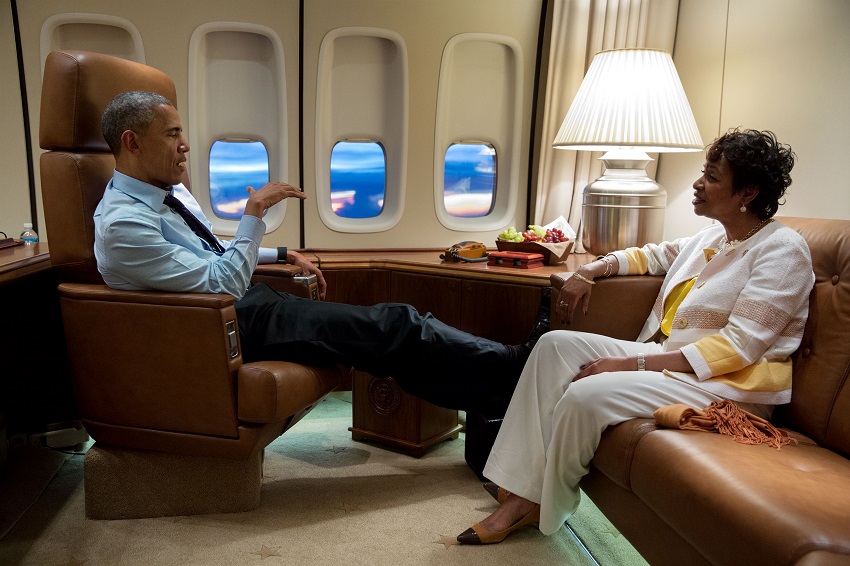 President Barack Obama and Congresswoman Yvette Clarke on the way to Jamaica. Photo by Pete Souza.
8. Go to a CAFÉ (Cultural Academy for Excellence) concert. I hear you missed the 20th anniversary concert.  That's okay.  The Christmas concert is also amazing, so you can go to that one.  The Positive Vibration Youth Steel Orchestra and the Rhythm Starters NEVER disappoint. You haven't seen the best that our Caribbean American youth steel pan musicians have to offer until you have been to a CAFÉ concert.
9. Buss a fast wine in Club Timheri. This is one spot in Adams Morgan that has been on point for decades.  I heard you like to party. I mean, you had Machel Montano at the White House.  I know you didn't get to come out and buss a wine then (although I imagine the coolest President ever standing nearby a vent or something taking in the music like a real music lover would), so you can sneak a wine in Adams Morgan.  You WILL get soca… You WILL get dancehall… You WILL have an opportunity to wine.  The place is small, so this one won't take long.  This will be an easy one to check off the list.
10. Have brunch at Cuba Libre. No other U.S. President had visited Cuba since 1928… Of all of the historic movements you made as President in the past eight years, that was one of the most beautiful. I fell in love with Cuba Libre a few years ago. The food is amazing, the service is great, and the mojitos… just… yes.  Some nights there's dancing, so if brunch isn't your thing, take Michelle out for dinner and dancing.  Our little piece of Cuba in the District will welcome you once again, I'm sure.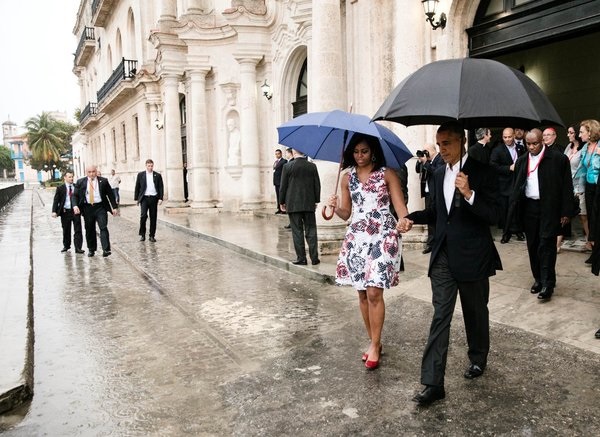 Michelle and Barack Obama in Havana, Cuba. Photo by Pete Souza/The White House.
Wishing you all the oxtail, pilau, black cake, goat water, flying fish, callaloo, bake and shark, saltfish, and curry chicken you can eat – and some soursop for good health and strength.
Thank you for a great eight years,
Eva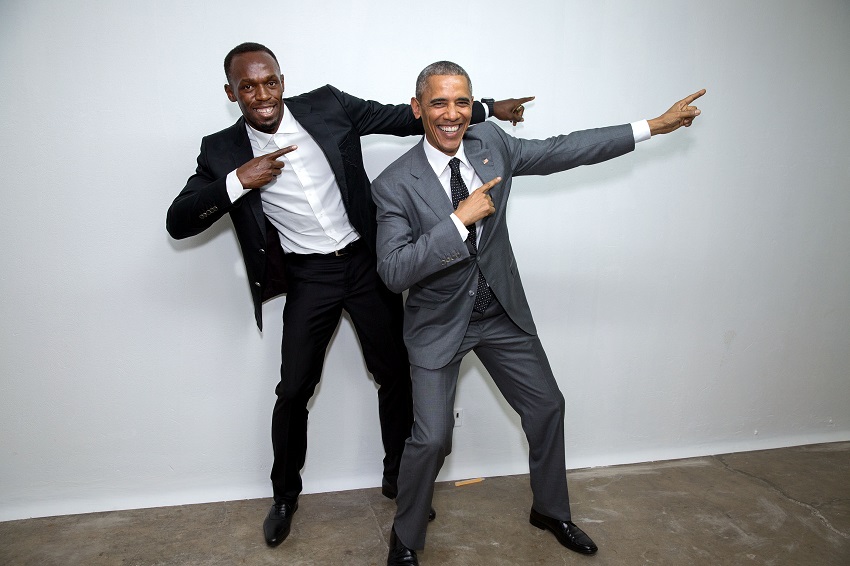 Can you think of any other Caribbean experiences that you think President Obama should have before he leaves D.C.?  Let us know in the comments!
Enjoyed this? You may also like…