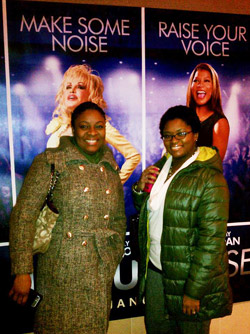 I was able to check out a private screening of Joyful Noise with fellow bloggers and Twitter peeps @cocobrownne (pictured) and @ConvertingME at Gallery Place in Chinatown in DC.  Now this was different from any screening I had been to.  I was not ready for the purse checks (glad I didn't bring my 2 piece chicken dinner) and handheld metal detectors, as well as the near death threats for bootleggers (they actually said, "no bootlegging") but I have to say that it was extremely organized for a screening that wasn't just for press and bloggers. Kudos to Liquid Soul Media for putting on a flawless event.
Now on to the movie. There were a few things that were pretty distracting that I cannot leave out of this review.
If I said I wasn't shocked and distracted by the changes in Dolly Parton's face, and the lack therof in her body since the movie 9 to 5 that I saw in 1980 – I'd be lying.  What I wasn't surprised by was that she still has a beautiful voice and fantastic comedic timing.
I had seen the trailer at Blogalicious last year, so I was reasonably prepared for the plot, but there were still plenty of surprises. First, my hubby won the soundtrack to the movie in a drawing (which he is blasting downstairs right now).  I was glad he won the CD because what's his is mine. As a connoisseur of fine 70's and 80's rock songs – I was a little more than geeked to hear the gospel rendition of Paul McCartney's "Maybe I'm Amazed".
Synopsis: Oscar® nominees Queen Latifah ("Chicago," "Hairspray") and Dolly Parton ("Transamerica," "Steel Magnolias," "Nine to Five") star in Alcon Entertainment's and Warner Bros. Pictures' "Joyful Noise," a funny and inspirational story of music, hope, love and renewal.The small town of Pacashau, Georgia, has fallen on hard times, but the people are counting on the Divinity Church Choir to lift their spirits by winning the National Joyful Noise Competition. The choir has always known how to sing in harmony, but the discord between its two leading ladies now threatens to tear them apart. Their newly appointed director, Vi Rose Hill (Latifah), stubbornly wants to stick with their tried-and-true traditional style, while the fiery G.G. Sparrow (Parton) thinks tried-and-true translates to tired-and-old. Shaking things up even more is the arrival of G.G.'s rebellious grandson,Randy (Jeremy Jordan). Randy has an ear for music, but he also has an eye for Vi Rose's beautiful and talented daughter, Olivia (Keke Palmer), and the sparks between the two teenagers are causing even more friction between G.G. and Vi Rose.If these two strong-willed women can put aside their differences for the good of the people in their town, they—and their choir—may make the most joyful noise of all. Starring with Latifah and Parton are Keke Palmer ("Akeelah and the Bee"), Courtney B. Vance ("Extraordinary Measures"), Jeremy Jordan (Broadway's "Bonnie and Clyde"), and Kris Kristofferson ("Dolphin Tale"). Rounding out the main cast are Dexter Darden, Angela Grovey, Paul Woolfolk and Jesse L. Martin.
The laughs weren't back to back so that I was always in tears or holding my gut, but the jokes were solid and got a good number of big laughs. You have to overlook a few things like the forced southern accents, and the plethora of "down home" sayings that had to do with chickens, or goats, or bridges, or catfish or something or another.  This movie had something for everyone.  If you have…
a grandma who thinks she's fly
a teenager
a baby daddy
a love for gospel music
a love for Glee and musical mashups
a love for the 70's and 80's one hit wonders
a fantastic choir at your church
ever been a member of a broke church
been in the choir
a fear of flying (gotta love the church bus)
a southern upbringing
ever had grits
tried to cuss out your mama
…you'll find something – or everything to love about this movie!  I don't want to ruin the movie for anyone, so just go check it out on January 13th. Watch out Sister Act! Joyful Noise is coming for your gospel comedy crown.
My Overall grade: A
6 and under Friendliness: D (it is PG-13)
12 and over Friendliness: B (a good bit of mild cursing… no F bombs though, teenage making out)
Caribbean References: 0
SOUNDTRACK: TRACKS (The 'Joyful Noise' Soundtrack Releases January 10th, 2012)
1. Not Enough – Dolly Parton and Queen Latifah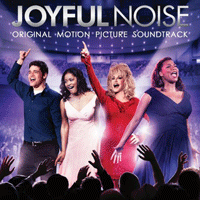 2. Man In The Mirror – Keke Palmer
3. Maybe I'm Amazed – Jeremy Jordan and Keke Palmer
4. In Love – Kirk Franklin
5. Fix Me, Jesus – Queen Latifah
6. From Here To The Moon And Back – Dolly Parton, Kris Kristofferson and Jeremy Jordan
7. I'm Yours – Keke Palmer and DeQuina Moore
8. Mighty High – Karen Peck
9. That's The Way God Planned It – Ivan Kelley feat. Our Lady of Perpetual Tears Choir
10. Higher Medley – Queen Latifah, Dolly Parton, Keke Palmer, Jeremy Jordan, Andy Karl, Angela Grovey, DeQuina Moore
11. He's Everything – Queen Latifah, Dolly Parton, Keke Palmer, Jeremy Jordan, Andy Karl and DeQuina Moore
12. Joyful Noise Suite – Mervyn Warren