Between Thanksgiving and Christmas, I see a TON of new movies. Studios just always seem to save the best for last. When I was invited to watch and review Star Wars: The Last Jedi, I was pretty excited – not because I am a huge Star Wars fan, but because my oldest son lives for the franchise.  He was coming home for Christmas break, and we would get some much needed time to hang out and talk. He put on one of his favorite Star Wars tees, we took the littles to my cousin's house (AKA the most fun house on earth), and then we headed out to the theater.
My husband HATES watching movies with our oldest and I. We talk through a movie. I mean… we have questions.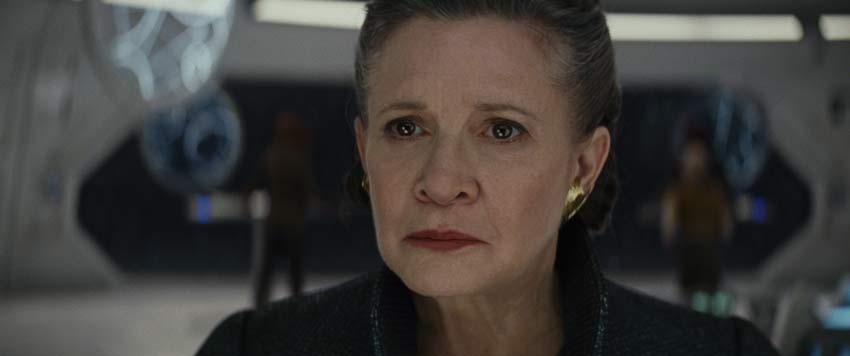 I came into the movie knowing one thing for sure… Carrie Fisher died in real life and I was pretty sad about it. I'd watched her latest HBO documentary about her and her mom, who died the day after she did. I had almost forgotten until we saw her on the screen and the whole theater gave a collective sigh of sadness. My oldest felt it too.
With my son being the superfan who had agreed to do the review for me, I felt like I could relax and enjoy the movie… but… what the $#%@ is going on? There's a lot of action – of course. Amazing graphics – but not the most realistic aliens (sort of a weird mix of puppetry that didn't seem realistic at all – like throwback actually – and CGI). There are two things that make a sequel or part of a franchise great. First, it is great if I don't have to know ANYTHING about the characters or what happened to them in previous films in order to watch and enjoy the film, that is a plus. Second, if watching it makes me want to watch the ones that I haven't seen, or revisit those that I have but may have forgotten, huge plus.
Subscribe to my YouTube channel to see my oldest son's video review when it is live: http://bit.ly/socatube
You know when you go out with a group of friends who have been going out without you for a while, and the evening is so full of inside jokes and "you had to be there to get it," type stuff that you just hate the whole experience and opt to spend the time in the bathroom instead? Star Wars: The Last Jedi didn't feel like that, even though this is the 8th movie. This movie had enough new or newish characters that it felt more like when you go out with friends you haven't seen in a while and there are enough new people that you don't feel like you have to spend the whole time listening to old stories about the party the Saturday before last.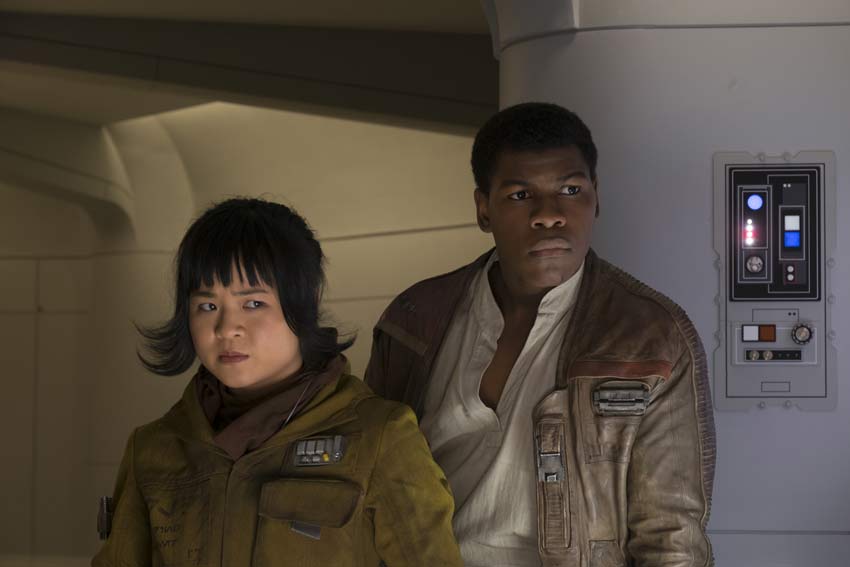 I still had questions. Our oldest was focused and not exactly forthcoming when it came to my questions, so I just focused on my popcorn and tried to follow along with characters that I knew for sure were hanging out at club Star Wars for the first time. 
The action was fantastic, and the movie had everything that you would expect from Star Wars, whether you are familiar with the franchise or not – Chewbacca, C-3PO, R2-D2, Princess Leia, Luke Skywalker, light sabers, storm troopers, TIE fighters (you'll know em when you see em), walkers (those giant mechanical vehicles that look like robot elephant turtle camels), and a sky with a couple of moons in it.
I left the movie a little sad (no spoilers), but excited about going back to watch the other movies in the franchise (some I have already watched, and some that have watched me).
Did it earn the PG-13 rating?
Yes. Mainly because even my 18 year old jumped a little. Folks will be cut in half and heads will be cut off. There's a lot of fighting, and even though you don't see every single death of ever single person, a LOT of people don't make it to the end of the movie… and it is a LONG movie.
Bottom line, should you take the kids to see it?
I don't think my younger kids, 11 and 12, would be too shaken by it, but I also don't feel like they HAVE to see it before they turn 12 and 13. While it is a must see for huge Star Wars fans, you can take your time and introduce younger kids to the movies – like a couple of years – so that they can actually know what is going on in this one and be able to handle all the fighting and death. When I asked the 18 year old if his younger siblings should watch it, he said "no, there's just so much death and heads being chopped off."
About the movie: In Lucasfilm's Star Wars: The Last Jedi, the Skywalker saga continues as the heroes of The Force Awakens join the galactic legends in an epic adventure that unlocks age-old mysteries of the Force and shocking revelations of the past. The film stars Mark Hamill, Carrie Fisher, Adam Driver, Daisy Ridley, John Boyega, Oscar Isaac, Lupita Nyong'o, Andy Serkis, Domhnall Gleeson, Anthony Daniels, Gwendoline Christie, Kelly Marie Tran, Laura Dern and Benicio Del Toro. Star Wars: The Last Jedi is written and directed by Rian Johnson and produced by Kathleen Kennedy and Ram Bergman. J.J. Abrams, Tom Karnowski and Jason McGatlin are the executive producers. Star Wars: The Last Jedi opens in U.S. theaters on December 15, 2017.
Ready to get all caught up? Here are all of the movies in chronological order based on their release dates. These are affiliate links.
1977 – Star Wars 
1980 – The Empire Strikes Back
1983 – Return of the Jedi
1999 – Star Wars: Episode I – The Phantom Menace
2002 – Star Wars: Episode II – Attack of the Clones
2005 – Star Wars: Episode III – Revenge of the Sith
2015 – Star Wars: The Force Awakens
2016 – Rogue One: A Star Wars Story (not part of the trilogies)
2017 – Star Wars: The Last Jedi
Subscribe to my YouTube channel to see my oldest son's video review when it is live: http://bit.ly/socatube
Website: http://www.starwars.com | Facebook: http://www.facebook.com/starwars | Twitter: http://www.twitter.com/starwars | Instagram: http://www.instagram.com/starwars
We were invited to a pre-screening of the Star Wars: The Last Jedi for the purposes of writing this review. All opinions are our own.