He jumped up and started slapping himself awake and running in place – a hilarious wake up dance from my middle boy, 6 years old at the time. "Is it time, mommy?"
"Yes," I told him, barely containing my laughter, "you can go on and get dressed."  It was going to be his first day "doing a real business" and he was beyond excited.  He and his siblings had spent the night before at the local shopping club picking out the items they planned to sell at the church yard sale.  We packed the car with tents, tables, chairs, a chalk board, a cooler, and all the candy, soda, and juice that they had purchased.  While other families were on the way to the park or little league games, we were setting up shop for the kids to try their hand at entrepreneurship. All day we sat back in the chairs we had purchased to watch the boys' soccer games, watching them yell, "Candy! Drinks! Drinks! Candy for sale!" Each person that came up and bought something from the kids put a smile on their faces and confidence in their hearts.
They counted change.  They bagged up candy and drinks.  They tallied up their monies, and remarked on their best sellers.  Their ages, combined, was the age that most people get their first real job, and there they were on a Saturday morning, talking to people, learning about markup and how to present their merchandise for sale.  They were learning how the world works, and having a ball in the process.
Could I have been at the salon or relaxing in front of the TV? Probably. But I felt that when my kids asked me if they could have a table at the yard sale, it was a great opportunity  –  a teachable moment. (click "read more" if you are reading this from the front page or click on the title if you are reading from your email subscription)
Yes, their dad and I could have spent our Saturday so many different ways. It was football season, we have a great variety of video games for the kids to choose from, and my feet needed some attention, but this was our chance to show the kids that it is okay to choose to work. It was a labor of love for us.  Our gift to them.
I've been working for as long as I can remember.
Both of my parents were self-employed, so going to work with them was just what I did.  For me it wasn't anything out of the ordinary – "take your kids to work day" was every day. Once I knew how to put things in numerical order, I was taught how to file charts in my mom's office for two cents a chart.  Growing up, I was given a variety of tasks to do for my mom's business.  I did everything from voice overs for her commercials to billing the insurance companies.
I was very aware that we were just one generation away from what by today's standards would be considered abject poverty. She let us know that the bunions on her feet were not from squeezing her feet into fashionable high heels with pointy toes, but from wearing school shoes that were too tight for her growing feet.
If you don't get an education, and work, you won't eat. That's all I knew.  At my house, there was no such thing as waiting for a pay check.  My parents didn't do it, and neither did I.  I did get an allowance, once per marking period when report cards came out.   I would get a certain amount for A's, and a much smaller amount for B's. A C meant summer school.  So unless I planned to not have any money until report card time, I worked.  I painted stuff and sold it.  I did crochet and cross stitch and sold it.  I made easter baskets, tie – dye shirts, worked in my mom's office stuffing envelopes (I am a bulk mail whiz), anything to earn my own money.  My mom's role – provide me with the tools.
She and I would spend hours in Wal-mart and the craft stores getting supplies for my various businesses, and that was my normal.  For my kids, that's their normal too.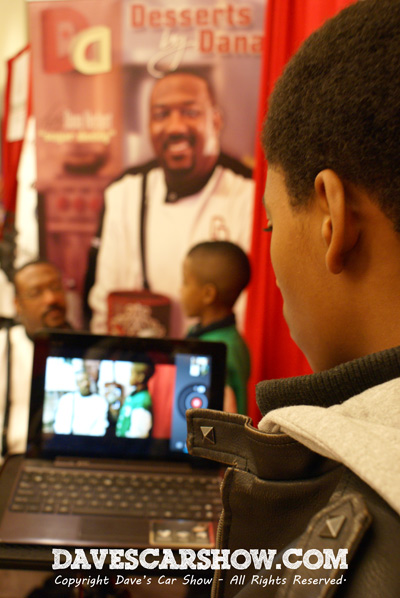 A year ago, my middle boy announced that he wanted a blog. We told him that it would be a lot of work, and he let us know that he was up to it.  When he got his first interview, 6 months after his announcement, he stayed up into the wee hours of the night working on his interview questions, and rehearsing his delivery.  His sister walked him through the aisles at H&M to get his set up with the perfect outfit.  His brother took a crash course in photography and videography and packed his bag.  Dad gassed up the car, and we headed to Delaware for the car show. Still no blog.  That was going to be the "tool" that I provided – once I saw that he was serious.

Four months after his blog launched, Mr. Social is still in business. Writing up his plans for the store he wants to add to the blog.  He recorded the voice over for his latest video in 1/3 of the time that we had set aside for it.  My best friend made him his first logo merchandise with a t-shirt for him to wear, and a water bottle from CafePress.  He plans to launch his store this spring, after he puts together his "packages".  At 7, he has a plan – to have his own minivan by the time he is 8.  He is aware that he is several years away from having so much as a learner's permit, but that is his plan.  Who are we to tell him that he can't?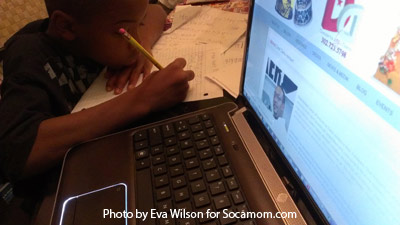 So why do my kids work? They work because I worked. They work because they enjoy it.  They work because they have passions outside of video games, amusement parks and movies (although they are pretty passionate about those too).  We want them to know that you can earn a living doing what you love.  They work because we let them know that they can, if they want to, and we will support them.  They work for themselves so that they know that entrepreneurship is an option. We encourage them to work so that they can get the feeling of accomplishment that comes from earning a living, so early that it becomes part of who they are. They work now, so that when it is time for them to have to work, it will be second nature. They know they are two generations from poverty. They've heard the stories.  We intend to do everything we can to make sure that the gap between them and poverty continues to widen for them and their children, and their grandchildren.
We live in a time where people become rich and famous for sex tapes, behaving badly in public, and putting their ignorance on display in order to "entertain". I believe that this is the perfect time for us to teach the kids that hard work pays off, and that you can have a great time in the process.  We still find ourselves at soccer games cheering our hearts out for the boys, and at violin recitals giving silent encouragement with our "thumbs up" signs to baby girl.
For those who feel like it is a waste of time, money, and energy to help a kid start a business – think of it this way – we work pretty hard to support them in sports and other activities, but I have found that business cards are cheaper than ballet shoes… and EVERYTHING is cheaper than hockey.
Are your kids interested in starting their own businesses?  What are you doing to encourage them to start following their dreams sooner rather than later?
DavesCarShow.com | youtube.com/davescarshow | pinterest.com/davescarshow | facebook.com/DavesCarShow